I started taking trips to escape life.
Now, I travel to experience more of life.
my story
HI! I'm Gladis
Welcome to my little corner of the internet! I'm thrilled you stumbled upon my blog and you're interested in learning more about me. So if you're ready, grab your favorite drink because it will be a wild story.
But first, what is this travel blog about?
Happiness on the Way, or HOTW, is a travel blog for rediscovering joy, one trip at a time.
What do you mean? Isn't it that's why everyone is traveling? To escape daily mundane, stressful life to have a weekend of fun?
Yes and No. Yes, no matter how short it is, traveling can transport us into a world of being still and being alive at the same time, aka happiness. And no, that's not just it. There's more to it.
With the help of mainstream media, traveling has become an escape route, an antidote to our schedule-packed unbearable lives. But, at the same time, because of the limited vacation days we have, traveling has become another hectic activity. As a result, we often try to cram as many destinations and activities into our itineraries, all in pursuit of finding the perfect spot for that coveted Instagram photo or reel.
There's nothing wrong with it. But if you're like me, who once felt the serenity while watching a sunset, excitement as you jumped off a cliff, or the joy of watching trees and streets through a bus window, this blog is for you.
Happiness on the Way is a collection of travel guides, my escapades around the world, and my little insights on what to do (or what not to do) during your journeys to your destinations. I added meditation and yoga spots, nature bathing techniques, or even a reminder to breathe during bus and train rides for every guide. Simply, it's a travel guide on how to experience happiness on the way.
Wow, that's deep. What is your story?
I had my first flight when I was 18. It was sponsored by my university to send me to a youth symposium in Hong Kong. As someone who grew up in a low-income family in the Philippines, I was very lucky. And I felt it in every fiber of my being. I couldn't even count how many times I'd checked my flight details or how many times I'd packed my luggage. Through that trip, I was able to roam around an unfamiliar street, taste different foods, and be in different surroundings. I was hooked! That was the start of my love affair with traveling.
I applied to every student exchange that I could join. As a result, I visited different parts of the Philippines, Japan, and Cambodia for free. By the time I finished my degree, I had become a consultant at a university and a financial advisor. These organizations also sponsored my free trips to travel to Singapore, California, and Bali, Indonesia.
So you see, I'm different from the usual travel bloggers you see and hear who quit their jobs and backpacks in Asia. I still have a job (tho it's really flexible). So if you've wanted to travel and think your job prevents you, this blog can help. Who knows? One day, we can backpack on different continents too.
I applied to every student exchange that I could join. As a result, I visited different parts of the Philippines, Japan, and Cambodia for free. By the time I finished my degree, I had become a consultant at a university and a financial advisor. These organizations also sponsored my free trips to travel to Singapore, California, and Bali, Indonesia.
Actually, I already did. In 2017, I met a guy who introduced me to solo traveling. He shared his stories of backpacking in Thailand, and I was hooked again. So, with my savings, I booked my flight to Siargao and did my first solo travel.
To say it was life-changing was an understatement. I was scared, excited, and emotional at the same time. I was free. I was sitting on the beach, looking at waves and the horizon simultaneously, and I was present at the moment (I did not know what this meant back then). I was so happy.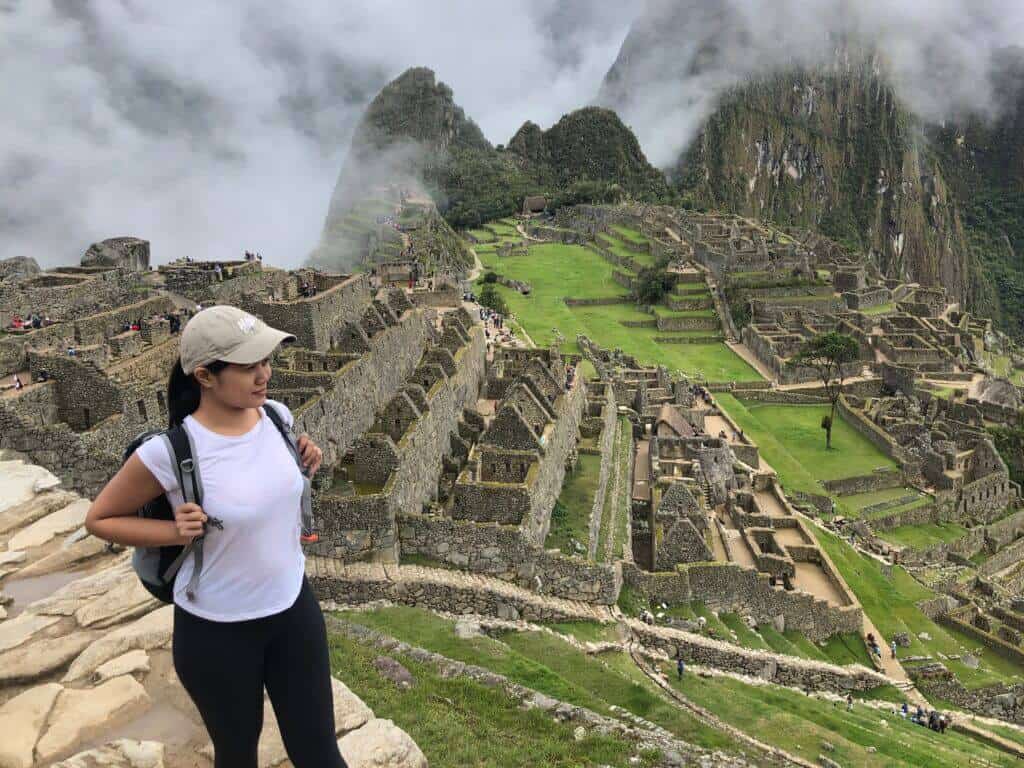 The following year, I traveled solo to South Korea and met my then-boyfriend. After that, I stopped solo traveling and decided to travel together. For two years, we backpacked in various provinces in the Philippines, Peru, and Colombia. My two months living in South America opened my eyes to new cultures and adventures, especially our hikes in Macchu Picchu and Rainbow Mountain.
We had many exciting plans for future travels. Unfortunately, the pandemic disrupted everything and put a strain on our relationship. Eventually, we started fighting and ultimately decided to break up.
I resumed my travels in the Philippines in 2021 and eventually planned a 5-week backpacking trip to Sri Lanka in 2022. It turned out to be my most exciting adventure yet, with unforgettable experiences such as spending a night in a mud house in the jungle, hitchhiking with a couple, and hiking two mountains in one day with a German companion (trekking with a European who lives in a mountainous area definitely redefined my understanding of hiking). This is also where I met my loving partner, Mat.
After Sri Lanka, Mat and I completed a road trip in the north of the Philippines. After that, we spent weeks in beautiful Camiguin and Thailand. Then, we went back to Europe. This is my real European trip after I was sent back to the Philippines just after landing in Germany because of the pandemic entry rules that changed while on my transit. Yes, that happened!
We spent a month in Vienna, Austria, and spent weeks traveling by car in Austria, Germany, and the South of France. Then, I flew back to the Philippines, and Mat followed two months after; we spent weeks in Busuanga, Philippines, and then backpacked Chiang Mai and Chang Rai, Thailand, and then crossed to Laos and spent weeks in Luang Prabang, Vang Vieng, and Vientiane.
We felt exhausted from more than two months of backpacking, so we returned to the Philippines. One night, I told Mat that I would like to pursue traveling full-time, and we came up with the idea of starting this blog.
I told him I wanted to focus on how traveling can be a medium to experience joy, and it's found on the way. Surprisingly, the name "Happiness on the Way" was still available! I bought the domain, looked for a WordPress theme, almost cried in frustration with setting up the website, and finally published my first blog.
I'm in Europe for three months while writing about the countries I previously traveled to. I'll continue to share my insights on practicing mindfulness, exploring off-the-beaten-path, and living in the present moment. I'll also update you until I can finally travel full-time! If that path calls you, I hope I inspire you to go for it.
Here are some other facts that may amuse you:
Most underrated country: Sri Lanka, by far!
Worst bus ride: Pai to Chiang Mai, Thailand (I literally thought of getting off the bus and just walking back)
Best countries for solo female travelers: Sri Lanka, Philippines, Thailand and Bali. All safe and equally beautiful!
Best destination to do yoga: Ubud, Bali
Heartbreaking experience: Being sent back to the Philippines after arriving at Frankfurt airport
Favorite island: Siargao, Philippines, by far!
Best city to live in: Vienna, Austria
Unplanned adventure turned out life-changing: Nyepi in Bali
Best country for hikes: Switzerland
if this blog has helped you somehow or you have questions, just message me. I'll always reply and look forward to communicating with you!
Let's talk about happy things!