Nyepi in Bali: How to Honor the Day of Silence as a Tourist
When I visited Bali for the first time, I was excited to explore the beautiful island. However, on a Thursday morning in Sanur, I noticed an unusual silence outside our villa. As we were getting ready to head out, the villa staff informed us that it was Nyepi, the Balinese Day of Silence, and the entire island was at a standstill.
I spoke to the staff and asked if we could rent a scooter and visit a nearby beach. They apologized and informed me that it was impossible. During this Day of Silence, there's no light, no noise, and you can't even leave your accommodation.
Although it may seem like an inconvenience, Nyepi is a special time to disconnect from all the noise and reconnect with oneself. As a tourist, here is what you need to know to honor the sacred day of silence in Bali so you won't be as surprised as we were.
What Is Nyepi? Understanding Bali's Day of Silence
Nyepi is Bali's annual Day of Silence, a day of fasting, silence, and meditation. It is a day to reflect and reconnect spiritually. It's believed that by being silent for a day, you can hear the divine whispers of the gods more clearly.
Leading up to Nyepi, there are colorful festivals and parades. But once the sun rises at 6 a.m., the entire island comes to a standstill.
The Meaning and History Behind Nyepi
Nyepi has been observed for centuries and marks the Balinese New Year. Some countries in Asia like China, Thailand, Cambodia, Laos, and even Bali use different calendars to mark the start of the year. I've also covered the Cambodian New Year here.
Bali, a province in Indonesia, shuts down all lights and sounds, stops all traffic, and abandons all worldly activities to focus on connecting more closely with God and introspection. The word Nyepi means "to keep silent" in the local language.
The day before Nyepi, villagers parade a giant statue made of bamboo, known as Ogoh-ogoh, in the main street of the village to exorcise the devil. This statue represents the evil spirits in their environment that must be eliminated to bring balance and harmony between man, God, and their surroundings.
Ogoh-ogoh statues are burnt during Ngerupuk, which takes place on the eve of Nyepi, as a symbol of getting rid of "bhuta kala" or demons.
The Pecalang, traditional Balinese security forces, ensure road safety and prohibit any activities that disturb the Balinese Day of Silence. Non-Hindus are also requested to stay indoors to respect this significant day. Violators of these restrictions face penalties determined by local villages.
The day after Nyepi, known as Ngusaba Desa, is when Balinese Hindus hold purification rituals and ceremonies to welcome the new year.
When Is Nyepi in Bali and How Long Does It Last?
Nyepi falls on the day after the dark moon of the spring equinox, so the date changes each year. In 2023, it took place on Wednesday, March 22nd, and lasted for a full 24 hours, starting at 6 a.m. and ending at 6 a.m. the following day. Throughout this time, the entire island comes to a complete stop.
Nyepi 2024 Schedule
Nyepi 2024 will take place from Monday, Mar 11, 2024, 5:59 AM to Tuesday, Mar 12, 2024, 6:00 AM.
Nyepi Dos and Don'ts: What Is Allowed and Prohibited
During this Balinese Day of Silence, there are some important dos and don'ts to keep in mind to properly honor this sacred day.
What is Allowed
You are allowed to have low lighting like table lamps, phones, and laptops inside your hotel room at night. Just keep the curtains drawn and avoid any bright lighting that may disturb others outside. You can pre-order room service or eat pre-prepared food – but the hotel staff will not be actively cooking or cleaning on this day.
What is Prohibited
No one, including tourists, is allowed to leave their accommodation or participate in any activities. This means:
No going outside or walking around
No driving or taking taxis/rideshares
No loud noises, music, partying, or any kind of entertainment
No phone calls, emails, or social media
No shopping, as all stores and restaurants will be closed
The goal of Nyepi is to have a day of total peace, reflection, and fasting. Pecalang security officers patrol the streets to enforce these rules. As a tourist, the most respectful thing is to avoid any kind of disturbance or violation of this day. Stay in your hotel room, reflect in silence, and appreciate this unique cultural tradition.
How Locals Observe Nyepi in Bali
Local Balinese Hindus observe Nyepi, the Day of Silence, each year to reconnect with God through self-discipline, purification, and austerity. It is a day of self-reflection, fasting, and abstaining from worldly pleasures.
In the days leading up to this Balinese Day of Silence, villages make ogoh-ogoh, statues symbolizing evil spirits, which they parade through the streets. They do this to purge Bali of malevolent forces and purify the island in preparation for this Balinese Day of Silence.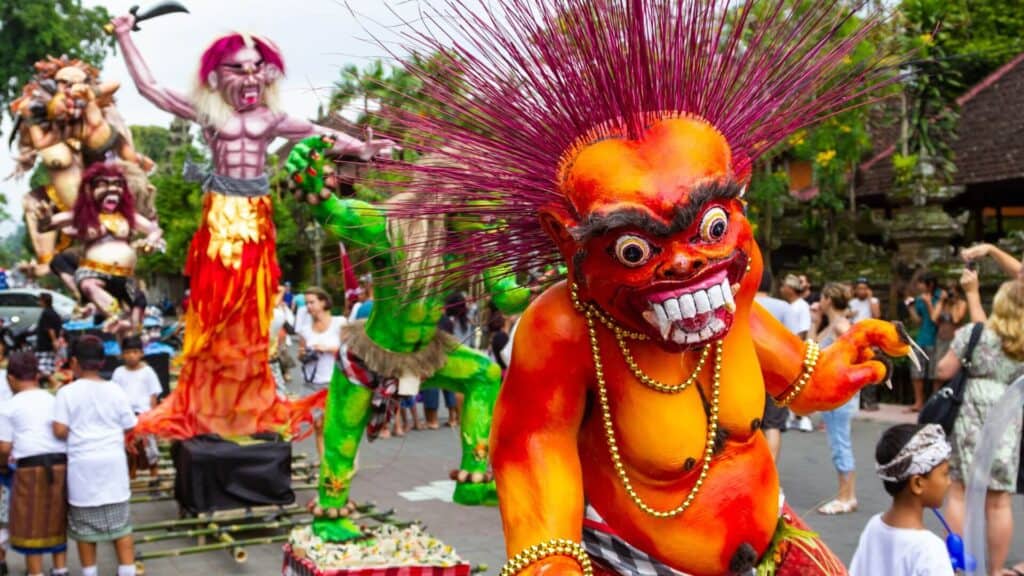 When Nyepi begins at 6 a.m., locals follow four prohibitions: no fire, light, physical activity, or entertainment. This means no lights, cooking fires, or traffic. Everyone stays indoors for 24 hours of meditation and fasting.
What are the 4 rules of Nyepi?
The Bali-Hindu principle known as "Catur Brata" outlines the four main prohibitions that devout Balinese followers must adhere to during Nyepi. These include the following:
Amati geni – refraining from igniting fires or lighting anything
Amati Karya – signifying a break from work activities
Amati lelungan – staying within the confines of one's home
Amati lelanguan – avoiding pleasurable activities and entertainment.
These restrictions are integral to the observance of Nyepi, symbolizing a time of self-reflection and spiritual devotion for the Balinese people.
Experiencing Nyepi as a Tourist: What to Expect
Experiencing Nyepi as a tourist in Bali can be a unique cultural experience, but also challenging if you're not prepared for what to expect on the Day of Silence.
As a visitor, I knew I had to respect the prohibitions against going outside, using electronics, and lighting fires for 24 hours. However, many hotels make exceptions for tourists and provide wifi and charge devices in our rooms, as well as provide meals.
Some resorts organize special retreats with traditional Balinese ceremonies and spa treatments, yoga, and meditation. But in general, expect a day of no service, no WiFi, and no leaving your room.
The eerie silence and darkness that descends on the island is like nothing I've experienced before. I usually go for silent meditation or camping in a secluded forest but this is different – an entire island in silence.
No loud music, no cars honking, just the sounds of nature. I spent most of the day in silence, taking naps, and reflecting in my hotel room.
If being confined to your hotel room for an entire day sounds difficult, you may want to avoid traveling to Bali during the week of Nyepi. But if you're open to immersing yourself in the spiritual culture, it can be a meaningful part of your trip.
How to Spend Nyepi Day in Bali
Watch the Ogoh-Ogoh parade the night before Nyepi.
These huge papier-mâché effigies are paraded through the streets to ward off evil spirits. The parade starts at 7 p.m. with locals carrying the Ogoh-Ogoh on their shoulders, dancing to traditional Balinese music. The parade symbolizes the burning of "demons" and "bad spirits" of the old year before the silence begins.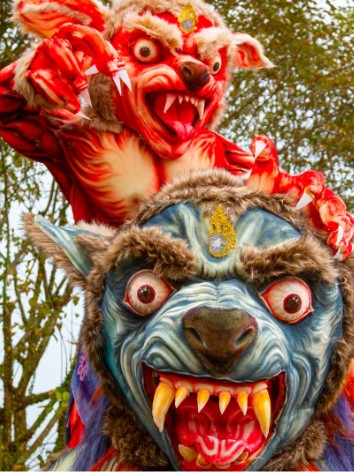 Meditate, do yoga, read books, and reflect
Nyepi is an opportunity to rest, reflect, and renew alongside the local community. Embrace this special time of silence and stillness. Turn off your devices, open your mind, and experience Bali in a whole new way.
Respect Bali's Day of Silence
The least we can do as a tourist is to respect local traditions. Avoid noise, activities and even eating in public that would disturb the locals.
Watching the starry night sky
Stargazing without the usual light pollution is a perfect activity during Nyepi. Look outside your balcony and be amazed at the beauty of the night sky.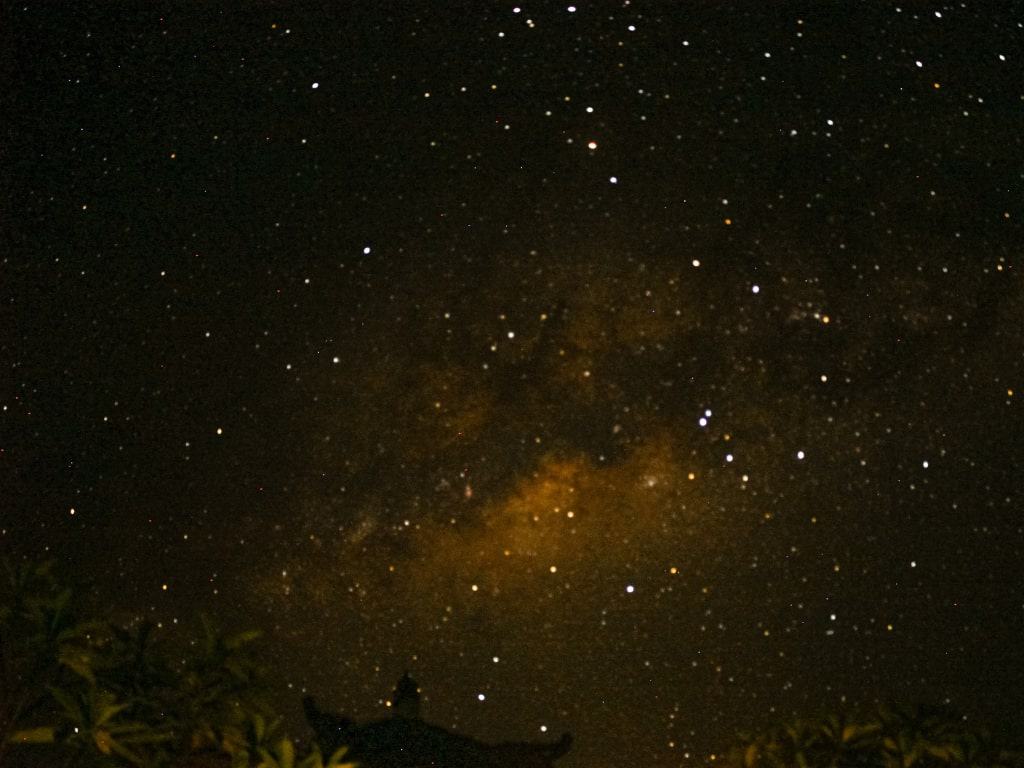 See is the Ngempak Geni
Ngempak Geni is where small bamboo cannons are fired to signal the end of the day of silence. Hearing the loud bangs at midnight is a dramatic way to mark the return of normal life in Bali.
Where to Stay During Nyepi in Bali
When Nyepi rolls around, finding accommodation in Bali can be tricky since many places are required to close for the day. Here are a few hotels that remain open and even offer special Nyepi packages to make the most of the experience.
AYANA Resort and Spa Bali is a luxurious 5-star hotel located in Jimbaran that provides a Nyepi Escape package. For around USD 250 a night, you get a one-bedroom villa, daily breakfast, and access to resort facilities like pools, gyms, and restaurants that remain open during Balinese Day of Silence. It's a perfect way to relax in seclusion while still enjoying world-class amenities.
The Colony Hotel Bali in Seminyak is a hip boutique hotel that stays open for Nyepi. Room rates start around USD 100, and the hotel organizes special cultural activities like ogoh-ogoh parades, Balinese dance performances, and traditional BBQs to give tourists an authentic sense of the celebration. The vibrant Seminyak area also comes alive again right after Nyepi ends, so it's a great place to be based.
Bali Dynasty Resort in South Kuta offers a good value 2-night Nyepi package for around USD100, if you're on a budget. You get buffet meals, cultural entertainment, and use of resort facilities. While not ultra-luxurious, the resort has nice Balinese-style rooms, expansive gardens, and pools to enjoy in peace during the Balinese Day of Silence.
Things to Do Before and After Nyepi
Here are a few important things you'll want to do to prepare and honor this sacred holiday.
Shop and Stock Up
The day before Nyepi, head to a supermarket or convenience store and stock up on snacks, food, water, and any essential supplies you may need during the 24 hours of self-reflection.
Since you'll be confined to your hotel grounds with no access to stores or restaurants, be sure to purchase enough to get you through the day. Cash is king in Bali, so also visit an ATM to withdraw some Rupiah in case stores aren't able to process credit cards.
Book Treatments in Advance
If you're staying at a resort, I highly recommend booking any spa treatments, meals, or activities well before Nyepi. The resort staff will also be observing the day of silence, so most amenities and services will be unavailable. Booking treatments like a Balinese massage or facial ahead of time ensures you'll have plans for the day without leaving your hotel.
Book Tours in Advance
If you want to do any sightseeing or activities before or after Nyepi, book them ahead of time. No one, including tourists, is allowed on the streets or beaches on this Day, and wifis are cut so plan accordingly. The day after the Day of Silence, life returns to normal in Bali, and tours, attractions, and transportation options resume as usual.
Let friends and family know you won't have cell service for 24 hours. Wi-Fi and mobile networks are turned off. Inform your loved ones and any remote work that you will be off the radar for a day.
Respect the Rituals
The most important thing is showing respect for the local traditions. On Nyepi Day, avoid leaving your hotel, using electronics, and lights, or making loud noises. The purpose of Nyepi is for self-reflection and purification.
Honor this by meditating, relaxing, or reading in your room. It's a unique opportunity to disconnect from technology and reconnect with yourself.
My Experience Observing Nyepi in Bali
As a tourist in Bali during Nyepi Day, I didn't know what to expect. Although I was there for less than a week, experiencing this Balinese "Day of Silence turned out to be a highlight of my trip.
On the eve before the Balinese Day of Silence, I witnessed the noisy Ogoh-Ogoh parades. The next day, the island went completely silent.
At first, the quiet felt strange. But soon I found it peaceful. I spent the day reading, journaling, and reflecting. Without the usual distractions, I could turn inward. This started my interest in meditation and stillness which inspired me to pursue my career in leading retreats and teaching yoga.
Nyepi FAQs: All About Bali's Day of Silence
Can tourists participate?
Yes, all people on the island, including visitors, must observe Nyepi. No exemptions are made.
What should I do during Nyepi?
Stay in your hotel room, villa, or accommodation. Refrain from any noise or activities. Meditate, read, and sleep. It's a day for inward reflection.
Will there be any services available?
No. Everything shuts down for the day. Stock up on food and supplies beforehand.
When does Nyepi start and end?
It lasts from 6 AM until 6 AM the next day. The exact dates change each year based on the Balinese calendar.
What happens after Nyepi?
Life returns to normal. Shops, restaurants, and the airport reopened. The festive spirit continues for a few more days.
Can you talk during Nyepi?
During this sacred time, interactions with hotel staff are limited. Hindu Balinese families typically observe their rituals at home. It's a period of deep reflection and devotion for them.
They avoid conversations with each other, answering phones, or receiving guests. There is a serene absence of lights, cars, motorbikes, and people on the roads and beaches.
Is Nyepi only in Bali?
Although Nyepi is recognized as a national holiday all across Indonesia, it's essentially a Hindu ceremony that holds its significance mainly in Bali.
Is Nyepi celebrated in Gili Islands?
If you're not up for spending the entire day at your hotel without electricity and the internet during Nyepi, you have an alternative. Many tourists choose to take a short trip to Gili Islands for a few days. Most of the residents in Gili Islands practice Islam, so they don't celebrate the Hindu holiday of Nyepi there.
What happens if you go out during Nyepi?
If you try to go out, you will be stopped by hotel staff and pecalang or local police. They're always keeping an eye out for rule-breakers. Also, it's not a great idea to book a flight on Nyepi day because there won't be any plane landings or take-offs for a full 24 hours.
Nyepi offered a chance for quiet contemplation I didn't know I needed. The peaceful and serene atmosphere stayed with me even after I left the island. Here are some tips for those who wish to experience the same sense of tranquility:
Do a digital detox. When was the last time you spent a day without your phone and social media? Take a break from technology, recognize your attachment to it, and enjoy the freedom of being disconnected, even for just a day. Use this time for self-reflection by reading, meditating, journaling, or doing yoga.
Watch the sunrise and sunset. Take in the beauty of nature in its stillness and allow yourself to be immersed in its calming power. Observe how this can easily bring you into the present moment and a state of bliss.
Learn the meaning and purpose behind this Day. Unlike most cultures that celebrate the New Year with noise and festivities, the Balinese welcome it with silence and reflection. Consider taking a different approach to the new year by reflecting on the past year and mindfully planning for the future.
Conclusion
In the end, Nyepi was a unique experience I'll never forget. If you happen to be in Bali during the Balinese Day of Silence, embrace the opportunity to slow down, turn inward, and experience Bali in a way most tourists don't.
I left Bali feeling recharged and with profound gratitude for the simple pleasures in life. Give Nyepi a chance—you just might find the silence speaks to you too. Have you experienced Nyepi? Would you be open to experiencing it?