Lempuyang Temple: A Complete Guide To The Gate Of Heaven
Traveling has helped me discover the world and appreciate its beauty as it is. However, social media and mass tourism have made a lot of these places crowded, often turning them into mere photo spots.
There's nothing inherently wrong with that, but this trend has affected even the cultural and spiritual places.
Lempuyang Temple, Bali's most famous temple has been a victim of this. Today, you often have to wait in line for hours just to capture a photo of its iconic gate.

In this guide, I'll share everything you need to know to visit Lempuyang temple, including whether it's worth the visit and how to make your experience more meaningful should you decide to go.
Why is it Called The Gate of Heaven?
Lempuyang Temple is also known as Bali's Gate of Heaven.
The word 'lempu' means 'light.' Meanwhile, 'Yang' originates from 'Hyang,' which is a term used to refer to God. Together, 'Lempuyang' means 'a God that shines a bright light.'
And it stays true to its name. Because it is located on the east side of the island, you can witness the rising sun, and it feels as if God is the one shining the light for you.
Standing in front of the iconic split gate called Candi Bentar, you will see the breathtaking view of Mount Agung. This mountain is the highest and most sacred volcano for Balinese.
The bright light from the sun, combined with the majestic view of Mount Agung and the surrounding natural beauty, creates the impression of a pathway to heaven.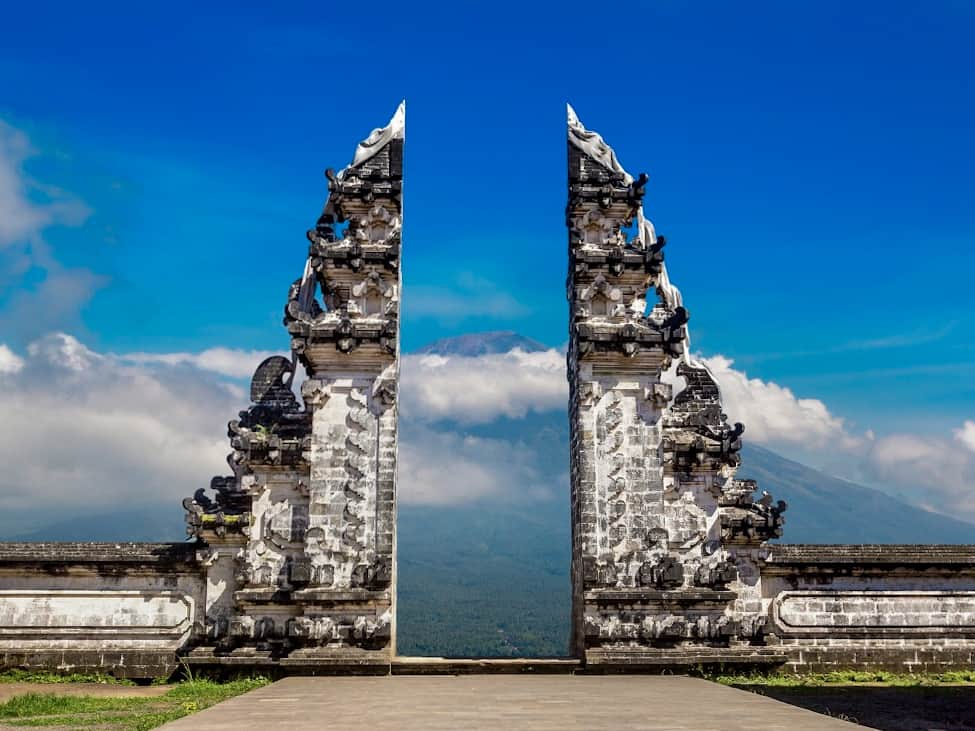 My Experience in Lempuyang Temple
My second trip to Bali was part of my company's incentive. Part of our itinerary included a visit to Lempuyang Temple. I had seen countless stunning photos of this place on Instagram, so I couldn't contain my excitement to witness its beauty firsthand.
At 6:00 a.m., we left our hotel accommodation in Ubud. Our van dropped us off at the parking lot, and from there, we each hired a motorbike to take us to the temple. We were also told that we should rent traditional sarongs so we got one each.
We managed to arrive at the base of Lempuyang at 7:00 a.m. To my surprise, there was already a long line of tourists.
As soon as the line moved, I discovered that the famous Instagram photos with water reflections were just made with a mirror. There is a local photographer who sits and takes pictures of tourists by placing a mirror on the lower front of the camera to create an illusion of water reflection.
We stood in line for nearly an hour because we were already in line at 7 a.m. Had we arrived later, we could have waited three to four hours. All that waiting just for a few minutes of photo opportunities seemed almost hilarious.
Surprisingly, I didn't feel disappointed. We just laughed at how different the experience was from the picture-perfect portrayals on social media.
Despite the wait, Lempuyang Temple was undeniably beautiful. The gates did look like a passage to heaven, and the view of Mount Agung was breathtaking.
We even spotted some chickens nearby, walking on the gate as if they were trying to get through the gate of heaven or maybe they were just tired of the silliness of us humans and our obsession with that particular photo.
Though I may not come back to Lempuyang Temple for that photo, I was happy to have the photo, and that one-hour wait gave me time to reflect on things in my life – how grateful I am to be in Bali, how the chickens live so freely, and what kind of travels truly bring me joy.
It reminded me that even when a place does not live up to the picture-perfect expectations set by social media, there's still a world of beauty, culture, and mindful experiences waiting to be discovered. This temple is genuinely spiritual after all.
Where is Lempuyang Temple in Bali located?
Lempuyang Temple is located at the top of Bisbis Hill, in Tista Village, Abang District, Karangasem Regency.
It is believed to have been founded around the 11th century, making it over a thousand years old.
The temple complex is situated at an elevation of approximately 1,175 meters (3,855 feet) above sea level. Though it's mostly popular with tourists who want to have a scenic view of Mount Agung, this temple is considered one of Bali's holiest sites.
How to Get to Lempuyang Temple?
Because Lempuyang Temple is located in the far eastern corner of Bali, Indonesia, it is best to base yourself on the Amed Coast.
From Amed, the distance to Lempuyang is approximately 12.7 kilometers, which is around a 30-minute drive.
However, if you are at Ubud, which is in South Bali, the temple is 73-76km one way, and going to the temple will take you a 2-hour drive to Lempuyang.
Whether you choose to drive a car or hire one, you will be dropped off at the temple's parking lot. From there, it's a 10-minute walk to the temple entrance.
You can also book a motorbike via Grab or hire one of the motorbikes parked there for a faster climb. However, if you're up for it, take the steps on foot and enjoy the scenery even more with a hike!
How many steps does it take to climb Lempuyang Temple?
Upon reaching the base of the temple, there is a staircase with 1,700 steps. You need to climb these stairs to reach the Candi Bentar which is the famous split gate of Lempuyang Temple. This challenging climb to Candi Bentar will give you a breathtaking view of Mount Agung.
For an easier climb, do not bring so much stuff. Drinking water, a face towel, a camera, and proper clothing are enough for you to enjoy the clime and still be fresh enough for the photos. You can also rent sarongs for 10,000 IDR in case you need one.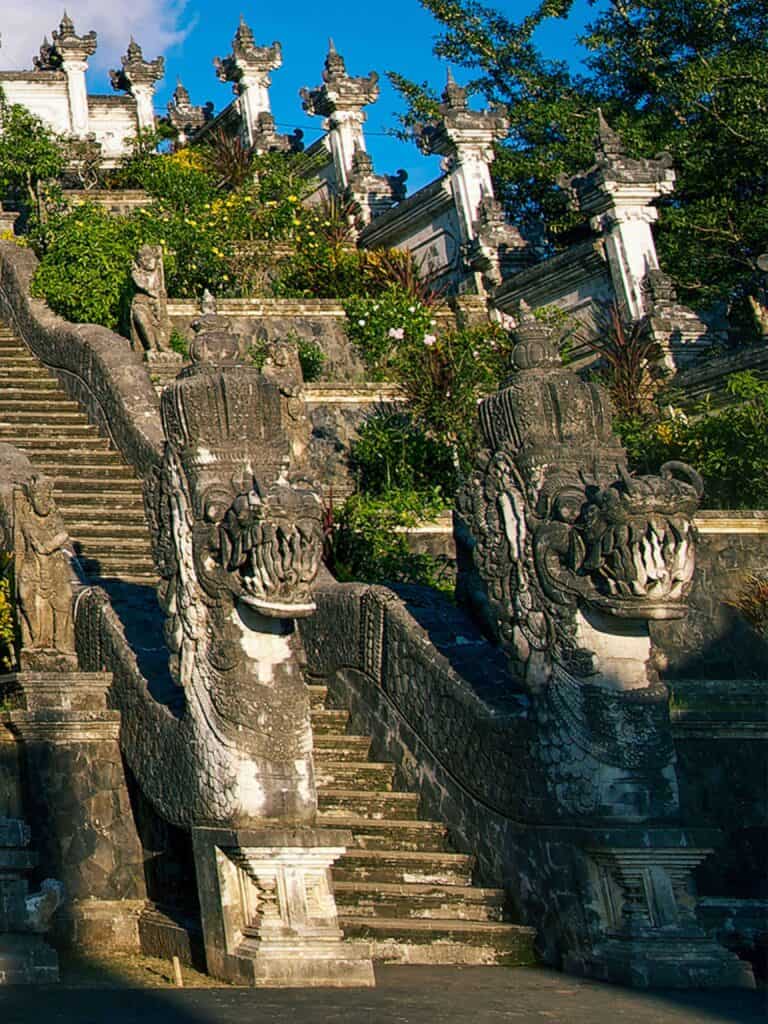 Best Way to Get to Lempuyang Temple
The best way to get to Lempuyang Temple is by renting a scooter or hiring a private car. You can book these online. However, because many tourists are going to this temple early morning, start booking 30 minutes before your desired departure. Or to be sure, one day before your trip.
You can book scooters on Bikesbooking and a private car ride via Viator.
Important reminder: You need to get the International Driving Permit (IDP) to legally ride a scooter in Bali. Although I've heard a lot of tourists who get away with this rule, there are some random checks where you need to show this permit.
Under Indonesian traffic law, driving without a license is considered an offense that can result in a punishment of up to four months in prison or a fine of IDR 1 million (US$67.84).
You can conveniently secure a digital copy of your IDP in just 8 minutes through the International Drivers Association. Just provide your active email address as your IDP will be delivered to you via email.
Lempuyang Temple Entrance Fee
The entrance fee at Lempuyang Temple is 55,000 rupiah per person or approximately US$ 3.44 as of November 2023.
You can also take a shuttle bus from the parking area to Lempuyang Temple for 45,000 rupiah per person round trip. Alternatively, you can walk 10 minutes uphill.
Lempuyang Temple Opening Hours
Lempuyang temple is open from 6 a.m. until 7 p.m for tourist visits. However, the temple gets crowded on any day so arrive early in the morning to avoid long queues under the heat of the sun.
Best time to Visit Lempuyang Temple
If you want to capture the perfect photo of the Gate of Heaven, the ideal time to visit Lempuyang Temple is during the morning hours. There's always a line of tourists early in the morning, so line up before it opens at 6 a.m.
This way, you can avoid big crowds, long lines, and waiting. The morning sunlight is perfect for taking pictures at the 'Gate to Heaven' without strong shadows, and you'll see Mt. Batur clearly with fewer clouds.
Even if you're not just looking for the perfect photo, coming early is a good idea. Mornings are cooler, making your visit more comfortable as Bali's tropical climate can become quite hot and very humid during the day.
Arriving in the morning offers a chance to immerse yourself in the temple's spiritual ambiance when it's at its most serene.
Alternatively, you can choose to visit in the late afternoon after the crowds have subsided and enjoy the serenity of Lempuyang Temple.
The Lempuyang Temple photo trick
Sorry to be the one to break it to you, but those famous reflection photos of the Lempuyang Gate of Heaven on Instagram that might have inspired you to visit were a mirror illusion.
The famous photo creates an illusion of a lake beneath the Lempuyang Temple. The water is a result of a mirror that reflects the temple itself and the people posing there for a picture. This effect was achieved by strategically placing a mirror at the lower front of the camera.
A local Balinese is available the entire day to take pictures of tourists just like this. Even if it's just an illusion, it's still cool and exceptionally beautiful, so if you want to have a go at it, do so.
Otherwise, you can simply skip the whole craze and visit other parts of the temple, which are equally beautiful and more peaceful.
What do you wear to Lempuyang?
Although Lempuyang Temple is one of Bali's famous tourist spots, it was built and still serves as a place of worship. Remember to show respect for the place by dressing modestly.
All temple visitors are required to wear a sarong. This can usually be rented at the gate for a small fee, 10,000 rupiah, which is less than a dollar.
Shorts and sleeveless tops are not allowed in the temple. You can still enter as long as you cover them with a sarong.
What We Should Not Do in Visiting Lempuyang Temple?
Lempuyang Temple is not just a tourist spot; it is also a place of worship for locals. Therefore, please be respectful and mindful during your visit. Here are some things you should avoid:
Inappropriate Attire: Do not wear shorts, skirts, or sleeveless tops when visiting the temple. Both men and women should dress modestly, covering their shoulders and knees. You may rent a sarong at the base of the temple if needed.
Disruptive Behavior: Avoid loud conversations and any behavior that may disturb the peaceful ambiance of the temple. Remember that this is a place of worship for many, and it's crucial to show respect.
Avoid Entering the Temple during the Cuntaka Period: Cuntaka is an impure period based on Hindu beliefs, such as during menstruation or within 12 days following the death of a family member.
Touching Sacred Objects: Refrain from touching or tampering with the temple's sacred objects, offerings, or altars. Treat everything within the temple with reverence and avoid any form of disrespect.
Ignoring Rules and Regulations: Pay close attention to the temple's rules and regulations, which may include specific guidelines for conduct, photography, and offerings.
Skipping the Queue: There is often a line for taking photos at the famous 'Gate to Heaven.' Please wait your turn patiently, as cutting in line is disrespectful to fellow visitors.
Intrusive Photography: When taking photos, be considerate and avoid stepping on or over sacred areas to get a better shot. Always ask for permission before taking photos of people.
Disposing of Litter: Refrain from leaving any litter behind. Use designated trash bins to dispose of waste, and make an effort to keep the temple area clean.
Engaging in Public Displays of Affection: Public displays of affection, such as kissing or hugging, are generally considered inappropriate within the temple. Maintain a respectful and modest demeanor.
By following these guidelines, you can ensure a respectful and culturally sensitive visit to Lempuyang Temple
Is Lempuyang Temple worth it?
If you're looking to capture that sought-after "Gate to Heaven" photo, then yes, it's worth the wait and hustle.
Moreover, if you're visiting the place to appreciate its architectural beauty and its spiritual ambiance, it's stunning even without the gate. You can skip the crowd and find serene spots at the lower part of the temple to truly enjoy the location.
However, if you want a peaceful temple to visit, I would recommend skipping this temple. There are other, less crowded temples in Bali, like Goa Gajah, that can provide you with the serenity and calmness you desire for a temple visit.

While Lempuyang Temple is famous for its iconic "Gate to Heaven" photo spot, it offers much more than just a picturesque setting. Beyond the camera clicks, the temple reveals remarkable architecture, breathtaking views, and a spiritual atmosphere. What aspect of Lempuyang resonated with your soul during your visit?