Chiang Mai Flower Festival: All You Need to Know
Chiang Mai is famous for its festivals, including Loy Krathong (Festival of Lights), Songkran (Thai New Year), and the Chiang Mai Flower Festival. During my first visit, I was lucky to see the city as a floral paradise.
Whether you're visiting Chiang Mai after exploring Bangkok or Phuket, or you happen to be in the city during this time, this guide will help you make the most of your visit to this renowned flower festival. Plus, I'll share the best street food spot that you can visit after the festival!
When Is the Chiang Mai Flower Festival?
Chiang Mai Flower Festival is an annual event every February. Traditionally, it is held on the first weekend of the month to celebrate the end of the cold season.
This year, the festival runs from Friday, February 3 to Sunday, February 5, 2023. The flower float parade and flower displays take place on Saturday at Suan Buak Haad (also known as Nong Buak Haad) public park.
Chiang Mai Flower Festival 2024 Dates
The Chiang Mai Flower Festival will be held at Suan Buak Haad from February 2 to February 4, 2024.
Chiang Mai Flower Festival History
Chiang Mai, known as the "rose of the north" in Thailand, is a city celebrated for its natural beauty. Its valleys and hills provide a habitat for many tropical flowers, which bloom in January and February. The Chiang Mai Flower Festival has been held since 1977 and features flower floats, beauty pageants, cultural performances, and flower-arranging competitions.
Why is Chiang Mai Flower Festival Celebrated?
The Chiang Mai Flower Festival is a celebration of the natural beauty of northern Thailand. It honors the farmers who cultivate the diverse array of flowers and plants thriving in the region's fertile soil and favorable climate. It is a joyful appreciation of life, the importance of community, and our connection to nature.
Top Attractions at the Chiang Mai Flower Festival
Chiang Mai Flower Festival showcases the region's stunning tropical flowers and cultural heritage. Here are the top attractions during the Chiang Mai Flower Festival:
The Flower Float Parade
The main highlight of the festival is the Flower Float Parade. Local groups spend months designing and creating floral floats featuring traditional Thai shapes, symbols, animals, religious figures, and more, all crafted entirely from natural materials.
Happiness on the Way Tip
Try this Travel Mindfulness Exercise. Look closely at the flower floats. Notice the color, shape, texture, and smell of the flowers. Savor it. Look at people in the float. Notice their expressions. The smiles and pride on their faces. Think of how these flowers were grown. From the nourishment of the soil, water, and sun to the farmers who took care of them, send gratitude to everything and everyone who made this beauty possible.
Chiang Mai Flower Festival Parade Route + Map
The parade route starts as 25 flower floats line up on Charoen Muang Road from the railway station to Nawarat Bridge. The parade then moves over the bridge towards the old city, up Tha Phae Road. Then, it turns left along the moat at Tha Phae Gate to Suan Buak Haad Public Park. After the parade, you can still admire the floats at the park.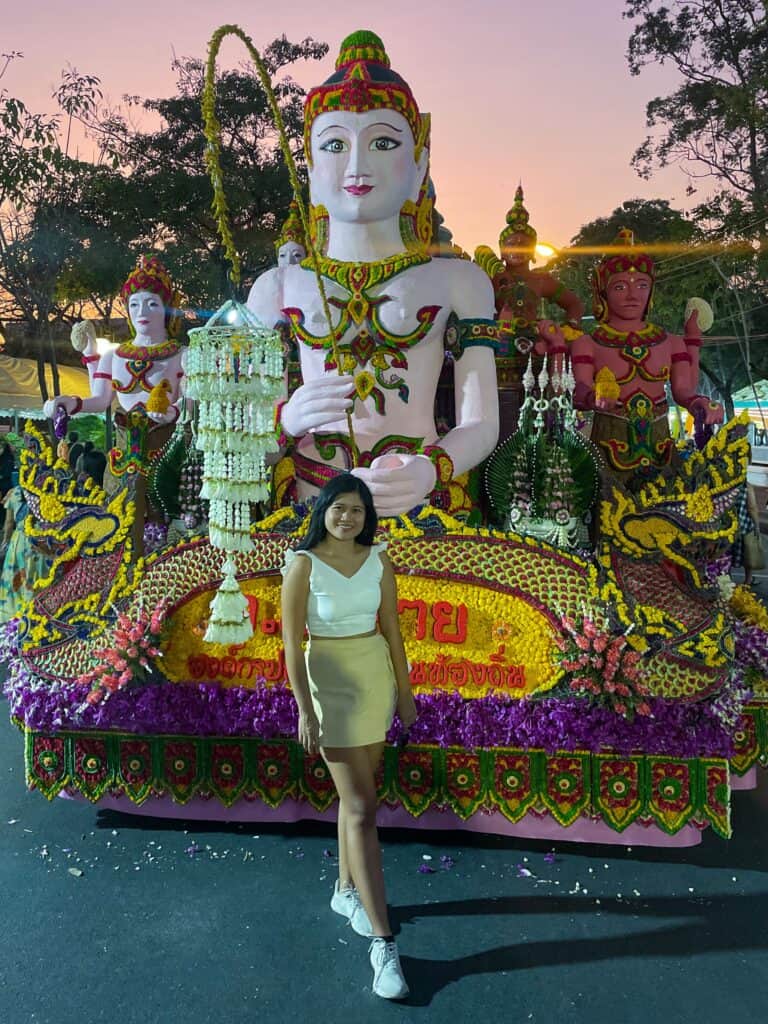 Chiang Mai Flower Festival 2023: Event Schedule
Date
Time
Event
Friday, February 3
7:00 PM
Opening ceremony of the 2023 Chiang Mai Flower Festival
Exhibition of flower arrangements, decorative plants, and mini garden landscaping at Suan Buak Haad Park.
Friday, February 3
8:00 PM – 11:00 PM
Miss Flower Blooming Beauty Contest at Suan Buak Haad Park.
Saturday, February 4
8:00 AM
A flower parade of more than 25 flower floats starting from the Nawarat Bridge. The parade will go along Thapae Road, Kotchasarn Road, Changlor Road, and Arak Road, and end at Suan Buak Haad Park.
Saturday, February 4
6:00 PM – 8:00 PM
Thai Lanna Performance and cultural show at the Suan Buak Haad Park.
Saturday, February 4
7:00 PM
Presentation of awards for The Flower Festival Parade floats at Suan Buak Haad Park.
Sunday, February 5
6:00 PM
Music performances at Suan Buak Haad Park.
Sunday, February 5
4:00 PM – 8:00 PM
Thai Lanna Performance and cultural show at the Suan Buak Haad Park
Flower Exhibitions at Suan Buak Haad Park
Suan Buak Haad Park comes alive during the festival with vibrant floral displays and gardening competitions. There are various flower shows and exhibitions displaying exotic blooms throughout the city. I enjoy strolling the themed garden sections, like the Tulips Garden, Gerbera Garden, and Orchid Greenhouse. I even video-called my "plant mom" mother to show the variety of flowers being showcased and she was so amazed. Definitely bringing her to this festival!
The park is open from Friday to Sunday from 9:00 a.m. to midnight. I also recommend visiting the park at night when it is illuminated by thousands of colorful lights.
Cultural Performances
In addition to the flowers, the festival celebrates Lanna culture. Traditional dance troupes, musical ensembles, and hill tribe groups perform on stages around the city, especially in Suan Buak Haad Park.
Thai Street Food Market
Before reaching Suan Buak Haad Public Park, you'll pass by a row of Thai street food stalls. Enjoy a variety of local rice meals, drinks, and desserts. It's a feast for both the eyes and the taste buds. No need to worry about skipping a meal before the festival.
And as promised, I'll also share the best street food spot after the festival. Chiang Mai's second largest night market is located at Wua Lai Walking Street, only an 11-minute walk away from Suan Buak Haad Park, where the flower exhibitions and flower floats are. And it happens every Saturday during the flower parade! This is one of the best night markets in Chiang Mai with several hundred stalls. A perfect way to end your Chiang Mai Flower Festival experience!
Is Chiang Mai Flower Festival Worth Visiting?
Chiang Mai Flower Festival is a must-see event for anyone interested in flora, art, culture, travel, and good food. The festival showcases cultural activities that span across the city. From the flower parade to exhibitions, it provides a glimpse into northern Thai culture. With breathtaking flowers, lively cultural performances, and perfect weather, the Chiang Mai Flower Festival offers a complete experience.
Tips for Enjoying the Chiang Mai Flower Festival
Here are a few tips that will help you make the most of your festival experience:
Arrive Early. If you want to experience the full festival, arrive early, before 8 a.m. when the festival opens. This allows you to beat the crowds and see the floral displays in all their morning glory. The flowers are freshest after the night's cool temperatures and morning dew.
Or Arrive Late. Yes, you can also arrive late and go to Suan Suan Buak Haad Park where the flower floats will stay after the parade. This is also the main venue for the flower exhibitions and light illumination at night. And as I've mentioned, it's 11 minutes away from Wua Lai Walking Street Saturday Night Market so you can have a full itinerary.
Wear Comfortable Shoes and Bring Essentials. You'll be on your feet exploring the many garden areas. Don't forget to bring essentials like sunglasses, sunscreen, a hat, and a bottle of water to stay hydrated in the warm weather.
Take time to stop and smell the roses – literally! Over 1 million flowers are used in the elaborate displays. Gorgeous orchids, lilies, gerberas, and birds of paradise are artfully arranged around every corner. Have your camera ready to capture the vibrant colors and natural beauty.
Where to Stay During the Chiang Mai Flower Festival
Chiang Mai is a great place to find accommodation year-round, and during the flower festival, the city sees an influx of visitors. To ensure a comfortable stay after enjoying all the festival has to offer, it's best to book in advance.
If you're looking for a community feel in Chiang Mai, consider checking out The Park Society. It is located in a quiet location close to popular tourist spots and offers fast internet and a cozy common area where you can work or socialize with other travelers. Their breakfast is delicious. You may even meet some friendly long-term guests during your stay. We stayed there for a week and then returned for another week after our trip to Pai. If you happen to stay there, say hi to M!
Here are other accommodations you can check out:
ON Thapae Chiangmai
CREW Hotel
Thai Akara – Lanna Boutique Hotel -SHA Extra Plus
Asa Hotel
Buri Gallery House
Other Activities You Can Do in Chiang Mai
If you're staying for a few days in Chiang Mai, here are the other activities you can enjoy in this beautiful city:
Mama Noi Thai Cookery School Chiang Mai
Wat Doi Suthep, Wat Chedi Luang, and Wat Pha Lat Temples
Well, there you have it, a guide to one of the most colorful celebrations in Northern Thailand. If you find yourself in Chiang Mai during the first week of February, don't miss your chance to attend this colorful cultural festival experience Chiang Mai in bloom.
Have you been to Chiang Mai Flower Festival? How does Chiang Mai Flower Festival compare to other flower festivals you've attended around the world?