What Makes Calauit Safari Park So Unusual?
A safari in the Philippines? As a mindful traveler, I was hesitant to visit this park. However, after learning about its complex history, I knew I had to see this place myself.
Calauit Safari Park, also known as Calauit Island National Park, is home to exotic animals like giraffes, zebras, and Calamian deer roaming free. In this guide, I will share everything you need to know about the park to help you decide whether or not to visit.
A Brief History Of Calauit Safari Park
The Calauit Safari Park was established in the 1970s when former president Ferdinand Marcos commissioned an English wildlife expert, David Anthony "Tony" Parkinson. He was tasked to ship a boatload of African animals to the remote Calauit Island in the Philippines to save them from extinction.
Over 200 Tagbanwa families were relocated to Halsey Island, 40 kilometers away, to make room for a park. The bamboo forests on the island were cleared to resemble the savannahs of Kenya.

However, Marcos and his friends wanted to start a tourism business, according to Parkinson. "That was all nonsense," he said. "None of them were endangered. We would never have put them on an island like that if they were endangered."
Between May 1976 and August 1977, 104 feral African animals of eight species were introduced to Calauit Island in the Philippines. The population grew to 201 after five years, with 143 animals born on the island. As of 2005, the sanctuary was home to various local animals as well as Palawan peacock pheasants, porcupines, sea eagles, wildcats, scaly anteaters, and pythons. Calauit Safari Park opened in 1977.
Calauit Safari Park Current Status
Today, Calauit Safari Park is home to over 1,200 endemic animals, including Calamian deer, Palawan bearcats, and crocodiles. African transplants have also adapted well to the tropical climate. Animals roam around freely, with giraffes gracefully roaming the grasslands and zebras socializing in herds.
Although facing budget cuts and poaching threats, knowledgeable ranges are trying their best to protect the wildlife. This is why we decided to visit the park. Yes, the animals shouldn't be here. Yes, I believe we should not support any zoo that exploits animals for entertainment or profit. But they're already on this island. If this park would only rely upon government support, these animals would soon be in danger. Calauit deserves our protection and support.
A Safari Adventure in Calauit Island National Park
After the quick boat ride, visitors have the choice of exploring the savannah by truck or hiking. We went with a track because we planned to visit a secret waterfall near Calauit.
Our guide welcomed us to a wildlife sanctuary in the Philippines with a smile. He has been a tour guide here for over 20 years and his passion for the animals was evident.
Feeding giraffes is allowed in the park. My partner and I decided to give it a try. To ensure our safety, we were placed inside a cage. We were provided with branches of leaves, which the giraffes would then reach for with their long, blue tongues. This experience evoked a mix of nervousness and amusement within me. However, despite the fun experience, I came to realize that feeding giraffes interferes with their natural freedom. It is best for them to not become accustomed to human feeding, so I won't partake in this activity again.
We also met native wildlife, like the Calamian deer, Palawan bearcats, and crocodiles. Our guide pointed out the cheeky monkeys hanging freely in the trees. We learned a lot about the animals and the conservation efforts to protect these animals and their habitats.
The Animals of Calauit Safari Park
The animals were undoubtedly the highlight of our trip to Calauit Safari Park. As we entered the park, we were immediately greeted by a herd of giraffes casually strolling by. Their long necks and spotted coats made them unmistakable, even from far away.
Giraffes Galore
I stay away from zoos. I was thrilled to see giraffes roaming freely in the open grasslands of Calauit. These gentle giants, specifically known as reticulated or Somali giraffes, are native to the Horn of Africa. Originally, 15 giraffes were transported to Calauit, but as of 2016, 27 giraffes are present in the park, some of which were born naturally on the island.
Zebras
The Grévy's zebra is considered to be the largest living species of zebra. As of 2016, there were a total of 34 individuals thriving in the park. This particular species of zebra is known for its unique and striking appearance, characterized by narrow stripes that are closely spaced apart. Despite being an endangered species, efforts are being made to preserve and protect these magnificent animals, ensuring their survival for future generations to appreciate.
Native Wildlife
In addition to giraffes and zebras, Calauit is also home to Calamian deer, turtles, Philippines porcupines, and Philippine crocodiles. Deer roam around free, while crocodiles are kept in enclosures. The population of Calamian deer, an endangered species endemic to the Calamian Islands, also flourished, thanks to the conservation efforts of the park.
A Glimpse of the Savannah
Walking through Calauit really felt like being transported to the African savannah. With grassy plains as far as the eye can see, and animals like giraffes, zebras, and deer roaming freely, we could almost imagine we were on a luxury safari tour. The park's conservation efforts have clearly paid off, with the animal populations thriving.
Calauit Safari Park Fees
You can go on your own to Calauit Safari Park or join an organized group tour. If you book a group tour, entrance, safari tour, and environmental fees are included. However, if you go on your own, here is the list of the new fees for Calauit Safari Park: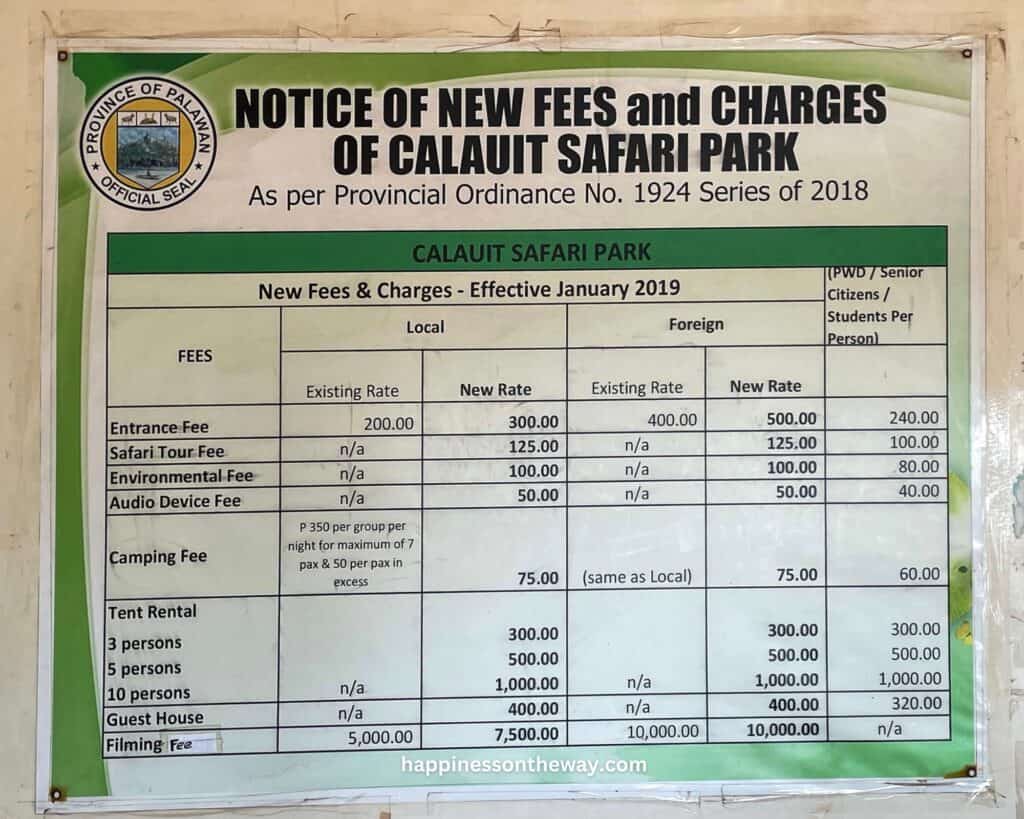 On a minimum, you need to pay ₱400 (USD $8) for Filipinos and ₱600 (USD $ 12) for foreigners. You need to pay an additional ₱125 (USD $2.21) each if you want to do the safari tour with a truck. On top of this, you need to go with a boat from the port to the park which costs ₱150 (USD $3) for locals and ₱200 (USD $4) for foreigners.
You can also join an organized group tour for ₱2,200 (USD $44) and -3,000 (USD $50), which includes fees, boat transfer, lunch, and roundtrip transport from Coron. This join-in tour is the currently cheapest group tour available online.
How to Get to Calauit Safari Park
By Plane. If you are coming from Manila or other major airports, you can fly directly to Francisco Reyes Airport (Busuanga Airport). From the airport, it is only around a 1.5-hour drive to Calauit Island Port. Find the cheapest flights here.
By public transport. You can also take a scheduled van trip at 10 AM from Coron Public Market to New Busuanga. The van will bring you to Salvacion. From there, you can rent a motorbike or ride a tricycle to Calauit Island Port, which costs ₱500 -₱750 (USD $10 – USD $15)
By private tour. If you want more convenient transport to Calauit Port, book a private tour. I found the cheapest group tour via Klook for 44 USD (Php 2,200) per pax. Use my code 5L64AK and get a Php 250 discount on any of your bookings.
By private car or motorbike. Motorcycle rentals typically range from ₱500 to ₱750 per day (equivalent to USD $10 – USD $15), while car rentals are priced between ₱2,000 and ₱3,000 (USD $40 – USD $60). If you feel confident riding a motorbike, I strongly suggest considering this option as there are numerous captivating sights to explore in Busuanga. You can find the cheapest car rental here.
Boat Ride – Whichever mode of transport you choose, you will arrive at Calauit Port. From there, you will take a 10-minute boat ride to Calauit Island.
Tips for Your Visit
Here are some tips to make the most of your Calauit adventure:
Wear light, comfortable clothing -Even if you won't do the hike, you will still roam around the park so light clothing and wear comfortable shoes.
Bring insect repellant – The park is in open nature. Put some insect repellent for mosquitoes.
Join a group tour – Unless you plan on staying in Busuanga for more than 2 days and renting your own vehicle, a tour takes care of logistics and the boat transfer. You'll end up saving more if you're traveling alone.
Allow at least 3 to 4 hours to explore the whole park. There's so much to see and do! Explore the whole park – there's more than just the safari ride.
Where to Eat near Calauit Safari Park
After a day of wildlife viewing, here are some delicious food options near Calauit Safari Park to satisfy our hunger:
JME Restaurant
This casual nipa hut restaurant is located at Calauit Safari Port, so it's perfect if you're hungry before or after your boat ride. They offer affordable classic Filipino foods like adobo, kare kare, and sinigang. You can also enjoy ice-cold drinks in a laid-back atmosphere. It's a great spot to recap your safari adventures with fellow travelers!
Buluang Fishpond Restaurant
Located just a 10-minute ride away, this restaurant offers the freshest seafood and Filipino specialties like octopus adobo and buttered crabs. Situated on a fishpond, you can enjoy grilled fish and shrimp while taking in the rustic atmosphere and unique dining experience.
H-Nice Restaurant
If you have time after your safari tour, visit Ocam Ocam Beach, just 25 minutes away. There you can dine at H-Nice Restaurant, which offers a beachfront setting and a menu ranging from pasta to sisig. Indulge in a shake or fresh coconut juice while watching the sunset and soaking up the laid-back reggae vibes. It's the perfect way to end an exciting day on the island!
Where to Stay near Calauit Safari Park
Inside the Calauit Safari Park
Yes! You have the incredible opportunity to set up your own tent or even rent one for USD $6 – USD $20 depending on the size and embark on an unforgettable camping adventure right in the heart of the park. Imagine waking up to the magnificent sight of zebras and giraffes grazing just a few meters away. It's a once-in-a-lifetime experience to immerse in this African wildlife sanctuary fully.
The Beach House Ocam Ocam
Just 23 minutes from the port, The Beach House Ocam Ocam is a secluded 5-star paradise. Spend a few nights in one of their luxury beachfront villas, with a private terrace and hammocks swaying between palm trees. For a relaxing splurge, check out this Beach House!
Ocam Ocam Azur Inn
Located in Ocam Ocam Hills, Ocam Ocam Azur Inn was our home for three nights. The secluded bungalows provided the perfect blend of comfort and privacy. Each morning, we woke to birds chirping in the mango trees and enjoyed fresh breakfast at their restaurant overlooking the beach. The lodge is only a 22-minute drive from the port, but it feels like a secluded tropical escape. If you want to unplug in a natural setting, Ocam Ocam Azur Inn is the ideal accommodation.
FAQ: Calauit Safari Park
We loved our visit to Calauit Safari Park! If you're planning a trip to Coron, Palawan, this should be at the top of your list. Here are some of the most frequently asked questions to help you prepare for a fantastic adventure.
How long is the tour?
The safari tour typically lasts 1-2 hours, depending on how many people are in your truck.
What should you bring?
– Comfortable walking shoes
– Light snacks, water, sun protection and insect repellant
– Camera
How to book a Calauit Safari tour?
You can book a safari tour through Klook or Get Your Guide. These tours offer convenient roundtrip transport from Coron Town. Having personally experienced these tour providers multiple times, I wholeheartedly endorse them as a top choice.
Can we do self-guided or private tours?
Absolutely! The park has well-marked walking trails if you prefer to explore on your own. However, be mindful not to get too close to the animals for your safety. The park staff are friendly and knowledgeable, making this a great option if you want to learn more about wildlife conservation efforts.
What are things to do near Calauit Safari Park?
I highly recommend this secret falls which is 16 minutes away from the park. This breathtaking waterfall remains undiscovered even by the locals, ensuring that you will have the entire place to yourself. For detailed directions on how to reach this enchanting spot, check this guide. I also recommend exploring the secluded Ocam Ocam Beach and experiencing the beauty of the renowned Concepcion Falls.

Although the park's history is controversial, Calauit Safari Park provides a home for displaced animals and raises awareness about conservation. The park reminds us of our connection to all living things and inspires us to protect nature's beauty.
How does Calauit Safari Park compare to other wildlife sanctuaries or parks you've been to? Whether you're planning a visit or not, we'd love to hear your thoughts!