21 Best Water Activities in Boracay: The Ultimate List
Boracay is a renowned beach destination that ranks among the top 10 in the world. But that's not all it has to offer. This tropical paradise is also perfect for adrenaline junkies seeking thrilling water activities!
I've been to Boracay four times and I've compiled a list of the 21 top water activities in Boracay. Keep an eye out for my personal favorites: #1, #2, #8, and #20.
1. Paraw Sailing: Glide into Sunset Bliss
Experience the beauty of the sunset while sailing on a traditional Filipino paraw sailboat. It's more than just a boat ride. It's a unique, romantic adventure through the golden hues of dusk. For some thrill, stand or sit on the side net and feel the ocean breeze like Moana! Whether with your SO or best friends, sailing into the sunset aboard a paraw is a magical experience.
Read: My Boracay Paraw Sailing Experience
2. Parasailing Over Azure Waters
Have you ever wanted to fly? If so, parasailing in Boracay is the perfect activity for you. You'll be attached to a parachute and be tugged by a speedboat. You'll feel the absolute thrill of gliding on air and some water dips! For approximately 15 minutes, you'll be soaring through the sky with a magnificent view of Boracay's white beach. Trust me, once you try it, you'll be hooked! I did it twice!
3. Snorkeling: A Peek into the Underwater World
Snorkeling in Boracay allows you to witness the breathtaking beauty of the underwater world even without knowing how to swim. Watch out for Nemo, Dory, and their friends in their natural habitat. You can go snorkeling as part of an island-hopping tour or explore fascinating areas like Puka Beach or Tambisaan. Bring your underwater camera to capture the surreal sights that await you!
4. Scuba Diving: Uncovering Hidden Treasures
Boracay is a renowned scuba diving destination in the Philippines. Scuba diving allows you to explore diverse marine life in crystal-clear blue waters using breathing equipment that supplies air. Lacking good swimming skills? You can still do scuba diving with a PADI-certified dive master who will help you discover this underwater world. You will receive training in gear usage and scuba diving, and practice your skills in shallow waters. Once you are ready, you can board a boat to witness the stunning underwater ecosystems of Boracay!
5. Paddleboarding: Dancing on Calm Waters
Originally used for yoga, pilates, and swimming enthusiasts' training, paddleboarding has become one of the quick recreational water activities in Boracay. Paddleboarding is done by standing up in an upright position at the center of the board and planting the rowing blade in the water to propel the board. Whether you're a beginner or an expert, it's the perfect way to enjoy the breathtaking beauty of Boracay's coastline.
6. Cliff Diving: Leap into the Deep
Cliff diving might be just what you need to experience an adrenaline rush. Imagine standing on the edge of a cliff, feeling the rush of excitement as you prepare to take the plunge into the deep blue sea. It can be a scary experience at first, but once you've leaped, you'll want to do it again and again. For cliff diving in Boracay, you can book a tour package with Ariel's Point or join an island hopping tour that includes a stop at Magic Island.
7. Island Hopping: Exploring Boracay's Neighbors
One of the most popular water activities in Boracay is island-hopping. If it's your first time on the island, I'd recommend you put it on your list. As part of the tour, you will visit various renowned tourist spots like Crocodile Island, Magic Island, and Puka Beach. You'll also experience snorkeling and cliff diving depending on your package. Best part? You'll enjoy delectable seafood and a local lunch buffet. The excursion typically lasts an entire day and starts at 10 a.m.
8. Jet Skiing: Riding the Waves in Style
Experience one of the ultimate water activities in Boracay — riding a jet ski. As you zoom across the waves, feel the wind rushing through your hair and the adrenaline surging through your body. I have been to Boracay four times, and my trip is never complete without this thrilling activity. You will have a skilled instructor to guide you, and all safety equipment will be provided. Choose from a 15-minute to an hour-long ride, solo or tandem ride.
9. Windsurfing: Harnessing Wind and Waves
Imagine riding the waves while harnessing the power of the wind – that's windsurfing. It's like a beautiful dance with the elements, where you become one with the wind and waves. Whether you're new to it or an experienced windsurfer, the rush of riding the wind is an experience like no other. Bulabog Beach offers the perfect conditions of a good wind with a moderate swell for this addictive sport!
10. Banana Boat Ride: Laughter Amidst Waves
This ride will surely make you laugh (guaranteed)! This water rollercoaster is full of unexpected turns that will last for about 15 minutes. You will be provided with a life vest for your safety. Banana boat is one of the best water activities in Boracay for groups of friends or families that will create unforgettable moments and endless amusement. You will definitely scream with joy, especially when you get dipped into the water.
11. Fly Fish: A Wild Ride on the Waves
Experience a heart-pumping adventure with the exhilarating fly fish ride! It's perfect for adrenaline junkies, groups of friends, and anyone who's ready for a wild and fun ride. Fly Fish uses a hovercraft with an air cushion. The ride starts as the craft is towed by a speedboat, and the faster it goes, the more thrilling it becomes as you and the other passengers hold on for dear life (literally). The stunning waters of Boracay add to the excitement and make the ride even more captivating.
12. Kitesurfing: Ride the Waves with Style
If you're looking for an exciting and elegant activity, kitesurfing in Boracay is a must-try. What's the difference between kitesurfing and windsurfing? In kitesurfing, the surfer is attached to both the board and a kite, while in windsurfing, the surfer is attached to the board and a sail. Whether you're an experienced kitesurfer or a beginner, Boracay is the perfect destination to enjoy this thrilling sport.
13. Sunset Cruise: Basking in Golden Horizons
Cruise along the shores of White Beach and take in the sights and sounds of our tropical island paradise. Enjoy some water activities such as snorkeling, mermaiding, stand-up paddleboarding, and kayaking, or simply relax in a water hammock while listening to live music or specifically book a Sunset Party Cruise. Whether you're with your partner, best friends, or family, or just seeking a moment of calm, this magical experience is a perfect way to end your day.
14. Crystal Kayak: Paddle on Clear Waters for a Mesmerizing View
Crystal Kayak is more than the famous Instagram-worthy photos you see online (though they're really stunning right?). It's also a calm and serene way to explore nature. It offers a private tour of hidden coves and untouched areas. Gliding on the clear blue waters of Boracay in a crystal-clear kayak is like walking on water but with even greater views. The kayak's transparent hull provides a front-row seat to observe the lively marine life and colorful coral formations beneath the surface.
15. Flyboarding: Defying Gravity over Water
Flyboarding lets you defy gravity using water propulsion. It's like becoming a superhero as you soar, twist, and dive back into the sea. If you're up for a futuristic adventure that'll make your heart race, look no further – this is the thrill you've been waiting for. Flyboarding / Hoverboarding is one of the fastest-growing new water activities in Boracay. Learn to fly like Iron Man, swim like a dolphin, and get the amazing adrenaline rush.
16. Underwater Scooter: Submerged Adventures
Wanna walk on the ocean floor? Well, now you can with Underwater Scooter Ride or Breathing Observation Bubble! This exciting activity offers the chance to explore the island's diverse marine ecosystem, surrounded by a beautiful display of coral reefs and a school of neon-colored fish. And the best part is, you don't need a diving certification to enjoy this adventure!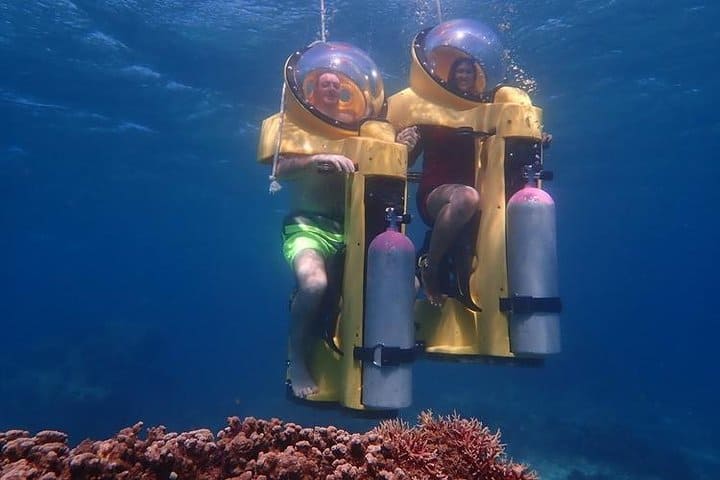 17. Freediving: Dive into the Depths with Your Breath
One of the recently popular water activities in Boracay is freediving. This is snorkeling but diving deeper while holding your breath for longer periods underwater. It's a test of endurance and your ability to remain calm. The free diving beginner's course costs Php10,000 and covers safety, breathing techniques, water and pool sessions, and certification.
18. Helmet Diving: Walk Among the Fishes
Experience the sensation of breathing underwater by trying Helmet Diving in Boracay! First, you'll take a speed boat to the dive location. Once there, you'll put on an oxygen-pumped helmet and receive a safety briefing. Slowly, you'll descend to the ocean floor to explore the amazing marine life of Boracay. You'll even get to stand on a sandy sea bed and observe colorful fish and coral reefs up close!
19. Mermaid Swimming: Channel Your Inner Ariel
Experience the joy of embracing your inner child by joining a mermaid swimming class. Slip into a colorful tail and glide through the water with grace and enchantment. This is not just a fun activity but an opportunity to learn how to swim like a mermaid. With the help of instructors, you will learn basic swim strokes and breathing techniques, and have the chance to capture your experience with a photo shoot. Upon completion of the course, you will receive an international mermaid swimming certificate (yes, that's a thing!)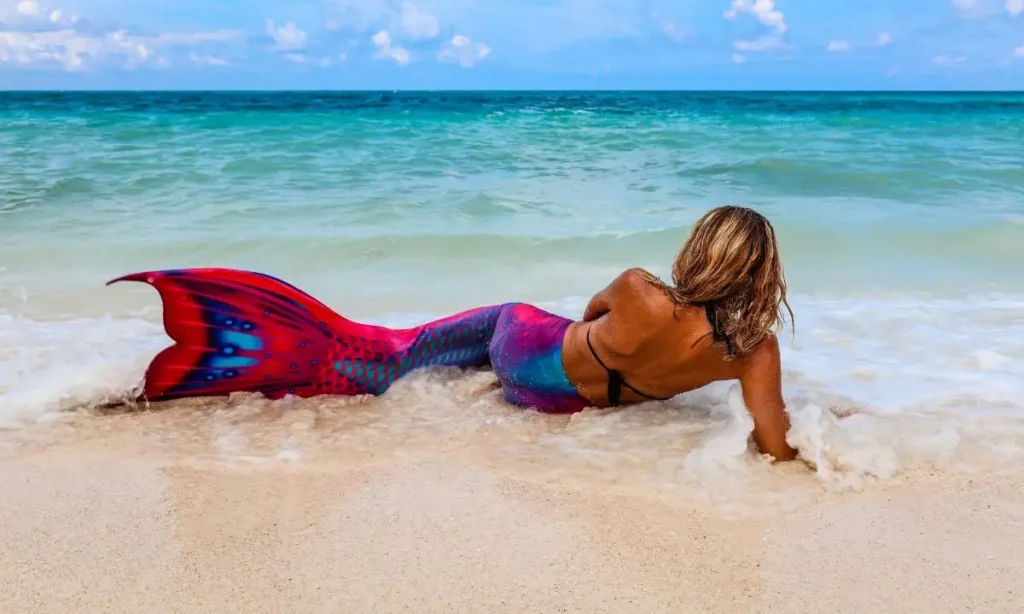 20. UFO or Hurricane Ride: Defying Gravity Over Waves
Get ready for an exhilarating adventure on an inflatable disc that zooms, spins, and curves, delivering an intense rush of adrenaline that will stay with you. Pick from the UFO or Hurricane inflatables, depending on how you wish to be whirled, rotated, or tugged by the speedboat! Anticipate shrieks, chuckles, and a few sore muscles after this experience, but it's all worthwhile!
21. Swimming in Crystal Clear Waters: Pure Bliss of Boracay
Sometimes, the simplest pleasures bring the most joy. I put it at the end to make sure you won't miss the very thing that made you fly to Boracay — its crystal clear waters! It's a chance to connect with nature, feel weightless, and let the worries of the world slip away. Among all the water activities in Boracay, this activity is a must-do for every Boracay visitor.
Best Time to Do Water Activities in Boracay
Boracay's enchanting waters and vibrant marine life welcome travelers year-round, but different months offer unique experiences for water activities. Let's dive into the best times to enjoy the aquatic adventures this paradise has to offer:
December – February (Cold Dry Season/ Peak Season)
As the cool breeze sweeps in, December marks the beginning of the dry season in Boracay. This period, extending through February offers ideal conditions for various water activities. The calm seas and clear skies create a perfect setting for snorkeling, scuba diving, and boat tours. Underwater visibility is at its peak, allowing you to witness the kaleidoscope of coral and marine life beneath the surface. With gentle waves and comfortable temperatures, these months are also perfect for kayaking, paddleboarding, and kitesurfing.
March-May (Sunniest Weather)
As summer sets in, Boracay becomes a haven for sun-seekers. March to May is characterized by warm temperatures and clear skies, making it an excellent time for all water activities in Boracay. The calm waters are perfect for diving, allowing you to explore underwater caves and colorful reefs. Stand-up paddleboarding and parasailing also shine during this time, as you can bask in the sun's warmth while gliding on the serene waters.
June – August (Wet Season)
The southwest monsoon, or "habagat," brings occasional rain showers and rougher seas during June to August. While these months are considered the rainy season, they also bring a unique charm to Boracay. Surf enthusiasts will enjoy the larger waves that roll in, offering exciting opportunities for windsurfing. The rain showers are usually short-lived, making it a great time to enjoy water activities in Boracay while avoiding the crowds.
September – November
The transition from the wet to the dry season begins in September, making this period a delightful time to visit. The waters gradually become calmer, and the weather starts to improve. You'll find comfortable temperatures and a refreshing breeze in October and November. Snorkeling and diving are the best water activities to do this time, with clearer waters returning and marine life becoming more active. Stand-up paddleboarding and kayaking are also enjoyable, as you'll have the chance to explore the tranquil shores with fewer visitors.
FAQs: Water Activities in Boracay
Can I participate in water activities if I'm not a strong swimmer?
Absolutely! Most water activities in Boracay cater to all skill levels, including beginners. You will receive proper training, safety gear, and guidance from experienced instructors to ensure a safe and enjoyable experience.
What's the best time of the year for water activities in Boracay?
The dry season from November to April is the best time for water activities in Boracay, as the weather is sunny and the waters are calm. However, even during the rainy season, you can still enjoy water adventures as the rain is usually short-lived. Your guides will cancel/reschedule the activity if the weather is not safe.
Can I book water activities in Boracay in advance or should I book on-site?
Both options are available. You can often book activities through your accommodation or local tour operators. Booking in advance online is usually the cheapest option because of the available discounts. Spontaneous bookings can also be arranged once you're on the island.
What should I bring for water activities in Boracay?
Bring sunscreen, a swimsuit, a change of clothes, and a waterproof camera or water case for your phone. For most activities, additional gear like snorkeling masks and swimfins are already included in the tour package or can also be rented from your tour providers.
Can I bring my own equipment for water activities?
In most cases, necessary equipment is included in your tour package to ensure safety and consistency. However, you can bring your own gear like snorkeling masks and swimfins, but make sure it meets safety standards.
Are water activities in Boracay safe?
Yes, most reputable activity providers prioritize safety and follow strict guidelines. Book only from licensed operators and follow instructions from experienced guides.
Can I participate in water activities in Boracay if I have health conditions?
It depends on the activity and your condition. For example, if you have hypertension (high blood pressure), you cannot join helmet diving. Consult your doctor before engaging in water activities, and inform the activity provider about any health concerns.
Are there age limits for water activities in Boracay?
Age restrictions differ depending on the activity. Jet skiing is only permitted for individuals who are at least 18 years old. Parasailing is allowed for aged 6 and above, but they must be supervised by an adult. To confirm any restrictions, kindly consult your tour provider.

There you have it – the ultimate list of the best water activities in Boracay. Whether you're seeking an adrenaline rush, some fun in the water, or peaceful moments in this paradise, there's an aquatic activity for everyone. Have you picked yours?