14 Best Places To Visit In Jaffna: The Ultimate List
Jaffna is a city in the northernmost part of Sri Lanka. Despite being a Sri Lankan city, it has a strong influence from India due to its proximity. This influence is seen in the local cuisine and on the streets.
Even if you only have 1-2 days in Jaffna, you can easily visit the first six places on the list. Additionally, you can visit the nearby charming islands. Enjoy discovering the 14 best places to visit in Jaffna with this complete guide.
1. Nallur Kandaswamy Kovil
This Hindu temple is a spiritual centerpiece of Jaffna. You can easily visit this temple by taking a 10-minute tuk-tuk ride from the city center. Visit the red-colored temple and witness intricate carvings, vibrant paintings, and a sense of serenity. Don't rush; take your time to witness the daily rituals and feel the devotion that fills the air.
Five minutes walk from Nallur Kandaswamy is Jaffna's famous ice cream shop — Rio Ice Cream. Grab one yourself and you'll know why it's often crowded with locals and tourists.
2. Jaffna Archaeological Museum
Walking distance from Nallur Kandaswamy Kovil is Jaffna's Archeological Museum. Step back in time at the Archaeological Museum. Though it's not well maintained, you'll still be amazed by fascinating ancient artifacts, intricate pottery, and fascinating relics that tell the story of Jaffna's rich history. There is no entrance fee but there's a small donation box at the exit door. Also, no photography is allowed inside the museum.
3. Jaffna Market
One of the best places to visit in Jaffna is its main market. The bustling Jaffna Market is a sensory delight. Stroll among stalls bursting with colorful fruits, spices, and handicrafts. It's a wonderful opportunity to blend into the local life and strike up a conversation with these friendly people. And the fruits here are heavenly good!
Another way to fully experience a place is by learning to cook their local food. This cooking class gives you the opportunity to make Jaffna's mutton curry and pittu in 2 hours using a traditional clay pot.
4. Jaffna Fort
This old Dutch Fort is one of the historical places to visit in Jaffna. Built in 1618 by the Portuguese, it's also known as one of the greatest Dutch ports in Asia. This snowflake-shaped fort is great for doing a walkthrough along the ramparts. You'll see a mesmerizing panoramic view of the city, the sea, and the lush surroundings.
5. Jaffna Public Library
Walking distance from the Jaffna Port is Jaffna's old public library. It was built in 1933 and during the early 1980's, it's one of the biggest libraries in Asia. However, it was burnt in 1981. The rehabilitation of the library was completed in 2001 and it's now open again from 9:00 a.m. to 7:00 p.m. It's a peaceful spot to unwind with a good book or simply admire its architectural beauty.
6. Jaffna Clock Tower
The Jaffna Clock Tower is an iconic landmark in the city center. It was built to commemorate the visit of Albert Edward, Prince of Wales to Ceylon in 1875. The clock tower is conveniently located within a 3-minute walking distance from the public library. It is one of the top six best places to visit in Jaffna for a short 1-2 day trip.
If you're staying in Jaffna for more days, I recommend visiting one of the nearby islands. You can conveniently reach them by taking a local bus. The locals are extremely friendly and helpful, so don't hesitate to for directions.
Plan ahead and dedicate at least a day to your island excursion, as buses tend to make frequent stops and take a while to reach their destination. With that, let's start with one of my favorite places to visit in Jaffna — Nainatheevu.
7. Nainatheevu
Nainatheevu is a charming island off the coast of Jaffna. It's among the famous places to visit in Jaffna for its religious pilgrimage. For Buddhists, it holds the Nagadeepa Purana Viharaya, the site believed to have been visited by Gautama Buddha after enlightenment.
It is also the home of Nagapooshani Amman Kovil, an important Hindu temple dedicated to the goddess Nagapooshani. To get to Nainatheevu, take bus 776 or buses with Kurikadduwan or Nainativu signs. Get off at the last stop – Kurikadduwan Jetty, then take a 30-minute boat ride to Nainatheevu.
8. Nagapooshani Amman Kovil
The Nagapooshani Amman temple is the most visited Hindu Temple because it's one of 64 Shakthi Peeth in the region. Nagapooshani Amman Temple is dedicated to Goddess Parvati, the wife of the Hindu God, Shiva.
You'll have to leave your shoes and slippers outside the temple. I was able to witness a lot of Hindu rituals in this temple — from walking worship to different chants and even free community food after the worship. The sound of waves adds to the ambiance, making it a serene place for reflection and devotion.
Note: Male devotees have to remove their shirts before entering the temple.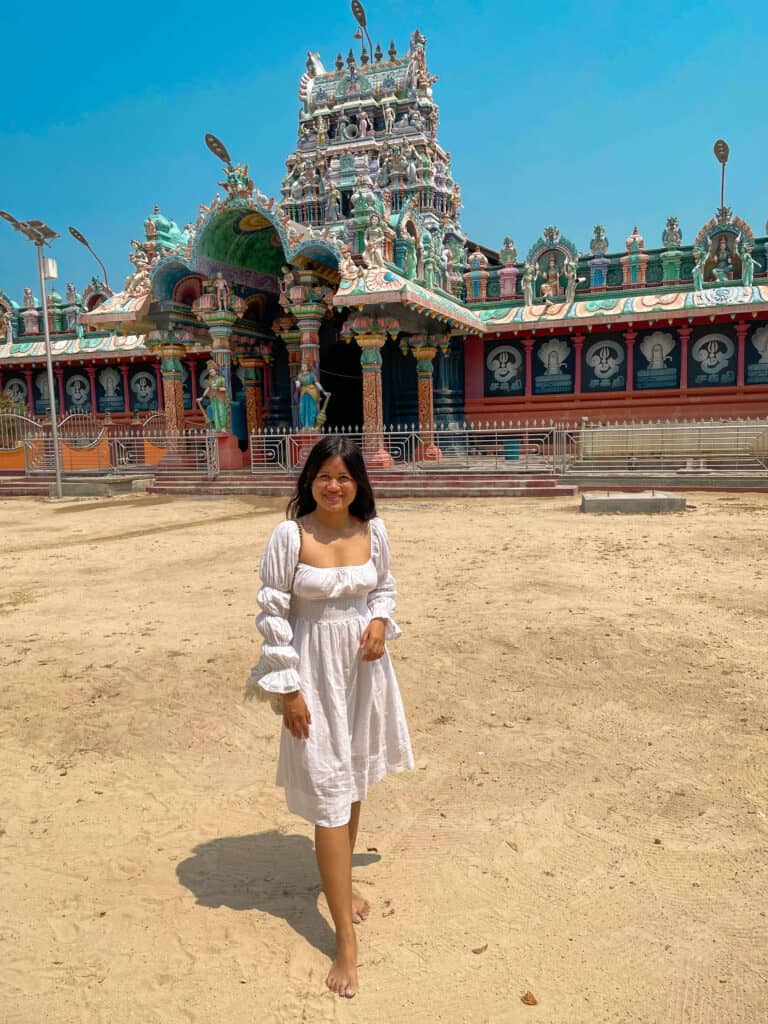 9. Nagasdeepa Purana Viharaya
A 9-minute walk from Nagapooshani Amman temple will lead you to Nagasdeepa Purana Viharaya, a sacred Buddhist temple. It is among Sri Lanka's holiest Buddhist shrines. Even if you're not practicing meditation, I recommend just taking a pause and enjoying the solitude and silence of this temple.
10. Point Pedro
The northernmost tip of Sri Lanka, Point Pedro offers a majestic view of the Indian Ocean. Point Pedro is one of the nicest sandy beaches in Jaffna. It's a spot where you can sit back, watch the mesmerizing sunset, and enjoy the soothing sea breeze.
You can reach Point Pedro by taking a 1.5-hour bus ride or driving 50 minutes by car from Jaffna.
11. Keerimalai Hot Springs
Keerimalai Hot Springs is a natural spring in northern Sri Lanka. Locals believe that the underground freshwater source is the Nilavarai Bottomless Well which holds healing, miraculous properties. Whether it's true or not, it's a tranquil place to take a dip.
Keerimalai Hot Springs is a 32-minute drive away from Jaffna.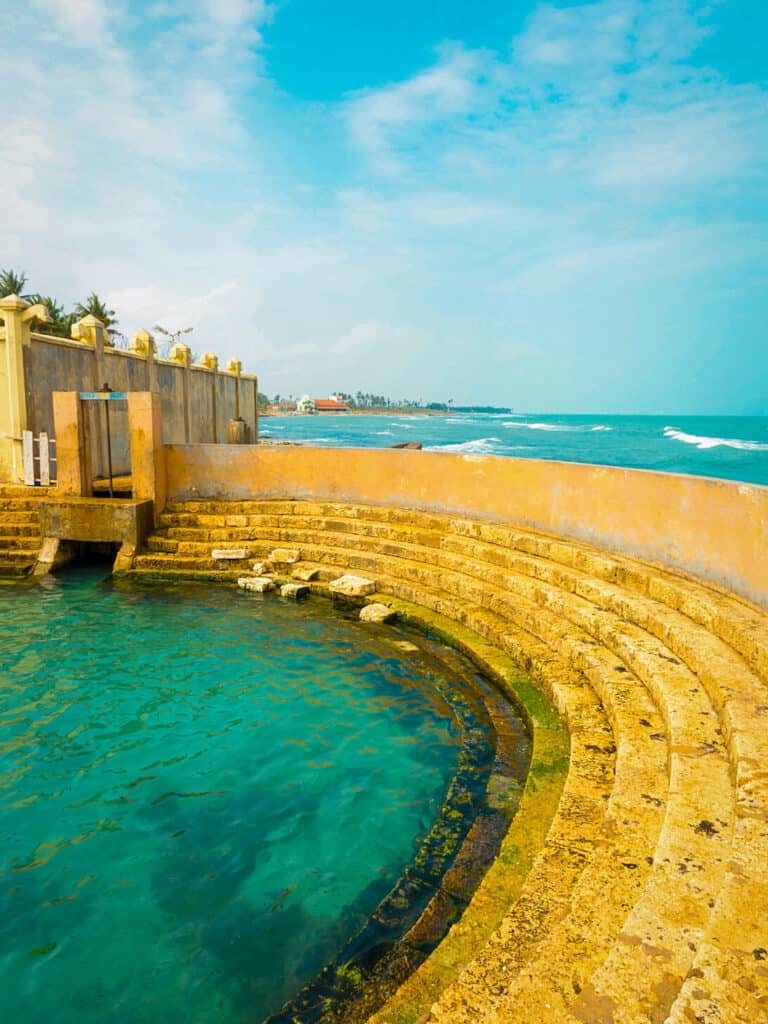 12. Naguleswaram Temple
From Keerimalai Hot Springs, walk for 4-mins and you'll arrive at the sacred grounds of Naguleswaram Temple, where the soothing pond and towering gopuram create an awe-inspiring atmosphere.
If you're coming from the hot springs, make sure you change and dress respectfully to honor the religious traditions.
13. Dambakola Patuna
Dambakola Patuna or Jamboka is an ancient port in the north of Jaffna. After Buddhism was brought to Sri Lanka in 250 BC, a sacred Bodhi Sapling arrived at this port a year later. Enjoy the tranquil atmosphere and the gentle waves as you visit this place.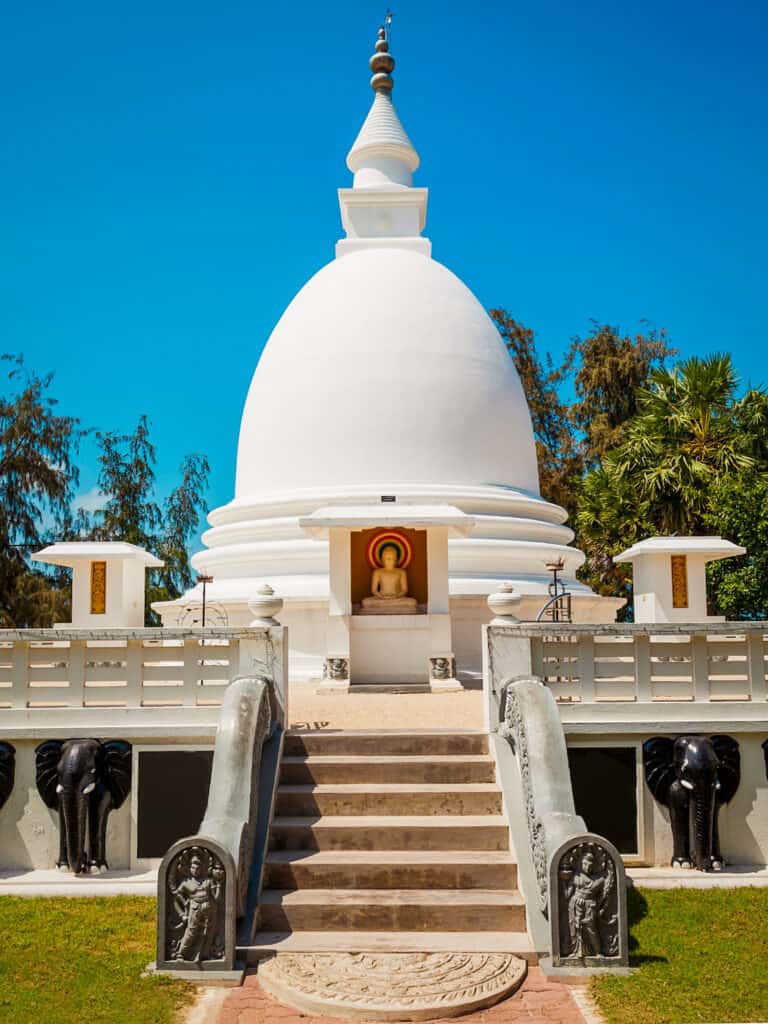 14. Delft Island
If religion and temples are not your vibes, you can check out Delft Island. Delft Island or Nedunteevu is Sri Lanka's remotest inhabited island. This small barren island of 4,700 hectares offers unique landscapes, including coral walls, wild horses, and remnants of Portuguese and Dutch colonial influence. It's one of the hidden places to visit in Jaffna and even Sri Lanka!
FAQs: Best Places to Visit in Jaffna

What's the best time to visit Jaffna?
The best time to visit Jaffna is during the dry season, typically from May to September. This period offers pleasant weather with minimal rainfall, ensuring an enjoyable time to explore the city's attractions.
Are there specific dress code requirements when visiting temples in Jaffna?
Yes, it's important to follow a conservative dress code when visiting Jaffna's temples. Both men and women should cover their shoulders and knees as a sign of respect for religious and cultural traditions. Dressing modestly with long skirts or pants is recommended.
Can visitors take photographs at historic sites in Jaffna?
Generally, photography is allowed in most historic places to visit in Jaffna. However, you'll see some signs where photography is not allowed. If you see one, please follow it.
What are the must-try local dishes and street foods in Jaffna?
Jaffna is renowned for its distinctive cuisine. Savor local delicacies like "Jaffna crab curry," "mutton string hoppers," and "Jaffna dosai." Exploring local eateries will treat you to authentic regional flavors.
Is Jaffna a safe destination for travelers?
Jaffna is generally considered a safe destination for travelers. However, like in any other place, safeguard your belongings, adhere to local guidelines, and stay informed about any travel advisories. The local community in Jaffna is welcoming and hospitable.
Are guided tours available for exploring Jaffna's historic sites?
Indeed, guided tours in Jaffna offer valuable insights into the city's history and culture. These tours enhance your experience by providing informative context about the places you visit. Check this complete 3-day tour in Jaffna.
Which places should I include in my Jaffna itinerary if my time is limited?
There are so many amazing places to visit in Jaffna. However, if you have limited time, prioritize adding key places like Nallur Kandaswamy Temple, Jaffna Fort, and Nainatheevu. These sites offer a glimpse into the rich history and culture of the region and are among the places to visit in Jaffna that can be covered in a shorter visit.
Are there accommodations available near Jaffna's attractions?
Yes, Jaffna offers a range of accommodations to suit various budgets. You can find hotels, guesthouses, and homestays conveniently located near the popular places to visit in Jaffna. Jaffna is also less touristy so you'll experience cheaper accommodations. I've stayed in a 4-star hotel in Jaffna for less than $100 USD a day!
What are the transportation options for traveling between Jaffna's attractions?
Tuk-tuk is the main mode of transportation around Jaffna. You can hire one to bring you to a specific attraction or commission one for a day of sightseeing the popular places to visit in Jaffna. You can also rent bicycles or scooters. Taxis and buses are also available options for longer journeys such as going to one of the local islands.
What's the historical and cultural significance of Jaffna's attractions?
Jaffna's attractions hold profound cultural and historical importance. They reflect the region's diverse heritage, encompassing Hindu temples, Buddhist sites, colonial-era remnants, and more. Exploring these sites provides a deeper understanding of Jaffna's rich past and present.

Jaffna is one of the off-beaten paths I'm glad I've visited in Sri Lanka. Whether you're into history, spirituality, or nature, I hope you found your own incredible places to visit in Jaffna! Let me know which one you liked on the list or if you have any additions!