19 Free Things to Do in San Francisco at Night
I enjoy finding free activities in new places. This allowed me to extensively travel for a decade now and appreciate life's simple pleasures. Even in costly cities like San Francisco, there are still plenty of free things to do at night. Here are my Top 18 free things to do in San Francisco at night.
1. Stroll the Golden Gate Bridge
A visit to San Francisco would not be complete without seeing the Golden Gate Bridge. At night, the bridge's Art Deco towers are illuminated by warm lights, creating a mesmerizing spectacle.
Walking on the bridge at night is a perfect way to rediscover the simple joy of wandering. The views, the solitude, and the chance encounters along the way will delight your senses and soothe your soul.
2. See the Bay Bridge Lights
The western span of the San Francisco–Oakland Bay Bridge is adorned with 25,000 LED lights that flicker and gleam in sync with musical rhythms, creating a dazzling symphony of light.
The light sculpture changes colors and patterns to celebrate seasons, holidays, and cultural events. It plays for about 2 hours every night starting at dusk. Enjoy a magical evening stroll along the waterfront promenade, and the best part is that admission is always free.
Currently, the nonprofit responsible for the "Bay Lights" on the Bay Bridge closed the light sculpture on March 5, 2023, to fundraise for a more durable and brighter version.
3. Catch the Sunset at Ocean Beach
Ocean Beach is a beautiful destination during the day and equally magical at night. As the sun sets, the tranquil ocean sparkles like a treasure trove of gems, and the beach is bathed in a golden radiance. Stroll along the beach or Find a spot to sit in the sand and enjoy the silence.
4. Experience San Francisco's "Little Italy"
North Beach is San Francisco's "Little Italy: and comes alive at night. Walk around Columbus Avenue and surrounding streets to soak in the atmosphere.
Finish the night with a stroll through Washington Square Park, where you can enjoy the city's beautiful architecture and charming fountains glowing under string lights at night.
5. Check Out Fisherman's Wharf
Take in the vibrant energy of Fisherman's Wharf at night. Street performers, food vendors, and souvenir shops create a bustling spectacle. If you're lucky (or unlucky), you may encounter the bushman who hides in a bush and startles unsuspecting passersby!
Sample delicious street food and perhaps enjoy a free sample of Ghirardelli chocolate while taking in the glittering bay.
6. Visit Golden Gate Park
Golden Gate Park is a serene oasis that you can visit in San Francisco at night. Take a stroll around Stow Lake, which is open until 9 p.m. You may see nocturnal animals like owls, bats, and coyotes.
Don't forget to bring a flashlight for the unlit paths. Explore the illuminated Japanese Tea Garden or the romantic ambiance of the Conservatory of Flowers. NightLife events at the Academy of Sciences are a must-see, with live music, cocktails, and scientific exhibits.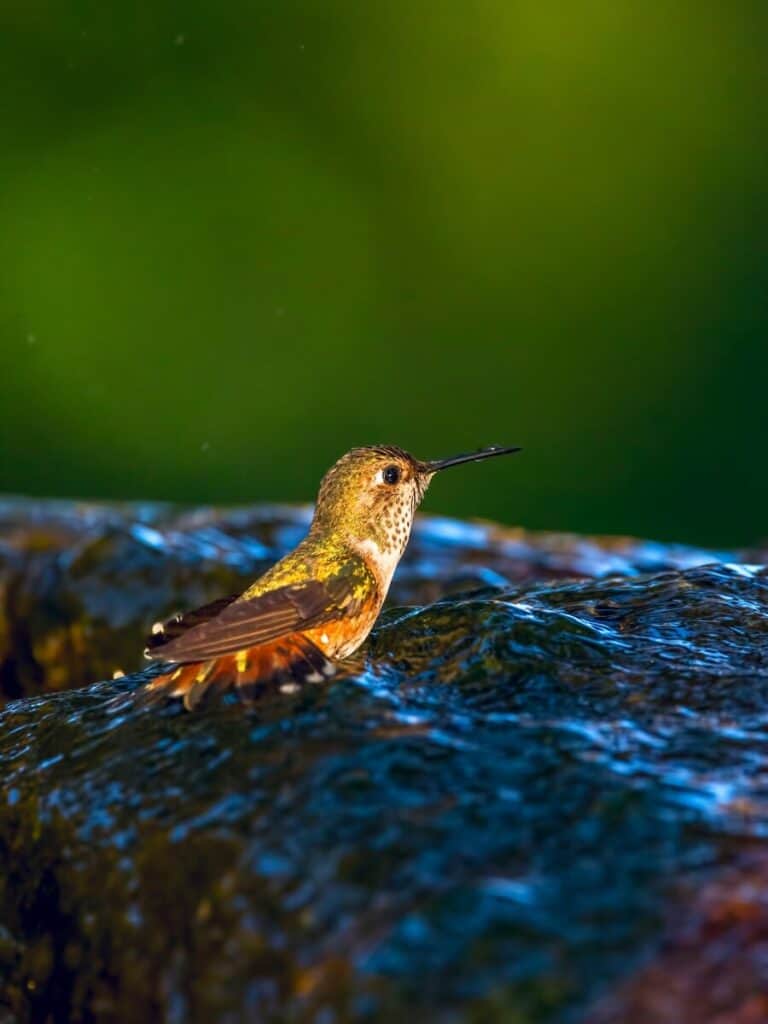 7. Glimpse Panoramic San Francisco at Night at Twin Peaks
Ascend Twin Peaks after dark for an unparalleled panoramic view of San Francisco's skyline. This pair of prominent hills offers a stunning 360-degree vista of the city skyline and beyond.
To the east, spot the San Francisco Bay Bridge glowing orange at night, and to the west, glimpse the Golden Gate Bridge shrouded in a veil of fog. For the best views, visit during a full moon to catch a moonrise over the Oakland hills.
If you enjoy these panoramic views of San Francisco at night, be sure to visit Griffith Observatory where you can also take in stunning views of Los Angeles.
8. Explore the Ferry Building Marketplace
The Ferry Building Marketplace is a foodie's dream, offering locally sourced artisanal foods, farm-fresh produce, specialty coffees, regional wines, and the opportunity to chat with the people who grow and make your food.
The Ferry Plaza Farmers Market sets up shop with regional farmers on Tuesdays, Thursdays, and Saturdays against the glittering backdrop of the bay.
9. See a Show at the Stern Grove Festival
The Stern Grove Festival is a San Francisco institution, putting on free outdoor concerts every summer since 1938. As one of the longest-running free outdoor music festivals in the U.S., it showcases a variety of music genres like classical, jazz, pop, and world music.
The festival runs from June to August, with shows every Sunday afternoon. Check the schedule ahead of time and arrive early to snag a good spot on the lawn.
Admission is free, but donations are appreciated to keep this beloved tradition going for future generations of music lovers and city dwellers seeking an escape without breaking the bank.
10. Take in the Views at Coit Tower at Night
Coit Tower provides stunning views of San Francisco at night. Visitors can see the Golden Gate Bridge sparkling or the moon rising over the Oakland hills from the observation deck.
The deck is open until 10 p.m. and is free to the public, but it can get crowded, so it's best to go on a weeknight. Don't forget to bring a jacket as it can get chilly, particularly when the wind picks up. Nevertheless, the incredible views make it well worth the visit.
11. Gaze at the Palace of Fine Arts When Lit Up
The Palace of Fine Arts is a stunning architectural masterpiece, and it undergoes a remarkable transformation at night.
The Greco-Roman architecture is bathed in a soft golden glow, creating a truly ethereal ambiance. Stroll through the illuminated columns and rotunda, and take in the beauty of this iconic landmark.
12. Soak up colors in Castro District
The Castro District is San Francisco's historic gay neighborhood, known for its lively nightlife. As night falls, the area comes alive, with people filling the streets and patronizing bars and clubs.
It's a perfect place to experience the city's culture for free. Take a leisurely walk down Castro Street and soak up the colorful and welcoming atmosphere.
13. Visit Alamo Square Park After Dark
Alamo Square is a beautiful park with iconic "Painted Ladies" Victorian houses that are bathed in a gentle radiance at night. Stroll through the illuminated gardens. The park is open until 11 p.m. and it's the perfect spot for a romantic evening or a peaceful escape from the city's hustle and bustle.
14. Experience the Conservatory of Flowers on the First Tuesday
The Conservatory of Flowers is a tropical wonderland, and its Night Bloom events create a mystical ambiance that transports you to an ethereal paradise.
It feels like walking through a jungle at dusk, with dramatic lighting highlighting the massive palm fronds, delicate orchids, and vibrant bromeliads. Visit the Conservatory for free on the first Tuesday of every month!
15. Witness the City Hall of San Francisco at Night
The San Francisco City Hall is a sight to behold at night. Once the sun sets, the historic building is illuminated, showcasing its Beaux-Arts architecture.
The dome shines bright, visible from all over the city. The building's design is accentuated by soft illumination, creating an exquisite ambiance.
Take a free, self-guided tour around the perimeter of City Hall at night for a more informative experience and admire its beauty from every angle.
16. Visit Union Square at Night
Union Square in downtown San Francisco is a lively area, featuring the "Dewey Monument", a 97-foot structure dedicated to Admiral George Dewey. The square also boasts numerous statues, fountains, and art installations.
During the holidays, visitors can view the 125-foot Christmas tree and the bronze "Victory" statue on the eastern end. Cable cars rumble by as music and laughter fill the air, providing a true sense of San Francisco's dynamic culture at this iconic location.
17. Be enchanted by the World's Crookedest Street
Lombard Street, known as "the crookedest street in the world," is a must-see attraction in San Francisco at night.
The gardens are illuminated, showcasing the street's beautiful cobblestone road. It looks magical after dark.
To avoid crowds and parking difficulties, visit Lombard Street between 9 p.m. and midnight. The best viewing areas are either at the bottom of the hill on Leavenworth Street or at the top of the curves on Hyde Street.
Once there, enjoy a leisurely stroll down the winding street, taking in the enchanting atmosphere. The gardens and flower beds lining the street are lit up, and the pastel-colored houses are bathed in a warm glow.
18. Spend the Night at the Largest Chinatown Outside Asia
One of the best free things to do in San Francisco at night is to visit Chinatown, the largest outside of Asia. The vibrant neighborhood comes alive after dark with its colorful lanterns, ornate architecture, and mouth-watering food.
Stroll down the bustling streets lined with shops and restaurants, catch a traditional lion dance performance, or explore the many hidden alleys and side streets, each with its unique charm and character.
For those looking for a late-night adventure, the karaoke bar is a must-visit spot. It's where the new generation of San Franciscans go to mingle, the local Chinatowners go to drink and socialize, and tourists come to see what makes Chinatown happy.
19. Enjoy a Night Out at the Mission District
The Mission District in San Francisco is an absolute gem for a fantastic night out in the city. What makes it so special? Picture vibrant street art, cool bars, and an atmosphere that's both trendy and welcoming.
Begin your evening at a chic cocktail lounge, then indulge in some of the city's finest Mexican cuisine at the local taquerias.
What really sets the Mission District apart is its thriving arts and culture scene. Explore art galleries, groove to live music, or catch a film at its historic theaters.
FAQs: San Francisco at Night
Can you walk in San Francisco at night?
Absolutely! San Francisco is best seen on foot. The city's famous landmarks like the Golden Gate Bridge, Alamo Square Park, and Fisherman's Wharf are beautifully lit up, and the streets are generally safe for tourists.
Just remember to dress warmly, as San Francisco evenings can get chilly, even in the summer.
What are the best places to walk in San Francisco at night?
San Francisco offers several great places for a nighttime stroll. One of the most iconic is the Embarcadero, where you can walk along the waterfront and enjoy beautiful views of the Bay Lights art installation on the Bay Bridge.
Another fantastic option is Fisherman's Wharf, which comes alive after dark with street performers and vibrant energy.
The historic streets of North Beach are also a charming choice, with their cozy cafes and Italian eateries.
If you're looking for a more tranquil experience, the Palace of Fine Arts is a serene spot for an evening walk, surrounded by classical architecture and a reflective lagoon.
Lastly, Golden Gate Park remains open at night, and a moonlit walk through this vast urban oasis is an unforgettable experience.
Is San Francisco lively at night?
Yes! San Francisco comes alive at night. The city has a thriving nightlife scene with plenty of bars, restaurants, and entertainment options.
Whether you want to enjoy live music in the Mission District, savor a gourmet meal in North Beach, or simply take a leisurely stroll along the illuminated waterfront, there's something for everyone after dark.
What time do bars close in San Francisco?
Most bars in San Francisco close around 2:00 a.m. However, there are some exceptions, as a few bars have earlier or later closing times. Always check the specific hours of the places you plan to visit to avoid any surprises.
What part of San Francisco has the best nightlife?
San Francisco has several neighborhoods with vibrant nightlife scenes. If you're into trendy vibes, go to Mission District. It has cool cocktail bars, live music venues, and even some dance floors.
If you're in the mood for something a bit fancier, check out Union Square and the Financial District. You'll find some posh cocktail lounges and rooftop bars to sip in style.
For a taste of that old-school charm, swing by North Beach. It's like a little piece of Italy, with its historic jazz joints, snug pubs, and charming Italian cafes.
Fisherman's Wharf is also buzzing at night, especially along Jefferson Street. You can dive into seafood feasts, enjoy street performances, and snag some souvenirs.
Is downtown San Francisco safe for tourists?
Downtown San Francisco is generally safe for tourists. Like any major city, it's essential to be aware of your surroundings and take common-sense precautions, such as safeguarding your belongings. Overall, San Francisco has a strong police presence, making it a safe destination for visitors.
Can you go to Golden Gate Park at night?
Golden Gate Park does not close. It's allowed to be in the park at any time. You can see fascinating illuminated attractions such as the Japanese Tea Garden and Conservatory of Flowers. Bring a flashlight for unlit paths.
What is the best month to go to San Francisco?
The best month to visit San Francisco largely depends on your weather preferences. September and October are often considered the best months due to pleasant, mild weather with fewer crowds.
You can also visit SF during December to experience the city's unique festive spirit during Christmas and New Year celebrations
However, San Francisco's climate is relatively moderate year-round, so you can enjoy the city's charms at any time, depending on your tolerance for cooler or warmer temperatures.
How many days do you need in San Francisco?
The number of days you need in San Francisco depends on your interests and how thoroughly you want to explore the city.
A typical visit can range from 3 to 5 days to cover major attractions. However, if you want to delve deeper into the city's culture, consider staying longer to discover hidden gems and enjoy a more relaxed pace.
Does San Francisco get cold at night?
Yes, San Francisco can get quite chilly at night, even during the summer. The city's proximity to the Pacific Ocean brings in cool breezes, so it's a good idea to bring layers, especially if you plan to be out and about after sunset.

San Francisco offers a variety of free nighttime activities that allow visitors to experience the city's beauty without spending money. Do some other free activities in San Francisco at night? Let me know in the comments and I'd be happy to add it to this list!