Udawalawe: The Best Elephant Safari in Sri Lanka
Sri Lanka is a unique country where people and elephants coexist. If you want to see elephants in a safe and animal-friendly way, national parks are the way to go. Udawalawe National Park is renowned for its large population of elephants.
Here's everything you need about Udawalawe National Park and whether it truly offers the best elephant safari experience in Sri Lanka.
Our Experience at Udawalawe National Park
We started our Udawalawe safari adventure early, as all good ones do, departing from Ella at 5 in the morning. As we got nearer to Udawalawe, we saw a breathtaking sunrise as if welcoming us to a beautiful encounter we hoped to have.
Upon arrival, we went with our driver as he effortlessly arranged our safari jeep tour and introduced us to our guide.
We enter the safari jeep with us being the only passengers. My stranger-turned-friend who I met in Ella, Marcel, couldn't resist poking fun at the pronunciation of "Udawalaweeee," sparking hearty laughter that set the perfect tone for our adventure.
Passing through the park gates, we immediately noticed the dense morning mist hanging in the air, creating an atmosphere charged with anticipation. The terrain was rugged, with pockets of grassland and scattered mid-sized trees painting the landscape.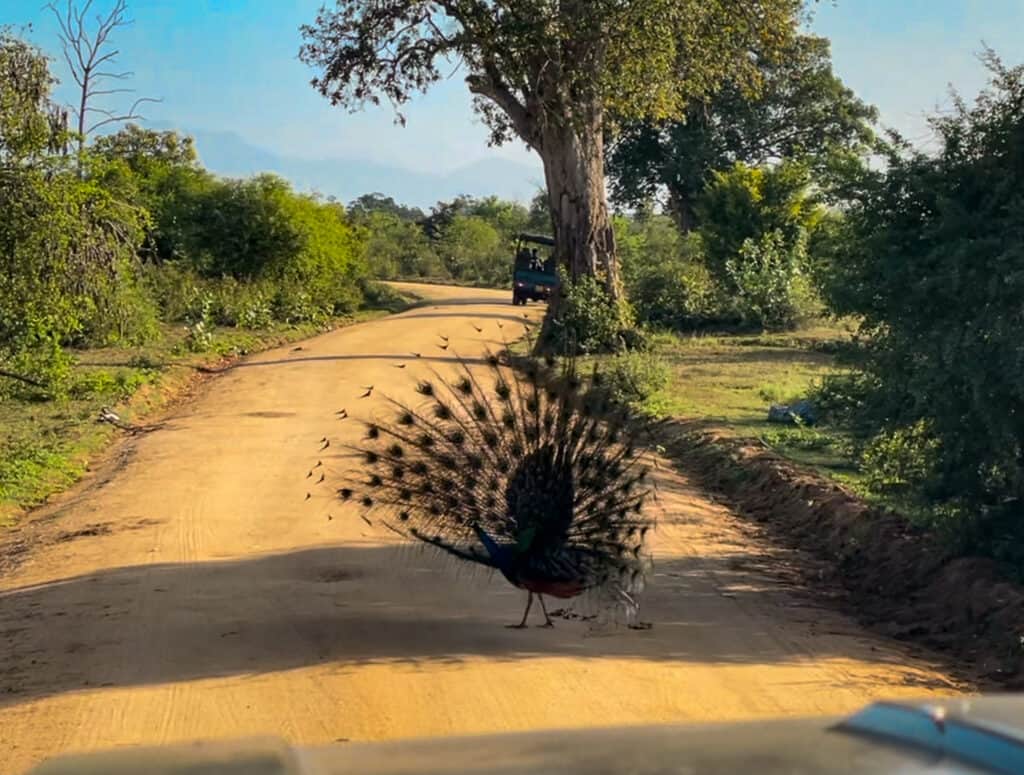 It didn't take long before our wildlife encounter began, with a vibrant peacock gracefully dancing before our jeep. Despite having seen peacocks a few days earlier in Meemure, both of us were still wildly excited by this initial welcome. It made us keen to await what we'd soon encounter, we'd come to see – the elephants.
As we delved deeper into the park, our guide motioned for us to halt and pointed out an elephant in the distance, its presence sending shivers of excitement through us.
We pressed on, spotting peacocks perched on trees, an Indian Roller bird, and even the familiar sight of a carabao (water buffalo) from home. The wildlife spectacle continued with another peacock up on a tree and on a nearby pond.
Then, just a few meters ahead, we had our first close encounter with an elephant, a moment that left me in absolute awe and pure happiness. We watched in silence as the gentle giant dined on a bounty of leaves, a truly enchanting sight. I was already pleased with our safari tour but little did we know, that our safari had more in store.
Soon, we were taken by surprise as three elephants strolled right by our jeep. I felt both nervous and excited as these magnificent creatures came near.
We maintained silence to avoid startling them, and to our amazement, one of the elephants extended its trunk toward me—a moment that instantly became the highlight of my day.
But the magic didn't end there. Continuing deeper into the park, we encountered a wide array of birds and mammals, from radiant peacocks to playful monkeys and majestic eagles. Throughout our tour, our guide shared thorough information on the flora and fauna in the park.
Our journey led us to a 30-minute stop at the Walawe reservoir. Here, we explored the area on foot, observing playful monkeys and a variety of bird species.
As our safari was about to come to an end, we made our way back to the park's gate. Our faces were beaming with joy. Along the way, we were treated to more elephant sightings, both near and far. And as if on cue, the final farewell came from a peacock, gracefully dancing as if it had been our charming host throughout this remarkable safari adventure.
And there it was—a three-hour safari filled with incredible animal encounters, countless elephant sightings, and memories that would forever warm our hearts.
Udawalawe National Park History
Udawalawe National Park lies on the boundary of Sabaragamuwa and Uva Provinces in Sri Lanka. The park was created to provide a sanctuary for displaced wild animals due to the construction of the Udawalawe Reservoir on the Walawe River.
Udawalawe National Park is one of Sri Lanka's smaller national parks and covers only 30,821 hectares of land area.
Elephants at Udawalawe National Park
If your main reason for visiting a safari park in Sri Lanka is to see an elephant, you've arrived at the right place. You will see elephants at Udawalawe National Park. It's guaranteed.
Approximately 600 to 700 Sri Lankan elephants reside within this wildlife park's confines. This gives you a guaranteed chance to witness these elephants, both adults and young in their natural habitat.
Udawalawe National Park Animals
Apart from elephants, Udawalawe National Park is home to a variety of fascinating wildlife.
Mammals
In addition to elephants, you might spot other members of the animal kingdom here. While the elusive Sri Lankan leopard is a rare find, with only 10-12 in the park, you might have better luck spotting one at Yala National Park.
Other mammals you can encounter include the Sri Lankan sloth bear (although it's also rarely seen), Sri Lankan sambar deer, Sri Lankan axis deer, Indian muntjac, Sri Lankan spotted chevrotain, wild boar, and water buffalo (carabao).
You may also come across the golden jackal, Asian palm civet, toque macaque, tufted grey langur, and Indian hare.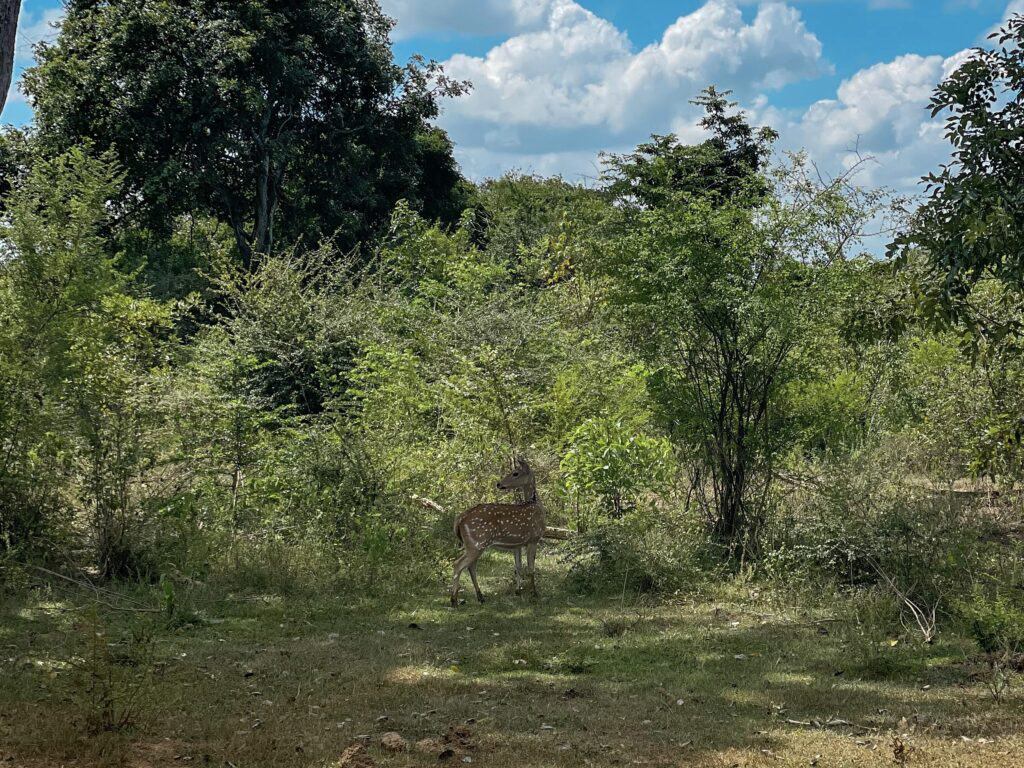 Birds
Udawalawe is a paradise for bird lovers. You can witness endemic birds like the Sri Lanka spurfowl, red-faced malkoha, Sri Lanka grey hornbill, brown-capped babbler, and Sri Lanka junglefowl.
The park also hosts rare migrants like the white wagtail and black-capped kingfisher. The reservoir attracts various water birds, including cormorants, the spot-billed pelican, the Asian openbill, the painted stork, the black-headed ibis, and the Eurasian spoonbill.
If you're into birds of prey, keep an eye out for the white-bellied sea eagle, crested serpent-eagle, grey-headed fish eagle, booted eagle, and changeable hawk-eagle. The parkland is bustling with land birds like the Indian roller, Indian peafowl, Malabar pied hornbill, and pied cuckoo.
Reptiles and Fish
Udawalawe National Park is also home to reptiles and fish. You can find oriental garden lizards, painted-lip lizards, mugger crocodiles, Asian water monitors, Bengal monitors, and approximately 30 species of snakes here.
This national park also has an endemic fish species called Garra ceylonensis. Additionally, introduced species like Oreochromis spp., giant gourami, catla, and rohu can be found in the reservoir, making it a significant spot for food fish.
The Best Time to Visit Udawalawe National Park
The best time to visit Udawalawe is during the dry season, which typically runs from December to March. During this period, the lack of water makes it easier to spot elephants and other wildlife around reservoirs.
Regardless of the month you choose to visit, be sure to book a safari early in the morning or late in the afternoon as the animals are most active during these times of the day.
Where is Udawalawe National Park?
Udawalawe National Park is located in the southern part of Sri Lanka, in the Uva Province, near the town of Embilipitiya. The park covers a vast area and is known for its diverse wildlife, with elephants being a prominent attraction.
It is approximately 200 kilometers (124 miles) away from Colombo. The journey from Colombo to Udawalawe can take around four to five hours by road so it's best to include this on a 1-2 weeks Sri Lanka itinerary.
How to go to Udawalawe National Park
Buses do not run on a daily basis to Udawalawe so we hired a driver. It took us 2 hours to reach Udawalawe National Park from Ella. The driver went with us during the Safari (we didn't have to pay extra if he was joining).
After we finished the Safari, our driver dropped us in Hiriketiya where we spent a few nights. We found this option to be very practical. You can book your driver here. It is also possible to simply book a day trip from other places with a private driver.
Udawalawe National Park from Colombo
If you're coming from Colombo, you have several options to go to Udawalawe National Park.
By Bus: You can catch a bus in Colombo heading to Monaragala, as it usually makes a stop at the Udawalawe junction. It takes approximately 5 to 6 hours.
By Private Transport: The most comfortable and direct route is via private transport, such as a taxi. This mode of travel takes roughly 4 hours to reach Udawalawe National Park from Colombo, ensuring a hassle-free journey. Make sure to finalize your deal with the driver before riding to avoid getting scammed or book a trusted provider.
Udawalawe Safari Costs 2023
Here are the costs for arranging a safari tour at Udawalawe Safari Park:
Private jeep with driver/guide of $40 for a half-day (3-4 hours) and $100 for a full day (8 hours)
– You may also opt for a joiner tour for $15 for a half-day and $50 for a full-day
Park entrance is $29 for each adult and $15 per child (under 6 are free), plus a $72 jeep charge, all plus a 15% tax
If you're staying overnight, there's an extra charge of $50 for adults and $30 for kids.
These are the updated prices as of August 2022. You can check their official website for any changes.
How long is the Safari Tour in Udawalawe?
You have two safari packages to choose from in Udawalawe: a half-day tour, which lasts approximately 3-4 hours, and a full-day tour, which extends to 4 hours.
In my opinion, a half-day tour is sufficient unless you're a passionate animal enthusiast, bird lover, or photographer eager to spend extra time observing wildlife and capturing photos.
Additionally, I recommend opting for a smaller group in the safari jeep; this allows for more leisurely wildlife viewing and photography.
How to book the Udawalawe Safari Tour?
You can conveniently reserve it in advance online through reputable platforms like Klook, which boasts excellent reviews and numerous bookings. Alternatively, upon your arrival, you can also arrange the Udawalawe Jeep Safari through your accommodation.
Udawalawe National Park Official Website and Contact Number
Check out the official website of Udawalawe for more details about the park and its history and recent price updates:
Phone: +94 76 272 6799
Whatsapp: +94 76 272 6799
E-mail: [email protected]
Address: CVRR+46F, Samanalagama, Sri Lanka
Udawalawe or Yala?
If you're deciding between Yala and Udawalawe National Parks for your safari adventure, here's some information to help you choose the right one.
Both parks offer stunning landscapes reminiscent of the African savannah and boast a wide variety of wildlife. Yala is renowned for its high leopard density and Udawalawe is famous for its massive herds of elephants.
In terms of size, Yala is the larger of the two, while Udawalawe covers roughly a third of Yala's expanse. Yala National Park is your best bet if you're eager to see a diverse range of animals, with the added possibility of leopard sightings.
It's globally acclaimed for having the highest density of leopards, offering a good chance of spotting one. Although present in both parks, Yala also holds the elusive sloth bear, which is rarely seen in Udawalawe. In Yala, you might even get lucky enough to witness both a sloth bear and a leopard on a single safari.
However, keep in mind that Yala can get quite crowded. You'll share the experience with many other safari jeeps (sometimes even 10 jeeps in one spot), especially if there's a leopard or sloth bear sighting.
Conversely, Udawalawe provides a more serene and less congested safari experience, making it a great choice if your primary interest is observing wild elephants. There are times when you might be the only jeep in sight, even when observing a herd of elephants. This solitude adds a wild and untouched feel to your safari in Udawalawe, with fewer people and jeeps around.
It's also worth noting that Yala National Park closes to tourists in September, allowing animals to roam freely during the drought season in search of water. If the drought persists, the park might extend its closure into October.
In summary, your choice depends on your safari preferences. If you're keen on seeing a wide array of wildlife and have hopes of leopard or sloth bear sightings, Yala National Park is the way to go. However, if you prefer a more tranquil, uncrowded experience with guaranteed elephant sightings, Udawalawe National Park is your ideal destination.
Is Udawalawe National Park worth visiting?
Absolutely! Visiting Udawalawe National Park in Sri Lanka is worth visiting if you want to get really close to elephants.
When I went there during my Sri Lanka trip, I couldn't contain my excitement, and this park lived up to all my expectations. The park is like a paradise for elephants, and I was beyond happy to see so many of them even babies with their mothers.
If you've ever dreamt of watching these majestic animals in their natural home, Udawalawe is the perfect spot. Trust me, you'll come across not just a few, but a whole bunch of elephants. They wander freely in big groups, and it's like having a personal encounter with these gentle giants.

With the guaranteed sightings of elephants and a serene and wild-like safari experience, Udawalawe is definitely the best elephant safari destination in Sri Lanka. Have you been to Udawalawe? How does it compare to other safaris you've experienced?