Rue Crémieux – The Most Beautiful Street in Paris
From the moment I saw Paris, I was instantly enchanted by its breathtaking beauty. Despite experiencing the Paris Syndrome through homeless people in the parks, compact apartments, and constant traffic, I couldn't help but be amazed by the city's natural charm.
One thing that truly captivated me was the beautiful streets throughout the city. Among these streets, Rue Crémieux — a street adorned with a vibrant and lively palette of colors — uniquely stood out.
In this guide, I will share everything you need about Paris' most colorful street to make your visit pleasant for you and its residents.
Looking for more hidden gems in Paris? Here's the complete list.
How does Rue Crémieux looks like?
Rue Crémieux in Paris offers a change of pace in the city. This cobblestoned and pedestrianized street is relatively short measuring just 144 metres (472 ft) and 7.50 meters wide.
Rue Crémieux is bordered by colorful private houses. It gives the impression that we are outside of Paris, somewhere in a small provincial town or a French seaside resort. It's a short, picturesque stroll, and I highly recommend it if you're in the area.
Unlike other Paris streets, Rue Crémieux is a peaceful lane that's free of car traffic. With its vibrant pastel-colored houses in shades of pink, blue, yellow, green, and purple, it's often hailed as the most beautiful street in Paris. It's like stepping into a different world.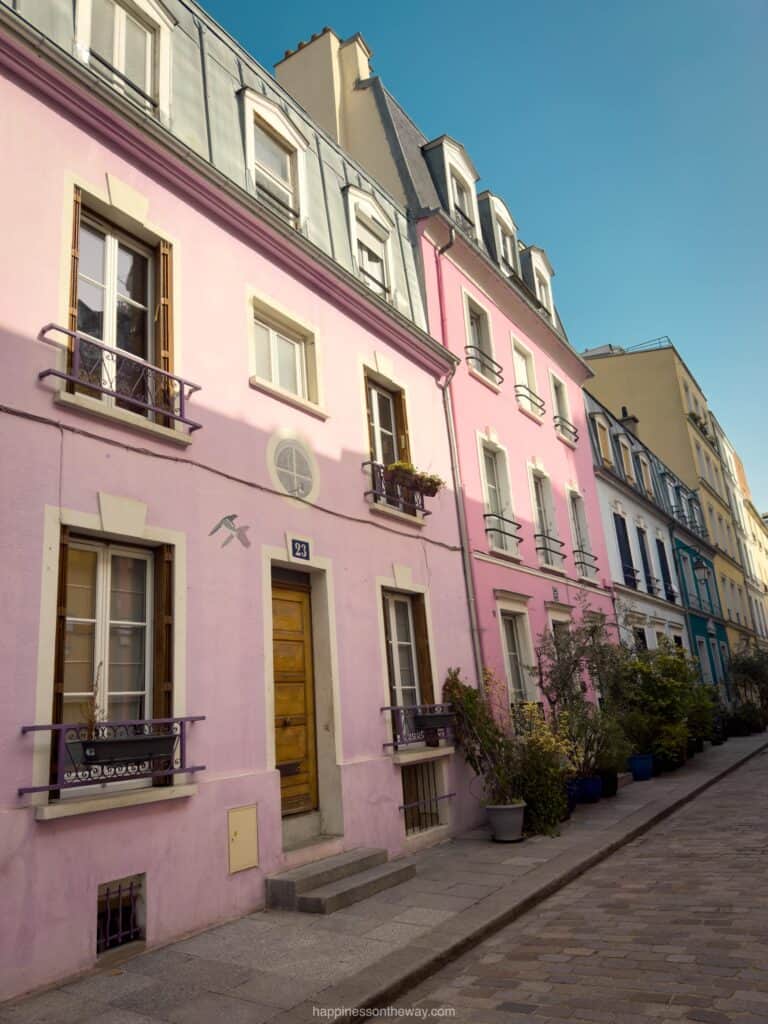 As you wander down this charming cobblestone lane, there are no Haussmann-style buildings here. Instead, you'll see 35 identical houses that look like English terraced cottages. You might feel transported to places like Notting Hill in London or the colorful streets of Burano, Venice.
The buildings are adorned with delightful pictorial spots, and the flower-filled windows and plant pots add a small-town vibe to this bustling city.
So, if you're looking for a serene escape in the heart of Paris, take a leisurely walk down Rue Crémieux and soak in its unique and captivating beauty.
Our Experience Visiting Rue Crémieux
Visiting Rue Crémieux was quite a delightful surprise for me. In the midst of Paris's cream-colored buildings, stepping onto this charming street felt like I had been magically transported to a tranquil countryside lane. The contrast was striking, and it was hard to believe I was still in the heart of the bustling city.
What amazed me even more was its size – it's incredibly petite! A short, leisurely 5-minute stroll brought us to this hidden gem. We chose to explore Rue Crémieux in the morning around 10 a.m. after reading how crowded it gets in the afternoon, and to my delight, there were only a handful of people ambling about. Some residents were leaving their colorful houses, and I noticed one lady hurriedly snapping a bag photo – that was about the extent of the crowd!
It was surprisingly serene and peaceful, making it a perfect spot for a quiet, meditative walk. Matthias and I relished wandering amidst the pastel facades and potted plants, discussing the street's history. It truly is a picturesque sight and a tranquil escape right in the midst of the city.
Where is Rue Crémieux located
Rue Crémieux is located in the 12th arrondissement, between Rue de Lyon and Rue de Bercy.
Address: Rue Crémieux, 12 arrondissement, Paris, France
How to get to Rue Crémieux in Paris
The nearest metro stations to Rue Crémieux are Quai de la Râpée (line 5) or Gare de Lyon (lines 1 and 14, RER A and D).
You will see the blue restaurant Le Crémieux if you're entering from Rue de Lyon or Yucos if you're coming from Rue de Bercy.
History of Rue Crémieux
Before its transformation to Rue Crémieux, the area was home to the Arènes Nationales (National Arena of Paris), later known as the Imperial Arena of Paris. This grand arena, built in 1851 with an entrance at Bastille, is a popular entertainment venue for outdoor spectacles and other events. From the mid-1850s until its sale to housing developers in 1855, the arena hosted numerous carnivals and performances that delighted the public.
In 1865, Rue Crémieux transformed into a residential street and was initially named Avenue Millaud, after the real estate promoter Moïse Polydore Millaud. He also founded Le Petit Journal, a successful newspaper that serves as a predecessor to today's popular press. He developed the area and its surrounding housing estates.
However, the street underwent a name change and became Rue Crémieux in 1897 in honor of Adolphe Crémieux, a prominent lawyer and politician. Born into a wealthy Jewish family in Nîmes, Crémieux dedicated himself to defending the human rights of the Jews in France.
In 1993, the street became pedestrianized, contributing to its charming and beloved character that attracts many visitors today.
8 Rue Crémieux and the Great Flood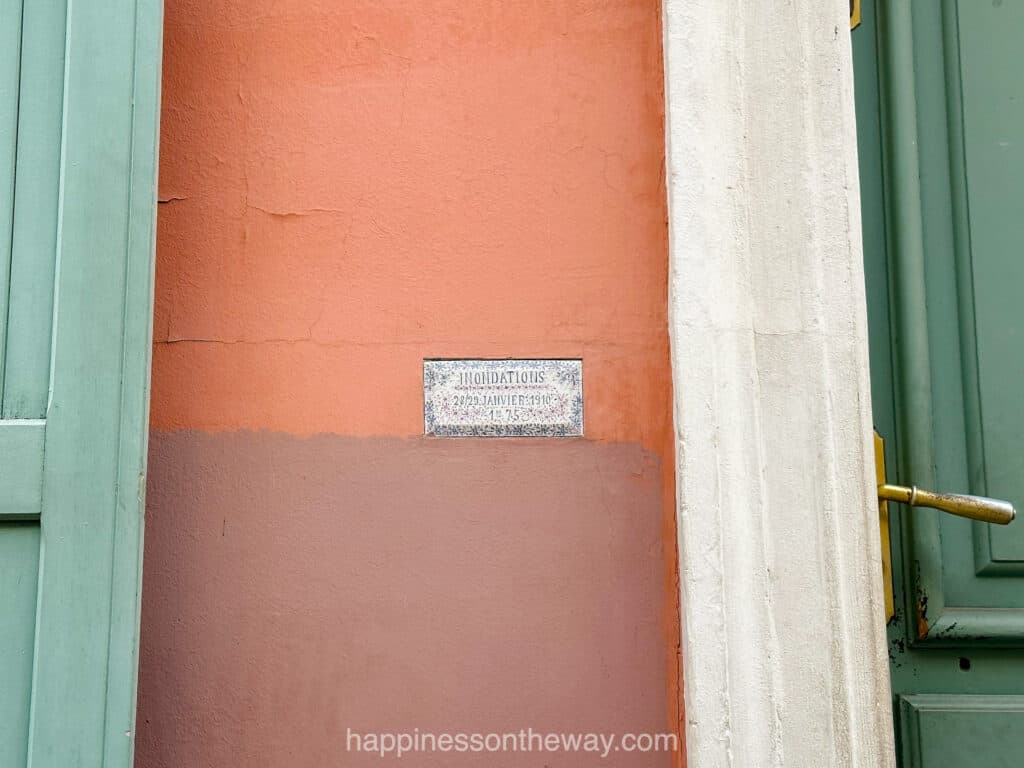 During the flood of 1910, the Seine River rose to a height of 1.75 meters at Rue Crémieux. House No. 8, as shown in the photo above, has a plaque commemorating this significant event.
The Seine reached a record flood height, surpassing its normal level by eight meters, causing the city to be submerged for two months. This is an exceptional event that caused damage to more than 200,000 Parisians and paralyzed the city for weeks.
When did Rue Crémieux become the most colorful street in Paris?
In 1993, the residents of Rue Crémieux petitioned for their street to be completely paved and pedestrianized. In return for their request, the town hall asked the residents to renovate the front of their homes.
The residents got together and decided to paint their facades in vibrant pastel colors, resulting in a rainbow that we see today. This transformation has earned the street the title of "the most colorful street in Paris".
What makes this street even more remarkable is the striking similarity in design among its 35 homes which were originally constructed for wealthy workers. This similarity adds to the consistent feel of the street.
Rue Crémieux Current Status
In an interesting article in Le Parisien, Paris' local newspaper, residents are complaining about the street being the victim of its success. In just 4-5 years, it's turned into a magnet for Instagrammers, Youtubers, and tourists. The street's colorful houses and pedestrian-friendly vibe make it a photo hotspot, attracting music video shoots and travelers seeking that perfect shot.
But here's the twist: not all residents are thrilled about this newfound fame. The constant commotion, especially when music videos are being filmed, is disrupting their daily lives. Some are calling on the city to restore peace to their beloved street. A resident also created an Instagram account showing "shitty" things people do at Rue Crémieux.
While some residents find it "liveable" and tourists generally friendly, others want a better balance between preserving the street's charm and ensuring tranquility. City officials are working on solutions, but finding the right one isn't easy.
In the meantime, if you visit rue Crémieux, consider a morning stroll to enjoy its beauty without the crowds. Most importantly, please, visit discreetly, and respect the place and its residents. Minimize your noise, respect the signs, and treat it like how you want your home street to be treated.
When is the Best Time to Visit
To avoid crowds, visit during the early morning and on weekdays. I've read that many visitors flock to this area in the afternoon even for video shoots so it gets crowded.
We visited around 10 a.m. When we arrived, it was empty. We stayed for around 10 minutes and we only saw a few people passing by, two residents getting out of the house and a couple taking photos.
Rue Crémieux is a pedestrianized road and although it's perfect for taking photos, I also recommend enjoying a leisurely walk while admiring the beautiful facades.
Where to Eat near Rue Crémieux
If you decide to go early and have breakfast or lunch in the area, the good news is there are two great restaurants at Rue Crémieux at both ends of the street.
This 100% organic and 100% homemade restaurant mirrors the street's vibrant charm and artistic spirit. Le Crémieux offers a delectable fusion of French and international cuisine. They even have vegan, vegetarian, and gluten-free options! It's an ideal spot to enjoy delicious healthy food while soaking in the unique ambiance of Rue Crémieux. You can find Le Crémieux at the entry from Rue de Lyon.
On a run to your next destination after Rue Crémieux? Grab one of the best sandwiches in Paris on your way out on the exit to Rue de Bercy. You won't regret it! Or stay for a while and enjoy their fresh salads, cheese, and even wine. Just like the French way.
Where to Stay near Rue Crémieux
Although I don't recommend making the proximity of Rue Crémieux the sole deciding factor for your accommodation, I must say that it's a very good neighborhood to consider. In comparison to areas near the Eiffel Tower, it offers a notably quieter atmosphere. Plus, it's very well connected to the metro system, it has parks to have picnics and more affordable food options.
So if you decide to stay near Rue Crémieux, here are the places you can check out:
If you've fallen in love with the colorful houses of Rue Crémieux and want to stay in one of them, this is the place to be. Offering a unique accommodation in the heart of the 12th arrondissement, you can enjoy the picturesque surroundings right from your doorstep. The convenience of being in one of the houses of Rue Crémieux makes it an excellent choice for those who want to explore the charming street at their leisure.
For travelers seeking a cozy and stylish stay near Rue Crémieux, Hôtel Riesner is a top pick. Located just a short walk away, it offers a tranquil escape from the bustling city. The rooms are well-equipped, and the hotel provides a welcoming atmosphere.
If you're a backpacker on a budget looking to explore the enchanting Rue Crémieux or Paris in general, The People Nation could be your ideal choice. Situated within a reasonable walking distance from this colorful street, this accommodation option is known for its affordable rates and shared room options.
This is where we stayed on our 4-day trip in Paris and we're so happy with how well connected it is to the city's metro system. Plus, beside it is Casino Supermarket where you can get affordable food!
What Other Things to Do near Rue Crémieux
Located just a short stroll from Rue Crémieux, Place de la Bastille is a must-visit Parisian landmark. The highlight of this historic square is the July Column, commemorating the July Revolution of 1830.
You can take a leisurely walk around the square, enjoy a coffee at one of the nearby cafes, and soak in the vibrant atmosphere. It's a hub for political and cultural events, making it an ideal spot for people-watching and absorbing Parisian life.
Easily accessible by a 12-minute walk, Jardin des Plantes is a botanical garden that offers a serene escape from the urban bustle. Stroll through beautifully landscaped gardens, discover an array of plant species, and visit the charming Alpine Garden. The garden also houses the Natural History Museum making it an ideal destination for nature enthusiasts.
Grand Mosque
Located around a 23-minute walk from Rue Crémieux, the Grand Mosque of Paris is a cultural gem that shouldn't be missed. It's one of the most beautiful places I've seen in Paris and it's unknown to tourists!
Explore the stunning Hispano-Moorish and Arab-Andalusian architecture, relax in the peaceful oriental garden, and savor traditional tea and pastries in the mosque's restaurant. The mosque's intricate tile work and serene ambiance provide a unique cultural experience in the heart of Paris.
Read: The Grand Mosque of Paris Ultimate Guide
While the Louvre is a bit farther from Rue Crémieux, it's easily accessible by a short metro ride or a pleasant walk along the Seine River. Home to thousands of works of art, including the iconic Mona Lisa, the Louvre is a world-renowned museum that offers a journey through art history.
Spend hours exploring the museum's vast collections, marveling at masterpieces, and immersing yourself in the cultural heritage of Paris. Despite the critics, it's not overrated — it's really an amazing experience!
Important Note: If you plan to visit the Louvre and other museums in Paris, get a Paris Museum Pass. It gives you access to more than 50 museums in Paris and the surrounding area. Plus, it allows you to skip the line. We used it and it's really worth it.
Note as well that you need to make a reservation for the Louvre and Versailles even with a pass. You don't need to do that for the rest of the museums.
Is Rue Crémieux Worth Visiting?
Absolutely, Rue Crémieux is a hidden gem in Paris that's well worth a visit, especially if you happen to be in the vicinity. It's a delightful departure from the usual Parisian hustle and bustle, instantly transporting you to a charming countryside-like setting.
The picturesque pastel houses are a sight to behold, and it's an ideal spot for a leisurely and Instagram-worthy stroll. What's more, you'll find highly-rated restaurants at both ends of the street, perfect for savoring some delicious French cuisine in a quieter atmosphere.
That said, if your itinerary doesn't allow for a visit to Rue Crémieux, don't fret. Paris is brimming with beautiful streets and iconic landmarks waiting to be explored. While Rue Crémieux offers a unique experience, there are countless other enchanting corners of the city to discover.
Tips for Visiting Rue Crémieux
Rue Crémieux has become a victim of its own beauty, with singers filming music videos and Instagrammers getting too close to houses, causing noise and even blocking doorways while taking photos next to potted plants.
If you want to visit Rue Crémieux, here are some tips to make your visit delightful for you and the residents:
Be a responsible traveler. When visiting an area that is not your own, it is important to show respect for the structures, animals, people, and greenery that exist there. Treat it as you would your own local street.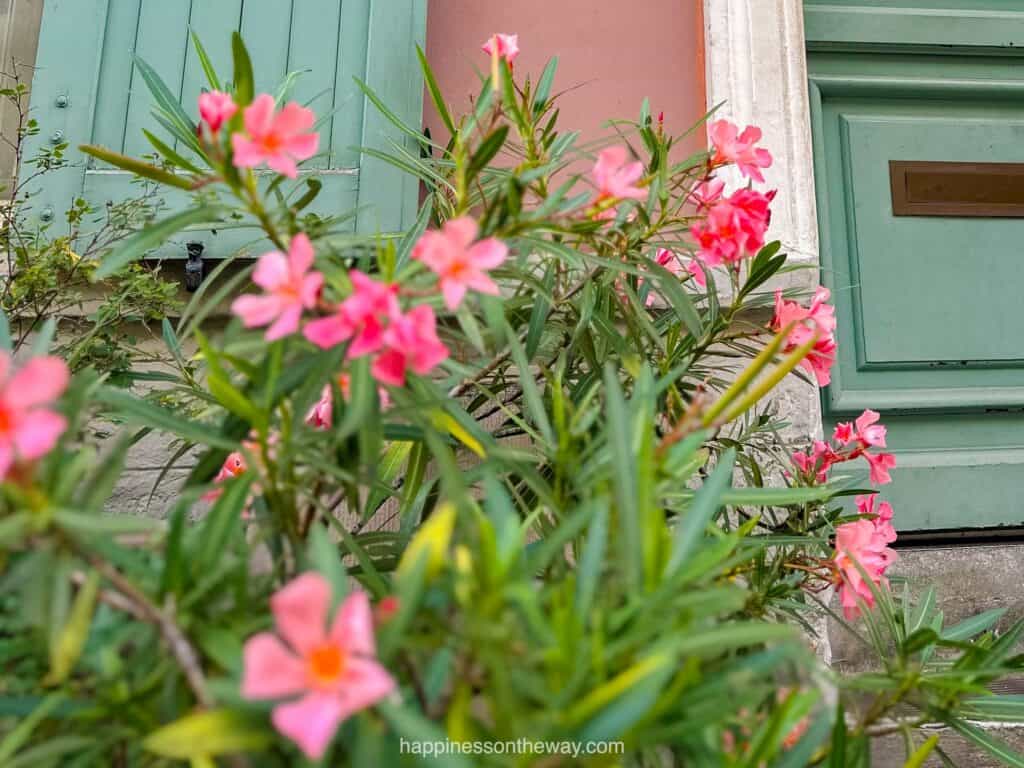 Take your time to savor its beauty. In our attempt to visit as many places as we can, we sometimes forget to take a pause and really enjoy the moment. Remember, we often travel because it brings us joy. Taking a pause allows that joy to emerge.
Take photos discretely. Some residents have posted signs asking visitors not to photograph their homes. Respect it. Minimize noise as you explore the street, as it is a residential area where people live.

Now that you have a glimpse of the enchanting Rue Crémieux in Paris, I'd love to hear your thoughts and experiences. Have you visited this charming street or plan to do so in the future? Share your comments and recommendations below.