Hidden Gems In Paris: 24+ Best-Kept Secrets from Travel Bloggers
As soon as you land in Paris, one of the top tourist destinations in the world, you want to tick off as many famous spots as you can in your 2-4 day itinerary. However, whether your trip is short or long, it's often the hidden gems that leave the most memorable impressions.
In this guide, I'll share some of the most unique and lesser-known places in Paris. From vibrant neighborhoods to offbeat museums and charming parks, the City of Love has delightful surprises waiting for you.
And don't just take my word for it – I reached out to a few travel bloggers who shared their favorite hidden gems in Paris too!
So, here's a comprehensive list of these hidden gems in Paris, complete with their exact addresses and nearest train station for easy navigation, any fees, and the types of travelers they're best suited for. With proper planning, you'll also uncover the lesser-known spots of this remarkable city!
Neighborhoods | Hidden Gems in Paris
Starting with one of the most often overlooked aspects of Paris – its charming streets. I could easily lose myself for days just strolling through this city and immersing in the ambiance of its lovely streets.
If you're seeking an easy-to-explore hidden gem, look no further – just pick one of these distinctive streets to begin your adventure.
1. Rue Cremieux
Location: 12th arrondissement
Closest Train Station: Quai de la Râpée (line 5) or Gare de Lyon (lines 1 and 14, RER A and D)
Best for: photographers
Rue Cremieux stands out among the streets of Paris due to its vibrant and whimsical architecture. This lovely street is known as the "most colorful street in Paris."
Unlike the grand boulevards and historic landmarks, this street feels like a secret Parisian village of pastel-colored houses adorned with lush greenery and vibrant flowers.
We walked to Rue Cremieux from our hotel in Nation. From there, we passed by the traditional Haussmann-style buildings Paris is known for. Then, enter the small colorful street of Rue Cremieux. As if you've entered a portal to another place.
Take your time to explore and capture the beauty of this hidden gem. It's more than just having a photo. Experience the awe in every color of the house. And end your stroll with an organic and homemade meal at the well-rated blue restaurant, Le Cremieux.
This colorful street also commemorates the flood of 1910 when the Seine River surged to a height of 1. 5 meters at Rue Crémieux. House No. 8 serves as a marker, indicating the water level during that event.
With its recent popularity on Instagram, expect a crowd during the late afternoon. So, it's best enjoyed in the morning or early afternoon when it's less crowded.
As you visit, please remember that it's a residential area. Be mindful of the people who live there. Don't make any noise and respect house signs of no photography.
As experienced by Gladis of Happiness on the Way
2. Butte Aux Cailles
Location: The Butte aux Cailles
Closest Train Station: Corvisart on line 6 or Tobiac on line 7
Best for: history enthusiasts and foodies
The Butte aux Cailles district in the 13th arrondissement is one of the unique hidden gems in Paris you don't want to miss. I lived in Paris for 3 years before having kids and traveling and it was one of my favorite places to escape.
This quaint neighborhood feels like a village within the city. It offers a unique and refreshing experience away from the bustling tourist spots.
I'll always remember our late nights at la Butte aux Cailles. We would meet friends for a typical basque dinner at Chez Gladines. We then walked a few steps to Le Merle Moqueur, where we tasted their different homemade flavored rums and vodkas.
But there is more to La Butte aux Cailles than great food and lively nightlife. A visit to La Butte aux Cailles is incomplete without exploring its historical architecture. The charming houses, with their facades and balconies, will transport you back in time.
I once did a self-guided walking tour of the area and it was amazing. I discovered the historic Piscine de la Butte aux Cailles, a public pool, and a historic building. I also wandered in the unique streets of La Cité fleurie, a colorful neighborhood. All the little townhouses on the 6 streets forming the Cité fleurie are covered in vines with balconies full of flowers.
La Butte aux Cailles offers a unique and unforgettable Parisian experience off-the-beaten-path and should be added to your itinerary.
As experienced by Emilie of Love Life Abroad
3. Rue Cler
Location: 7th arrondissement
Closest Train Station: Ecole Militaire
Best for: foodies, shoppers, and travelers who want to experience authentic Parisian life.
If you want an authentic Parisian experience, head to Rue Cler. This lively pedestrian street is known for its charming shops, vibrant cafes, and delightful markets. You'll find Parisians going about their daily lives here, giving you a genuine glimpse into local culture.
Unlike some tourist-heavy areas, Rue Cler retains its local charm. The street is lined with open-air markets, fromageries, boulangeries, and flower shops. You can shop for fresh ingredients and artisanal products, creating a true farm-to-table experience.
Rue Cler offers delightful experiences. You can start your day with a fresh croissant from a local bakery, browse the markets for cheese and wine, and enjoy a delicious lunch at one of the charming cafes. Rue Cler lets you soak up the Parisian ambiance.
During a recent Paris trip, we stumbled upon one of Rue Cler's fruit stores. We left with a bag full of berries and grapes. Then, we bought two croissants, had the best ice cream at Amorino, and headed to Champs de Mars for a memorable picnic beneath the Eiffel Tower.
Rue Cler is best experienced in the morning when the markets are bustling and the atmosphere is lively. It's one of the hidden gems in Paris that offers an authentic and heartwarming Parisian experience not to be missed.
PRO TIP: Try out the phenomenal ice cream at Amorino in Rue Cler. So far, it's the best ice cream I've ever tasted after traveling in 20+ countries!
As experienced by Gladis of Happiness on the Way
Museums | Hidden Gems in Paris
Any trip to Paris won't be complete without a visit to the Louvre. I admit, I initially thought it might be overrated, but my experience proved me wrong. Every minute I spent inside left me in absolute awe.
That being said, if you've already explored the Louvre or wish to escape the often long lines, there are several lesser-known museums that truly qualify as hidden gems in Paris.
4. Atelier des Lumieres
Location: 38 Rue Saint-Maur, 75011 Paris, France (11th arrondissement)
Closest Station: Rue St Maur station (Metro Line 3)
Fee: Typically around €15-20, book your ticket here
Best for: Art aficionados, immersive experience seekers
Tucked away in the 11th arrondissement, a stone's throw from the bustling tourist hubs, lies one of the hidden gems in Paris that promises an unforgettable journey into the world of art – Atelier des Lumières.
Once a foundry, Atelier des Lumières now serves as a digital art center where renowned artworks by Van Gogh, Monet, Klimt, and others come to life through breathtaking projections that cover the entire space.
It's a mesmerizing blend of art, music, and technology that transports you into the heart of these masterpieces. Walking into this cavernous space feels like stepping into a different dimension. The vivid colors and swirling patterns create a surreal world, where the art seems to come alive and envelop you.
For me, walking into Atelier des Lumières during the Klimt exhibition felt like stepping into a gilded dream. The immersive projections of Klimt's intricate and ornate masterpieces enveloped me in a world of opulence and sensuality.
It was as if I had been transported into the heart of Klimt's artistic vision, surrounded by his iconic golden swirls and intricate details. The experience was truly mesmerizing and left me with a profound appreciation for Klimt's artistry. It was art redefined, engaging all your senses and emotions.
A practical tip for visitors to Atelier des Lumières is to plan your visit during weekdays and early hours to fully immerse yourself in the art without the crowds.
Check available the schedule of Atelier des Lumières below:
Atelier des Lumières is a hidden Parisian jewel that unveils art in an unconventional, awe-inspiring way. It's a must-see for those who crave a fresh perspective on art and one of the hidden gems in Paris that will stay with you long after you've left the City of Love.
As experienced by Goya of GoyaGaleotta.com
5. Carnavalet Museum
Location: Le Marais
Closest Train Station: Saint-Paul
Fee: Free
Best for: History enthusiasts and interior design lovers
The Carnavalet Museum documents the history of Paris by recreating interiors and presenting objects through the centuries.
As one of the Museums of the City of Paris, it is entirely free, and I can't believe that such an amazing place is open to the public free of charge.
Having been fairly recently refurbished, the incredible building now houses rooms from each Parisian era. From the Rococo era to Art Nouveau, each room transported me to a different time.
There are also art galleries here, which present portraits of those who made Parisian history and chart important social movements up until the modern day. Some of my favorite bits were the antique iron shop signs and the sumptuous, pastel-colored rooms of the 18th century.
The building itself is incredible and houses a picturesque courtyard with one of the most beautiful restaurants in Paris during the warmer months.
Sometimes there are temporary art exhibitions here, and one of my best memories of visiting the Carnavalet Museum was seeing a Sheila Hicks installation of textile works placed all throughout the garden and facade.
The Carnavalet Museum is a must-see in my opinion, and is certainly one of the best things to do in Le Marais. It offers an insight into the history of Paris, but one which is experienced as you wander through the museum, rather than being communicated through wall labels and diagrams. Don't miss the opportunity to walk through the history of Paris.
As experienced by Hannah of Art Distance
6. The Pantheon
Though it's one of the most instagrammable spots in Paris, the inside of Panthéon is often overlooked by visitors to Paris, as it doesn't have quite the fame of iconic Paris attractions such as the Eiffel Tower and the Louvre. But it is definitely worth a visit for those who appreciate French history and culture.
The Panthéon is just a couple of blocks from the beautiful Luxembourg Gardens, so it's easy to combine visits to both these fantastic sites in an afternoon exploring Paris.
With its classical columns and gorgeous dome, the Panthéon is one of the most beautiful hidden gems in Paris. Inside, admire artwork depicting both religious themes and key events in the history of France.
Originally built to honor Sainte Geneviève (the patron saint of the city of Paris), during the revolution it became a way to honor the great men and women of France.
The Panthéon is the final resting place of important contributors to French culture and science including Victor Hugo, René Descartes, and Marie Curie.
One thing that surprised me was that the Panthéon houses a copy of Foucault's Pendulum. This was actually where the original pendulum was installed and demonstrated the Earth's rotational motion. As an engineer, it was really impressive to see the movement of the giant pendulum!
PRO TIP: Entrance to the Panthéon is included in the Paris Museum Pass. If you plan to visit a lot of attractions and museums during your stay in Paris, you can save a lot of money with this pass!
As experienced by Lisa Garrett of Waves and Cobblestones
7. Maison de Victor Hugo
Location: Place des Vosges
Closest Train Station: Chimin Vert or Bastille Metro Stations
Fee: Free
Best for: French literature fans
Maison de Victor Hugo is one of the best small museums in Paris without crowds and is one of the hidden gems in Paris to be discovered by a fan of French literature.
Victor Hugo is one of the most celebrated French novelists and poets, who authored the most acclaimed French literature of the 19th century: Les Misérables and The Hunchback of Notre Dame.
Even if you have not read the widely popular books, you may be familiar with the story as they were made as a movie and musical.
The author's former residence is now turned into a house museum dedicated to his life and work. Inside, you will appreciate the original furniture and interior designs Victor Hugo arranged himself.
For me, it took about an hour to tour his small apartment. But it gave me a unique opportunity to see where his imagination comes from and brought up a funny memory of reading his books from my childhood.
I read both books in the elementary school. When Les Misérables was translated into Korean, the title was changed to "Jean Valjean" after the main character. Because Jean (pronounced as Jang) is a typical Korean last name, I imagined him to be Korean, not French.
Maison de Victor Hugo occupies one of the pretty red-brick mansions on the corner of Place des Vosges in Le Marais, a stunning historic urban park built by Henri IV in 1612. Perhaps you can visit Maison de Victor Hugo and sit on a bench at the park to enjoy a hidden corner of historic Le Marais.
Contributed by Chloe of Chloe's Travelogue
8. Police Museum
Location: Musée de la préfecture de police (Police Museum)
Closest Train Station: Cluny la Sorbonne
Fee: Free
Best for: History Lovers and True Crime Enthusiasts
The Police Museum does not make the list of top things to see in Paris. As a history enthusiast, I loved seeing firsthand a very important, if not somewhat macabre, relic of French Revolution History – an actual guillotine blade.
The museum is located in a functioning police station, which made it hard for us to find. We were first granted access to the station and then took an elevator to the museum.
There is no cost for entry and reservations are required (as a side note – we did not have a reservation and were granted access).
We enjoyed learning about the history of policing in Paris, with uniforms worn and weapons used over the centuries and details of the more notorious crimes as well as the evolving techniques of and forensics used in police investigations.
Many of the museum labels and descriptions are in French, which may prove challenging.
The museum is located in the 5th arrondissement, just outside of the Latin Quarter and between Notre Dame and the Pantheon. The address is 4 Rue de la Montagne Ste Geneviève, 75005 and the hours are 9:30-5:00 (Tuesday, Wednesday, Friday); 9:30-7:00 (Thursday); and 10:30-5:30 (Saturday). The museum is closed on Sunday and Monday.
PRO TIP: On another note, one of the best places for croissants is around the corner – La Maison d'Isabelle.
As experienced by Audra of The Nerd Traveler
9. Underground Sewer Museum
Location: On the Quai d'Orsay near the Pont de l'Alma
Closest Train Station: Pont de l'Alma
Fee: €9,00 with a discounted ticket for seniors of €7,00
Best For: Those who enjoy historical information and are curious about how things work.
One of the hidden gems in Paris – Les Egouts de Paris – goes underground the Quai d'Orsay! For those who enjoy visiting places that aren't typically accessible to the public, the Sewers of Paris Museum is very interesting.
Descend underground to the inner workings of the Paris sewer system. Here one will see the infrastructure that has been in place since the early days of the city.
A walking circuit amongst the tunnels provides access to the galleries and machinery that is used to filter and then send the water to the treatment plants.
At the end is a display that details the history of the system, uniform, and safety equipment used by the workers and information about the engineers who developed it.
The Paris sewers have held a long fascination for many, with authors and poets using this spot as a fantasy setting for many stories over the years.
This fascination extends to the public since the sewers have been toured since back to 1867 when small boats moved people about under the ground. This eventually evolved into a museum with the current location being fully renovated in 2021.
It is worth mentioning that one can expect an odor while in the tunnels. It does dissipate with time spent walking around. Be sure to add this as a unique sight to visit while in Paris.
As experienced by Kim of Explore Your Bucket List
Parks | Hidden Gems in Paris
Amidst all the concrete attractions of Paris, its gardens and parks provide serene oases to rest and unwind. However, well-known gardens like the Tuileries and Luxembourg tend to get overcrowded, which may not be everyone's preference.
The great news is that Paris has over 450 green spaces, including some hidden gems that often go unnoticed by the average tourist. These tranquil and lesser-visited spots offer moments of greenery and serenity for those looking for some rest in their itinerary.
10. Parc Buttes Chaumont
Location: 19th arrondissement
Closest Train Station: Buttes Chaumont
Best for: Nature lovers
When looking for hidden gems in Paris, I highly recommend Parc Buttes Chaumont.
Parc Buttes Chaumont is a public park located in the northeast of Paris.
The park is further out than some of Paris' main attractions and a top Paris travel tip to keep in mind is some of the best travel experiences in this city are often hanging out in some of the local spots.
The park is filled with so much nature. While there, we saw waterfalls, multiple suspended bridges, and gorgeous views of the city. I was taken aback by the natural beauty of the park, which almost feels out of place in the city.
When visiting, we also saw so much wildlife, including various birds and ducks. I remember the park having such a calm atmosphere that you can't always find in Paris.
A famous structure, the Temple de la Sybille, is also featured in the park. There are pathways that go up the Temple where you can find even better views of the city.
I really felt like a local at this park, and it was such a great escape from the busy crowds.
The park is open daily from 7 am to 10 pm. It's best visited early in the morning or in the evening to watch the sunset.
To access the park, we took the train and got off at Buttes Chaumont train station. The park is around a ten-minute walk away from the station.
As experienced by Sam Opp of Find Love and Travel
11. Palais Royal
Location: Rue Saint-Honoré, 1st arrondissement
Closest Train Station: Louvre
Best for: Budget travelers and photography enthusiasts
Palais-Royal is one of the real hidden gems in Paris and a great attraction for travelers on a budget and lovers of quirky photography spots. It's very close to the Louvre, so it can be easily included in any Paris itinerary and it provides the perfect break from the most popular (and crowded attractions).
I actually discovered it by pure chance as I was looking for a lunch spot near the Louvre Museum, and was excited to find a place that was so different and so peaceful compared to the museum!
The palace once was the residence of Cardinal Richelieu. He lived in his residence until he died in 1642. After his death, the Palais-Royal became the residence of Philippe II Duke of Orléans, brother of King Louis XIV (who had moved the Parisian court to Versailles).
The palace is now where you'll find the Constitutional Council and the Ministry of Culture of France.
You won't need to visit the interior to get a sense of the place and its grandeur. I recommend just pop into the courtyard to admire the beautiful building and spend some time in the interesting art installation of striped columns of different heights – they make for an excellent photo opportunity. What's even better is that the Palais-Royal is completely free to visit, so you don't have to break your budget to see it!
Since the palace opens very early (around 7:00 or 7:30 a.m. depending on the season) you may be able to actually head there even before actually getting to the Louvre (I recommend the first time slot for that).
As experienced by Claudia of My Adventures Across The World
12. Hotel de Sens Garden
Location: Le Marais
Closest Train Station: Sully-Morland, line 7
Best for: Relaxation travelers, slow travel, photographers
Hotel de Sens features stunning gardens in the Le Marais neighborhood of Paris. It's a short walk up from La Seine. I stumbled upon it as I was walking around the neighborhood solo.
Hotel de Sens is a medieval chateau, and the former home of the archbishop of Sens, Salazar. Construction began on the chateau in 1475. There are only two other medieval residences in Paris, and Hôtel de Sens is the oldest mansion house in Le Marais.
It's now owned by the City of Paris and is the home of the Forney Library. It often offers art exhibitions, available to the public.
The Hôtel de Sens Garden is not a sight that you'll find in typical guidebooks or featured on 'highlights of Paris' walking tours. Not only is the chateau breathtaking but the beautiful gardens are well-manicured and showcase some lovely, colorful flowers.
Many locals escape the bustling city in this garden. You'll see them reading and relaxing on small benches around the perimeter of the park. It's best to keep a quiet voice and not to leave any trash behind.
As Experienced by Eleanor of Elevate Your Escapes
13. Promenade Plantée
Location: 12th arrondissement
Closest Train Station: Bastille, Port Henri IV, Sully – Morland
Best for: scenic walks
Promenade Plantée, also known as Promenade plantée René-Dumont and Coulée verte René-Dumont, is a garden walkway made out of what was once an elevated railway line. With street views, trees, flower beds, and ponds along the route, it's like the High Line in New York City. Except it came first, so it's the original (and I would say it's the best).
It was opened in 1993 and runs for 3.5 km between the eastern boundary of Paris at Boulevard Periphique to rue de Lyon near Bastille. Walking all or part of the Promenade is one of the hidden gems in Paris.
You can walk Promenade Plantée year-round, but it's especially gorgeous during Springtime in Paris, when the pathway comes to life with green leaves, flowers, and blossoms.
I walked the promenade in Spring and it was truly lovely: sunshine, but not oppressive summer heat, meant it was comfortable to walk the whole distance; and sprinkled along the route there were pink cherry blossom trees.
There's very little shelter on the walkway, though, so pick a day with a good weather forecast, or you'll be huddling under trees or the odd railway bridge!
As experienced by Martha of MayCauseWanderlust.com
14. Jardin de Plantes
Location: 5th arrondissement.
Closest Train Station: Gare d'Austerlitz, Jussieu metro station (Line 7 and Line 10)
Best for Nature, art, and photography enthusiasts
Jardin des Plantes is an offbeat destination in Paris with its botanical and natural history. It offers a unique and tranquil escape from the city's bustling tourist spots.
This garden is home to a variety of plant collections. It is one of the oldest Botanical gardens in Paris, dating back to the 17th century.
Here, you can also witness four of the oldest trees in Paris. Among them, the most ancient is a Robinia (acacia) planted in 1635 at the intersection of Allée Becquerel and Allée Buffon. Even though the original tree died long ago, it regenerated new shoots and continues to thrive.
There are many things to do and see in Jardin des Plantes. You can visit the Ménagerie du Jardin Des Plantes, which houses a diverse collection of animals, including some endangered species, take a look at the various gardens, and explore the garden's labyrinth.
I was mesmerized by the beauty of Jardin des Plantes. Seeing different varieties of roses in the Rose Garden left me speechless. Visiting this garden was one of my best experiences in Paris.
PRO TIP: Stay on designated paths – to avoid delicate plants, do not pick flowers and plants, and dispose of your trash properly.
As experienced by Christine of Journey to France
Unique Spots | Hidden Gems in Paris
Paris is also home to some truly unique attractions. From historical mosques and canals to vineyards and quirky catacombs, there's an abundance of hidden gems in Paris waiting to be discovered.
Here are the most extraordinary and lesser-known spots that make Paris even more enchanting!
15. The Grand Mosque of Paris
Location: 5th arrondissement of Paris
Closest Train Station: Place Monge station (Line 7)
Fee: €3 per person | €2 per person for groups of 10 or more
Best for: History enthusiasts, spiritual travelers, and anyone longing for a peaceful garden escape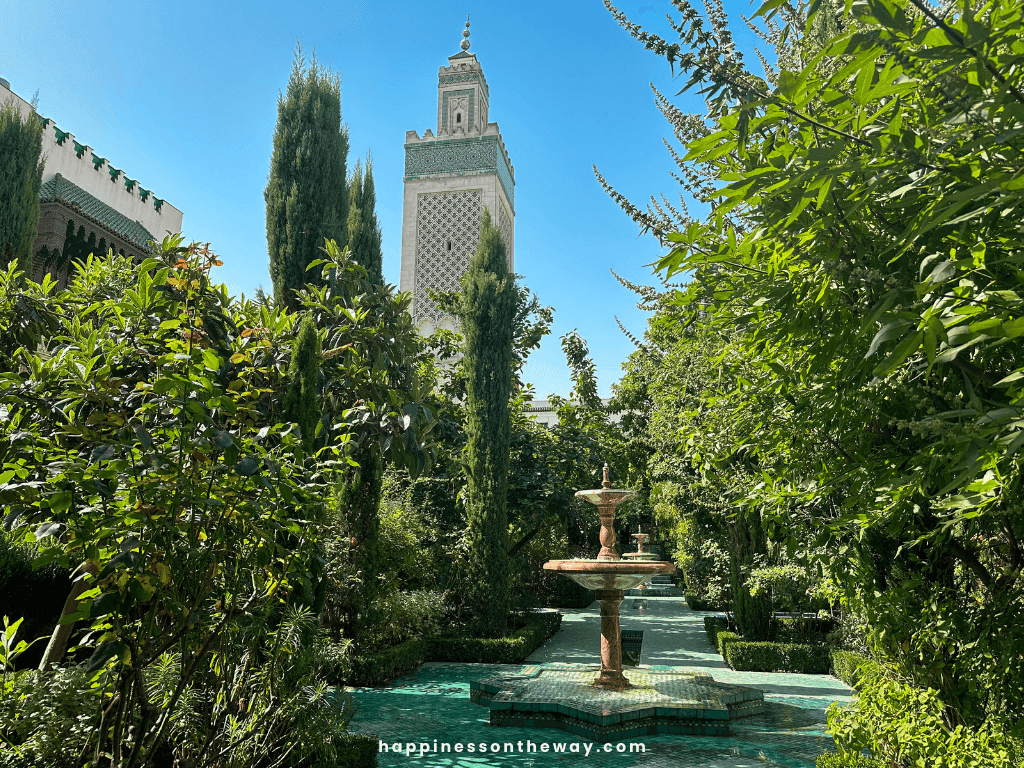 In a vibrant city like Paris, The Grand Mosque of Paris offers a serene escape from the lively chaos of the City of Love.
As I entered the mosque, I couldn't help but admire it and was immediately struck by its breathtaking Islamic architecture. Every corner exuded intricate details, from the graceful minaret to the serene prayer room and the inviting library. The highlight, undoubtedly, was the lush garden adorned with soothing fountains and fragrant blooms.
Our initial plan was to make a brief stop at the mosque before heading to Rue Cler. However, this oasis of tranquility captivated us completely. Hours slipped away as we found ourselves simply sitting in the garden, basking in the profound serenity that enveloped this place.
It's a symbol of gratitude to the Muslim soldiers who fought alongside France during World War I. This mosque also served as a sanctuary during one of humanity's darkest periods, providing refuge to Jews fleeing Nazi persecution and saving the lives of 1,732 individuals.
As you visit the mosque, remember that it's a place of worship. Dress modestly, covering their shoulders (scarves are available at the entrance if needed). Maintain a serene atmosphere and cherish the serenity of one of the most tranquil hidden gems in Paris.
As experienced by Gladis of Happiness on the Way
16. Covered Passages
Location: Multiple locations throughout the city, but many of them are connected on the 2nd to 9th arrondissements
Closest Train Station: Gare de l'Est
Fee: Free (or take a guided tour or explore on your own with an audio guide)
Best for: architecture enthusiasts, sophisticated culture travelers, treasure hunters
If you are a frequent traveler to Paris, you have likely visited many of the most popular tourist sites and may want to find hidden gems in Paris.
The covered passages in Paris are a hidden gem I highly recommend for those seeking an unusual experience.
There are numerous covered walkways in the city. These were mostly built in the 19th century to provide the Parisian bourgeois with a luxury shopping experience, especially on rainy days.
Visiting the passages is like going back in time to the glamorous past of Paris. The covered passages are an architectural marvel featuring ornate moldings, decorative tiles, and a stunning glass-roofed structure.
Dive deeper into the history and best spots of these covered passages by booking one of these guided tours:
The historic shopping malls are filled with elegant boutiques, quaint cafes and restaurants, antique shops, bookstores, and unique gift shops. And each of them has its distinctive characters.
I marveled at the Galerie Vivienne's elegant architecture with the grand entrance, decorative sculptures, and mosaic tiles. I enjoyed browsing old books and vintage posters at Passage Jouffroy. I found affordable, contemporary jewelry at Passage du Grand-Cerf, with which I will remember Paris forever.
Parisian passages give a unique opportunity to experience the city's rich history and cultural charms from the past. Don't miss out on this gem in the City of Light!
Contributed by Chloe of Chloe's Travelogue
17. Canal Saint Martin
Location: Canal Saint Martin
Closest Train Station: Temple and République.
Best for: photography, picnic, and local life
The beautiful Canal Saint Martin is a hidden gem. I highly recommend it to anyone looking for hidden gems in Paris. It was mainly built in 1825 and the beautiful buildings in this area are to be fallen in love with.
It winds through a former industrial area that has been transformed into one of the most fashionable neighborhoods in Paris. There are some of the most charming boutique hotels in Paris and restaurants in the area where you can have a wonderful dinner or lunch.
What makes this canal so unique is its quiet, local atmosphere in the middle of the bustling city, making it a perfect escape from the tourist crowds. It's a place where mostly locals, but also a few tourists, gather to stroll and enjoy a few hours of peace and quiet.
One of the most charming features of the Canal Saint-Martin is the tree-lined promenades that run along the water, providing a tranquil setting for a leisurely stroll or a romantic picnic. Charming piers and locks add to the picturesque atmosphere of the canal.
An unforgettable experience was to sit among the Parisians with a bottle of red wine, cheese, and baguette and experience the grandiose flair up close. Since I speak a little French, I was able to quickly strike up a conversation with some people, which was an unforgettable experience.
As experienced by Martina of PlacesofJuma
18. Pere Lachaise Cemetery
Location: Pere Lachaise Cemetery
Closest Train Station: Phillipe August (main entrance)
Fee: Free, unless you take a guided tour
Best for: Architectural or Art Enthusiast
When I was planning my trip to Paris, I never thought I would plan to visit a cemetery. Pere Lachaise Cemetery has 70,000 burial plots crammed into 43 hectares and is one of the most intriguing hidden gems in Paris that I highly recommend!
Lined with cobblestone paths, graves of celebrities, eerie statues, and mesmerizing crypts, the beauty of this place was absolutely an amazing experience.
If you want to be adventurous you can download this map, get this audio guide, and explore the cemetery on your own. Be prepared to spend many hours walking and possibly get lost like I did!
If you don't have time (to get lost), book one of these guided tours to find the most popular graves.
It only added to the fun of being in this hauntingly beautiful place; the most visited burial ground in the world. The most popular graves that you should find are Jim Morrison (lead singer of the Doors), Oscar Wilde (Irish novelist), Edith Piaf (singer), and Fredric Chopin (pianist & composer).
The best tips that I can give are to visit early in the morning to avoid the crowd, wear good shoes for walking, download the map or buy one at a vendor outside the cemetery, respect the area, and most of all take in the amazing structures you will see around you!
As experienced by Melanie of The World Travel Girl
19. Catacombs
Location: 1 Av. du Colonel Henri Rol-Tanguy, 75014 Paris, France
Closest Train Station: Saint-Jacques or Mouton Duvernet
Fee: €18.00 per adult (book here)
Best for: History enthusiasts, adventure seekers, lovers of the strange
Deep beneath the vibrant streets of Paris, there's an underworld untouched by the passage of time, the Catacombs. I've always been a fan of the road less traveled, so if you're looking for hidden gems in Paris, this is it.
It's night and day different from the conventional Paris sightseeing hotspots like the Eiffel Tower and Louvre tours. It's a place representing our deep history and the transient nature of life.
The catacombs are a vast network of dimly lit tunnels lined with the remains of over six million people. It sounds grim, but it's humbling and weirdly beautiful, with all these skulls and bones arranged in this really artistic way.
You don't only learn about history but feel it in a very visceral way, it's this cycle of life and death laid bare in front of you.
Book a Ticket or a Tour of the Paris Catacombs:
I remember another visitor telling us about three boys who got lost for three days in the catacombs after bypassing one of the gates. They have things set up so that there's a clear route, but you see lots of tunnels blocked off.
Just a tip, though – it gets cold down there, so grab a warm jacket and wear sturdy shoes to handle the uneven ground. And don't forget to turn off the flash on the camera, it's against the rules. Mine went off by mistake and I got some dirty looks!
Seriously, don't miss this hidden gem. It's a deep dive into history, and trust me, it's packed with surprises just waiting to be discovered!
As experienced by Blake of Flaneur Life
20. Vignes du Clos Montmarte
Location: 18 Rue des Saules, 75018 Paris, France
Closest Train Station: Lamarck – Caulaincourt
Fee: €39.90 for the tour and tasting or free to walk around the perimeter
Best For: Foodies/Wine Lovers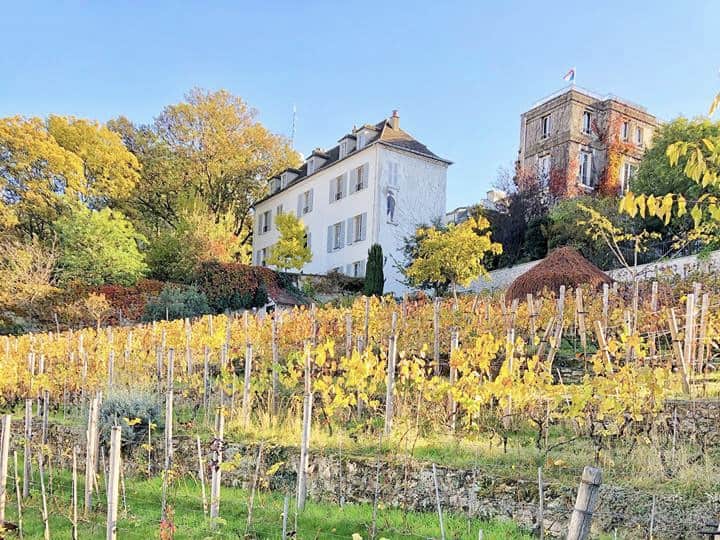 Personally, I think one of the best off-the-beaten-path things to do in Paris is to see the Vignes du Clos Montmartre. Yes, everyone knows all about the beautiful neighborhood of Montmartre. But, they don't know that this idyllic area is home to the only working vineyard in Paris.
In fact, this vineyard was started in 1933 by the City of Paris to keep developers from purchasing the land. Later, grape-picking festivals began in 1935, making this a perfect place to visit.
Now, there are two different ways that you can visit. Me and my family opted to visit for free and walked along the Rue des Saules and Rue Saint Vincent. These are the streets around the perimeter of the vineyard and we just took stunning photos from there.
I also highly recommend visiting in the fall since the gorgeous foliage adds to the charm of this place. If you want, you could even visit the Museum of Montmartre and admire sweeping views of Montmartre, and the vineyard, from here.
However, you can also visit as part of a tour. Simply book your tour in advance online and you can enjoy exploring the vineyard before sampling some of their incredible wine.
Plus, you'll get free access to the Museum of Montmartre afterward and can even take home an engraved Clos Montmartre glass home with you as a souvenir.
Add these amazing activities on your visit to Montmarte:
As experienced by Linda of Linda on the Run
21. The Wall of Love Paris
Location: 18th arrondissement, Montmarte
Closest Train Station: Abbesses Metro Station
Best for: Photographers, hopeless romantics, and art enthusiasts
Looking for a place that encapsulates the essence of Paris as the City of Love? Head to The Wall of Love Paris, a beautiful mural adorned with "I love you" in over 250 languages.
The multilingual declarations of "I love you," collected by Frédéric Baron over 8 years and creatively designed by calligrapher Claire Kito, symbolize unity and love's power to bridge gaps.
As I stood in front of the Wall of Love with my partner, Mat, I couldn't help but reflect on the universality of love. We ourselves came from different nationalities, and it was heartwarming to see that our "I Love You" – "Iniibig Kita" (Filipino) and "Ich Liebe Dich" (German) – were near each other.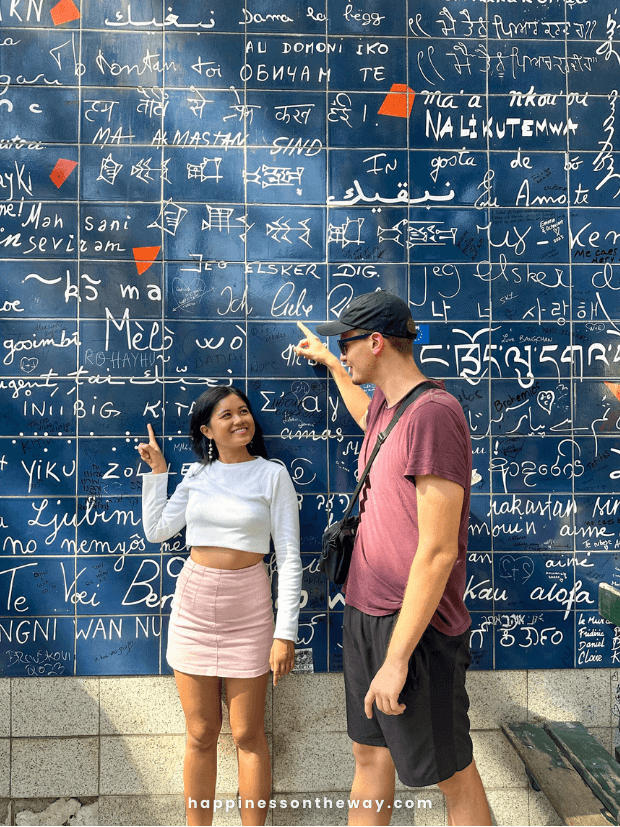 We took a photo of our discovery, sat for a while at the Jehan Rictus Garden, and talked about how cool it was and how we were meant to be. So, head to the Wall of Love and find your "I Love You" in your language too!
The Wall of Love is not just one of the hidden gems in Paris; it's a testament to the enduring power of love and unity. It's a place where people of all backgrounds come together to celebrate the most profound of human emotions.
As experienced by Gladis of Happiness on the Way
22. Fleamarket at Porte de Vanves
Location: Porte de Vanves, Avenue Marc Sangnier
Closest Train Station:Porte de Vanves
Fee: FREE
Best for: Bargain Hunters, Collectors, Vintage Fans
A flea market visit in Paris is a must-do if you are looking for hidden gems in Paris. Most travelers are heading to the bustling maze of the Puces de St.Ouen in the north of Paris. But for a more intimate and relaxed atmosphere, I recommend you head to the South and visit the flea market at Porte de Vanves.
Especially if you are keen on finding unique Paris souvenirs like vintage sunglasses, photographs, postcards, buttons, collectibles, or little antique items. And: if you are eager to discover local life in Paris, that has very little to do with the tourist buzz you find in the center.
The market is open year-round on weekends, hence, perfect if you are looking for cool things to do in Paris on a Sunday. Just know, that even though his flea market officially concludes at 2:00 PM, on quieter days, I often find that some vendors pack up and leave before lunch. So you best visit early for a full experience.
The market lies in the South of the 14th arrondissement of Paris and is a top starting point to explore this rather off-the-radar area. Just hop on Metro Line 13, and exit at Porte de Vanves.
After you go bargain hunting, head out to discover the Catacombs, the Park Georges Brassens, and a place I especially love, the Petite Ceinture.
As experienced by Lena of Salut from Paris
23. Galeries Lafayette
Location: 9th arrondissement
Closest Train Station: Haussmann Saint-Lazare
Best for: Budget travelers and photography enthusiasts
One of the hidden gems in Paris is the top of Galleries Lafayette. Despite its location in the heart of the French capital, many people don't know about this unique attraction.
Just a stone's throw away from Palais Garnier, you can easily hit up two of the city's top attractions in the space of a few hours.
The first time I visited this stunning department store, I was truly blown away by its unique beauty. As soon as I spotted the impressive ceiling in the heart of the store, I couldn't put down my camera!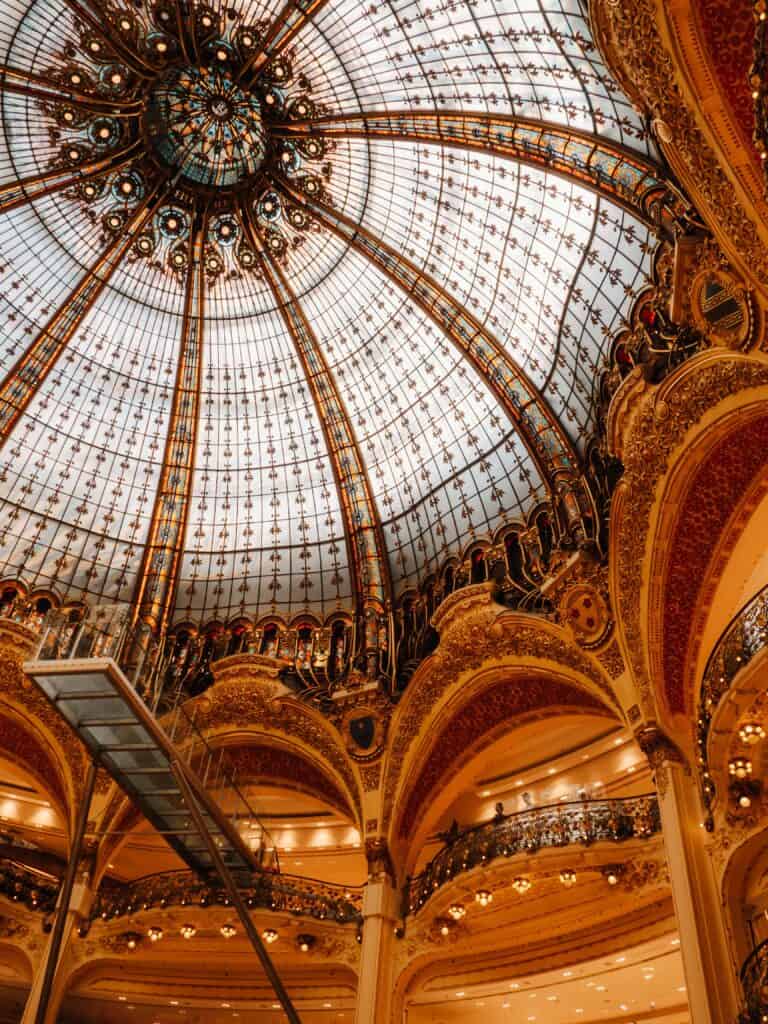 The same can be said for the rooftop. Boasting aerial views of Paris (including the Eiffel Tower and the Sacre Couer), I was truly in my element. As someone who loves to admire pretty views all over the globe including the likes of Paris, Amsterdam, and other European destinations, I could have stayed there for hours.
The best part about this spot is that it's completely free to visit! All you need to do is enter the store and climb the escalators to the top floor.
With many viewpoints in Paris charging for the privilege of catching a glimpse of the Eiffel Tower from afar, this is the best place to go if you're exploring the city on a budget. It's also a must-see for photography enthusiasts!
As experienced by Lauren of Pack and Paint
Day Trips | Hidden Gems in Paris
Paris can feel intense sometimes. It's a relief that you can easily get away from the urban hustle and bustle within an hour or so. While the most famous day trip is to Versailles, if you're looking for a break from the crowds, consider something different.
Opt for an off-the-beaten-path destination that offers its own unique magic. These hidden gems in Paris day trips are just as enchanting as the more renowned options.
24. Giverny
Location: Giverny, France
Closest Train Station: Vernon-Giverny Station
Fee: Entrance fee is €13.45 for adults (book a day trip from Paris here)
Best For: Art history and nature lovers
One of the hidden gems in Paris that everyone should make an effort to do is visit Giverny. The charming village is situated approximately an hour away from the bustling French capital and offers a welcome break from the craziness of Parisian city life.
And what sets Giverny apart is its enchanting and intimate atmosphere. Around the town, you'll find lots of cobblestone streets with adorable homes that look straight out of a Disney movie.
That said, the primary reason to make your way to this picturesque village is to give yourself the opportunity to visit the former estate of the iconic Impressionist artist, Claude Monet.
Book your Day Trip to Giverny:
Here, visitors can roam his well-maintained gardens and walk around the inside of his home. During my visit, I vividly recall strolling along the winding paths around the famous lily pond and just being awe-struck. Everywhere you look, there are blossoming flowers, lush green plants, and so much natural beauty.

And for anyone who loves the art history side of things, it's quite a unique experience to stand in the very place that inspired some of Monet's most celebrated masterpieces. Thus, if you're looking for a peaceful escape from the bustling streets of Paris, consider a trip to Giverny.
As experienced by Kristin of Global Travel Escapades
25. Grand Trianon
Location: Versailles, France
Closest Train Station: Versailles Château Rive Gauche station
Fee: €12 book here (It's included in the Paris Museum Pass)
Best for: history and architecture enthusiasts and anyone seeking a quieter, more intimate exploration of Versailles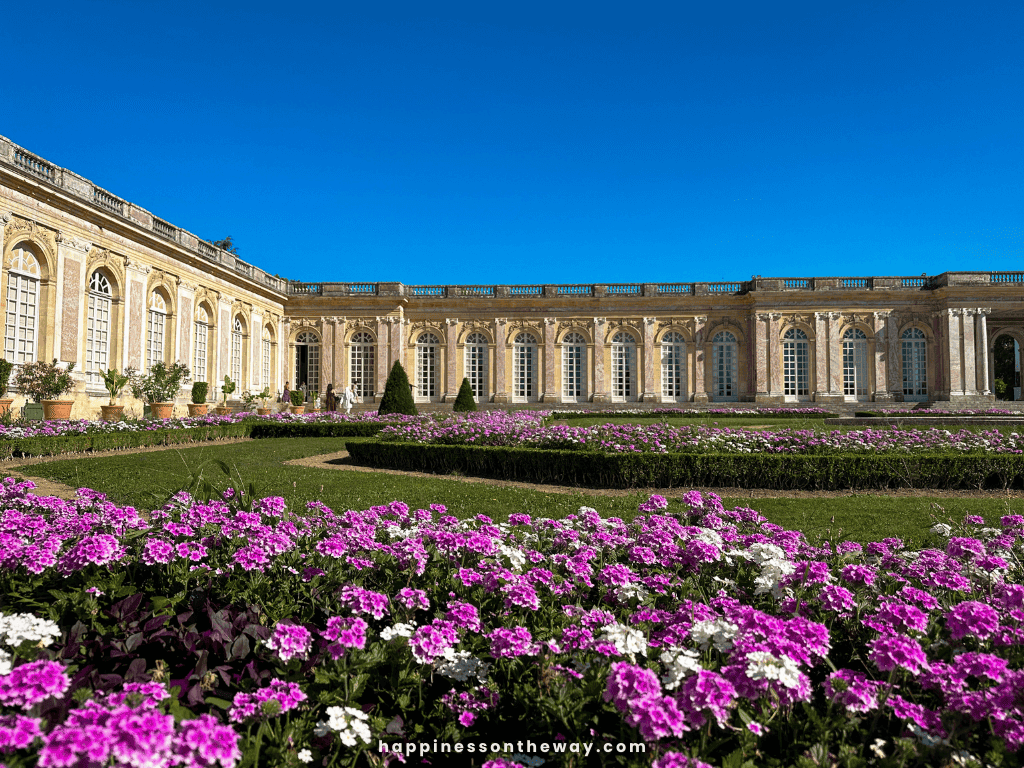 While the Palace of Versailles is among the most famous day trips from Paris, there's an often-overlooked gem that promises a more tranquil fairytale experience: Grand Trianon.
Grand Trianon, a charming pink marble palace, was commissioned by King Louis XIV in the late 17th century. It was intended as a serene retreat from the opulence and formalities of the main palace.
Exploring Grand Trianon feels like entering a world of refined elegance. The palace's rooms, though not as grand as those in the Palace of Versailles, exude an equally breathtaking charm.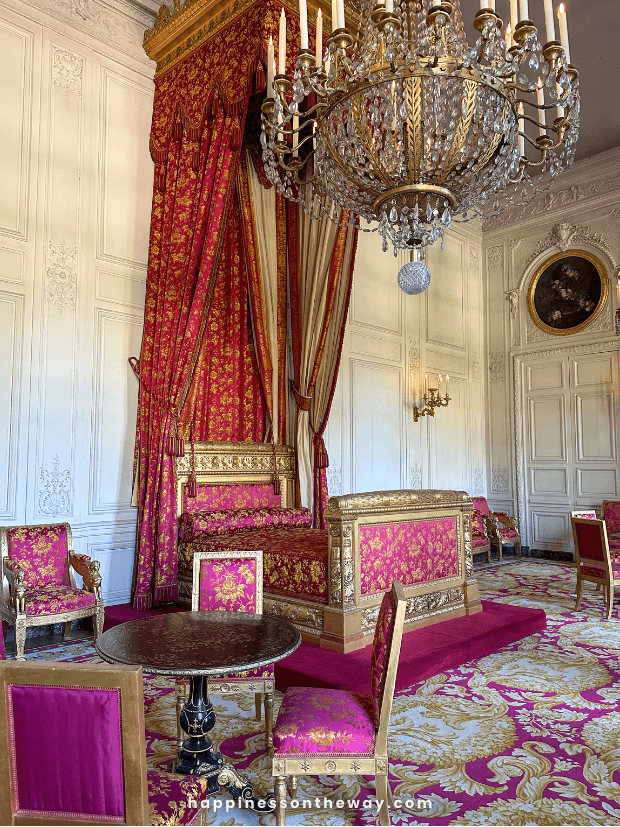 With fewer crowds to contend with, we had the opportunity to leisurely explore the palace at our own pace, free from the pressures of just ticking items off our checklist.
Allocate 3-4 hours to fully immerse yourself in this hidden gem. It's best experienced before visiting the Palace of Versailles or when you still have ample energy. As you wander through its chambers and gardens, you'll come to appreciate the meticulous craftsmanship and architectural beauty that define Grand Trianon.
A visit to Grand Trianon allows you to embrace the peace and serenity it was designed to provide, just as King Louis XIV intended.
As experienced by Gladis of Happiness on the Way

The famous spots in Paris are popular because of their undeniable beauty, but there's more to Paris than crowded tourist attractions where everyone's snapping selfies.
The good news is that Paris is a walkable city with an excellent train system, making it easy to explore off the beaten path. I hope this guide has provided you with plenty of options to consider. So, which of these hidden gems in Paris are you planning to explore on your next visit to the City of Love?