15 Best Things to Do in Paris at Night: Insider Experiences
Paris is one of the most popular tourist destinations in the world, with over 30 million visitors annually. From the iconic landmarks such as the Eiffel Tower and Louvre Museum to the city's hidden gems, Paris is undoubtedly breathtaking.
And the City of Light is even more enchanting at night! Here are the top things to do in Paris at night, recommended by locals and travel bloggers.
15 Best Things to Do in Paris at Night
Looking for things to do in Paris at night? Here is a list of fun activities in the City of Light, from locals' secret spots to must-have experiences for tourists.
Starting with the most underrated activity in Paris at Night!
15. Roam around the streets of Paris at Night
One commonly overlooked but delightful nighttime activity in Paris is simply taking a leisurely stroll through its charming streets. Trust me; this experience truly captures the ambiance of Paris!
The historic buildings, bridges, and monuments are bathed in a soft, golden glow, creating an atmosphere that's both captivating and timeless.
And you have lots of neighborhoods and areas to explore. Looking for a vibrant nightlife walk? Head to Saint-Germain-des-Prés, Bastille, or Champs-Élysées. These districts will show you how Parisian nightlife is!
Or maybe you want a romantic evening. Have a tranquil walk along the banks of the Seine River. The view of iconic landmarks like the Eiffel Tower in the distance creates a serene backdrop for your evening escapade. Or discover the dimly lit Rue Crémieux. It's the perfect spot for a quiet and intimate walk.
Montmartre is another romantic destination in Paris. End your walk at Square Jehan Rictus Garden and see the Wall of Love in a quieter atmosphere.
If you're looking for food during your stroll, head to Rue Cler. Here, you'll experience the true Parisian feel with its delightful shops, restaurants, and cafes. Especially during Christmas time, sparkling lights adorn every corner of this lovely street.
You don't need to specifically add it to your itinerary. Pick a night or two and walk from your last destination to your accommodation. It's my favorite way to wind down and burn the calories from croissants!
By Gladis of Happiness on the Way
Looking to burn more calories? Climb 674 steps to the iconic Eiffel Tower.
14. Climbing the top of the Eiffel Tower
Heading to the top of the Eiffel Tower is undeniably one of the most iconic and enchanting experiences you can have in Paris at night. It's a mesmerizing combination of breathtaking views, the city's radiant lights, and a touch of magic.
Every evening, starting at dusk, thousands of golden lights illuminate the tower, creating a sight to behold. While I've seen the Eiffel Tower light show from various spots across the city, witnessing the lights on the tower itself has its own special magic.
While many visitors choose to go to the Eiffel Tower during the day, there's something special about experiencing it at night. The lines are shorter, the air is cooler, and the ambiance is romantic. Paris transforms into a symphony of lights, and from the tower's viewing point, you'll feel like an integral part of a living, breathing masterpiece.
For a truly memorable experience, take the stairs to climb the tower. This allows you to see the cityscape gradually unfold before your eyes and fosters a deeper connection with the iconic structure.
Taking the stairs was my favorite part of the whole Eiffel Tower experience! It felt like I had earned the right to be on the tower. Plus, it's cheaper and there are almost no waiting lines!
Pro Tip: Book your Eiffel Tower tickets in advance, ideally as soon as you confirm your travel dates. These tickets can be reserved up to 60 days in advance, and they tend to sell out quickly!
By Gladis of Happiness on the Way

The best thing about the Eiffel Tower is you can experience its magic almost anywhere in Paris, especially for its light show!
13. Watching the Eiffel Tower Light Show
One of the most enchanting experiences you can have in Paris at night is witnessing the Eiffel Tower Light Show. It's a mesmerizing spectacle that captures the romance and allure of the City of Light.
Every hour, after dusk and until 11:45 pm, thousands of sparkling lights brighten the tower, creating a dazzling display that lasts five minutes. If you happen to be in Paris during special events, you'll also see unique illuminations.
The final show is perhaps the most exceptional of the day. Instead of the typical yellow lights, they are switched off for this performance, leaving you with a view of twinkling white lights against the backdrop of the darkened tower. And unlike the usual five-minute show, this one lasts ten minutes.
The best part? You can enjoy this spectacle from anywhere in the city, and it's completely free! I've seen it from the top of the Arche de Triomphe, Trocadéro, our hotel in Nation, and even from the Eiffel Tower itself!
The first time I witnessed the Eiffel Tower light show, I was overwhelmed with awe. It felt like I had stepped into a scene from a movie, with the city below serving as a grand stage for this captivating performance.
Trust me, it's not overrated; it's genuinely romantic! My partner and I couldn't resist sealing the end of the light show with a kiss!
Now, on to the next iconic landmark, the Louvre.
12. Exploring the Louvre after Dark
The Louvre, the most famous museum in Paris, is great to visit, and it is possible to go here at night every Friday. On Fridays, the museum is open till 9:45 PM.
Checking out the museum and its collection at night is even more special than during the day because of the exterior of the Louvre.
At night, the glass pyramid of the Louvre, which is also the museum's entrance, lights up, which looks very beautiful.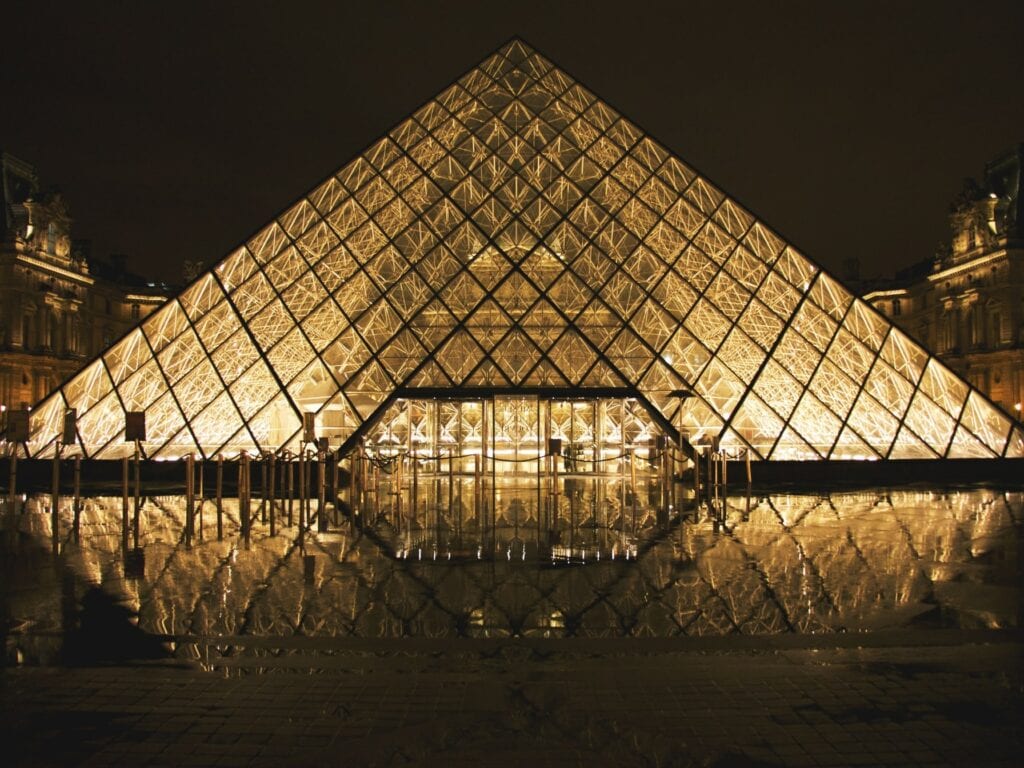 In addition to that, seeing the museum's collection while seeing that it is dark outside while looking out of the windows of the museum adds to the experience.
I also once combined going here with having dinner nearby, which made the experience even better.
When you go to the Louvre on Fridays, keep in mind that the last entry is possible till 1 hour before closing time and that clearing of the rooms starts 30 minutes before closing time.
PRO TIP: The ticket to the Louvre is €17 when a ticket is purchased online. If plan to see more museums and other attractions in Paris, you'll save a lot from the Paris Museum Pass. A ticket to the Louvre is also included.
By Daniel of North Carolina Travel Guides
Looking for some fancy thing to do in Paris at night? See an opera or a concert.
11. See an Opera at Palais Garnier
Palais Garnier, the Paris Opera House, is a historical and architectural marvel. It is an incredible sight and a great visit to Paris at night.
In the evening, Palais Garnier hosts classical ballets, opera productions, and other artistic performances. Not only are the performances worth seeing, but the breathtaking grandeur is worth seeing on its own.
The opera house opened in 1875 and showcases a gorgeous style with intricate carvings on the walls and ceilings, grand statues, and columns. There are also sparkling enormous chandeliers, sleek marble staircases, and elaborate frescoes.
Guests who purchase tickets to watch a performance will sit in plush red velvet seats under a ceiling painted by Marc Chagall, depicting scenes from famous operas. The schedule varies and tickets sell out, so check the calendar well before your trip. You may be able to score a €15 ticket if you act early.
To see the inside of the opera house without a performance ticket, guests can visit with a tour or explore on their own before 4 p.m. I enjoyed walking around independently. Go early in the morning or around 2:30 p.m. for less crowds. Mid-day tends to be busier. Palais Garnier truly is a masterpiece!
By Eleanor of Elevate Your Escapes
10. Experience a Concert at Sainte Chapelle
Sainte Chapelle is a gothic, medieval church on the Ile de la Cité, famous for its stunning stained glass windows. It's a sight to behold during the day, but at night, it becomes something truly extraordinary.
As the sun sets, those stained glass windows come alive with a mesmerizing play of colors – it is a breathtaking sight. And to make it even more special, you can enjoy beautiful baroque music here at night. It's undeniably one of the coolest things to do in Paris at night.
Throughout the year, Sainte Chapelle hosts over 100 night concerts, showcasing the harmonious sounds of violins and cellos, played by some of the finest classical composers in Paris. The music, combined with the ambiance of this historic place, transports you to another era.
But here's the thing – this concert is popular among tourists, and tickets sell out fast. The chapel can only accommodate around 200 people, so it's often a full house.
To get a spot, especially during the busy months from May to September and major holidays like Christmas and New Year's, book your tickets early.
For a more serene experience with fewer crowds, plan your visit to Sainte-Chapelle Paris between February and April.
Pro Tip: Arrive at least 30 minutes before the performance to admire the stunning stained glass windows. You can stay after the concert, usually when it's quieter, to savor the enchanting atmosphere.
Speaking of famous churches in Paris at night…
9. Witness the sunset at Illuminated Sacré-Cœur
Visiting Sacré-Cœur Basilica in daylight has always been a part of any Paris itinerary. However, most people are unaware that this iconic landmark atop the hill of Montmartre takes on a whole new allure at night.
Start your walk with the charming streets of Montmartre and climb the steps to Sacré-Cœur Basilica before sunset, where you'll witness one of the best panoramic views of Paris. The view from the top is truly breathtaking.
Gradually, you will notice the twinkling lights illuminating the area below you. From renowned landmarks such as the Eiffel Tower and Notre Dame to the charming streets of Paris, you will witness the City of Light shining beautifully.
PRO TIP: After sunset, stay for the Eiffel Tower Light Show.
As you turn your back, you'll see the illuminated white domes standing out against the night sky. It's nothing but romantic!
You can also enjoy a peaceful moment inside the basilica. Its serene interior, adorned with stunning mosaics and beautiful architecture, provides a space for awe and reflection.
The best part? This nighttime visit allows you to experience Sacré-Cœur with fewer crowds, making it a more intimate encounter. Whether you're seeking romance, spirituality, or simply the beauty of Paris at night, Sacré-Cœur Basilica offers it all.
By Gladis of Happiness on the Way
Looking for something unique to do in Paris at night? Head to its catacombs or cabaret show!
8. Descend into the Catacombs of Paris at night
The Catacombs of Paris are a travel bucket list staple as they offer a unique journey through history. As I travel through the extensive underground grid, I encounter remnants of Paris's past in the form of meticulously arranged skeletal remains.
Plus, the thrill of exploring these deep, shadowed tunnels added a dash of adventure to my experience.
When I visited the Catacombs of Paris, they were washed in this haunting radiance of the underground lighting. It was a pleasant and unique spectacle at night, offering me an unmatched combination of historical exploration, adrenaline, and mysterious experience.
When I visited and saw the countless skeletal remains in the catacombs, it instilled in me a deep sense of humbleness and served as a stark reminder of my own mortality.
When visiting places like the Catacombs of Paris, it's crucial to follow responsible travel practices such as respecting the sanctity of the site, not touching or disturbing any remains, and sticking to designated paths to preserve the historical integrity of the location.
Some tips are to be sure you wear comfortable walking shoes as you will descend 131 steps or the equivalent of 5 stories to get underground, don't worry as you take an elevator going back up.
Also, it's advisable to bring a light jacket, as the temperature within the catacombs can be quite cold once underground.
The Catacombs of Paris offer a unique blend of history, architecture, and adventure that will offer a truly mesmerizing and humbling experience for every visitor.
By Kaylee of kayleejanell.com
7. See a Burlesque Cabaret Show
Attending a Burlesque Cabaret Show is such an enchanting experience, especially when I go to Paris. I love how the seductive yet comedic performance brings the spirit of late 19th-century Paris to life. I always have an exciting night of entertainment.
The Burlesque Cabaret Show at La Nouvelle Seine offers a unique blend of comedy and sensual entertainment that captures the vibrant nightlife and rich cultural history of Paris. This made it an unforgettable nighttime experience for me.
I was truly amazed by the diversity in the performers' shapes and sizes, celebrating body positivity and individuality. It made the Burlesque Cabaret show a truly unique and memorable experience for me.
When attending the show at La Nouvelle Seine, make sure to respect the performers by refraining from taking unauthorized photos or videos, creating a comfortable and respectful environment for everyone.
The show lasts for 1 hour and 10 minutes and there are no intermissions. I also had the option of ordering food as there is a restaurant attached to the theater.
I make sure to arrive early to secure a prime viewing spot since it's open seating and the venue fills up quickly due to the show's popularity.
To get to La Nouvelle Seine, take line 4 to Cité or line 10 to Maubert Mutualité. The entrance fee is €26.00.
When planning your dream vacation to Paris make sure to add the Burlesque Cabaret Show at La Nouvelle Seine. It is an amazing fusion of comedy, sensuality, and cultural history, making it an unmissable experience in Paris at night.
By Kaylee of kayleejanell.com
After exploring Paris' iconic and unique spots, it's time to treat yourself to a Parisian meal. Whether you prefer food tours, a fancy dinner, or even a dinner cruise, Paris is sure to delight your senses.
6. Join a Food Tour at Montmartre
If you find yourself wondering what to do in Paris at night, the evening Montmartre food tour is a solid choice. Trust me, I've been on quite a few food tours, but this one is special.
For $67 per person, you get a personal guide to one of Paris' most famous and lively neighborhoods and delicious tastings at some of the area's best restaurants. The tour is booked in advance and takes place year-round, even in the winter.
First off, the tour kicks off at a quaint cheese shop where you'll get to sample some of the finest charcuterie. What's a trip to Paris without some cheese and cured meats, right?
Afterward, you will stroll through the cobblestone streets, you'll make stops at trendy restaurants where you'll taste dishes that Parisians actually love to eat. Delicious Pizza? Check! Korean Bbq? It's on the tour!
One of my favorite stops was this little place that served the most fantastic croque monsieur. We enjoyed it right in front of the iconic Moulin Rouge. Eating this classic French sandwich with such an iconic backdrop felt surreal.
But the moment that really stuck with me was near the end of the tour, standing near the Sacré-Cœur with gelato in hand. The church was all lit up, and it was just one of those moments where you think, "Yeah, this is why I travel."
So, if you're trying to figure out what to do in Paris at night, this Montmartre food tour isn't just about the food—it's a whole experience. And it's one you won't want to miss.
Byy Haley of gleasonfamilytravels.com
5. Have a nice French dinner
One of the best and most iconic things to do in Paris at night is to sit for a nice French dinner. Paris is known for its incredible gastronomy, and sitting for a nice dinner is the best way to experience it.
My favorite restaurant in Paris is Le Florimond, a cozy spot that's about a 20-minute walk from the Eiffel Tower. Le Florimond offers vegetable-forward takes on classical French dishes, without being overly touristy or pricey.
The first time I visited Le Florimond, I was blown away by the quality of the food and the kind of service. The meal started with a glass of champagne with a splash of Chambord, and we chose to end with a cheese plate. Each course was thoughtful and the service made us feel like we were dining at a friend's house.
I loved Le Florimond so much that I once gave a meal there as a gift to a family member who was visiting Paris and London for his honeymoon. When they returned, they said it was the highlight of their trip.
If you're on a very strict budget, consider having dinner at Bouillon Pigalle. This large restaurant has classic French cuisine, but at prices that are intended to be affordable for working people.
I'd recommend that you stay away from the French restaurants within several blocks of the main tourist attractions in the city. They tend to be lower quality and/or more expensive than the restaurants in more residential areas.
By Amber from Amber Everywhere
4. Take a classic Seine Dinner cruise
One of my favorite things to do in Paris at night is the Seine Dinner Cruise.
Once the sun has set, you will board a lovely small boat filled with beautifully set tables and start your cruise. A glass of Champagne will get you in the mood for a three-course dinner.
During the dinner cruise, you'll pass by some of the most beautiful sights in Paris, such as the Notre Dame Church and the Eiffel Tower when it sparkles.
They have a piano player on the boat, and the lovely music actually gave us some tears in our eyes when we passed the stunning buildings of Paris at night.
The food was absolutely delicious and we enjoyed every minute of the 3-hour cruise.
My top tip: do the tour around Christmas times, Paris at night is even more beautiful with fairy lights everywhere. Also make sure to get a spot on the sides, from there you'll have the best view.
By Sabrina of Shades of Summr
Whether you prefer a well-crafted farm-to-glass cocktail, a drink at a speakeasy bar, or the famous wine and champagne of Paris, you'll find the perfect glass (or two) to enjoy your night in the city of love.
3. Get a Cocktail at Little Red Door
Nestled discreetly on Rue Charlot, the entrance to Little Red Door is as unassuming as its name suggests — a little red door that gives no hint to the world of cocktail wonders that lie behind it.
But don't be fooled by its covert appearance; this place has been a staple on the World's 50 Best Bars list for a solid eight years, and once you step inside, you'll understand why.
Imagine a dimly lit entrance luring you into a realm where cocktails become an art form, where every concoction is a masterpiece crafted by skilled mixologists, promising a taste experience that goes beyond the ordinary.
Sure, part of the allure is the hidden nature of the place. Yet, it's not just about the mystique; it's about Little Red Door's commitment to the craft. Their farm-to-glass concept isn't just a trend — it's a way of life.
Here, the seasonal ingredients take center stage, and the producers get their moment in the spotlight, quite literally, with portraits adorning the walls. As for the cocktails, well, don't be deceived by their simple names (like "Carrot"), as each is a revelation of flavors.
Little Red Door isn't merely a bar; it's a mission. Beyond the chic atmosphere and avant-garde cocktails, there's a deeper purpose — to reconnect patrons with the essence of what they consume. The cherry on top? Their Ketel One Sustainable Bar Award in 2022, of course!
For a Parisian night out that's equal parts mysterious and decadent, pair the immersive art experience at Atelier des Lumières with a visit to Little Red Door. It's a seamless transition from visual spectacle to liquid delight, creating a sophisticated evening that defines the essence of Parisian charm.
By Goya Galeotta of goyagaleotta.com
2. Go to a Speakeasy Bar
If you are looking for bars that are far beyond the ordinary pub experience, I recommend you venture out and discover the Parisian Speakeasy Bars.
Paris has an ever-growing number of clandestine bars. Each is tucked away behind seemingly innocent doors and facades adding an element of thrill and mystery to your night out. These covert entrances often lurk behind mirrors, washing machines, shelves, or even the busy kitchens of real and running restaurants.
One of my favorite speakeasies in Paris is the Mezcaleria. To gain access to this quirky cocktail bar requires a bit of courage. You must navigate through a hotel, walk through a somewhat discreet Peruvian at the back of the hotel, meander through its kitchen, and finally, you'll find yourself standing before the entrance to this marvelous bar.
To be honest, it took me a moment to gather enough confidence to walk through there, expecting any minute to be stopped by an employee asking "What the heck you're doing here"?
True to its name, the Mezcaleria is all about Mezcal and above all, one of the best Cocktail Bars in Paris. You find here a creative array of cocktail inventions, but also some of the classics like Margarita, Negroni, or Old Fashioned.
Reinvented with Mezcal, of course. And to top it up, a nice selection of snacks and nibbles, like Nachos, Empanadas, and even a vegan ceviche!
By Lena of Salut from Paris
1. Taste Paris' wine and champagne
Paris is gorgeous and when the sun sets, the city still remains very alive. If you've already walked down the streets of the city and seen them lit up in the night or taken one of the numerous night tours in Paris and want to do something a tad bit different, I would suggest heading out for a night of wine tasting.
France is known for some of the best wine in the world and Paris has some of the best restaurants in the world. Needless to say, many of these places serve up a lot of good wine. It also makes a pretty romantic evening if that's what you are going for.
Now not everyone knows this but Paris is also a great place for Champagne tasting. If you are in the area and really want to make the evening special, I suggest tasting some of the different brands of Champagne too. Trust me, the experience is so different when it's in Paris. It's one of those core memories that will stick with you for life.
If you want something a tad bit more standard then head for a wine and cheese tasting. After all, what goes better with wine than cheese?
Some really great places to head to for wine tasting include Secret Wine Door, Les Cave Du Louvre and The Wine Speaks. Alternatively, you could book a wine-tasting tour. Just make sure that you book it in advance because these tours really sell out quickly.
As experienced by Kelly from Girl With The Passport

These 15 insider experiences have shown you just how enchanting the French capital can be when the stars come out. From wandering the charming streets to witnessing iconic landmarks bask in a golden glow, the magic of Paris at night is undeniable.
Paris, after dark, is a dream that never ends, a story that continues to unfold. And it's your story now. Which things to do in Paris at night are you excited to add to your next trip to the City of Light?