The Wall Of Love Paris: All You Need To Know
Located in the heart of Montmartre, Paris' most romantic neighborhood, you'll find an extraordinary masterpiece known simply as the "Wall of Love Paris," or in its elegant French form, "Le Mur des Je t'aime" or "The Wall of I-love-yous."
But this is no ordinary wall. It's a profound testament to the universal language of love, painstakingly curated over many years. In this comprehensive guide, we'll delve into its captivating history, offer tips on when and how to visit, and share our memorable experience through this labor of love.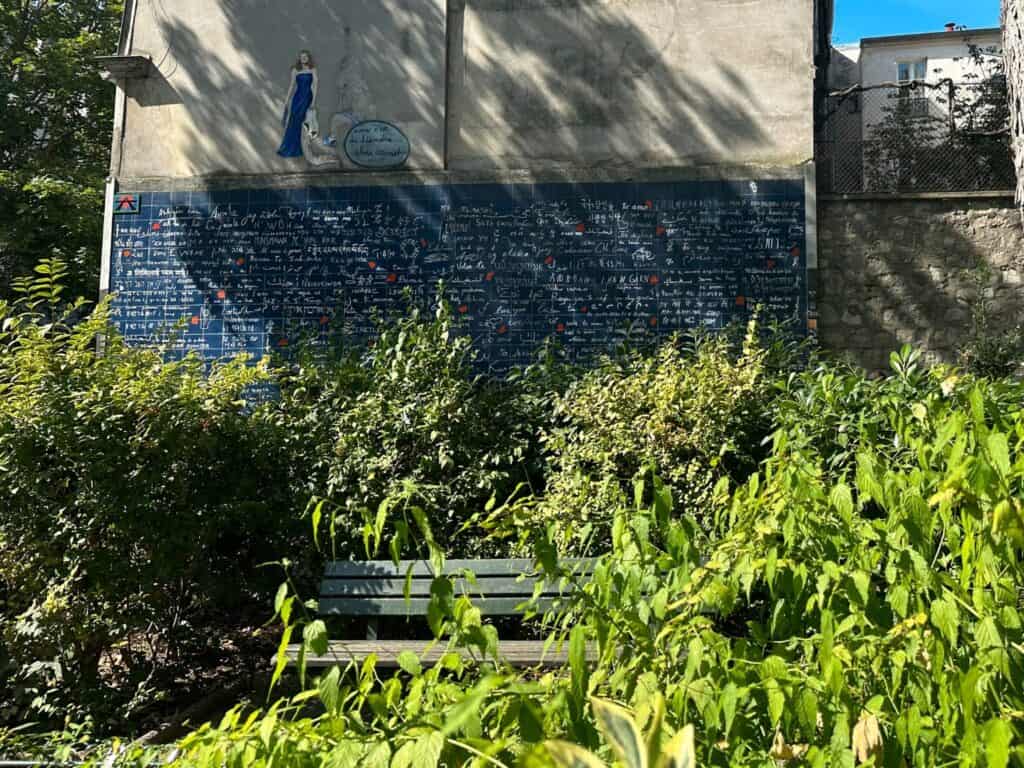 Looking for more hidden gems in Paris? Here's the complete list.
What is the Wall of Love in Paris?
The "Wall of Love in Paris," a breathtaking public art installation sprawling across 40 square meters within the Jehan Rictus garden square. Located in France's capital, this wall is composed of 612 lavishly enameled lava tiles, and each one carries over 300 heartfelt declarations of love.
Here, love transcends barriers and blooms in a symphony of languages, with the simple "I love you," echoing in a stunning 250 different tongues. Each declaration of love is written in elegant script, coming together like a collage of colors and characters that can truly take your breath away.
Wall of Love Paris History
The start of this remarkable project can be traced back to 1992 when Frédéric Baron, a musician, dreamt of a real "I love you", which transgresses the wall of misunderstandings and abolishes the border of differences.
The concept of collecting "I love you" in various languages was conceived, and it set the stage for almost a decade of collecting.
Eight Years of Love Gathering
Frédéric Baron embarked on an eight-year odyssey to collect expressions of love in different languages. His approach was simple and heartfelt: he went door-to-door, asking neighbors, acquaintances, and even strangers to write down how they would say "I love you" in their native tongues. Baron's mission resonated with people, and the responses poured in.
The result of this tireless effort was astounding. Baron amassed over one thousand handwritten declarations of love, representing languages from every corner of the globe.
These declarations ranged from the world's most widely spoken languages to rare and endangered dialects. In the notebooks he carefully filled, the essence of love was preserved in its myriad linguistic forms.
From Paper to Enamel
With this treasure trove of affectionate expressions at their disposal, Frédéric Baron met Claire Kito, a calligrapher, and together started transforming the collection into a massive work of art.
This was not a mere translation exercise; it was an artistic endeavor to curate the most aesthetically pleasing and melodious versions of "I Love You" from among the myriad submissions.
To ensure the durability of the installation against the elements, the artists decided to use individual enameled lava tiles. Each tile measured 21 by 29.7 centimeters, and this precise measurement was no coincidence.
It was scaled to match the dimensions of the pages in Baron's meticulously crafted notebooks. Thus, every tile not only bore a linguistic expression of love but also carried the weight of the artist's dedication to the project.
The Symbolism of Love and Unity
The Wall of Love is not just an art installation; it is a profound symbol with deep layers of meaning. Upon close examination, one can discern bright red shapes scattered across the surface of the wall. These are not mere adornments but symbols with a touching message.
Each of these red shapes represents a fragment of a shattered heart. If they were pieced together like a jigsaw puzzle, they would form a complete heart. Yet, they remain fragmented, symbolizing how the human race can be torn apart due to a lack of love.
The splashes of red on the fresco represent parts of a broken heart, symbolizing the human race that has been torn apart and which the wall tries to bring back together. The Wall of Love stands as a powerful reminder of the importance of love and unity in healing the divisions that often plague humanity.
A Wall That Connects
Traditionally, a wall is a symbol of division and separation, marking boundaries and keeping people apart. However, in the case of the Wall of Love, this architectural feature takes on an entirely new meaning. It becomes a solid support for a beautiful expression of love – the means by which humans connect and overcome boundaries.
As visitors from around the world gather before this monumental testament to love, they are greeted by a multilingual chorus of affection. The wall serves as a bridge, bringing together people from diverse backgrounds and languages.
In a city celebrated for its timeless romance and enduring love stories, the Wall of Love stands as a modern tribute to the enduring power of love itself. It tells a story of dedication, unity, and the boundless capacity of love to connect us all.
As you stand before this monumental work of art, remember, that no matter where we come from or what language we speak, love is a universal language that unites us all.
No time to read now?
No worries! Save it on Pinterest to read later.
Our Experience Visiting the Wall of Love Paris
On our last day in Paris, we decided to make the most of our half-day by exploring Montmartre. After visiting the iconic Sacré-Cœur Basilica, we walked for about seven minutes to the Wall of Love Paris.
The Wall of Love Paris is located in a charming garden surrounded by lush greenery and inviting seats. It was a popular spot, especially among couples searching for "I love you" in their respective languages. We even witnessed a newlywed couple celebrating their love at this iconic spot.
My partner and I couldn't resist the charm of the wall. We found "I love you" in Filipino (Iniibig Kita) and German (Ich Liebe Dich), and to our amazement, they were remarkably close to each other. It felt like destiny had guided us to this beautiful place.
We took several photos to capture our discovery, shared a kiss, and relaxed in the garden chairs. We would have stayed longer if we didn't have a flight to catch. As we sat there, we couldn't help but reflect on the beauty of the moment and exchanged sweet messages.
To top it off, we spotted the heavenly ice cream cones we had seen at Rue Cler, so we concluded our delightful visit with a cone. What better way to say "I love you" than with an ice cream cone?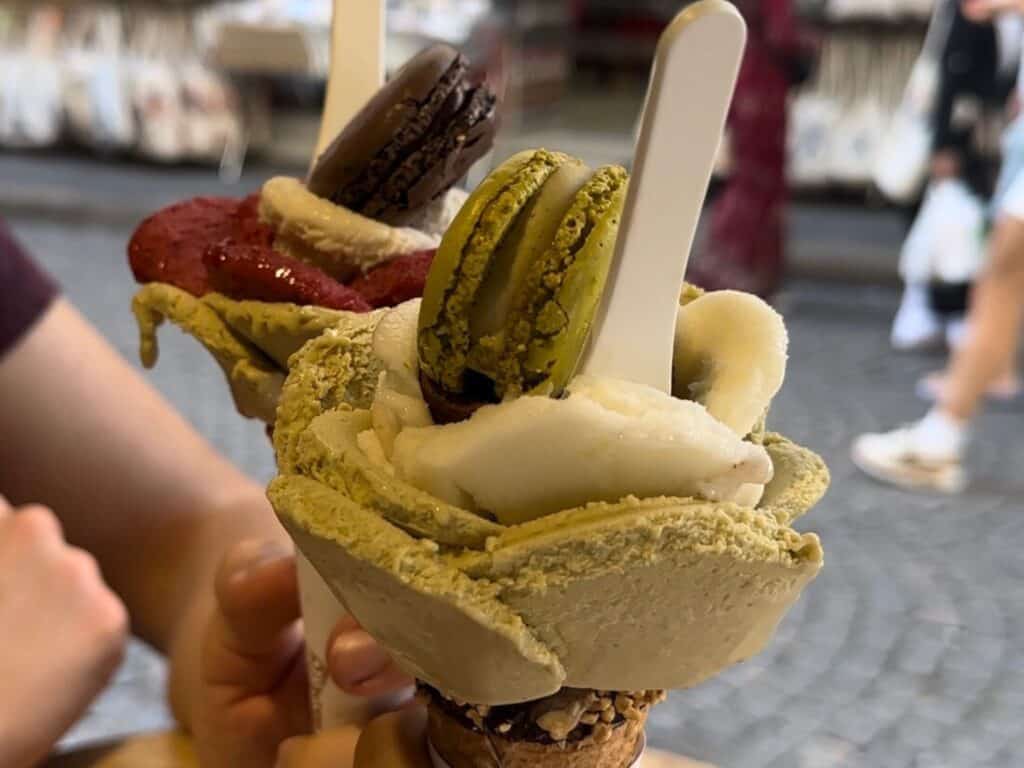 Wall of Love Paris Location
The Wall of Love Paris, known as the "Paris, je t'aime" sign, is located in the Montmartre neighborhood of Paris, known for its artistic heritage and romantic ambiance.
Specifically, it's situated in the enchanting Jehan Rictus Garden, a small, lush haven where you can escape the bustling city for a moment of tranquility. This romantic masterpiece is perched atop the famous Butte Montmartre, offering visitors breathtaking panoramic views of Paris as a backdrop to their declarations of love.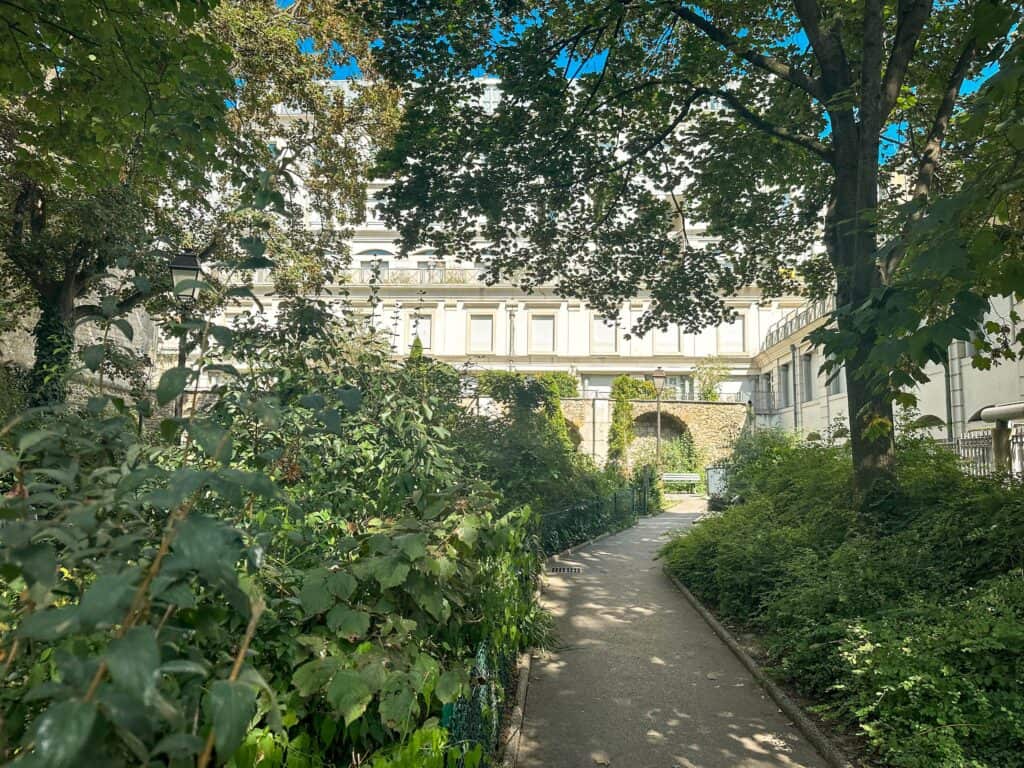 You'll find Jehan Rictus Garden as soon as you stumble upon the charming Place des Abbesses in Montmartre. And there, in this oasis of greenery and serenity, you'll discover the Wall of Love Paris, a place where love stories are written and retold against a backdrop of different ways to express love.
How to Get to the Wall of Love Paris?
The nearest metro station to the Wall of Love is the Abbesses Metro Station, which is conveniently located in the charming Montmartre neighborhood. You'll find yourself surrounded by quaint cafes, charming boutiques, and the artistic spirit that defines this neighborhood.
From the station, it's only a minute's walk to the Jehan Rictus Garden, where the Wall of Love Paris is.
Best Time to Visit the Wall of Love Paris
The Wall of Love Paris is lovely year-round, but early mornings or evenings are quieter for a more intimate experience. Avoid the midday rush to fully soak in the romantic vibes.
During summer, warm weather, clear skies, and vibrant greenery surround the wall. Summer is prime time for tourists, so you can expect a bit of a crowd. It's perfect if you want to bask in the sun, soak up some romantic vibes, and maybe even have a little picnic in one of the chairs in the park.
During winter, the Wall of Love Paris takes on a cozy, almost fairy-tale charm. The locals huddle in the nearby cafes with covered terraces to stay warm. If you're up for a more intimate experience and don't mind a bit of cold, winter can be your wonderland.
Wall of Love Paris Opening Hours
While the opening hours remain constant throughout the year, the closing times change with the season and time of the year.
Opening Hours
Monday to Friday: 8:00 a.m.
Saturday, Sunday, and holidays: 9:00 a.m.
Closing Hours
December to 31 January 5:30 p.m.
February to 1 March: 6:00 p.m.
March 2 to April 15: 7:00 p.m.
April 16 to May 15: 9:00 p.m.
May 16 to August 31 : 9:30 p.m.
September 1 to September 30 : 8:00 p.m.
October 1 to December 30: 5:30 p.m.
How Much Does it Cost to Go to the Wall of Love?
Visiting the Wall of Love Paris is free of charge, making it a charming escape at no cost.
It's a perfect addition to your Parisian adventure, whether you're looking for things to see on your Montmartre stroll, on a romantic getaway, or exploring the city's hidden gems.
Wall of Love Emily in Paris
The Wall of Love is also one of the filming locations for the popular TV series "Emily in Paris," further solidifying its status as a romantic and iconic Parisian attraction.
During Season 3 of Emily in Paris, Emily assists Gabriel in selecting the perfect location for his proposal to Camille. Interestingly, it wasn't the most awkward moment we witnessed that season.
Their final destination on their scouting tour? This Wall of Love, locally known as Le Mur des Je t'aime, is adorned with more than 300 translations of "I love you" in various languages and dialects.
FAQs: Wall of Love Paris
Can You Write on the Wall of Love Paris?
No, writing on the Wall of Love is not allowed to preserve the artwork. It's not meant for personal graffiti.
However, you can join the countless declarations of love by purchasing a "Je t'aime" tile from the nearby shop, which also sells various souvenirs related to the wall.
Is the Wall of Love Paris Always Crowded?
The crowd at the Wall of Love in Paris can vary depending on the time of day and season. During the summer months and weekends, it tends to be more crowded, with tourists and locals alike seeking its romantic charm.
To enjoy a quieter visit, consider going early in the morning or evenings or during the weekdays when the atmosphere is more relaxed, allowing you to take your time to explore and appreciate this symbol of love in peace.
Is the Wall of Love Paris Worth Visiting?
Yes! Though I wouldn't recommend going there for the wall alone, it's located in Paris' most romantic neighborhood, Montmartre. I would definitely add the Wall of Love Paris to my itinerary after Sacré-Cœur.
As you stand before the wall, reading those simple yet profound words, you can't help but feel a connection to people from all corners of the world. It's a place where cultures and emotions intertwine, reminding us that love transcends boundaries. Whether you're sharing a special moment with a loved one or simply seeking a bit of charm, the Wall of Love Paris is an enchanting experience that will leave you with a heart full of warmth and wonder.

Visiting the Wall of Love in Paris is a heartwarming experience that celebrates the diversity of love and the power of words to connect people from around the world.
Whether you're a romantic at heart, an art enthusiast or you just happened to be in Montmartre neighborhood, this iconic mural is a must-visit destination in the City of Love. What's "I love you" in your language and have you found it at the Wall of Paris?