32 Best Bogota Things To Do: The Ultimate List
Welcome to Bogotá, a city so diverse you can expect the unexpected. Here, you can seamlessly transition from misty cloud forests to a bustling metropolis filled with skyscrapers, indulge in high-end shopping malls, and then savor the vibrant chaos of local markets. All while enjoying a rich tapestry of arts, charming villages, and serene natural landscapes.
As someone who spent a month exploring this dynamic city with my Colombian then-boyfriend, I'll take you beyond the tourist trail to discover the true essence of Colombia's capital.
Going to small towns and other cities after Bogota? Here are the insanely beautiful towns and equally stunning cities to add to your itinerary.
Bogota Things To Do: Explore Unique Neighborhoods
One of the best things to do in Bogota is to discover its vibrant neighborhoods. From historic colonial districts with charming architecture to bohemian artistic community, lively nightlife hubs, and colorful favelas, Bogota's neighborhoods offer a rich tapestry of unique experiences waiting to be explored.
1. Stroll Through La Candelaria – Bogota's Historic Heart
Location: La Candelaria, Bogota
Best for: History enthusiasts, and photographers
La Candelaria is Bogota's historic district, a neighborhood frozen in time with its charming colonial architecture and narrow cobblestone streets. It's a haven for history enthusiasts and photographers.
You can wander through colorful streets, visit local markets, and stop by lovely cafes. Explore the quirky Botero Museum, housing works by Colombia's most famous artist, Fernando Botero.
PRO TIP: Snap some photos with the famous Botero statues that adorn the streets.
2. Discover Usaquén – A Quaint Bogota Neighborhood
Location: Usaquén, Bogota
Best for: Travel enthusiasts, shoppers, foodies
Usaquén is a charming neighborhood in Bogota known for its unique blend of old-world charm and modern vibrancy. It features well-preserved colonial architecture, making it a delightful place for a leisurely stroll.
Explore its cobblestone streets, visit the Usaquén Park, and don't miss the Sunday flea market where you can find everything from handicrafts to delicious Colombian street food. It's also home to numerous cafes and restaurants serving both local and international cuisines, making it a foodie's paradise.
3. Chapinero Alto – Bohemian Vibes in the Heart of Bogota
Location: Chapinero Alto, Bogota
Best for: Bohemian souls, art lovers, seekers of unique experiences.
Chapinero Alto is a neighborhood in Bogota known for its bohemian vibes and artistic spirit. Located in the heart of the city, this neighborhood is a haven for art lovers and those seeking unique experiences.
As you stroll through its winding streets, you'll encounter colorful street art adorning the walls, small art galleries showcasing local talent, and cozy cafes where you can admire the creativity around you while sipping Colombian coffee (did I mention, Colombia grows the best coffee beans in the world?)
PRO TIP: Chapinero Alto is also home to the famous Teatro Faenza, a historic theater known for its intimate performances and artistic events. This oldest theater in Bogotá deserves a visit if you're in Chapinero Alto.
4. Experience the Unique El Paraíso Favela
Location: Located in the hills overlooking Bogotá
Best for: Travel enthusiasts, culture explorers, and photographers
One of the lesser-known Bogota things to do, visiting El Paraíso Favela is a unique and immersive experience of the vibrant culture of Bogotá's hillside communities. Perched on the outskirts of the city, this favela offers a stark contrast to the urban landscape of Bogotá. Your journey begins with a cable car ride, providing you with scenic vistas of the city below as you ascend the hill.
As you explore El Paraíso, you'll have the chance to interact with locals, learn about their daily lives, and witness the colorful murals and street art that adorn the neighborhood. Engage in conversations with residents, taste authentic Colombian cuisine, and discover the stories that shape this vibrant neighborhood.
The cable car experience itself is a highlight, offering panoramic views of the neighborhood. Remember to respect the local culture and customs, and consider taking a guided tour to fully appreciate the rich tapestry of El Paraíso Favela.
5. Explore Zona Rosa – Bogota's Entertainment Hub
Location: between Calles 79 and 85, and Carreras 11 and 15
Best for: Entertainment enthusiasts, shoppers, foodies
Zona Rosa is Bogota's premier entertainment district, offering a diverse range of activities and attractions. Explore the upscale boutiques, shopping centers, and designer stores, where you can indulge in retail therapy.
After shopping, dine at one of the district's many restaurants, offering a wide array of cuisines. When night falls, Zona Rosa comes alive with vibrant bars, clubs, and live music venues. It's the perfect place for a night out, whether you're looking for entertainment, shopping, or culinary delights.
Bogota Things To Do: Enjoy Parks and Squares
Bogota is known for having numerous parks and squares, making it one of the top Bogota things to do, especially if you're into history, nature, and photography. Best part? They're entirely free!
From lush green parks perfect for picnics to bustling squares hosting cultural events, these outdoor spaces are must-visit destinations in Bogota.
6. Visit Plaza de Bolivar – The Heart of Bogota
Location: Cra. 7 #11-10, La Candelaria
Best for: History enthusiasts, and culture lovers
Bolivar Square, or Plaza de Bolivar, is the heart of Bogota and a hub of historical significance. It's surrounded by iconic landmarks like the National Capitol, the Primary Cathedral of Bogota, and the Palace of Justice.
The square is a focal point for cultural events, protests, and celebrations. It's an ideal spot to immerse yourself in Bogota's history and culture. Take a leisurely stroll, people-watch, or enjoy a coffee at one of the nearby cafes.
PRO TIP: Just a couple of blocks from Plaza de Bolívar, you'll see Centro Artesanal Plaza Bolivar, a bustling daily market with numerous stalls selling products, from artisanal crafts to everyday essentials. This market is known to have the cheapest products in the city where you can even negotiate up to 20% of the original price.
7. Escape to Nature at Simón Bolívar Metropolitan Park
Location: Calle 63 #57-60, Bogota
Best for: Nature lovers, fitness enthusiasts, families
One of the largest urban parks in the World, Simón Bolívar Metropolitan Park, or Parque Simón Bolívar, is a green oasis in the heart of Bogota. It offers a serene escape from the busy city. The park covers a vast area with lush gardens, serene lakes, and recreational spaces.
It's a haven for nature lovers, where you can take leisurely walks, have picnics, or even rent a paddleboat on the lake. The park also hosts various cultural events and concerts throughout the year. It's a great place to unwind, take a walk, or even cycle on the designated paths.
8. Enjoy Nature at Parque de la 93
Location: Calle 93A #11A-84, Bogota
Best for: Nature lovers, joggers, foodies
Park 93, or Parque de la 93, is a delightful urban park in Bogota, offering a peaceful escape from the city's hustle and bustle. This park is known for its lush greenery, walking paths, and serene picnic grounds.
It's a perfect spot for nature lovers to take leisurely strolls, jog, or have a relaxing picnic. Surrounding the park, you'll find a vibrant dining scene with numerous cafes and restaurants. It's an ideal place to savor Colombian and international cuisines while enjoying the park's tranquil ambiance.
PRO TIP: Park 93 has a vibrant nightlife scene with bars, nightclubs, and restaurants. Best part? You'll have one of the best views of the city at night!
9. Find out Bogota's History at Plaza del Chorro de Quevedo
Location: Calle 12d #2-81, La Candelaria, Bogota
Best for: History buffs, culture enthusiasts, photography lovers
Plaza del Chorro de Quevedo is a historic square in Bogota and is considered the place where the city's history began. This charming and picturesque square is surrounded by colonial-style buildings, creating a timeless atmosphere.
It's a hub for artists, musicians, and street performers, making it a vibrant and lively spot to explore. The square is also home to the famous Chorro de Quevedo, a water fountain where legend has it that Bogota was founded in 1538.
As you stroll through the plaza, you'll encounter street art, local crafts, and cozy cafes. It's a captivating place to immerse yourself in Bogota's history, culture, and artistic scene, making it one of the top Bogota things to do for history buffs, culture enthusiasts, and photography lovers.
Best Things to Do in Bogota: Take Spectacular Hikes
Bogota has various hiking options suitable for all skill levels, making it a top choice for outdoor enthusiasts. From urban trails to day trip mountain treks, these hikes not only offer breathtaking views but also a chance to connect with Colombia's natural beauty.
10. Glimpse A Panoramic View of Bogota from Monserrate
Location: Cerro de Monserrate, Bogota
Best for: Adventurous souls, nature lovers, photography enthusiasts.
Climbing to Monserrate is famous among Bogota things to do. While experiencing the funicular or cable car is an incredible journey in itself (I personally tried it), hiking offers a unique perspective of the city from various vantage points and helps you acclimate to the altitude.
As you ascend, you'll be surrounded by lush greenery and the soothing sounds of nature. The trail is well-marked, and you can track your progress in meters on the wooden markers.
Although the hike is challenging due to its steep incline, maintaining a steady pace should allow you to reach the hill's summit within an hour to an hour and a half at most.
I visited around the Christmas season, and I had the chance to witness the Monserrate Sanctuary adorned with festive lights, creating a truly enchanting atmosphere. Every corner seemed to sparkle with holiday cheer. And the best part? When you descend, you'll find a delightful array of street foods awaiting you.
PRO TIP: If you opt for hiking, the entrance is free. Note that the trail is only open from 5 a.m. to 1 p.m. for safety purposes. The cost of a funicular (slow train) or cable car is the same, I recommend going for a cable car because you can get extensive views and you'll be at the top in a few minutes.
11. Take a Tranquil Hike to Cerro de Guadalupe
Location: the Eastern Hills, uphill from the center of Bogotá
Best for: Nature lovers, adventure seekers, and photographers
An off-the-beaten-path than its cousin Monserrate, Cerro de Guadalupe also offers panoramic views (at an even better angle) of Bogotá with a lesser crowd. The highlight is the white statue of the Virgin Mary at the summit, which adds a spiritual touch to your hike.
To reach the top, you'll follow a winding trail through lush cloud forests, providing ample opportunities for birdwatching and wildlife spotting. Be sure to bring your camera to capture the mesmerizing views of Bogotá sprawling beneath you.
While the hike is manageable, it's essential to wear comfortable walking shoes and carry water, especially if you're visiting on a sunny day. The trek is entirely worth it for the extraordinary views and the sense of tranquility it offers.
12. Hike Colombia's Tallest Waterfall – La Chorrera
Location: Choachí, about an hour and a half from Bogotá.
Best for: Nature lovers, adventure seekers, and photographers
Prepare for an enchanting day trip to La Chorrera Waterfall, Colombia's tallest waterfall. Located in the lush Andean forest, this magnificent waterfall is a sight to behold. The hike to La Chorrera is an adventure itself, taking you through dense woodlands and along crystal-clear streams.
Upon reaching the waterfall, you'll be greeted by the thundering cascade plunging 590 meters (1,936 feet) down from the cliffs above. It's an awe-inspiring natural wonder and a perfect spot for photography.
Don't forget to bring hiking boots, as the trail can be muddy and slippery, especially during the rainy season. Additionally, pack some snacks and enjoy a picnic with the serene sound of cascading water as your backdrop. Hiking La Chorrera is one of the most magical things to do in Bogota.
Bogota Things To Do: Visit Museums
Exploring museums in Bogota is a fundamental part of understanding the city's vibrant culture and a top choice among Bogota things to do. With a rich history and diverse heritage, these museums offer a captivating journey through time and artistry.
13. Discover the Gold Museum
Location: Carrera 6 #15-88, Bogota
Best for: History fanatics, and culture enthusiasts
The Gold Museum, or Museo del Oro, is a treasure trove of Colombia's rich heritage. It houses one of the most extensive collections of pre-Hispanic gold artifacts in the world.
Exploring this museum is like stepping back in time. You'll find intricate gold jewelry, sculptures, and artifacts that offer a glimpse into the lives of ancient indigenous cultures. Don't miss the dazzling Muisca Raft, a famous symbol of El Dorado.
14. Immerse in Art at the Botero Museum
Location: Calle 11 #4-41, Bogota
Best for: Art aficionados, and culture enthusiasts
The Botero Museum, or Museo Botero, is a cultural gem in Bogota. It's home to an impressive collection of art, including paintings, sculptures, and drawings by Colombia's most celebrated artist, Fernando Botero.
His signature style features exaggerated, plump figures that give a unique twist to traditional art forms. The museum also showcases works by other renowned artists, making it a must-visit for art aficionados and culture enthusiasts. Explore the galleries and be captivated by the charm of Botero's artistry.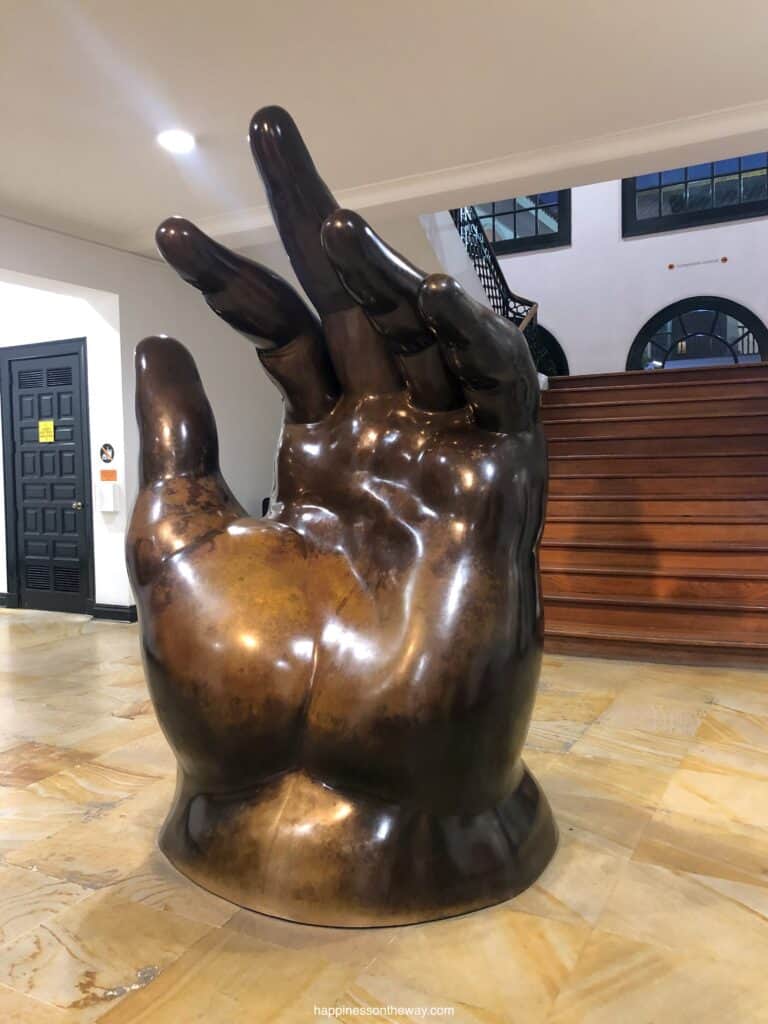 15. Explore the National Museum of Colombia
Location: Carrera 7 #28-66, Bogota
Best for: History buffs, culture enthusiasts
The National Museum of Colombia, or Museo Nacional de Colombia, is a cultural haven where you can delve into Colombia's history. It's housed in a stunning neoclassical building that itself is a work of art.
Inside, you'll find a diverse collection of artifacts, from pre-Columbian times to the present day. Marvel at ancient pottery, colonial art, and contemporary exhibitions.
16. Step into History at the Independence Museum
Location: Carrera 7 #11-28, Bogota
Best for: History enthusiasts, culture lovers
The Independence Museum, also known as Casa del Florero, is a historical gem in Bogota. This museum played a significant role in Colombia's struggle for independence from Spanish rule. It's named after the famous "Florero de Llorente" event, a turning point in the fight for freedom.
Explore the museum's rooms, which are beautifully preserved with period furniture and artifacts. Learn about the heroes of Colombia's independence and the events that shaped the nation. It's a must-visit for history enthusiasts and culture lovers.
17. Stargaze at the Planetarium of Bogota
Location: Calle 26B #5-93, Bogota
Best for: Astronomy enthusiasts, families, and science lovers
The Planetarium of Bogota, known as Planetario de Bogotá, is a fascinating attraction that offers free weekly astronomy workshops. It's a space where the wonders of the cosmos come to life.
The planetarium features interactive exhibitions, an observatory, and, most importantly, educational programs that cater to both children and adults. The free weekly astronomy workshops provide a unique opportunity to explore the universe, learn about celestial bodies, and engage in stargazing sessions.
Whether you're an astronomy enthusiast, a family looking for an educational outing, or simply curious about the cosmos, the Planetarium of Bogota is an enlightening experience.
18. Pop into Bogota's Literary Haven
Location: Calle 11 # 5-60, Bogota
Best for: Literature enthusiasts, fans of Gabriel Garcia Marquez, and cultural explorers
The Gabriel Garcia Marquez Cultural Center, named after the renowned Colombian author, is a literary haven in the heart of Bogota. This vibrant cultural space celebrates the works and legacy of Gabriel Garcia Marquez, one of the most influential writers of the 20th century and a Nobel laureate in literature.
The center hosts an array of events, including book readings, art exhibitions, film screenings, and literary discussions. As you explore the center, you'll be immersed in the world of magical realism, a genre Garcia Marquez pioneered.
The cultural center is a place where literature comes to life, making it a must-visit for literature enthusiasts, fans of Gabriel Garcia Marquez, and cultural explorers. It's a space where you can delve into the magical and imaginative realms of Colombian literature.
Bogota Things To Do: Visit Impressive Churches
Bogota's rich cultural tapestry is beautifully interwoven with its impressive churches, which stand as testaments to both faith and architectural prowess.
While exploring the capital city, a visit to these magnificent religious structures is a journey through history, art, and spirituality, offering a deeper understanding of Bogota's diverse heritage and traditions.
19. Explore the Zipaquira Salt Cathedral
Location: Zipaquira, Colombia
Best For: History enthusiasts, photographers, and those seeking a unique cultural experience
The Zipaquira Salt Cathedral is a remarkable underground church carved out of the tunnels of a salt mine. This awe-inspiring place of worship is located in Zipaquira, just a short journey from Bogota.
What makes it truly unique is the fact that it's nestled 180 meters underground within the salt deposits. As you explore this salt cathedral, you'll be captivated by the stunning salt-carved sculptures and the beautiful stations of the cross. The underground setting adds an element of mystery and spirituality that you won't find in many other places.
Visiting this salt cathedral is not only a journey into Colombia's rich religious heritage but also an exploration of its mining history. The cathedral was built within a functioning salt mine, and you'll learn about the extraction process and the significance of salt in the region.
PRO TIP: For an even more memorable experience, consider attending a Sunday mass held within the cathedral's unique ambiance.
20. Do a Pilgrimage to Monserrate Sanctuary
Location: Cerro de Monserrate, Bogota
Best for: Spiritual seekers, history enthusiasts, and those seeking tranquility.
While most visitors climb Monserrate for the panoramic views, a pilgrimage to Monserrate Sanctuary is a deeply meaningful experience. The sanctuary sits atop Cerro de Monserrate, a place of profound religious significance for both locals and visitors.
Many make the pilgrimage as an act of devotion, walking up the mountain's steep path. The sanctuary itself is a tranquil oasis, offering a sense of serenity and a space for reflection. Inside, you'll find a beautiful church dedicated to El Señor Caído (The Fallen Lord) and La Virgen de Monserrate (The Virgin of Monserrate).
The panoramic views from this sacred site are awe-inspiring and provide a unique perspective on the city. Whether you're on a spiritual quest or simply looking for a place of peace and history in Bogota, Monserrate Sanctuary is a must-visit destination.
21. La Catedral Primada – A Monument of Faith and History
Location: Plaza de Bolivar, Bogota
Best for: History enthusiasts, architecture admirers, spiritual seekers
La Catedral Primada, or the Primatial Cathedral of Bogota, is a majestic religious landmark located in the heart of Bogota's historic district. This cathedral holds immense historical and architectural significance as one of Colombia's oldest cathedrals, dating back to the 16th century.
Its stunning Gothic and Renaissance-style architecture, adorned with intricate details, is a testament to the city's rich heritage. Visitors can explore its ornate interior, featuring beautiful altars and religious artwork.
22. Experience the Basílica Menor Nuestra Señora de Lourdes
Location: Cra. 13 #63-27, Localidad de Chapinero
Best For: Nature lovers, history enthusiasts, and those seeking a peaceful retreat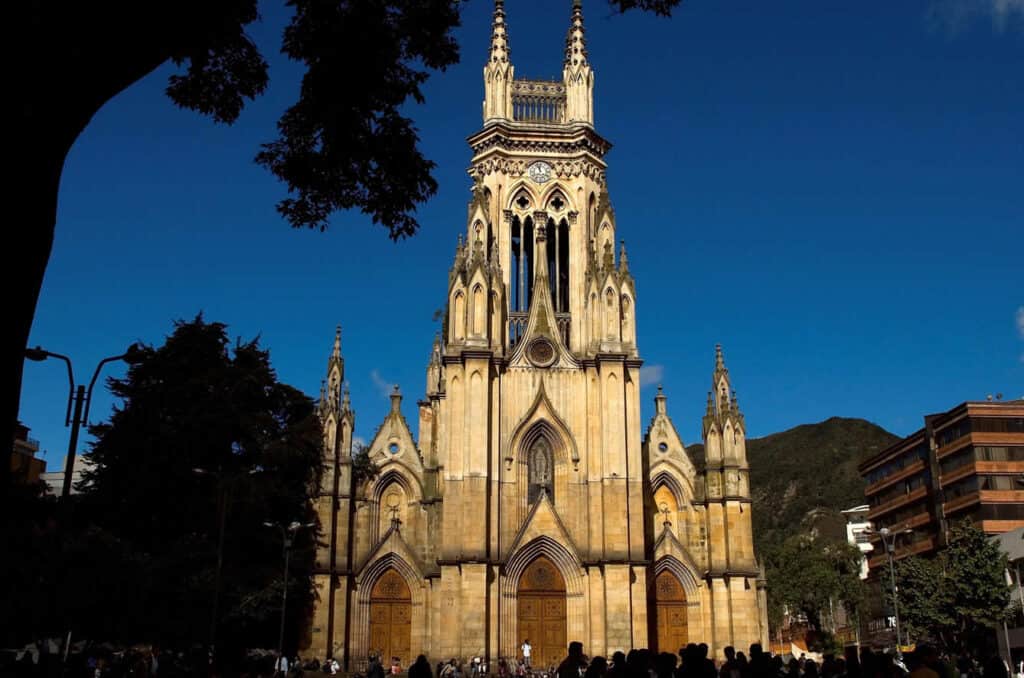 Located within the bustling city of Bogota, you'll find the Basílica Menor Nuestra Señora de Lourdes, a serene sanctuary dedicated to the Virgin Mary. This beautiful basilica is renowned for its stunning neo-Gothic architecture.
The basilica's tranquil surroundings offer a peaceful escape from the city's hustle and bustle, making it an ideal spot for nature lovers and those seeking moments of serenity.
What makes this basilica unique is its exquisite stained glass windows, which depict the story of Saint Bernadette and the apparitions of the Virgin Mary in Lourdes, France.
The calm and quiet atmosphere inside the basilica is perfect for meditation or simply admiring the intricate architectural details. Whether you're exploring the beautiful gardens or attending a religious service, you'll find a sense of tranquility that contrasts with the lively energy of Bogota's streets.
23. Discover the Santuario Nuestra Señora del Carmen
Location: Cra. 5 #8-36, La Candelaria, Bogotá
Best For: History fanatics, photographers, and those interested in religious heritage
The Santuario Nuestra Señora del Carmen, located in Bogota, offers a fascinating glimpse into Colombia's religious heritage and history. This sanctuary is dedicated to Our Lady of Mount Carmel, a revered figure in Catholicism.
One of the unique aspects of this sanctuary is its beautifully crafted wooden altar, showcasing intricate carvings and religious motifs. You'll be amazed by the beauty of the sanctuary's interior, with its soft lighting and intricate details.
For those interested in religious heritage, attending a mass here provides insight into the deep spiritual traditions of the local community. Additionally, the sanctuary's location in the heart of Bogota makes it easily accessible, making it a convenient stop for history enthusiasts and curious travelers alike.
Bogota Things To Do: Join Unique Traditions
As you explore the vibrant streets of Bogota, you'll quickly discover the city's rich culture. From the lively streets of the famous Ciclovia to the colorful expressions of the Bogota Graffiti Tour, there are fascinating traditions waiting to be embraced at every corner.
24. Explore Street Art on the Bogota Graffiti Tour
Location: Various locations in Bogota
Best for: Art lovers, photographers, and culture enthusiasts.
The Bogota Graffiti Tour offers a unique perspective on the city's vibrant street art scene. Bogota is known worldwide for its stunning urban murals and graffiti, and this tour allows you to explore them up close.
Knowledgeable guides will lead you through the streets, explaining the stories and cultural significance behind the art. It's a fantastic opportunity to immerse yourself in Bogota's urban culture, capture incredible photos, and gain insights into the artists' world. Whether you're an art lover, photographer, or culture enthusiast, this tour is a must-do among Bogota things to do.
25. Cycle the Ciclovía – Bogota's Bicycle Tradition
Location: Various routes throughout Bogota
Best for: Adventure seekers, cycling enthusiasts, outdoor lovers
Ciclovía, a unique Bogota tradition, invites you to explore the city on two wheels. Every Sunday and on public holidays, many main streets are closed to motor vehicles, creating a network of bike paths.
This initiative allows both locals and visitors to enjoy the city in a healthy and eco-friendly way. You can rent a bike or use a bike-sharing service to join in on this bike-friendly adventure.
Cycling through Bogota's streets offers a unique perspective of the city, allowing you to witness its vibrant neighborhoods, cultural attractions, and local life. It's an excellent choice for adventure seekers, cycling enthusiasts, and outdoor lovers who want to experience Bogota from a different angle.
Bogota Things To Do: Eat Local Foods
After all the sightseeing and activities, it's now time to delve into the city's diverse and flavorful culinary traditions. From savoring iconic Colombian dishes like arepas and empanadas to indulging in world-renowned Colombian coffee, the next Bogota things to do will lead you to the best places to eat like a true local.
26. Taste Bogota's Favourite Street Food + Coca Tea
Location: Various street food stalls in Bogota
Best for: Foodies, culinary explorers, cultural enthusiasts
When in Bogota, you must indulge in its diverse and flavorful street foods. Start your culinary adventure with coca tea, a traditional Andean beverage made from coca leaves. It's known for its mild stimulant properties and is often used to combat altitude sickness.
Bogota's streets are dotted with food stalls offering a wide variety of local delicacies. From arepas (corn cakes) to empanadas (savory pastries), there's an abundance of flavors to discover.
Don't miss the chance to savor traditional Colombian dishes like tamales and almojábanas. It's a delightful experience for foodies, culinary explorers, and those interested in immersing themselves in Bogota's culture.
27. Try Ajiaco – Colombia's Traditional Soup
Location: Various restaurants and eateries in Bogota
Best for: Foodies, travelers seeking local cuisine, gastronomy enthusiasts
Ajiaco, a traditional Colombian soup, is a must-try dish when visiting Bogota. This hearty and flavorful soup is known for its unique combination of ingredients, including chicken, three types of potatoes, corn, capers, and herbs.
The result is a delicious and aromatic concoction that offers a taste of Colombian culinary heritage. Many restaurants and eateries in Bogota serve this iconic dish, allowing you to savor its rich flavors.
Ajiaco is not just a meal; it's a culinary journey into the heart of Colombian cuisine. If you're a foodie, a traveler seeking authentic local flavors, or a gastronomy enthusiast, eating Ajiaco is an essential experience in Bogota.
28. Savor Colombian Coffee in Bogota
Location: Bogota, Colombia.
Best for: Coffee connoisseurs, and food enthusiasts
Indulging in a cup of Colombian coffee is a must-do experience in Bogota. Renowned worldwide for its exceptional quality and flavor, Colombian coffee is deeply intertwined with the nation's culture and history.
Bogota offers numerous cafes and coffee shops where you can sample this liquid gold. One such place is Café Devoción, a local favorite known for its commitment to sourcing the freshest beans and its unique brewing methods.
When you visit a coffee shop in Bogota, you're not just having a drink; you're immersing yourself in Colombia's coffee heritage. Witness the intricate process of turning coffee beans into your morning brew, from roasting to brewing.
Be sure to ask the baristas for their recommendations, as they're often passionate about their craft and can guide you to the perfect coffee based on your preferences. You can also can purchase freshly roasted beans to take home with you.
29. Dance the Night Away at Andres Carne de Res
Location: Calle 3 #11A-56, Chia (near Bogota)
Best for: Nightlife seekers, partygoers, dance enthusiasts
Andres Carne de Res is not just a restaurant; it's an iconic nightlife destination near Bogota. Located in Chia, a short drive from the city, this place is renowned for its lively atmosphere and vibrant parties.
The restaurant offers an extensive menu with delicious Colombian dishes. However, it truly comes alive at night when the dance floor heats up with salsa, cumbia, and other Latin rhythms. The lively ambiance and energetic music make it a favorite spot for locals and tourists alike to dance the night away.
Bogota Things To Do: Shop Like a Local
To end our list, let's dive into Bogota's thriving local shopping scene. From the bustling Paloquemao Market to treasure hunting for unique souvenirs in quaint boutiques, and experiencing the blend of shopping and dining at the Andino Shopping Mall, this guide will lead you to the city's best retail treasures.
30. Visit Paloquemao Market – A Culinary Adventure in Bogota
Location: Carrera 27 # 4-17, Bogota
Best for: Foodies, culinary enthusiasts, those interested in local culture
Paloquemao Market is a bustling culinary hub in Bogota, offering a vibrant and authentic Colombian food experience. As you explore the market, your senses will be overwhelmed by the colors, aromas, and flavors of Colombian cuisine.
This bustling market is the perfect place to sample traditional Colombian dishes like arepas, empanadas, and tamals. You can also find an impressive array of tropical fruits, fresh vegetables, and exotic spices.
Engage with friendly local vendors who are passionate about sharing their culinary traditions with visitors. Paloquemao Market provides a deep dive into Colombian culture through its food, making it a must-visit for foodies and anyone interested in exploring the rich tapestry of Colombian cuisine.
PRO TIP: Try a cup of aromatic Colombian coffee or a glass of local fruit juice (my favorite? guanabana/soursop) while you're there to complete your culinary adventure.
31. Treasure Hunt for Unique Souvenirs
Location: Various markets throughout Bogota
Best for: Shopaholics, art and craft lovers, souvenir hunters
Bogota's vibrant local markets offer a treasure trove of unique handicrafts and souvenirs waiting to be discovered. From colorful textiles and intricately woven baskets to hand-painted ceramics and traditional Colombian jewelry, these markets showcase the incredible craftsmanship of local artisans.
Exploring these markets is like embarking on a treasure hunt for one-of-a-kind mementos of your Bogota visit. Some of the popular markets in Bogota include Usaquén Market, Mercado de las Pulgas San Alejo, and Paloquemao Market.
Each market has its own distinct charm and specialties. Whether you're a shopaholic, an art and craft lover, or simply in search of meaningful souvenirs, Bogota's local markets provide a delightful shopping experience.
PRO TIP: Don't forget to haggle (but not too much, please!) and strike a bargain while you're there, as it's a customary part of the market culture in Bogota.
32. Shop and Dine at Andino Shopping Mall
Location: Carrera 11 #82-71, Bogota
Best for: Shoppers, foodies, fashion enthusiasts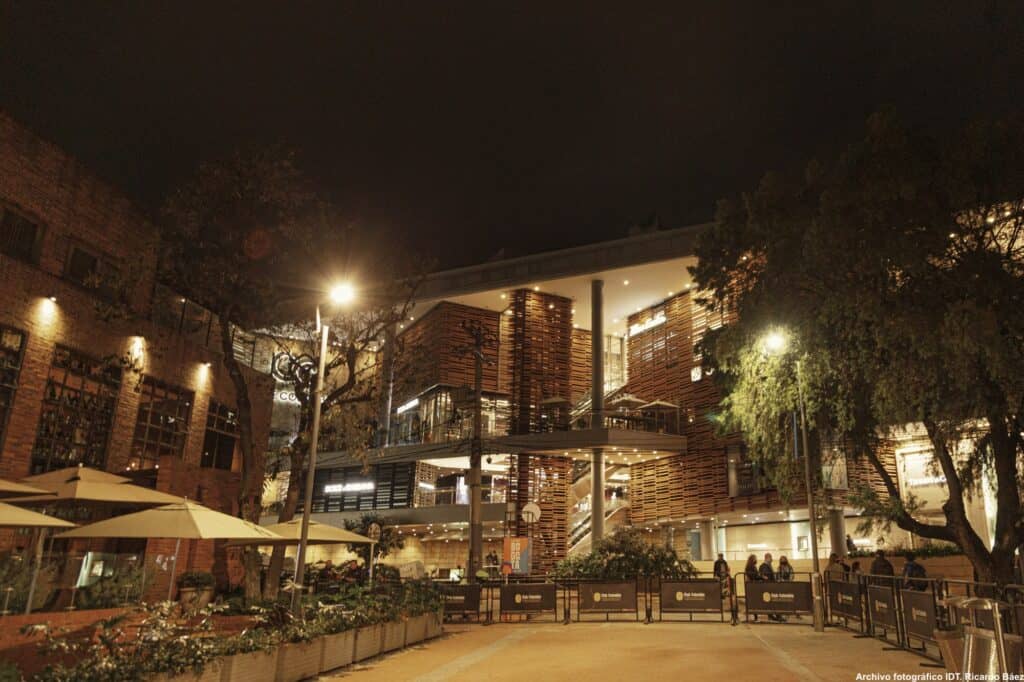 Andino Shopping Mall is a premier shopping destination in Bogota, perfect for those looking to indulge in retail therapy. It boasts a wide range of boutiques, international brands, and Colombian designer stores. Whether you're into fashion, electronics, or luxury goods, you'll find it here. After shopping, savor Colombian and international cuisines at the mall's restaurants. It's not just a shopping mall; it's a place to experience Bogota's urban lifestyle.

So, there you have it, the 32 Best Bogota Things To Do. Whether you're eager to explore unique neighborhoods, embark on breathtaking hikes, immerse yourself in the grandeur of churches, get lost in the stories of museums, or savor the flavors of Bogota's rich culture and tradition, this list is your key to an unforgettable experience. Which ones are you excited to add to your Bogota itinerary?