The Most Beautiful Cities In Colombia To Visit in 2023
I'm not a fan of cities. I prefer to travel to simple towns where I can slowly soak in the culture and nature, as well as the day-to-day life of the locals. Yet, many countries have changed my perspective on how a city should look and feel. One of them is Colombia.
In Colombia, you can be inside the city with towering buildings, bustling markets, and a convenient train system and still be greeted every now and then by friendly locals. Plus, you'll be surrounded by the Caribbean and the Andes mountains!
So if you're heading to Colombia, aside from traveling to its charming towns, here are the most beautiful cities in Colombia to add to your next visit with insider tips from travel bloggers around the world.
6 Most Beautiful Cities in Colombia
Bogota – The Capital City
You usually come to the capital city to use it as a base before you move to a beautiful town. But not Bogota. This city is really the heart of Colombia with all the unbelievably beautiful and exciting things to do inside a city!
I stayed here for almost a month with some incredible day trips here and there but really, I can stay longer!
With its world-class museums like the Gold Museum and Botero Museum to its unique neighborhoods like La Candelaria, Chapinero Alto, and El Paraíso Favela, you'll never run out of things to explore.
And of course, do not miss climbing the famous Monserrate, which offers the best views in the city! For an off-the-beaten path (at an even better angle), hike instead to Cerro de Guadalupe.
Lastly, explore Bogota's hidden gems, like the Usaquén flea market, where you'll find artisanal crafts, Paloquemao for the freshest fruits in the city, and Bogota's vibrant street art scene, featuring urban landscapes adorned with thought-provoking murals.
Bogota, with its dynamic blend of past and present, is really one of the most beautiful and intriguing cities in Colombia.
By Gladis (yup, that's me) of Happiness on the Way
Cartagena de Indias – The Colorful City
There are many cities in Colombia that are unofficially referred to as the "colorful city of Colombia," but few are as beautiful as Cartagena de Indias.
Considered one of the most visited cities in Colombia and a popular cruise destination, this city on the Caribbean coast has everything a great travel destination needs: beautiful architecture, friendly locals, historical sites, beaches, and picturesque corners you just can't get enough of.
I could have spent days walking the streets of Cartagena's historic city center, and you, too, should make some space on your Cartagena itinerary to just get lost in its streets.
At every corner, you can discover a new exceptional photo spot, and the brightly colored doorways and colorful building facades will enchant you.
And if your feet hurt from all the walking, you can sit in one of the numerous cafes and enjoy a full-bodied Colombian coffee while watching the hustle and bustle in the streets through the window.
In the evening, I recommend a walk on the city wall, which once protected the historic center from attackers coming from the sea. Here, you can watch a beautiful sunset that mixes even more incredible colors into Cartagena's colorful scenery.
By Vicki Franz of Vicki Viaja
Medellin – The City of Eternal Spring
Medellín in the western part of Colombia, is a place that has left an indelible mark on my heart. It's a city that encapsulates the essence of transformation and resilience.
What makes Medellín truly special is its incredible journey from a troubled past to a vibrant, welcoming destination.
One of the city's unique features is its year-round spring-like climate, earning it the nickname the "City of Eternal Spring."
The picturesque landscapes, nestled in the Aburrá Valley, are a sight to behold. As you explore, you'll find a blend of modernity and tradition, from the innovative transportation system to the charming cobblestone streets of Pueblito Paisa.
Medellín is brimming with lots of things to see and do. Take a free walking tour in El Centro and see the voluptuous Botero statues in Plaza Botero outside the Museo de Antioquia.
Take some time and stroll through the Botanical Garden, or take a guided tour of Comuna 13 and learn why this neighborhood was considered one of the most dangerous places in the world only a few short years ago.
Also, don't miss the breathtaking views from the cable car ride to Santo Domingo Savio, a testament to the city's commitment to inclusivity and urban development.
We personally recommend spending at least 4 days in Medellín in order to experience everything this city has to offer.
The warmth of the locals, known as "Paisas," is another highlight. Engaging with them in lively conversations and savoring authentic Colombian cuisine is a must.
Whether you're wandering through the bustling streets of El Poblado, dancing to salsa rhythms, or exploring nearby coffee farms, Medellín offers unforgettable experiences.
What truly makes Medellín memorable is its transformation from adversity, a testament to the human spirit.
It's a place where hope, innovation, and resilience have triumphed, making it among the inspiring cities in Colombia that everyone should visit at least once in their lifetime.
By Peta and Jonas of Exit45 Travels.
Cali – The Salsa City
There's nothing truly special about Cali. It's not as beautiful as other cities in Colombia. The food is just okay. It's not that vividly colorful. But don't be too quick to dismiss this city.
Because there's more to Cali than meets the eye: its people, its unpretentious culture, the food. It's the perfect city for authentic exploration. It's nearly impossible not to be happy while in Cali.
It offers a unique travel experience that's hard to replicate. Cali's energy is so captivating that when you visit here you want to extend longer (which, for some, might mean forever) or return immediately.
Even though the views are not the prettiest, they are genuine. With the Andes Mountains as a backdrop, you can immerse yourself in nature on regular days.
And of course, any visit to Cali won't be complete without experiencing its unique devotion to salsa music and dance. It's a place where the streets come alive with the infectious beats of salsa, and where you can fully engage in the art of dance at various clubs and academies.
Come to Cali, one of the exceptional cities in Colombia, and dance to its authentic and unique rhythm.
By Gladis (that's me again) of Happiness on the Way
Santa Marta – The Caribbean City
Santa Marta is among the popular cities in Colombia, known for its location on the Caribbean Sea, its historical significance, and its role as a gateway to several nearby destinations such as Minca, Tayrona National Park, Taganga Beach, and the Lost City Trek.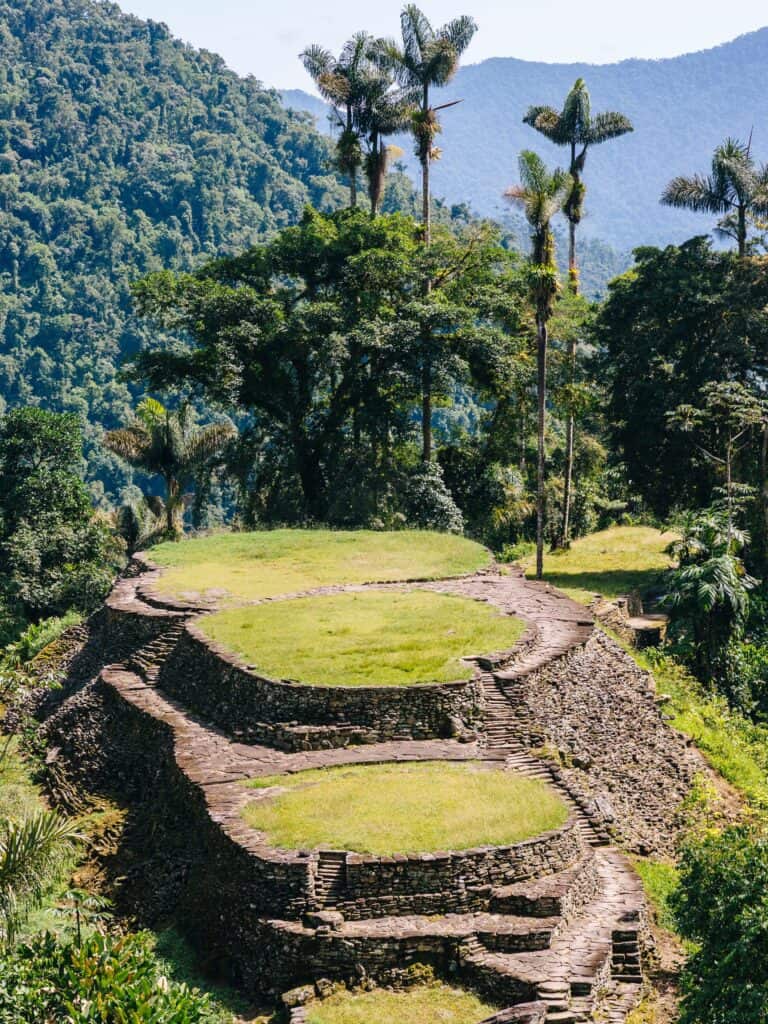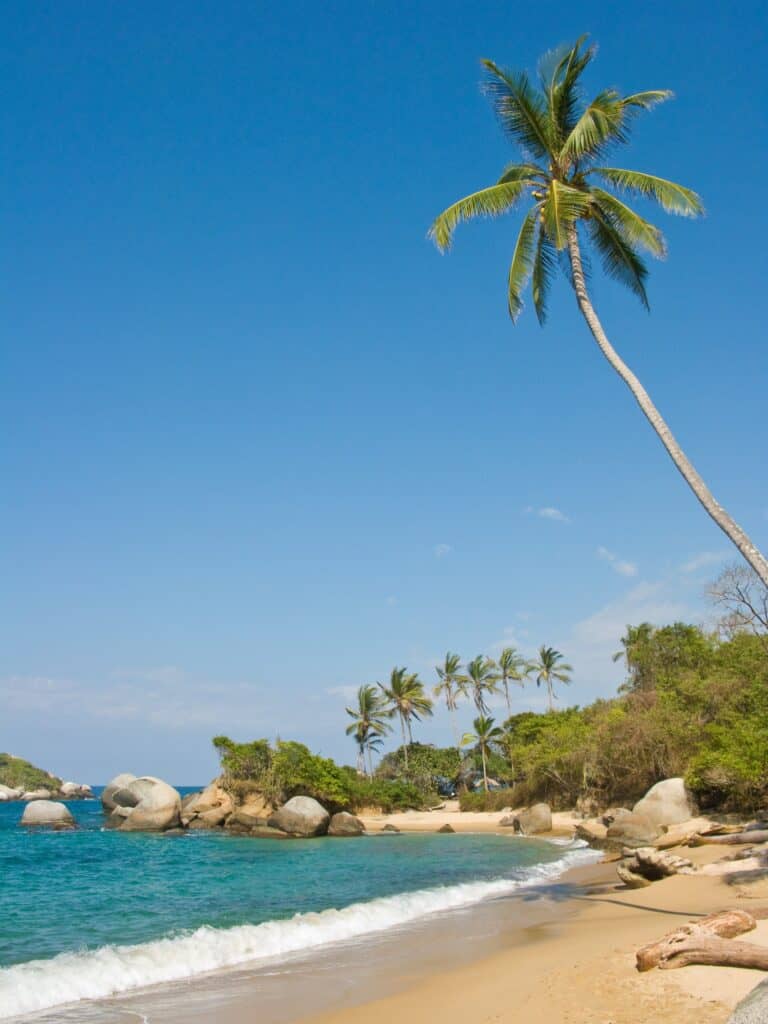 But I always like being in the city as well. The city's historic center is full of colonial architecture, quaint streets, and cool street art. Moreover, you can stroll along the boulevard, relax at one of the beaches, and observe local life.
Interested in history? There is a small museum, called Museo de Oro, providing more information about the Tayrona indigenous people.
It is also possible to learn more about Simón Bolívar, the independence fighter, who liberated many parts of Latin America in his former house which is nowadays a museum.
On top of that, Santa Marta offers some great restaurant options and boutique stores where local talent and the use of natural materials play an important role.
By Deborah of Passport The World
Bucaramanga – The City of Parks
Bucaramanga is a medium-sized city located in western Colombia. It offers a nice gateway to or connection stops between some lesser-known hidden gems.
It's the closest major city to the wonderfully charming town of Barichara, named Colombia's most beautiful town, as well as extreme sports hub San Gil, and the gorgeous Chicamocha Canyon, one of Colombia's neatest landscapes.
My wife and I visited Bucaramanga en route to Barichara and Chicamocha, flying in from Cartagena. We were pleasantly surprised that it was a nice, clean, and friendly city. It feels like it would be a great place to live or do some digital nomading.
It also is not far from El Cocuy National Park, a great spot for trekking into some of Colombia's highest and snow-covered peaks along the western edge of the Andes.
Bucaramanga can be easily included as a stop in a loop from Bogotá through Boyacá province, where the pretty town of Villa de Leyva is located, up through Santander province, where you'll find Barichara and San Gil on the way back to Bogotá. It can also be a stop along a trek from the coast into the interior.
Despite it not being a huge tourist town, there are some things to see and do in Bucaramanga itself too. The Cerro del Santísimo, located outside the southern suburb of Floridablanca is modeled after the Cristo Redentor in Rio.
We thought taking the cable car up there was more than worth it, and the area had a terrific view of the sunset. The water and fountain show was also really neat.
The city is also famous for its many parks, including the Parque los Niños and Parque Centenario. Finally, it's also well known for leather goods, so if you happen to need or want some new shows on your trip through the best cities in Colombia, it's a good spot to get them.
By Adam McConnaughhay from CartagenaExplorer.com

These cities in Colombia offer a unique blend of urban vibrancy and natural splendor. They have the power to transform even the most avid town lover like me into a city enthusiast. The warm welcome of locals, the rich culture, and the stunning landscapes make these cities in Colombia truly exceptional.
So, which city are you adding to your itinerary?