The Most Beautiful Towns in Colombia: Bloggers' List
I've always been drawn to the tranquility of simple towns, the charm of untouched places, and the joy of slow walks, where I often find locals excited to have a conversation.
You'll find many of these beautiful towns in Colombia, a country of remarkable diversity. From Caribbean beaches to Andean mountains, and lush Amazon rainforests to expansive desert dunes, Colombia has it all.
It's a place where you can experience a wide range of climates and landscapes while immersing yourself in unique Colombian villages that seamlessly blend with nature.
Starting your trip in Bogota? Check out these incredible city activities and the best day trip destinations.
14 Most Beautiful Towns in Colombia
There's a town in Colombia that will captivate you. In fact, there are so many charming towns in Colombia that you probably won't be able to visit them all in one trip.
That's why I asked my fellow travel bloggers to share their favorite town, along with some insider tips! Similarly, I also asked about their most recommended cities in another article.
So, here are some of the incredibly beautiful towns in Colombia recommended by travel bloggers from around the world:
Guatape – A Colorful Lakeside Village
Guatape is a small town in the Antioquia region. It's among the most popular towns in Colombia, both for locals and foreign visitors alike. There are many reasons why you must visit.
For one, it's filled with unique, traditional, colorful houses with sculptural art carved from the surface to create a three-dimensional appearance, also called a bas-relief.
Another reason is the manmade Penol-Gutape Reservoir that creates islets around the lake. This view is even better when you climb the giant granite rock, El Peñol de Guatapé, featuring hundreds of steep steps to the top.
Enjoy the view from above, or treat yourself to a nice cup of coffee or an ice cream to cool down. Once you return to the ground, the main square, Réplica del Peñol, is a great place to grab a snack, buy souvenirs, or wander around.
If you're traveling with young children and it's during summer, you should check out Parque Comfama Guatape, where you'll find a floating playground and amusement park. It's the best spot to take a photo with the giant rock in the background.
Gutape is also an amazing place to go if you have 2 weeks in Colombia and are looking for a quiet place away from bustling cities. It might be among the smaller towns in Colombia, but it has plenty of accommodations and things to do, such as hiking to the waterfalls in Cascada la Samaria apart from the ones already mentioned.
You can get to Guatape from Medellin in various ways. Driving on your own or taking a taxi will take around 1 hour and 30 minutes. You can also opt for a tour that provides transportation and a local guide, so you can relax and enjoy the scenery.
Recommended by Mary of Two Week Traveller
Barichara – Colombia's Colonial Treasure
Many towns in Colombia have beautifully preserved Spanish colonial architecture, but none as vividly as Barichara.
This charming town in Santander stands out as one of the most captivating towns in Colombia, with its cobbled streets and Andalusian-style houses adorned with colorful shutters. It's no wonder Barichara inspired the settings in the hit Disney feature film Encanto.
The beauty of Barichara lies not only in its picturesque appearance but also in its unique and friendly atmosphere. Experience this laid-back vibe at Barichara Main Park, immerse yourself in the local culture, and savor traditional Colombian cuisine.
Barichara is best explored on foot. As you stroll through its streets, you'll enjoy unparalleled views of the nearby hills and mountains while discovering charming churches, shops, and cafes. You'll also get a glimpse of the thriving local community life.
For a more off-the-beaten-path adventure, consider hiking the Camino Real. This ancient stone path offers a scenic trek through the countryside, providing mesmerizing views of the Suarez Canyon and the Rio Suarez. It's a one-of-a-kind experience that you won't want to miss.
By Gladis of Happiness on the Way
Salento – Coffee Country Charm in Colombia
Salento is a beautiful town nestled in the heart of Colombia's coffee region. From rolling green hills to picturesque coffee farms, Salento is the perfect escape for those looking to spend more time in nature.
This small town has a lively main square where you'll often see several food stands and festivals if you come at the right time of the year.
I was lucky enough to catch the Sacred Heart holiday celebrated 10 weeks after Easter. The main square had music performances and there was a food court nearby that was perfect for trying Colombian dishes.
Salento also has a beautiful viewpoint to the Northeast of the town called Mirador de Salento that makes the perfect sunset viewing spot.
A popular attraction in the area is the enchanting Cocora Valley. A landscape filled with towering wax palm trees, resembling something out of a Dr Seuss book.
Cocora Valley also has great hiking trails through a forest passing over several suspension bridges and waterfalls. I was most excited to see the alpacas and horses grazing through the fields right below the tall palm trees. It's certainly a sight to see and Cocora Valley is one place you should not miss.
Byline following submission: By Shreya Rane of Where is Shreya?

Minca – A Mountain Escape
Minca is a gorgeous town situated in Northern Colombia. It's gained popularity over the years thanks to the lush forests, picturesque waterfalls, and coffee plantations which make it a haven for day hikes and birdwatching. But it's the tranquil atmosphere and peaceful setting that attracted me here.
It's surrounded by the Sierra Nevada mountains, making it the perfect place to visit after The Lost City Trek, or Ciudad Perdida, which is nearby.
Minca is a backpacker hub and boasts a great selection of restaurants and cafes. For the best sunset spot, head straight to Casa Loma Minca which is a short walk from town.
But you can't visit Minca, and not take in the views! My favorite is from Sierra Minca which offers day passes to visit their property and make use of their gorgeous pool and bar area.
But getting here can be an experience in itself as you'll need to hop on a moto-taxi from town and take a 45-minute ride along a few bumpy roads.
Whether you're looking for a few relaxed days in the mountains, or eager to do some outdoor exploring, Minca is one of the towns in Colombia to add to your itinerary.
By Carryn of Torn Tackies Travel
Palomino – Backpackers' Beach Paradise
Palomino is a coastal paradise against the Caribbean Sea. Its pristine beaches make it the perfect spot for relaxation and self-reflection.
The small town itself holds a variety of local shops and restaurants that you can certainly fill your day exploring and meeting other tourists, expats, or locals.
As someone who enjoys immersing herself in nature, my favorite excursion was visiting Tayrona National Park.
Only 45 minutes by bus from Palomino, Tayrona National Park is an attraction you cannot miss. Some have done day trips to the park, however, I recommend spending at least one night in the park to get the full experience.
The park is very large and it took me about 3 hours to walk from one end to the other. There is a trail that navigates through the park.
Along the way I saw several gorgeous beaches, however, not all of them are safe for swimming. I also saw several monkeys, crabs, and a variety of birds in the jungle during my walk. Tayrona National Park was truly a paradise.
By Shreya Rane of Where is Shreya?
Cabo de Vela – Desert Adventures by the Sea
Cabo de la Vela is a less visited remote town in La Guajira, a desert region marking the northernmost point of South America. Here, the arid desert landscape meets the vibrant Caribbean Sea creating unreal landscapes.
This region is home to the indigenous Wayuu people who have been living here for hundreds of years. While driving through La Guajira, I was able to see a few communities and remote ranches.
Along the road, there are several roadblocks, often held by children, asking for snacks or water in exchange for letting us pass. So be sure to have cookies, coffee, or water on hand to give for the roadblocks.
La Guajira is best visited by a tour where all transportation and accommodations are included. The tour took me to several points of interest, making the entire trip worry-free.
My favorite scenic spot near Cabo de la Vela is Playa Arcoiris, where the rugged desert landscape meets the vast ocean.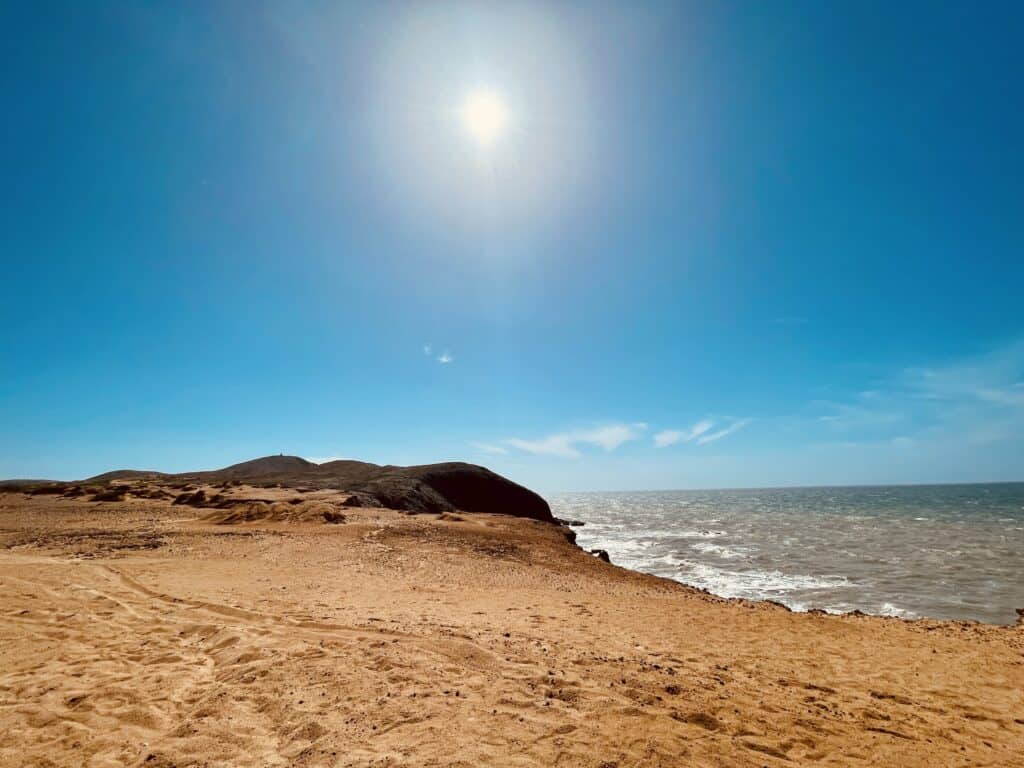 Nearby is the lighthouse which makes for the perfect sunset spot. The landscapes are incredibly stunning throughout the region, I'd highly recommend a visit to this off-the-beaten-path destination.
By Shreya Rane of Where is Shreya?
Santa Cruz de Monpox – Riverside Colonial Jewel
One of my favorite towns in Colombia is Mompox. Santa Cruz de Mompox is a little town located on the banks of the Rio Magdalena, where you get to experience the real Colombia.
Ever read a book by Gabriel Garcia Marquez? Mompox feels like entering the fictional village of Macondo. The good thing about visiting Mompox is that it is still an off-the-beaten-path destination, with not many visitors around.
You can stroll around the picturesque streets and visit the colorful churches and pastel-colored houses. The colonial architecture is just stunning: there are beautiful facades and courtyards filled with greenery and flowers everywhere.
I always take a boat trip on the Rio Magdalena during sunset, as it is possible to observe many birds and iguanas along the riverbanks.
And don't forget to buy a bottle of Vino de Mompox, a local wine made from tropical fruits, and find a place on the boulevard. I am sure you will start to love Mompox as much as I do.
By Deborah of Passport The World
San Jose del Guaviare – Gateway to the Amazon
Located almost directly due south of Bogotá, San José del Guaviare is located between the plains that lie south of the Andes and the far northern edges of the Amazon Rainforest.
While quite isolated and once a conflict zone, the area is quickly growing as one of the best towns in Colombia for outdoor, wildlife, and adventure travel.
One of the best things to see near San José del Guaviare is the mysterious examples of wall paintings that anthropologists believe may date to over 10,000 years ago. They can be seen at Cerro Azul, the most popular site, while Nuevo Tolima and Raudal del Guayabero offer more chances to see them.
Another must-see is the colorful river of Caño Sabana. The same plants grow in the larger more famous river of Caño Cristales.
Other great things to see include hiking through natural tunnels, hiking over natural stone bridges, and seeing a number of waterfalls. You can even swim with a group of curious river dolphins.
When swimming here and exploring all the other still very much wild sites in Guaviare, it's important to minimize the use of chemical products like sunscreen and bug spray to keep the area pristine. Instead, pack long-sleeved hiking shirts and pants to protect you from the sun and bugs.
Learn more about things to do and how to plan a trip to this unique off-the-beaten-path destination in Colombia at this complete guide to San José del Guaviare.
By Adam McConnaughhay from CartagenaExplorer.com
Filandia – Colorful Coffee Paradise in Quindío
One of the towns in Colomba that will transport you back to a simpler time is Filandia in Quindio. The town is a kaleidoscope of colors, with each street more vibrant than the last.
In the middle is a majestic old church overlooking a park, where locals sit, chat, and observe. I had a memorable chat with an 84-year-old local.
With a spark in his eye, he reminisced about days when houses around the park went for just 600 pesos. The blend of nostalgia and the town's charm was palpable in his stories.
The highlight for me was the Mirador Colina Iluminada – an observation deck just 5 minutes from the town with panoramic views of the lush Colombian coffee country all around. The were absolutely no tourists there, it was pure locals.
What makes Filandia stand out is its untouched authenticity. While there is tourism, the town has held onto its roots and preserved its charm.
The local cafes, with their rich aromas of freshly brewed Colombian coffee, each had their own appeal and I ended up stopping in at a few of them just to take in the atmosphere.
If you ever find yourself in this corner of the world, Filandia is one of the must-visit towns in Colombia. The town isn't just about sightseeing, it's about experiencing a unique history, culture, and warmth that other bigger cities don't offer.
By Blake of Flaneur Life
Villavieja – Portal to Tatacoa Desert
Several hours south of Bogota is Villavieja – a small town that's hard to get to and doesn't have much to see. But despite this, it attracts plenty of tourists – why – because it's the gateway to a truly unique location, the Tatacoa Desert.
Full of fascinating red and grey landscapes that made me feel like I was on Mars or the moon!
Villavieja is located on the edge of the desert. So people either stay here at the end of the long journey before heading into the desert.
Or that they stay in Villavieja and take day trips into the desert. Particularly since hotels in the desert are remote, more expensive, and don't give you many options for where to eat.
Unlike the vast desert, Villavieja has restaurants and bars. As well as small supermarkets, air-conditioned hotel rooms, and transport links to Aipe and Neiva, which connect the town to the rest of the country.
The Tatacoa Desert is well worth visiting. Although don't be fooled, it isn't technically a desert. And when I visited it rained almost constantly!
But it did make for a memorable trip around the red desert as the ground turned to thick mud and I started to sink if I stood still for too long!
By Zoe of Zoe Goes Places
San Gil – The Adventure Capital of Colombia
San Gil is a small town in the state of Santander, about 8 hours north of Bogota by road. It's not very popular with international visitors but that doesn't mean it's not worth visiting.
In fact, visiting San Gil will put you right on the doorstep of one of the country's top natural attractions: the Chicamocha Canyon (one of the main reasons I visited). It's commonly called the second-largest canyon in the world – after the Grand Canyon, of course.
The landscapes there are stunning. One option is to take a cable car through the canyon but I think the best way to see it is from above.
Because San Gil is one of the best towns in Colombia to go paragliding, the views are mesmerizing and the price tag is not high. This was absolutely my top experience in Colombia, it was like I was a bird flying through the air high off the ground!
But that's not all, San Gil is dubbed the adventure sports capital of Colombia. There's abseiling, bungee jumping, mountain bike riding, white water rafting and so much more. Or relax in the cute streets, cafes, and other nearby villages, enjoying the year-round warm weather.
By Zoe of Zoe Goes Places
Rincon del Mar – Secluded Caribbean Hideaway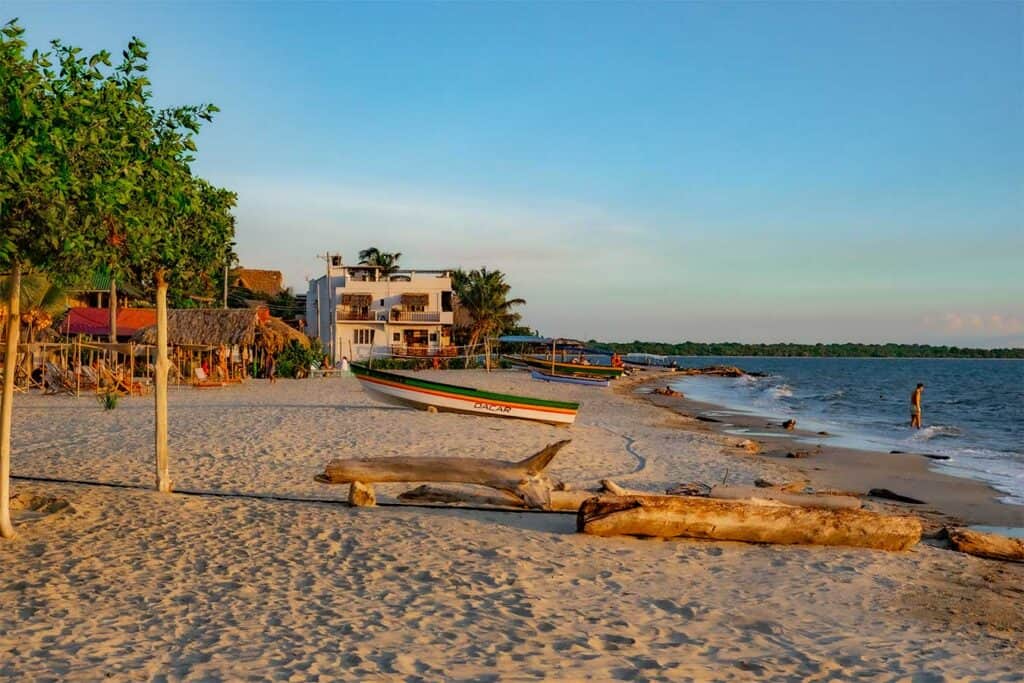 Rincon del Mar is a true hidden gem on Colombia's Caribbean coast and one of the best beach towns in Colombia, period!
When you arrive in Rincon del Mar, you will be reminded of what traveling in Colombia must have been like 10 years ago and you will not want to leave.
Rincon boasts a perfect, peaceful beach that glows at night thanks to fluorescent plankton, plenty of rustic and sustainable accommodations like Eco-Camping Mango Feliz, and numerous restaurants serving the catch of the day and fresh patacones!
It is not easy to get to Rincon del Mar, and even many Colombians do not know that it exists! And that is exactly what makes this Colombian coastal town so special. The authenticity and the relaxed vibe! Rincon del Mar will captivate you and suck you in!
Apart from lazing on the beach, eating fresh fish, and pondering over the most spectacular sunsets, you can also take a boat trip to the San Bernando Islands.
However, I recommend you skip the Santa Cruz del Islote given they keep harmless sharks and other fish in the caption in the so-called 'Aquarium'.
But do visit the remaining islands, they are beautiful! You can also try scuba diving or SUP, but the beauty of Rincon del Mar is not what you can do there. The beauty of Rincon del Mar is that you do not have to do anything!
My favorite thing to do during my extended stay in Rincon was to just walk along the beach, which stretches very far to both sides.
Be sure to cross the bridge to the other side of the town where a few nice restaurants and cafes are as well as the famous Dos Aquas Lodge.

By Pati of Pati's Journey Within
Jardín – Scenic Serenity
As a break from the city life of Medellin, we were delighted to find Jardín among the green mountains of Antioquia. It is a pueblo patrimonio (a designated heritage town), with colorful streets and natural beauty everywhere you look.
What we loved best were Jardin's hiking trails, which start in town and lead to panoramic viewpoints and hidden waterfalls. Two must-do hikes are the climb to the Cristo Rey statue, overlooking the town, and the 4-mile loop that wanders above the La Garrucha gondola and two waterfalls.
While hiking, we came across local farmers going about their daily routines and even transporting materials via donkey. Responsible travelers will be sure to respect the local environment and the community members of Jardin by staying on trails, carrying out any trash, and giving the right of way to farmers.
In addition to outdoor adventures, the town itself is full of color and character. We enjoyed wandering the scenic streets, having coffee in the busy town square, shopping for souvenir crafts, and trying out local restaurants.
Jardín is a testament to Colombia's natural beauty and cultural richness, making it one of the best towns in Colombia to visit.
By Michelle C. of Intentional Travelers
Jericó – The Cultural Gem of Antioquia
A few hours outside of Medellin, the town of Jericó is a hidden gem amidst the coffee farms of Antioquia. This low-key pueblo patrimonio is famous among locals for being the birthplace of Colombia's first saint, Sister Saint Laura Montoya.
Jerico is a great place to find traditional products like the Carriel, a locally crafted men's handbag, as well as agricultural products like oranges, avocados, coffee, and cardamom spice.
The town has 17 churches, and local laws mandate that homes be painted with at least four colors, which makes Jerico especially charming. There are some small museums and a botanical garden to visit. Hiking trails lead to hilltop coffee farms, waterfalls, and rivers.
We especially loved the local agritourism experiences in Jerico, where we visited family-run coffee farms and learned about the process of producing coffee. In town, there are some lovely cafes and a small variety of restaurants.
Despite its popularity as a religious site for locals, Jerico remains off the beaten path for foreign tourists. We found it important to have a decent grasp of Spanish for getting around, so if that's the case, we highly recommend adding Jerico to your list of towns in Colombia to visit.
By Michelle C. of Intentional Travelers

There you have it—the most charming towns in Colombia revealed by travel bloggers. Surely, one of these has captured your heart. Which Colombian pueblo resonated with you the most?