The 12 Most Beautiful Day Trips From Bogota
During my one-month stay in Bogota, I was consistently amazed by the beauty of this bustling city and its wide range of exciting activities. What makes it even more remarkable is that you can do many beautiful day trips from Bogota.
In just a matter of hours, or even less, you can find yourself amidst lush cloud forests, beside ancient lakes, or wandering through charming villages. So, if you find yourself needing a break from the city, here are the very best day trips from Bogota you can take.
And stay tuned until the end, because I'll also reveal some hidden gems that most travelers don't know about!
Nature Day Trips From Bogota
Looking for refreshing day trips from Bogota? Look no further. You'll find everything from cloud forests and unique ecosystems to mystical lakes and Colombia's tallest waterfalls, all within a short distance of Bogota!
Here are the top four nature day trips from Bogota:
1. Experience Wildlife at Chicaque Natural Park
Chicaque Natural Park, located just half an hour away from southern Bogota, is an absolute gem. This remarkable cloud forest reserve is the perfect destination for a day trip that promises an unforgettable wildlife experience.
Within the park, you'll encounter a variety of stunning bird species, including the endemic Black Inca hummingbirds and Golden-bellied Starfrontlet. Plus, keep an eye out for sloths leisurely hanging out in the trees!
The best way to enjoy this park is by taking one of its hikes. You can hike Eagle's Peak, which offers breathtaking panoramic views of the park and the nearby mountains, or the waterfall trail, where you can witness the beauty of flowing water.
If you're feeling adventurous, take a thrilling ride on the 340-meter-long zip line or experience the canopy adventure on a magnificent 200-year-old tree.
If you have more time, stay overnight. Camp, stay in the main lodge, or indulge in a truly mind-blowing experience by sleeping in one of the two treehouses. You'll fall asleep to the sounds of the forest and wake up to the melodies of birds. It truly is one of the most extraordinary accommodations you can find in Colombia.
PRO TIP: There is no automated booking system so you need to contact the park directly for reservations via Whatsapp (+573183506147) or email ([email protected]).
Going to Chicaque via public transportation is very convenient, especially on weekends from Bogotá. The park offers a direct bus service from the Transmilenio station Torreros. On weekdays, take a bus to Mosquera and get off at the main plaza. From there, catch the Coomofú bus to Soacha and ask the driver to drop you off at the Chicaque.
2. Immerse into the Breathtaking Chingaza Natural National Park
If you're looking for a one-of-a-kind nature experience, you should definitely check out the Chingaza Natural National Park. This place will immerse you into the páramo ecosystems, a type of high Andean tundra-like environment that can only be found in northern South America.
Chingaza Natural National Park is home to diverse landscapes, forests, and lagoons. You'll also encounter fascinating creatures like Andean bears, condors, and the endemic green-bearded helmet crest hummingbirds.
Chingaza Natural National Park is among the perfect day trips from Bogota offering a unique adventure and the tranquility of untouched landscapes. To fully explore its breathtaking beauty, take one of its hiking trails, particularly the stunning trek to the beautiful Siecha Lakes.
Located in the Eastern Andes, northeast of Bogota, Chingaza used to be inhabited by the Muiscas and Guayupes, pre-Colombian populations, who lived in this area less than 40 years ago.
Chingaza can be visited by booking with an accredited tour provider to help you with transportation and securing the required permits. Only 40 people are allowed to enter each trail each day. Book your spot below:
PRO TIP: Book with an accredited tour provider at least 15 days in advance to secure your slot at Chingaza Natural National Park.
3. Hike Colombia's Tallest Waterfall – La Chorrera
La Chorrera is not just any waterfall; it's Colombia's tallest, plunging dramatically from a height of approximately 590 meters (1,936 feet).
Upon arriving in Choachí, hike to La Chorrera. You'll trek through lush cloud forests and scenic trails. Plus, you might encounter various bird species and unique flora — a taste of a real paradise.
Once you reach the waterfall, the beauty of La Chorrera will leave you in awe. You can stand in its misty embrace, capturing the moment through your lens or simply being in the moment in the serene atmosphere. After enjoying La Chorrera, you can also explore Choachí and savor local cuisine.
To get to La Chorrera Waterfall, head to the TransMilenio Portal del Sur station. From there, you can catch a bus to Choachí, a small town nestled in the Andes Mountains. The journey typically takes around 1.5-2 hours.
Once in Choachí, you can either take a taxi or hike to the waterfall. If you're short of time, choose any of the tours below that will pick you up from Bogota.
La Chorrera Waterfall promises an unforgettable day immersed in Colombia's natural splendor and is undoubtedly one of the most beautiful day trips from Bogota.
4. Hike the Mystical Laguna de Guatavita
Just a short hour and a half drive away from Bogota, you'll find the mystical Laguna de Guatavita. This tranquil crater lake, located in the Cundinamarca region, is famous for its rich history and the captivating legends that surround it.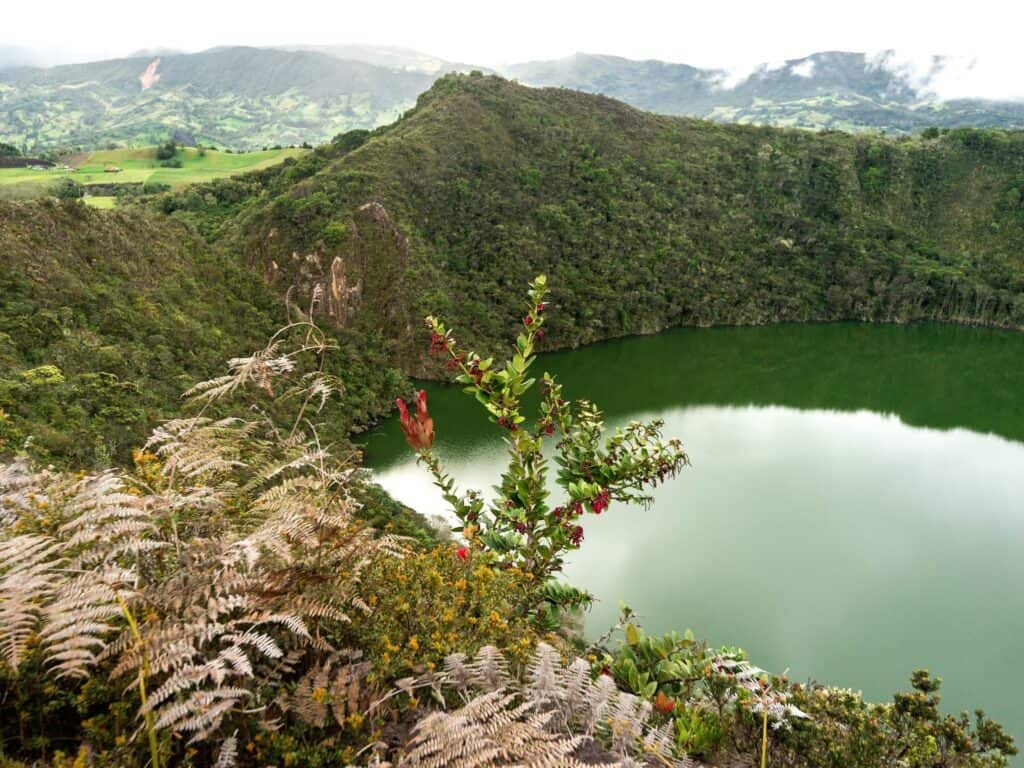 The lake is said to have inspired the legend of El Dorado, the mythical city of gold in South America. Some versions suggest that the Indigenous Muisca tribes performed initiation rituals where their chief covered himself in gold dust and submerged in the lake. Soon after, the worshippers threw precious jewelry and stones into the lake. The lake's legend was so strong that it was even partially drained in search of gold!
Another intriguing aspect of Laguna de Guatavita is its unique crater shape, believed to have been formed by a meteorite. You can only see this enchanting lake after taking a 1-2 hour hike with a guide who will share insights about the local flora, fauna, and history of some spots. The hike offers a serene atmosphere amidst lush green surroundings.
PRO TIP: If you don't speak Spanish, make sure to check with the reception about English tours. Most tours are conducted in Spanish but you might find a guide who can speak English.
To reach Guatavita, you can take a bus or drive there. If you prefer public transportation, head to Portal del Norte and catch a bus bound for Laguna de Guatavita. From there, you'll need to walk for approximately 2 hours, hire a private transport for $20, or hitchhike.
If you're short on time during your stay in Bogota, I highly recommend booking a tour to make the most of your visit. Here are the highly reviewed tours you can book:
Cultural Day Trips From Bogota
If you're looking to explore culture and history and want a quick escape from Bogota's skyscrapers, I've got you covered with the best day trips from Bogota that offer an enriching cultural immersion.
5. Discover the Colonial Town of Villa de Leyva
Villa de Leyva is a charming town frozen in time, making it one of the most captivating day trips from Bogota. It is renowned for its well-preserved colonial architecture that transports you back to the 16th century.
The town's main square, Plaza Mayor, is the largest stone-paved square in South America with an area of 14000 m². Surrounded by whitewashed buildings with terracotta roofs, strolling along its streets feels like stepping into a colonial painting.
Another famous spot in Villa de Leyva is Casa Terracota, a massive house entirely made of clay. This clay house is known as the largest pottery creation globally. The story behind it is that in the late 90s, property owners commissioned the famous architect and ceramist Octavio Mendoza Morales to build a sustainable home.
However, as time passed, Morales realized that the construction was taking longer than expected so he bought the land and the partially completed house from the owners. He has been working on the construction ever since and it still remains unfinished.
The town is also home to the Fossil Museum, which is famous for the most complete fossil of a kronosaurus ever found in the world. The town has also hiking spots, beautiful waterfalls, and the sacred Iguaque Lagoon.
To get to Villa de Leyva from Bogota, go to either The main Terminal (Salitre) or to Terminal Satelite Del Norte where you can catch a bus to Villa de Leyva. Some buses even pass to Raquira or Salt Cathedral in Zipaquira, so you can plan accordingly if you want to visit any of these. It takes 3-6 hours to get to Villa de Leyva depending on the bus you take.
PRO TIP: If you plan to do some side trips, stay in Villa de Leyva for at least two days. Otherwise, you'll spend most of your time on the road.
Villa de Leyva is known for its tranquility, making it a great place to unwind and appreciate its timeless beauty. It's one of the day trips from Bogota that will transport you to another era.
6. Discover the Depths of the Salt Cathedral in Zipaquirá
The Salt Cathedral in Zipaquirá is among the popular day trips from Bogota, located only an hour away. Carved into the heart of a salt mountain, this place is both a place of worship and a showcase of Colombian craftsmanship.
As you descend into this underground wonder, you'll encounter illuminated salt-carved sculptures of the Stations of the Cross. The main chamber has a towering cross sculpted entirely from salt.
For a deeper understanding of this unique site, get one of the audio tours or join a guided tour. You'll learn about its intriguing stories, legends, and architectural insights. We took the audio guide tour and it made our visit more meaningful.
To get to Zipaquirá, go to the Portal del Norte station in Bogota and catch a bus labeled "Zipaquirá". Once you're dropped off, you'll need to walk to reach Zipaquirá, which, in my opinion, is equally enchanting. Along the way, you'll pass by the stunning Cathedral of Zipaquira and delightful shops, and you'll experience the lovely atmosphere of this town.
For more convenient transport, you can also book one of these tours and you will be picked up directly from Bogota:
7. Do a Colorful Day Trip to Raquira
If you're looking for one of the most colorful day trips from Bogota, visit the charming town of Raquira. Known as "the artisan capital of Colombia," Raquira is famous for its vibrant streets and rich artisanal heritage.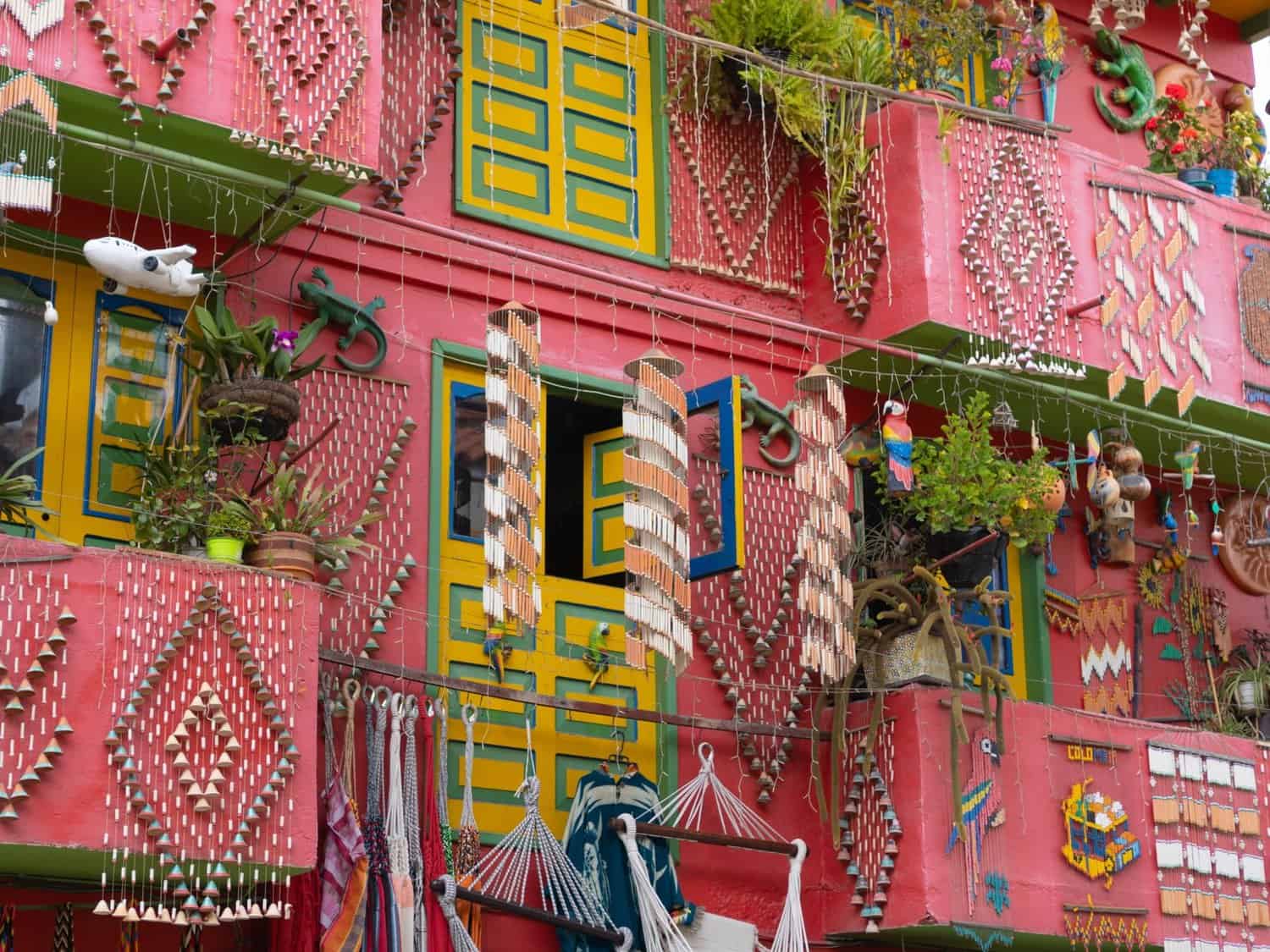 When you arrive in Raquira, you'll be surrounded by art and culture. It's as if one day residents were given hundreds of paint and brushes and were told to paint the town. And this artistry extends beyond their houses.
Raquira is an important center of handicrafts, particularly its pottery, and you'll find many artisan workshops and stores where you can admire and buy traditional Colombian ceramics. In fact, Raquira's name means "City of Pots" in the Muisca Chibcha indigenous language.
Getting to Raquira is easy. You can take a direct bus from Portal del Norte Terminal in Bogota. The scenic journey takes about 3-4 hours and offers picturesque views of Colombia's countryside.
Looking for more towns to visit in Colombia? Here are the insanely beautiful pueblos to add to your itinerary.
Adventure Day Trips From Bogota
Craving some adrenaline rush? Bogota's nearby towns got you covered. Whether you want to climb your way up or fly your way down – here are the top day trips from Bogota to add to your bucket list!
8. Climb the Rock Climber's Paradise, Suesca
Looking for adrenaline-packed day trips from Bogota? Visit Suesca, Colombia's climbing village, known for its impressive rock formations and reputation as a paradise for rock climbers.
Suesca is renowned for its unique rocks, which have made it a popular destination for rock climbing enthusiasts. These rocks are considered the birthplace of rock climbing in Colombia.
Whether you're a beginner or an expert, Suesca has something for everyone. With over 400 routes, split evenly between sport climbing and trad climbing, you can find the perfect challenge for your skill level.
PRO TIP: If you're traveling to Bogota and want to visit Suesca, book a tour that includes all the necessary gear. You'll only need to bring your shoes, helmet, and harness. If you don't have these items, your guide can assist you in renting them at The Rocks Gate.
Here is a tour that includes all the necessary gear for your Suesca Rock climbing:
To get to Rocks of Suesca, take a direct bus from Portal del Norte to Suesca. Tell your driver you're getting off at the entrance to the Suesca Rocks. The journey typically takes around 1.5 to 2 hours.
9. Paraglide in Sopó
Another adrenaline-pumping adventure near Bogota is paragliding in Sopó. Located in the scenic Cundinamarca region, Sopó is renowned as a hub for paragliding enthusiasts, offering an exhilarating opportunity to soar above Colombia's breathtaking countryside.
During your paragliding adventure in Sopó, you'll be treated to unparalleled views of the Tominé reservoir, the Guasca Valley, and the charming white village of Guatavita. You might even catch a glimpse of the mystical Lake Guatavita mentioned earlier.
Once you've secured your paragliding booking, transportation will be provided from Bogota. Upon arrival in Sopó, you'll receive a thorough introduction before taking on a tandem paragliding flight with a skilled pilot.
Book your paragliding adventure in Sopo with this highly-reviewed tour:
The entire experience typically lasts between 5 to 8 hours, depending on the package you choose. No worries, you'll cherish every moment spent gliding through the air. It's one of the day trips from Bogota that will bring you moments of pure happiness.
Off-the-Beaten-Path Day Trips From Bogota
As promised, here are the best day trips from Bogota that will take you off the beaten path. These one-of-a-kind experiences will push you out of your comfort zone and leave you with a heart full of memories.
10. Immerse in the Indigenous village of Nabusímake
Hidden in the Sierra Nevada de Santa Marta is Nabusímake, the spiritual center for the Arhuacos indigenous group. Nabusímake translates to "Land where the sun was born" in their language.
Only a few are allowed to visit this special place, as it is protected by the Mamos and natives. Access is granted to those who respect the village and its community to avoid the negative effects of mass tourism.
To reach Nabusímake, the best route is from Valledupar to Pueblo Bello, which is 25 kilometers away. Flights between Bogotá and Valledupar are available daily. From Pueblo Bello, you can reach Nabusímake by mule or on foot. The journey is enchanting, with lush greenery and vibrant flowers along the path.
PRO TIP: Though a day trip to Nabusímake is possible, it is recommended to stay for days in the village. The small of Pueblo Bello offers simple and affordable accommodation.
Upon arriving at Nabusímake, you will feel the deep spirituality that radiates from the village. The Arhuaco people are known for their strong connection to nature and their commitment to preserving their cultural heritage.
Here, you can fully immerse yourself in their traditions, beliefs, and way of life. Explore the village to witness unique architectural styles and indigenous craftsmanship.
A visit to Nabusímake is an off-the-beaten-path adventure that offers a profound spiritual and cultural experience, making it one of the most immersive day trips from Bogota.
11. Embrace a slower pace of life in Monguí
Located just four hours away from Bogota, the charming town of Monguí in Boyacá is a hidden gem that offers a glimpse into the past and a chance to slow down and unwind.
Monguí is renowned for its well-preserved colonial architecture, with many buildings dating back hundreds of years. The heart of the town is its plaza, a central square adorned with centuries-old buildings, including the magnificent Nuestra Señora de Mongui church.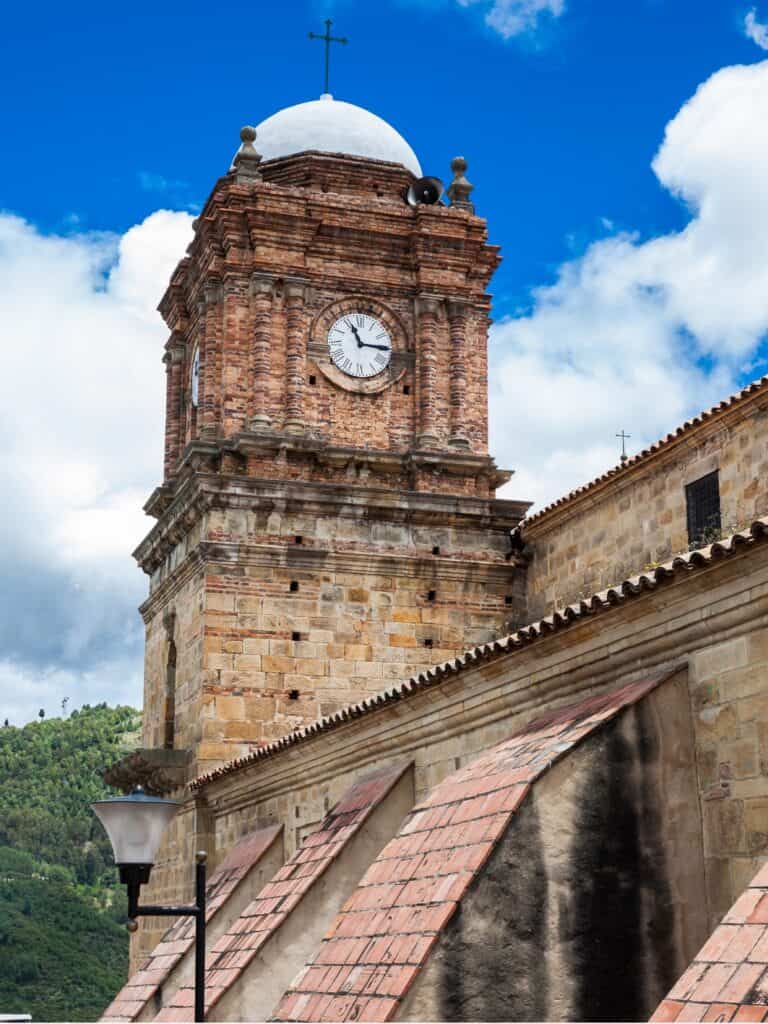 One of the town's notable landmarks is the Calicanto Bridge, which was constructed in the 17th century using a unique combination of clay and lime. Stroll through the cobblestoned streets and witness balconies overflowing with flowers, children playing and neighbors enjoying the accompany of each other. Monguí truly embodies tranquility.
PRO TIP: Visit one of the factories in Monguí, as the town is famous for being the main producer of "balones" or soccer balls. You can witness the manufacturing process and even bring home a freshly sewn-up ball as a unique souvenir.
Additionally, you can embark on a hike to the cross that overlooks the town or venture to the nearby Páramo de Ocetá, a high-altitude ecosystem that is a natural wonder.
To reach Monguí, you can take a Sogamoso bus from Terminal de Transporte in Bogota. Once you arrive in Sogamoso, transfer to a bus heading to Monguí. The journey to Monguí by bus takes around 4-5 hours, and you'll be dropped off at the main plaza.
12. Explore Tatacoa Desert
Tatacoa Desert is one of the most unique day trips from Bogota, known for its surreal landscapes and starry nights. This dry paradise offers a contrast to Colombia's lush greenery.
The desert is divided into red and gray areas, both of which can be explored in a day. The Red Desert, also called Cuzco, provides stunning views with its otherworldly scenery. The red hues come from iron in the soil, creating ocher, rust, and copper colors.
After enjoying the views, explore the trail that winds through the mesmerizing soil formations in the valley. Along the way, you'll encounter cactus plants, birds, goats, and sometimes snakes. After all, 'Tatacoa' means 'rattlesnake' in Spanish.
PRO TIP: Tatacoa Desert is the warmest place in Colombia, with an average temperature of 35 degrees. Bring plenty of water, sunscreen, and a hat. Pack warm clothing for stargazing, as the temperature drops at night.
Just a short 30-minute drive away is the Gray Desert, also known as 'The Valley of Ghosts,' due to its extraordinary shapes, adding to the surreal experience.
Tatacoa Desert is renowned as one of the best stargazing places in South America. With minimal light pollution, the skies are incredibly clear. You can even visit the local observatory for a closer look at celestial wonders.
PRO TIP: Heavy rainfall in April and May results in a greener desert. If you want to see Tatacoa in its red and gray colors, plan your visit accordingly.
To get to Tatacoa Desert from Bogota, take a bus to Neiva, the capital of Huila. From there, hire a taxi or take a local bus to Tatacoa Desert. The journey takes around 5-6 hours. Alternatively, you can take a direct flight to Neiva Airport.
Book your Tatacoa adventure here:

And there you have it, the 12 best day trips from Bogota. From nature to culture to adventure and off the beaten path, Bogota serves as a gateway to your next incredible adventure. Which one is yours?