Rue Cler: The Most Beautiful Market Street In Paris
Like any place, the best way to have an authentic taste of Parisian life is through its markets and food. Rue Cler, renowned as Paris's beloved market street, will delight your senses with the very best of French flavors.
In this complete guide, we'll explore what makes Rue Cler so unique, its captivating history, and, of course, my experience strolling this charming street. Plus, I'll also share the best ice cream I've ever tasted — no hype!
What is Rue Cler known for?
Rue Cler is renowned for being a quintessential Parisian market street, where locals and travelers indulge in the exquisite French flavors. Its cobbled streets are lined with charming shops, bustling market stalls, delightful cafes, and specialty stores.
This street became famous when travel expert Rick Steves named it his favorite street in Paris and Nancy Leson from The Seattle Times wrote that is a hidden gem beneath the Eiffel Tower's shadow.
Looking for more hidden gems for your Paris trip? Here's a complete list.
Rue Cler's charm lies not in its immediate allure but in its subtle and unique appeal. It's a street that doesn't flaunt its attractions, yet it fascinates your senses in unexpected ways.
While it may lack the vibrant history of some Parisian avenues or the eye-catching allure of the most Instagrammable streets, it holds its own charm. This market street's beauty lies in its refined and understated character, which is influenced by the discerning tastes of some of Paris' oldest and most well-to-do families.
This street is a gastronomic haven, where quality is supreme. Cheese shops age their own varieties, delis craft exquisite pâté-croûte, and markets overflow with fresh produce. It doesn't merely offer food; it offers a culinary experience that lingers in your memory.
This market street embodies a particular French art de vivre but you won't immediately feel it despite what you might read in travel guides. Discovering Rue Cler's true essence is a gradual process – done by opening each door, savoring delicacies, and engaging in conversations with local vendors, each unveiling the street's hidden charm.
Rue Cler History
Located in the 7th arrondissement, Rue Cler takes its name from the mid-19th-century French brigadier general, Jean Joseph Gustave Cler.
The area is associated with French nobility, lined with historic mansions, government ministries, and embassies. Rue Cler exudes the discreet charm of the bourgeoisie.
However, decades ago, the atmosphere on this street was quite different. Before the trendy cafes and fashion boutiques, Rue Cler was predominantly filled with charrettes – those quaint produce carts. They were often owned by widowed wives of WWII soldiers who were given special permission to sell their goods rent-free.
However, as these disappeared over the years, the decline in quantity was counterbalanced by a remarkable surge in quality, resulting in the street's reputation for culinary excellence.
Rue Cler's history of excellence started with Davoli and Jeusselin. Bruno Jeusselin, the third-generation owner of Maison Jeusselin, has continued the tradition from his family since 1937. Known for its "fait-maison" approach, Maison Jeusselin is one of the few charcuteries crafting nearly all their offerings on-site, including foie gras and headcheese.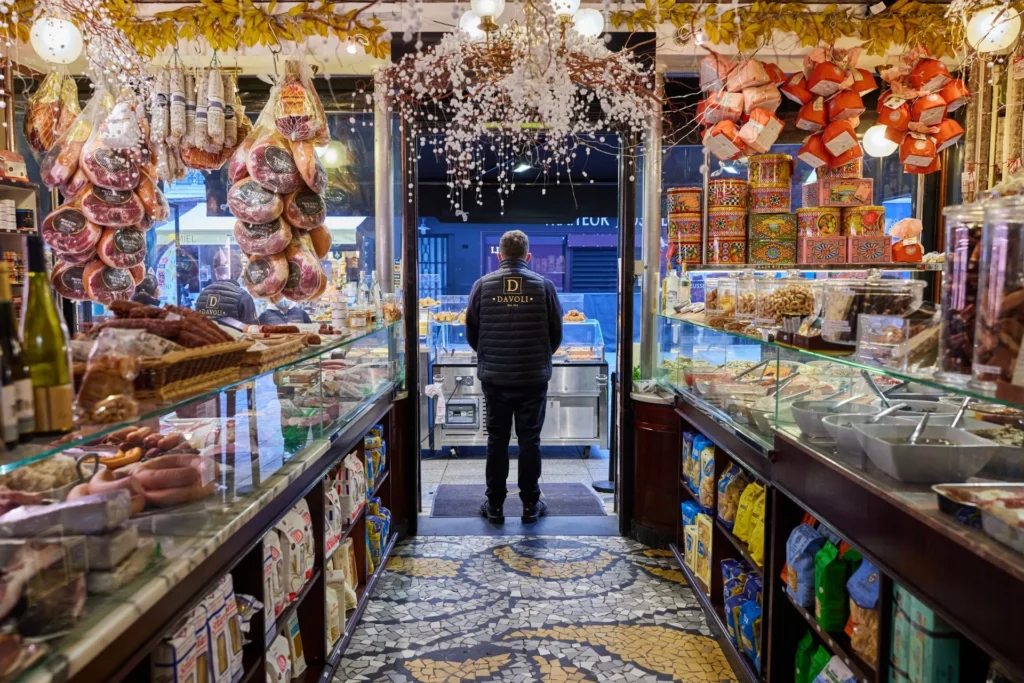 On the neighboring corner stands Davoli, the renowned Italian delicatessen established in 1962 at 34 rue Cler. Stéphane and Alexandre Davoli, the fourth-generation owners, import a range of Italian delicacies, including Parma hams and aged Parmesan cheese.
This cultural exchange between French and Italian culinary traditions has deep historical roots and is reflected in the delicacies they offer, such as truffles from Alba and Burgundy.
The love affair between French and Italian cuisine is well-known, and Rue Cler's gastronomic history showcases this culinary harmony. In a district filled with longstanding families, emphasizing quality has been pivotal to the survival of businesses like Jeusselin and Davoli.
Our Experience Visiting Rue Cler
On the first trip to Paris, my partner and I wanted a true local experience. After exploring the beautiful Rue Crémieux, walking along the serene Seine River, and resting in public gardens, we headed to Rue Cler to experience the real Parisian way of life.
Upon arrival, we were greeted by a sight that warmed our hearts – locals going about their daily routines, shopping for fresh produce, flowers, bread, cheeses, and meats. The abundance of fresh, colorful items was a feast for the senses. Charming restaurants and captivating cafes lined the street, exuding an authentic Parisian vibe.
Our journey began with a Parisian dessert classic: ice cream. Rue Cler, however, had a delightful surprise waiting for us. Here, we stumbled upon the most heavenly ice cream we've ever tasted, and I've been to over 21 countries. It felt like a taste of pure bliss, and I savored it as if nothing else in the world could compare – no exaggeration. (Full disclosure: I haven't been to Italy yet.)
After indulging in our dessert, we gathered some fresh berries and grapes, a couple of croissants (because, can it get any more Parisian than that?), and sparkling water (you can swap this for wine, but I've been alcohol-free for almost a year now). With our bag full of happiness, we made our way to Champs de Mars for a picnic with a breathtaking view of the Eiffel Tower.
What to Expect at Rue Cler
Rue Cler isn't your typical bustling market street; it's an intimate and serene slice of Parisian life. Locals and vendors seem to know each other. The food displays are fresh and of the highest quality. It has slightly higher prices compared to supermarkets, but the quality is worth it after I've tasted it.
Diverse food delights thrive on this market street. Whether you're seeking fresh seafood at La Sablaise, organic meats at Boucherie du Perchet, or rare wines at Les Grandes Caves, Rue Cler caters to every culinary desire.
Need some sweet boost? You have plenty of options here. Taste the best chocolates and macaroons Paris can offer at Pralus and satisfy sweet cravings.
And if you're into ice cream like me, you can have a sorbet at Normandy's extraordinary Martine Lambert or the heavenly flower cones we got at Amorino.
The charm of this street is best experienced through your senses. So walk around, smell some cheese, feel the fresh produce, and taste the finest delicacies Paris can offer.
What to Do and See at Rue Cler
Rue Cler offers a wide range of experiences. From fine dining restaurants to cozy cafes and specialty stores, you'll find something for you here. The street also transforms into a cozy, romantic setting at night– more about that later.
Rue Cler is also strategically located near famous and off-the-beaten attractions. You can have a picturesque picnic with a view of the Eiffel Tower at Champs de Mars, visit the iconic Eiffel Tower itself, explore the grandeur of the Arch de Triomphe, catch the mesmerizing Eiffel Tower Light Show, or visit the tranquil Grand Mosque of Paris.
Where is Rue Cler in Paris Located?
You can find Rue Cler in the heart of Paris's 7th arrondissement. Its exact address is Rue Cler, 75007 Paris, France. This narrow, car-free street spans three blocks and can be found not too far from the Ecole Militaire on the Right Bank.
How to Get to Rue Cler?
The nearest metro station to Rue Cler is École Militaire. From that station, it's just a 4-minute walk away. You'll find it's easily accessible from various parts of the city because of its central location.
When is the Best Time to Visit?
Rue Cler is a delightful destination year-round. In the summertime, it comes alive with the laughter of tourists and the chatter of locals enjoying open-air cafes and bustling market stalls.
As winter covers the neighborhood, it transforms into a cozy and romantic retreat. You'll find the regulars in cafes' sheltered terraces, sharing warmth and stories.
If you're looking for fresh produce, go early when the shop opens. It's a chance to witness warm conversations among locals who seem to know each other.
Alternatively, arrive late morning or after the lunch rush for a quieter shopping and dining experience. And to end any Paris itinerary, go to Rue Cler at night and enjoy a romantic, cozy ambiance with its cafes and restaurants.
No matter when you visit, you're sure to find something to love about this charming street in the heart of Paris.
Rue Cler Opening Hours
Rue Cler is open on weekdays and all day on Saturdays until 8 p.m. and Sunday mornings until around 2 p.m. Many of the shops are closed on Monday so check first if you have a particular shop or restaurant in mind.
Most shops on Rue Cler are open from around 8 a.m., some around 9 a.m. Fine stores close for lunch between 1 p.m. and 3 p.m. Some restaurants open a bit later. In particular, Cafe Du Marche is open until 11 p.m. Check individual shop hours as they may vary.
Rue Cler Restaurants
Rue Cler is home to Paris' most excellent restaurants where you can savor authentic French cuisine. From cozy bistros to gourmet dining, you'll find plenty of options to tantalize your taste buds, making it a perfect spot to add to your vacation in Paris or Europe in general.
Le Petit Cler
Le Petit Cler is a quintessential French bistro that's been winning hearts for years. Known for its classic Parisian ambiance, this charming eatery is a go-to spot for locals and tourists alike.
Their specialty? Definitely the Escargot de Bourgogne, a mouthwatering dish of Burgundy snails cooked in garlic and parsley butter. It's perfect for those seeking an authentic French dining experience.
Café du Marché
Café du Marché is a lovely cafe known for its exceptional seafood dishes, particularly the seafood platter. Enjoy your meal while watching the world go by on this bustling street. It's an ideal choice for seafood enthusiasts and anyone looking for a sidewalk cafe experience.
Le Florimond
Le Florimond is a hidden gem known for its romantic atmosphere and exquisite French cuisine. Their specialty, the Duck Confit, is renowned for its tender, flavorful duck leg. With its intimate setting and candlelit tables, Le Florimond is perfect for couples seeking a romantic dinner.
Rue Cler at Night
While it's quieter in the evenings, Rue Cler takes on a unique charm under the soft glow of streetlights. It's perfect for a romantic stroll or a quiet dinner.
FAQs: Rue Cler
Is Rue Cler near the Eiffel Tower?
Yes, Rue Cler is a short walk from the Eiffel Tower, making it a perfect stop before or after your visit. Either to get a coffee or ice cream or to buy your picnic food.
Is Rue Cler open on Sundays?
Yes, Rue Cler is open on Sundays until 2 p.m.
Is Rue Cler touristy?
While it has recently become popular among tourists, it still retains a charming, local feel.
How late is the Rue Cler market open?
Most shops close around 1 PM and reopen at 4 PM. Most shops close at 6 p.m., some restaurants at 8 p.m. and few stay up to 11 p.m. This can vary from store to store.
Is Rue Cler worth visiting?
Absolutely! Among all the streets I've visited in Paris, this street gave me the authentic Parisian experience. From fresh market finds to flavorful bites and a warm, welcoming atmosphere, it deserves a spot in any Paris itinerary.

So there you have it – a complete guide to Rue Cler, filled with the vibrancy of Parisian life, delicious flavors, and the charm of a hidden gem. It's a place where you can experience Paris like a true insider. Have you been to Rue Cler? What is your favorite experience on this market street?