The Ultimate Guide to Ocam Ocam Beach Busuanga
Do you want to experience pristine beaches and crystal-clear waters but away from the crowds and the noise of Coron? Then look no further than Ocam Ocam Beach in New Busuanga! Located 75km from Coron town, it's one of those unspoiled gems that remain secret, even to most locals.
Located in a small fishing village on the north side of Busuanga Island in Palawan, Ocam Ocam Beach is a stunning stretch of white sand, crystal clear water, and lush green hills. The beach is secluded and aside from a few little kids who live nearby, you can have the beach all by yourself!
In this guide, I will walk you through everything you need to know about visiting Ocam Ocam Beach Busuanga —from how to get there, where to stay, what else to do in the area, and more. I'll also share a secret waterfall I'm certain you never heard of!
Best Time to Visit Ocam Ocam Beach
You can visit Ocam Ocam Beach Busuanga anytime because it's unknown to tourists. The summer season is during March, April, and June. During these months, the sky is clear; and the air is mild and warm.
You can spend your days basking in the sun or playing in calm, turquoise waters without fearing the water suddenly turning rough or dangerous. Of course, as with any beach in the Philippines, the sun is scorching hot during the early afternoon, so remember to bring some sun protection.
Things to Do at Ocam Ocam Beach
When visiting Ocam Ocam Beach Busuanga, there are a lot of activities to enjoy. Here are just a few of the things you can do:
Relax on the beach
I visited Busuanga to have a relaxing break after a 3-day Coron trip. When we first arrived at Ocam Ocam Beach, we were surprised that we were only the tourists in the area. We enjoyed lying on the soft sand as we relaxed and watched the magnificent sunset.
It's a tranquil spot, unlike many other beaches in Palawan that can be pretty busy – so it's perfect for unwinding and appreciating the beauty of nature. We went there every single night. So if you're looking for a place to relax in Palawan, Ocam Ocam Beach Busuanga should be at the top.
Go on a boat tour
We did not go on any boat tours because we had enough of island hopping in Coron, but I'm adding it to my list because most people say that they are equally beautiful as those in Coron. Locals offer boat tours to Black Island and Dibutunay Island in Ocam Ocam Beach.
Black Island (Malajon Island)
It's a beautiful island in the Calamian Islands, northwest of Busuanga. The island is covered with massive dark karst cliffs nestled at the center of the island and has a rocky shoreline that leads to fine white sand and clear blue waters.
The highlights of the Black Island are the coral garden, where you can snorkel and appreciate the colorful underwater scenery, and a shipwreck dating back to the Second World War, similar to the famous diving spot in Coron.
If you're in Coron, you can visit this island by booking a day tour with a van transfer that includes a visit to Calauit Safari Park.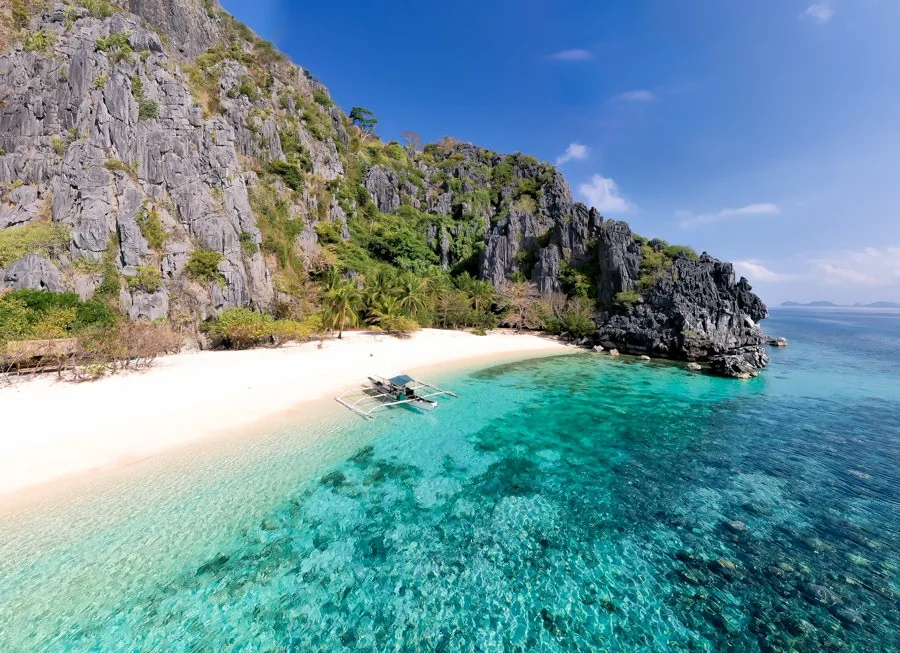 Dibutunay Island
Also known as Debotunay, this island has powder-like white sand and cerulean glass-like waters. The island is the perfect place for swimming and enjoying a tropical paradise. Different species of birds fly around the lush trees around the island. You can also go snorkeling in some parts.
Visit the Calauit Safari Park
Initially, I had reservations about visiting Calauit Island National Park due to my stance against animal exploitation in zoos. However, we decided to try it after reading reviews that indicated the animals were free to roam.
Read: Calauit Safari Park Ultimate Guide + My Own Experience
The park is breathtaking, with its beautiful animals and natural environment and it's just a short boat ride from Ocam Ocam Beach Busuanga, so remember to add it to your itinerary if you plan to visit Busuanga.
Book your Calauit Safari Park and Island adventures below:
Snorkel
We did not try to snorkel in Ocam Ocam Beach Busuanga because we forgot to bring our snorkeling gear, and no locals offered it for rent. But we read that some people snorkel at the beach. So you can get your gear or go to nearby islands such as Black Island and Dibutunay to experience snorkeling in the coral gardens.
See waterfalls
You'll be able to marvel at two breathtakingly beautiful waterfalls nearby: Concepcion Falls and Degtayan Falls—both worth seeing! I have a complete guide on both of them to help you choose which one to visit if you're short on time.
Concepcion Falls
Concepcion Falls is one of the highlights of my trip to Busuanga. Getting there on a motorcycle was easy, and it wasn't far from Ocam Ocam Beach Busuanga. When I arrived, I was amazed by the lush forest surrounding me.
The hike to the falls was short but refreshing. Once I arrived at the falls, I was pleasantly surprised that we had the place ourselves. It was so peaceful and calm that I even meditated there briefly.
Degtayan Falls
We discovered a secret waterfall not even the locals or Google Maps knew about – Degtayan Falls! It was breathtaking! The forest surrounding it was lush, and the water was cold, fresh, and crystal clear.
Since it's not well-known, you can have this hidden gem all to yourself for a refreshing swim, relaxation, or even some nature meditation. To visit Degtayan Falls, download Maps.me and search for Degtayan Falls. Since my visit, I have also added it to Google Maps.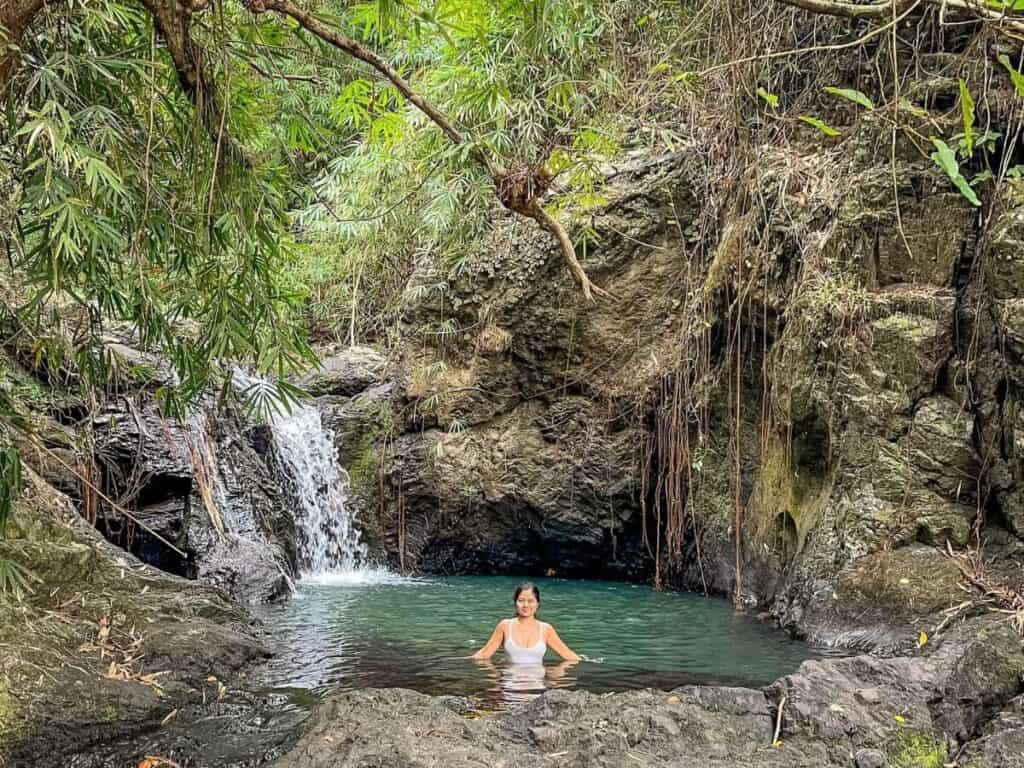 Getting to Ocam Ocam Beach Busuanga
By plane. If you're from Manila or elsewhere in Luzon, you can fly directly to Francisco Reyes Airport (Busuanga Airport). From the airport, it is only approximately thirty minutes away from Ocam Ocam Beach Busuanga by car or van transfer.
By public transport. The best way to get there is by taking a daily scheduled van trip at 10 AM from Coron Public Market to New Busuanga. You will arrive at Salvacion. From there, you can rent your motorbike or ride a tricycle to Ocam Ocam Beach, which costs 8-10 USD (400-500 pesos).
By van transfer (joiner or private). If you want more convenient transport to Busuanga or Ocam Ocam Beach, book a van from Francisco Reyes Airport (Busuanga Airport). If you're a solo traveler, the cheapest rate is via Klook for 56 USD (Php 2,800) per pax. Use my code 5L64AK and get a Php 250 discount on your booking.
By private car, motorbike, or tricycle. Motorbike rentals range from 8-10 USD (400-500 pesos) daily, while car rentals cost around 40-60 USD (2,000-3,000 pesos). Another option is to hire a private tricycle for a day trip, which typically costs approximately 30 USD for the round trip.
Remember that the trip from Coron Town to Ocam Ocam Beach Busuanga takes about an hour and a half, and the roads can be steep and unpaved with loose soil. If you opt for a motorcycle, ensure you're comfortable driving it on these types of roads.
Where to Stay Near Ocam Ocam Beach Busuanga
Ocam Ocam Azur Inn
We recently stayed at Ocam Ocam Azur Inn for four nights, which was incredible. The road to the inn is tricky, especially on a motorcycle. Be sure to use the back brake.
Once you arrive, the stunning views of the beach and hills, lush gardens, and inviting hammocks will welcome you. The owners, a friendly French and Filipino couple, were very welcoming and made sure we had a comfortable stay.
The private nipa houses are air-conditioned with a bathroom, sofa, and balcony. They even offer laundry services. The restaurant is spacious and has an incredible view of the beach.
My partner enjoyed a drink at their bar and dipped in their pool. Just a heads up, the wifi is slow, and the phone signal is unreliable. I don't recommend it for online work.
However, for around 60-70 USD (3,000-3,500 PHP) per night with a la carte breakfast, the experience is worth it, especially if you're looking for a place to unwind, write, reflect, or relax.
Cocovana Beach Resort
Our first choice for accommodations in Busuanga was Cocovana Beach Resort, owned by my college friend Ana. Unfortunately, it was fully booked for our dates, but we still had the chance to visit and have lunch there on our way to Concepcion Falls.
It is a family-run small resort with beautiful rustic bungalows directly on the water. The resort is reasonably priced, making it a popular choice for backpackers.
The beach in front of the resort is rocky and not ideal for swimming, but it's perfect for a leisurely walk and watching the sunset. But Cocovana has a pool that is run with fresh spring water.
They also have a bar where you can enjoy a few drinks while enjoying the ocean view. I recommend considering Cocovan Beach Resort if you're traveling around Busuanga, as it's conveniently located in the middle of many activities, including Concepcion Falls.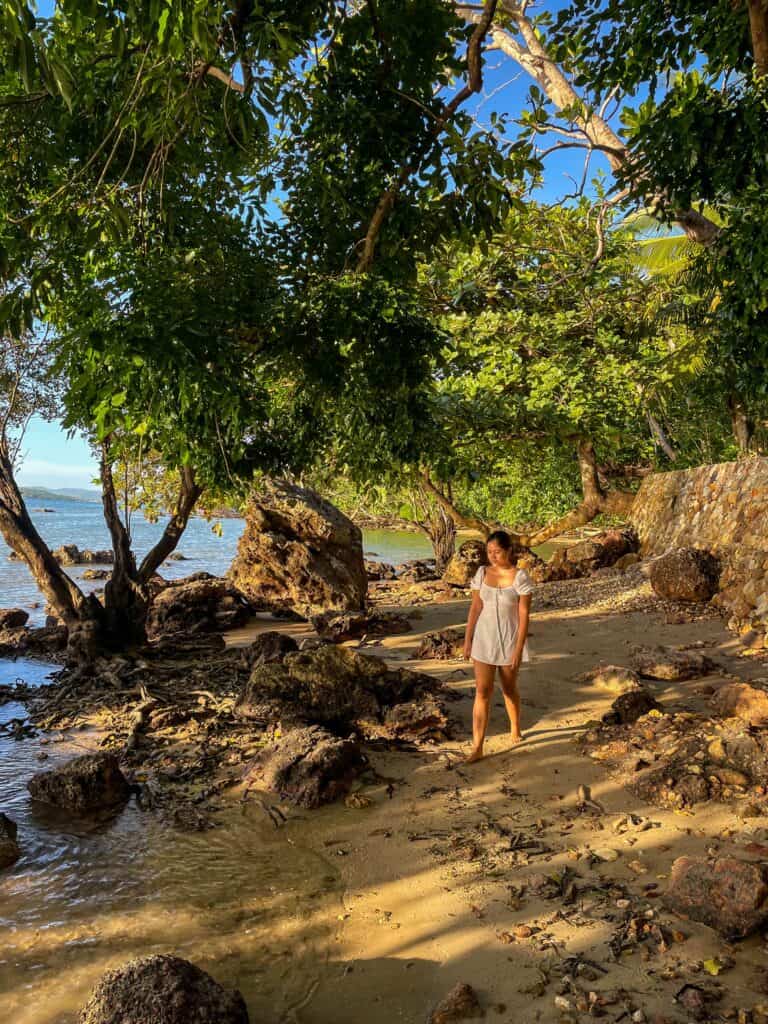 Coron Westown Resort
We started our Palawan trip with Coron before heading to Busuanga. If you plan to spend a few days in Coron, it's better to choose hotels and resorts in Coron and take a day trip to Ocam Ocam.
Our team from work stayed at Coron Westown Resort for three days and two nights. The place is phenomenal – the rooms are spacious and beautiful, the pools are inviting, and the complimentary breakfast buffet is delicious.
Plus, the resort helped us arrange to rent a motorbike to Ocam Ocam Beach. It's just a five-minute drive to Coron Proper and a 1.5-hour drive to Ocam Ocam Beach Busuanga, making it a convenient location for exploring Coron and having a day trip to Busuanga and a quiet place to stay.
Pitch a tent or stay with the locals
For those looking for a unique experience, you can stay with the locals in their houses or nipa huts. It's also possible to pitch a tent if you bring one.
Where to Eat in Ocam Ocam Beach Busuanga
Because the beach is less touristy, there are few restaurants in the area. However, enough options are available to satisfy you during your beach trip.
For those looking for a delicious local Filipino flavor, you can find this in H-Nice Restaurant, located directlty at Ocam Ocam Beach Busuanga.
This restaurant serves delicious native Filipino dishes such as chicken curry, adobo, and fish tinola (chicken lemongrass). They also have vegetarian meals, fresh seafood dishes of the day, pasta, noodles, and fresh shakes.
Try out this restaurant for its delicious food, reasonable prices, and exceptional customer service provided by Ate Irene and her sister. I highly recommend their chicken and vegetable curry!
Ocam Ocam Azur Inn Restobar
You can also go up the hill and eat at Ocam Ocam Azur Inn restaurant in lush surroundings with breathtaking views. The menu has a mix of Asian and Western dishes, including delicious adobo chicken, curry, sambal rice, French toast, and pasta. Fresh seafood is available based on the catch of the day. The buttered shrimp they serve is delicious!
Cocovana Beach Resort
If you're visiting Concepcion Falls, head to Cocovana Beach Resort, which serves international and Filipino cuisine. Their lumpia (vegetable rolls) and adobo are to die for! The view of the beach is breathtaking during sunset, and they have a bar where visitors can get their cocktails.
Important Tips for Visiting Ocam Ocam Beach
Now that you've read up on Ocam Ocam Beach Busuanga and what it has to offer, here are some essential tips for visiting.
1. Bring or purchase sunscreen in Coron. It's hard to find sunscreen in Busuanga, so buy one in Coron or bring one. Beware of fake sunscreens that are being sold in public markets. Purchase only in pharmacies. Wear reliable sunscreen before the motorbike ride to protect yourself from the sun.
2. Be mindful of the van's arrival and departure times. Take note of the time availability of the van returning to Coron, so you won't get stuck paying a hefty fee for a tricycle if you miss it.
3. The best way to travel around Ocam Ocam and Busuanga is by motorbike if you're comfortable driving. It's the fastest and cheapest way to go to Ocam Ocam and explore Busuanga.
4. Ocam Ocam Beach Busuanga is not ideal for swimming. While you can still swim here, it's not best for swimming—seagrass under the water could be uncomfortable if you don't have water shoes. If you want to swim, go on one of the island boat tours.
5. Pack your own food, snacks, and medicine if you have special preferences or requirements. Only basic items are available in sari-sari stores (small groceries) in houses near the beach.
6. Be a mindful and responsible traveler. Bear in mind to always respect the environment and the local community. Please do not litter and leave things as you find them.
Why you should visit Ocam Ocam Beach Busuanga?
Go to Ocam Ocam Beach to relax, take in the island life, find yourself, and reset. It's close enough to Coron but far enough away from the crowd and noise that comes with it. This little paradise is perfect for those looking for a side trip or anyone wanting to escape the hustle and bustle of Coron's nightlife.
And here's the best part: you'll have the beach all to yourself! You can lounge on white sand shores, dive into turquoise waters, and watch a beautiful sunset. It truly is an incredible experience!
So if you're looking for an escape from it all—Ocam Ocam Beach Busuanga Palawan will certainly fit that bill!
Happiness On The Way Tips
Travel is one of the experiences that makes us happy. Ironically, we forget that we travel and take a vacation to slow down and recharge; instead, we have jampacked itineraries. No wonder why we're tired after our travels. Ocam Ocam Beach Busuanga is a sanctuary that can help you slow down and be present with life.
1. Use this time to have a social media break. Wi-Fi and phone signals are not good in the area, so take this opportunity to step away from all that screen time. Taking social media breaks has been proven therapeutic and significantly reduces anxiety.
2. Read a book and be absorbed by the moment. Without distractions from your phone notifications and other digital devices, you can finally enjoy reading that book you haven't read yet. When was the last time you enjoyed a book?
3. Meditate and do a quick yoga. I always find it incredibly calming to practice meditation and yoga on the beach. The sound of the waves, the fresh air, and the warm sun make it an ideal environment for practicing mindfulness. With Ocam Ocam Beach's fine sand, you can even do it without a mat!
Read: How to Experience Happiness During Your Travel
4. Plan your life. Visiting a quiet beach can be a fantastic way to reflect on your life. Whether you need to gain clarity about your situation or plan your next goals, nature is the perfect spot for introspection. If you're facing a significant life transition or decision, you can do some deep thinking at Ocam Ocam Beach Busuanga.
5. Do nothing at all – Listen to the waves of the beach, watch the sunset, and watch the kids playing. There's something peaceful about being still and doing nothing but just marveling at the beauty surrounding you.
Conclusion
From what I've experienced, Ocam-Ocam Beach is a perfect spot to escape the crowds and experience some serenity in Busuanga, Palawan. From its stunning beach to nearby activities, it has it all. Whether a day trip or a longer stay, Ocam-Ocam Beach offers plenty of opportunities to find adventure and experience happiness.
The natural beauty of Ocam-Ocam Beach is a reminder of the importance of appreciating nature and slowing down. What better way to experience happiness than to explore the world and immerse ourselves in the process?
Have you ever been to Ocam Ocam Beach Busuanga? What was your favorite part of the experience? Are there any specific activities or attractions at Ocam Ocam Beach that you would me to add to my list?