The Ultimate Guide to Neuschwanstein Castle in Germany
I love fairytales, and when I heard that a castle in Germany inspired Disney castles, I added it to my Europe itinerary. My visit to Neuschwanstein Castle is one of the highlights of my recent Europe trip.
Neuschwanstein Castle has been considered a masterpiece of romanticism for centuries. Nestled away high in the Bavarian Alps, this 19th-century Castle is breathtaking in person. As a result, this landmark is also known as "the Castle of the Swan Knight," Germany's most visited tourist attraction.
In this blog, I will guide you on how to explore and enjoy this magical destination.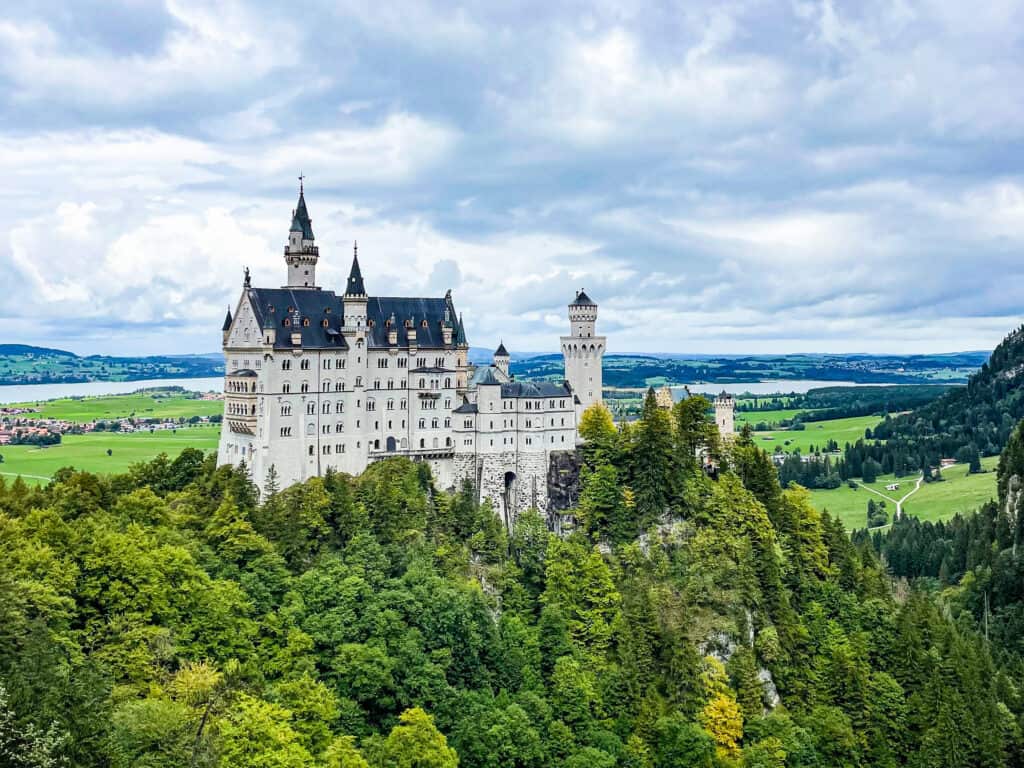 A Brief History of Neuschwanstein Castle
Neuschwanstein Castle is located in the Bavaria region of southeastern Germany at the southwest tip of the German state. It's situated near Schwangau and Füssen in the Allgäu area.
It was initially called New Hohenschwangau Castle. However, it eventually got its current name, referring to his favorite composer, Richard Wagner's opera character, after the king's death.
Eduard Riedel designed this majestic 19th-century Romanesque Revival palace. Ludwig II's love for music, opera, and theatrical works inspired the Castle's design. With its fairytale-like turrets, bridges, and towers, this Castle is a sight you want to experience when visiting Germany.
Where is Neuschwanstein Castle?
Neuschwanstein Castle is located in the Bavaria region of southeastern Germany at the southwest tip of the German state. It's situated near Schwangau and Füssen in the Allgäu area.
How to get to Neuschwanstein Castle?
By car. If you plan on driving or renting a car, you must head out of the city from Munich. It would take 2-3 hours, depending on traffic.
Option 1
1. Take the A7 motorway (direction Ulm-Kempten-Füssen) until you reach Fussen.
2. From Füssen, first follow the road B17 to Schwangau,
3. Once at Schwangau, follow the signs to Hohenschwangau
Option 2
1. Take the A7 motorway until the exit of Kempten
2. Then take the road B12 to Marktoberdorf.
3. Follow the road B16 to Roßhaupten – OAL I to Buching
4. Then take road B17 to Schwangau and Hohenschwangau.
Compare car rental deals from many companies and choose the best car for your trip.
Public Transport. The easiest way to get to Neuschwanstein Castle is by train and bus. From Munich, hop on the train to Füssen. From there, you can take either bus 73 or 78 from Füssen to Hohenschwangau, where Neuschwanstein Castle is located.
The entire journey would take around 2 hours from Munich to Füssen by train and then another 15 minutes or so on the bus.
Book your train to Füssen and bus to Hohenschwangau.
Did Neuschwanstein Castle really inspire Disney's castles?
Neuschwanstein Castle has been the primary source of inspiration for Cinderella and Sleeping Beauty's castles, both off and on screen. In Disney World, you can see how closely the real and fictional palaces resemble each other.
Walt Disney visited Neuschwanstein Castle on a European vacation with his wife before designing Disney castles. He was inspired by its fairy tale architecture and surrounding landscape, as seen in its iconic turrets, tall spires, and beautiful domes.
There's even more evidence that Neuschwanstein Castle was the source of inspiration for King Stefan's Castle in Sleeping Beauty. The name "Neuschwanstein" means "New Swanstone"—a reference to the German fairy tale of Lohengrin, from which Sleeping Beauty was adopted!
Neuschwanstein Castle 1-day Itinerary
Morning
(A) Start your day by visiting Neuschwanstein Castle. Experience the royal palace as you visit the four grand rooms and its beautiful garden.
(B) Take a short walk to Marienbrücke, a suspension bridge that offers even more stunning views of the Castle.
Afternoon
(C) Hike to the Neuschwanstein Castle Trail, a moderate hike that takes about 2 hours to complete. It will lead to the Berggasthaus Bleckenau, a mountain restaurant with stunning views of the surrounding mountains. Enjoy a traditional Bavarian lunch at the restaurant or eat packed snacks around the area.
(D) Head back and go to Hohenschwangau Castle, King Ludwig II's childhood home. It offers stunning views of the Neuschwanstein Castle.
(E) Visit the Museum of the Bavarian Kings. The museum exhibits artifacts and documents related to the history of the Bavarian royal family.
(F) Nearby the Museum is the Alpsee Photo Stop which is a great place to walk in the Alpsee Lake, see some swans, or even take a quick dip.
What to See and Do Inside Neuschwanstein Castle?
Experience in person what inspired Walt Disney himself by joining a guided tour inside the Castle. You can visit the four grand rooms in the palace — Throne Room, the Singer'sSinger's Hall, King Ludwig's Bedroom, and the Grotto.
You can also stroll around the beautiful gardens and the ramparts that offer breathtaking views of the surrounding hills and villages. Book a guided tour that fits you below:
Off-the-Beaten-Path To Do at Neuschwanstein Castle
We opted out of the guided tour to explore the outdoors. So instead, we decided to hike up to the royal hunting area where Ludwig II would spend his days gazing at his beloved mountains in solitude.
We hiked for two and a half hours, and the trail was moderately challenging. It's called the Golden Circle because you can see the whole Castle with this trail.
We were surprised that we only saw three other people on that trail with us! For me, it is the experience of royal kingdoms back in the day. It was a remarkable experience that many don't get to experience!
Read: Best Off-the-beaten-path Experience in Paris
What are Neuschwanstein Castle's hours of operation?
If you're you're looking to explore Neuschwanstein Castle, here is their daily schedule:
April – October 15 (Peak Season): 9 am to 6 pm
October 16 – March: 10 am to 4 pm
Closed: December 24, December 25, December 31, and January 1
Book your tickets in advance if you're visiting during peak season. This way, you can save time queuing up for access when you arrive. You can also take a guided tour or book a private one for a personal experience.
Neuschwanstein Castle Tickets
Below are the ticket prices for a day pass at the Neuschwanstein Castle:
| | |
| --- | --- |
| Adults | €13 |
| Children under the age of 18 and students (only when accompanied by an adult) | FREE |
| Reduced ticket (senior/severely disabled | €14 |
| Group tours from 15 paying visitors | €14 |
| Booking Fee/Online Purchase | €2.5 |
If you would like to explore both Hohenschwangau Castle and the Museum of the Bavarian Kings and Neuschwanstein Castle, you can purchase what's known as a "Swan Ticket" for €25. This ticket will give you access to those three sites.
You can book your Neuschwanstein Castle and Swan ticket through Hohenschwangau's official website. However, I recommend booking a skip-the-line ticket with a tour guide to save time and get tips on where to have your best photos.
This € 40 tour is the cheapest online because the Castle ticket is already included. Additionally, for a group of up to 7, you can book this private guided tour from Munich to explore three castles: Neuschwanstein, King Maximilian II's neo-Gothic summer residence of Hohenschwangau, and the Linderhof Palace.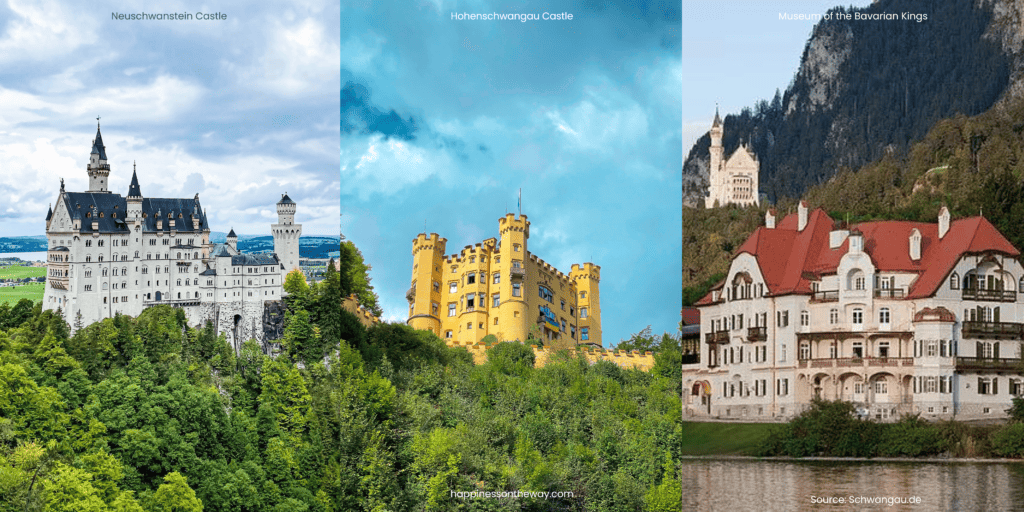 What else can you see outside Neuschwanstein Castle?
On top of exploring Neuschwanstein Castle, you can also visit Hohenschwangau Castle. To learn more about Bavarian history and culture, visit the Museum of Bavarian Kings and take a cable car ride to Tegelberg Peak.
If you want something more laid back, why not visit Lake Alpsee, next to Hohenschwangau? It's a beautiful place to sit and relax after a tiring castle exploration day.
You can also visit the famous Queen Mary's Bridge (Marienbrucke). It's a stunning pedestrian bridge above Pöllat Gorge and offers spectacular views of Neuschwanstein and the breathtaking panoramic views of the Bavarian landscape.
Finally, I highly recommend making the off-the-beaten-path hiking trail around the Castle from one side to another. This golden circle will take around two and a half miles with fantastic views.
Where to eat near Neuschwanstein Castle?
There are several restaurants near Neuschwanstein Castle. Take this opportunity to enjoy and experience Bavarian cuisine.
You can also enjoy the café-bistro on the second floor of Neuschwanstein Castle. It's a great place to get a bite to eat in the middle of your tour while enjoying its classical murals.
It was raining when we arrived at Neuschwanstein, so we decided to have a quick meal. We ate at Schloss Bräustüberl, which is a cozy brewery-style restaurant. My partner Mat invited me to try their most famous Bavarian dish — ​​weisswurst (sausage) and pretzel. Although, as I expected, I love the pretzel, not the sausage (I'm not a fan of sausages in general, but Mat liked it).
If you plan on doing any hiking around the area, make sure you pack some snacks. Not only will this save you money, but it will also give you more energy for exploring the magical Neuschwanstein Castle!
Where to Stay near Neuschwanstein Castle?
If you're looking for a place to stay while you're exploring Neuschwanstein Castle, then you can stay at Schwangau, the closest village to the castle. If you really want to stay within the vicinity of the castle, you can stay at Hotel Müller or Villa Ludwig Suite Hotel.
We stayed 30 minutes away from the Castle to have more affordable stays and to be nearer the other hiking spots.
When is the best time to visit Neuschwanstein Castle?
If you're trying to decide when to explore the magical Neuschwanstein castle, there are a few things to consider.
The winter months of November to April are the least busy—it's a great time to visit if you want a more intimate experience.
The shoulder season (May, June, and October) is another excellent option for visiting Neuschwanstein Castle, as fewer people will be around during this time. This season is a great way to experience one of Germany's most famous attractions without crowds.
On the other hand, the summer months of July and August are peak tourist seasons. So if you are okay with long lines and bigger crowds, this is the perfect weather to take in this incredible Castle's beauty!
Tips for Visiting Neuschwanstein Castle
If you're planning to explore Neuschwanstein Castle in Germany, here are a few tips:
Advanced Reservations
Book your guided tour of the Castle in advance to avoid long lines. The tickets are limited daily, and onsite tickets are only the remaining ones from online.
Wear Comfortable Shoes
The hill leading up to the Castle is quite steep and takes about 20 minutes to climb, so wear comfortable shoes. It can get quite crowded, too, so prepare for a slow climb.
Get There Early for Tickets
Arrive early at the base of the hill if you intend to purchase tickets onsite. Lines can be long, and it's best to get there before it gets too crowded.
Be Patient & Take Photos!
Patience while taking photos is essential because many tourists surround the Castle during peak season. For example, you will encounter a long line on the Queen Mary's Bridge (Marienbrücke) due to the capacity limit of the bridge. So be patient — whether for a perfect photo or the view — it's worth the wait!
Happiness on the Way Tips
Exploring the magical Neuschwanstein Castle is not only about taking the perfect picture spots or learning its history. You can also explore it to tap into a deeper level of joy, away from everyday noise and social media. You can use your visit to reconnect with nature and, consequently, yourself.
Read: Travel Happiness: 5 Ways To Experience Joy On The Road
As someone who writes about travel and finding happiness along the way, here are some things you can do:
Hike or take a walk in the castle and let nature heal you. Put your phone away, find a quiet spot on the side of the castle mountain, close your eyes, and listen to your breath. Let the chirping birds take away any worries, and let yourself be bathed in its beauty.
Practice mindfulness whether you're walking, checking the rooms of the Castle, or even waiting in line for the photos. Pause for a few seconds before hopping from one spot to another and savor those moments that are so unique yet so often forgotten while being lost in our phones and taking pictures of everything we see.
Be present. You are now in the Castle. Be mesmerized by its beauty. Every angle has something enchanting to offer, so take as much time as possible to savor every detail around you and remember how lucky you are to have this opportunity right now!
Meditate in the hunting area. The woodlands surrounding Neuschwanstein add an extra layer of enchantment while exploring it – perfect if you're looking for peace within yourself too!
Conclusion
Stepping into the magical Neuschwanstein Castle was an unforgettable experience, and I'm so glad I took the time to explore it. It gave me an inspiring glimpse into Germany's past and gave me spiritual immersion and a sense of wonder.
If you are interested in experiencing fairytale castles and embarking on a history and nature trip, Neuschwanstein Castle is a perfect destination.
Have you ever been to Neuschwanstein Castle? What memorable experiences have you had at this magical Castle?