Concepcion Falls: Everything You Need to Know
Concepcion Falls is a beautiful day trip that you can do from Coron or Busuanga. This small waterfall has clear, cold water and is surrounded by a lush forest, making it a refreshing and relaxing adventure.
There are mixed reviews about this waterfall. Some tourists recommend it for the peaceful ambiance, and few tourists, so you can enjoy the whole place for yourself. While others find it disappointing due to its size and shallow waters.
My partner and I decided to check it out during our four-day stay at Ocam Ocam Beach in Busuanga. In this guide, we will share our experience and tips for visiting Concepcion Falls in Busuanga.
Our Day Trip at Concepcion Falls
We began our journey with a one-hour drive from Coron Town. The route was picturesque, with lush surroundings, beautiful gardens, and families doing household chores.
Although there are no signs for Concepcion Falls, you can use the Google Map pin. You will see a rocky path between a motorbike parking and a small convenience store. From there, it's only a five-minute walk down a jungle forest to the falls. The trail is easy enough for little kids and older travelers.
The few minutes walk to the waterfalls is breathtaking. You'll wander down a trail with tropical plants, lush foliage, and vines. We even saw some chickens, birds, and a little snake (be careful, especially during the rainy season). The sound of running water gets louder the closer you get, and it's so meditative.
Soon you'll reach the waterfall. It's really pristine. It's a stunning waterfall lake with a small diameter and 3-4 meters in height.
The swimming hole at the base is deep enough for jumping and diving. There's also a rope swing. The water is deep enough that you'll plunge right in.
The water at Concepcion Falls is crystal clear – you can see all the way to the bottom! The water stays cool and refreshing thanks to the shade from the forest canopy above. However, be careful of slippery, slightly pointed rocks under the water.
There are a few levels of pools at varying depths, so you can wade in the shallows or plunge into the deeper sections. Also, there are rocks near the falls that are perfect spots to sit and soak in the peaceful ambiance.
You may experience the strange sensation of tiny fish nibbling at your skin. These "Dr. Fish" feed on dead skin and provide a natural exfoliating treatment.
Just dip your hands, feet, or any part of your body in the water, and the fish will get to work removing calluses and leaving your skin smooth. It's bizarre but free and all-natural! Besides, the fish don't bite, so don't worry.
Although several restaurants are nearby, you can pack food and enjoy lunch by the falls. You can enjoy a picnic at the tables near the falls.
When we arrived, there was only one couple, and they immediately left, so we had the entire falls to ourselves. Concepcion Falls is a perfect spot if you're looking to escape the crowds.
Overall, our experience at Concepcion Falls was magical. The scenic journey, stunning setting, and opportunity for stillness made this a highlight of our trip.
Where is Concepcion Falls Located?
Concepcion Falls is located on Busuanga Island within the beautiful Palawan province of the Philippines. It's around 40 kilometers away from the town of Coron.
How to Get to Concepcion Falls
The entrance to the falls is free, and there are two ways to get there.
Rent a motorbike or car and drive yourself. The falls are about 40 km or a 1-hour drive from Coron. Just head southwest of town on the Busuanga Island Circumferential Road. We saw some pretty spectacular scenery along the way, which made the drive worthwhile.
Hire a driver for the day. If you want to sit back and enjoy the journey without driving, hire a van or tricycle driver to take you to the falls. Negotiate the rate in advance – you can expect to pay around ₱2,500-3,000 for a half-day tour.
Once you arrive, it's just a quick 5-minute hike down a trail to reach the falls.
When is the best time to visit Concepcion Falls?
The best time to visit Concepcion Falls is during the rainy season from June to November because rain brings more water to the falls. Just make sure to check whether there is an announcement of heavy rains or typhoons for your safety.
Alternatively, you can also visit during the dry season from December to May when the weather is more stable, making it safer and more enjoyable for hiking and swimming. Just manage your expectations that the water might be too shallow for a swim.
Aim for early morning or late afternoon when the sun is less intense for your day trip.
Where to Eat near Concepcion Falls
This highly-rated Filipino restaurant is only a 3-minute drive from Concepcion Falls and comes highly recommended. They are known for their seafood, homemade pasta, and signature mango shake.
Only a 5-minute drive from the falls, Marina Del Sol serves classic Filipino cuisine and cocktails in an open-air space. Their bestsellers are sizzling sisig, kare kare, and Halo-halo.
Just a 14-minute drive away, Cocovana Beach Resort serves international and Filipino cuisine. Try their lumpia, pancit, and adobo, and enjoy the breathtaking beach view during sunset.
Things To Do near Concepcion Falls
Though I enjoyed our day trip to Concepcion Falls, I would recommend going here for a day trip with one or more activities because it's an hour away from Coron. Here are the best things you can do on your visit:
Ocam Ocam Beach – Busuanga's Secluded Beach
Ocam Ocam Beach is a hidden gem to most tourists. Its soft, golden sands meet the crystal-clear waters of Busuanga, creating a picturesque scene straight from a postcard. The beach is surrounded by lush greenery, providing shade for those who wish to take a break from the sun's rays.
It's a tranquil spot, perfect for sunbathing, stand-up paddling, or simply taking a leisurely stroll along the shoreline. The gentle lull of the waves is the soundtrack to your relaxation here. Best part? It's a secluded beach where you'll likely have the whole place to yourself!
Degtayan Falls – Busuanga's Secret Waterfall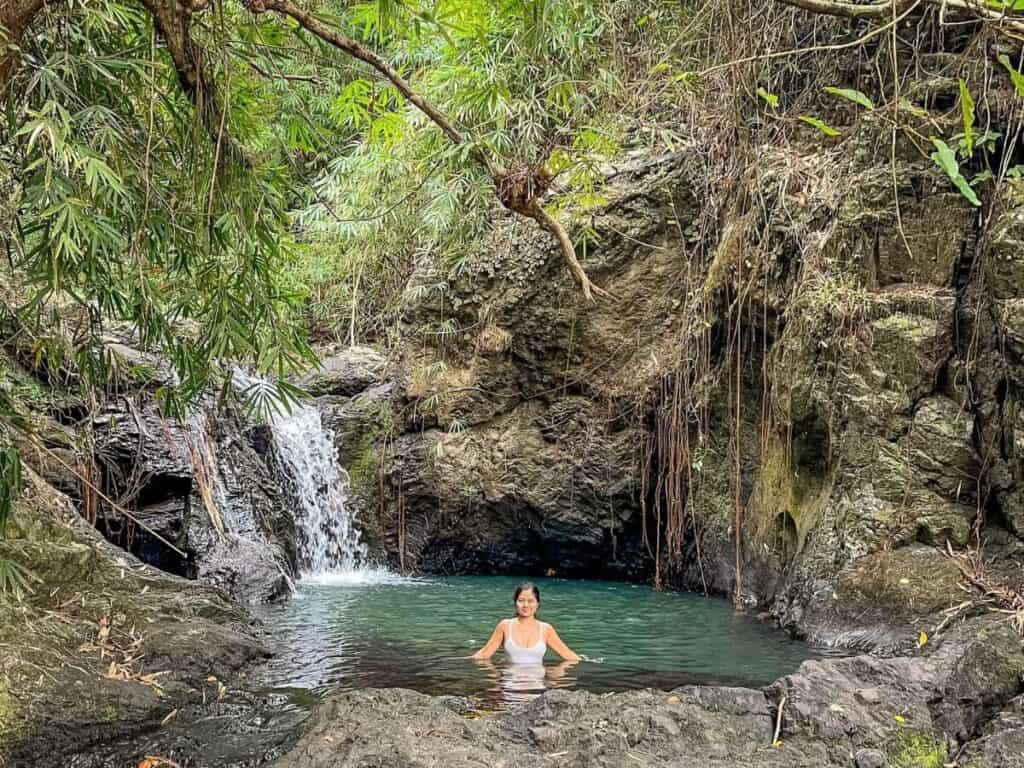 Like Ocam Ocam Beach, Degtayan Falls is unknown even to most locals. We just found it through our local host. It's a serene waterfall located in the heart of Busuanga's tropical rainforest. The falls cascade gracefully into a pristine pool, inviting you to take a refreshing dip in its cool, rejuvenating waters.
The lush forest that surrounds the falls provides a wonderful place for a peaceful picnic. It's a spot where you can connect with nature, hear the melody of birds, and enjoy the simple pleasure of the outdoors. You won't find much information about Degtayan Falls online, but you can explore my comprehensive guide for all the details.
Calauit Safari Park – The African Safari in the Philippines
Calauit Safari Park feels like a slice of Africa right in the heart of the Philippines. Here, you'll encounter a fascinating array of exotic animals, from graceful giraffes to striped zebras and the native Calamian deer.
Getting up close to these majestic creatures is not only educational but also truly breathtaking. It's a chance to see them flourish in an environment that replicates their natural homes. To learn more about our adventure and the park's intriguing history, dive into our comprehensive guide or book a Calauit Safari Park tour from Coron here.
Choose a Calauit Safari Tour here:
FAQs: Concepcion Falls
Is there an entrance fee to visit Concepcion Falls?
Visiting the majestic Concepcion Falls is entirely free! One of the best things about exploring Busuanga is that most natural attractions don't charge admission, including this waterfall.
Is there a parking space near Concepcion Falls?
You can park at the start of the trail of Concepcion Falls. Be sure to bring all your belongings with you for safety.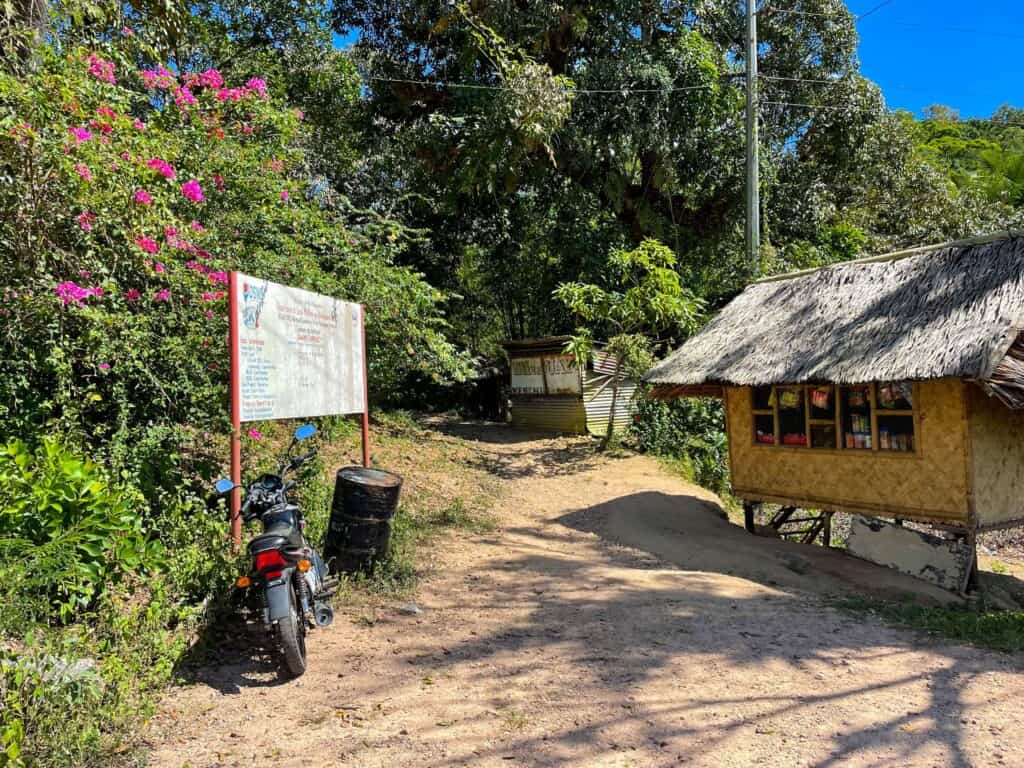 What to bring to Concepcion Falls? 
Bring water, snacks, insect repellant, and a bathing suit if you want to swim. Though walking on the trail with slippers is safe, wear proper shoes for the best hiking experience.
Is it safe to swim in Concepcion Falls in Busuanga?
Swimming in Concepcion Falls is safe because it's mostly shallow, but exercise caution as there are some parts where it gets a little deeper. Make sure to check the water level first before swimming at the far end of the waterfall.
Can I bring food and drinks to Concepcion Falls?
Yes, and I encourage you to do so! You'll find concrete tables where you can enjoy a picnic or some rocks to sit on amidst the lush forest surroundings.
It's a simple yet amazing experience, but remember to be environmentally responsible. Let's leave no trace behind – make sure to take all your trash with you when you leave.
Do I need a guide to explore Concepcion Falls in Busuanga?
Though it's not mandatory for this waterfall (and it's also very easy to navigate), having a local guide can really improve your experience. These guides can share valuable insights about the place, offer safety tips, and assist you in exploring the trail effectively, including pointing out the best spots for photos and relaxation.
Plus, if you decide to hire a tuk-tuk driver or arrange a day trip, they typically come with a local guide (often the drivers themselves).
Happiness on the Way Tips
Here at Happiness On The Way, I share how I use my travel adventures as my way to rediscover joy. Here are some tips for a joyful visit:
Do a nature bathing
Concepcion Falls is the perfect place to reconnect with nature. Find a spot to sit, breathe in the fresh air, listen to the sounds around you, and become fully immersed in the present moment.
Close your eyes and feel the warmth of the sun on your face. Open them and admire the lush greenery surrounding you. Nature bathing at the falls is a great way to relieve stress and boost your well-being.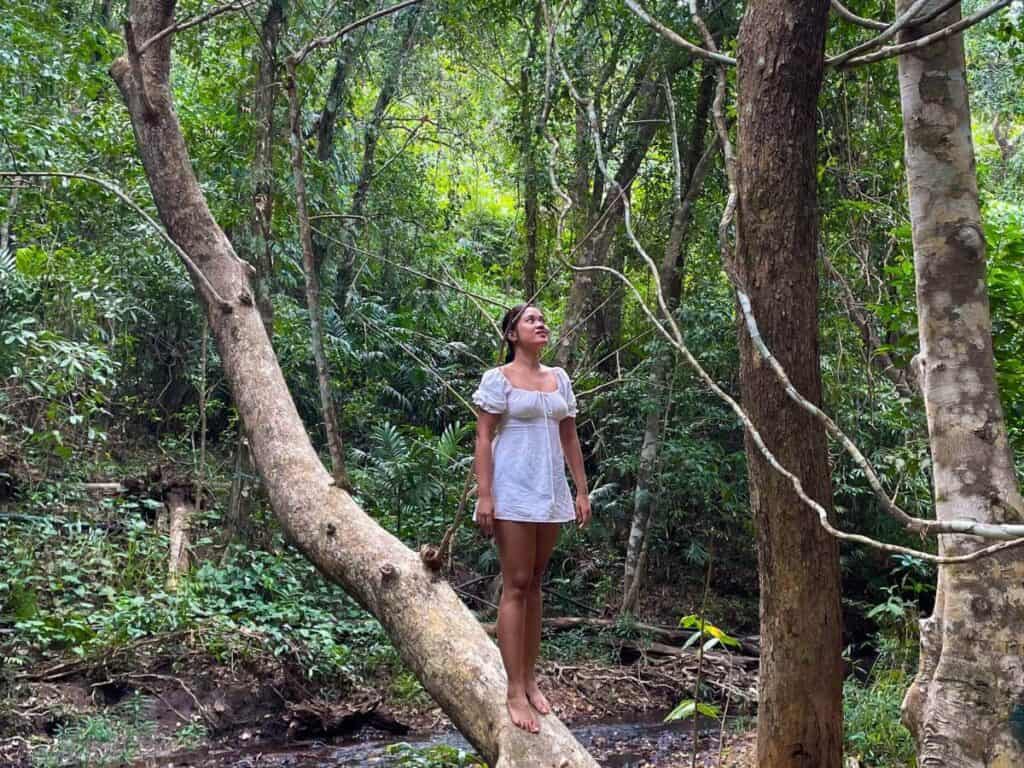 Find Your Zen
We decided to do a short meditation by the falls. The negative ions from the water and fresh forest air were energizing yet calming. We focused on our breaths and nature sounds, feeling rejuvenated in body and spirit after just 10 minutes.
If you're looking to destress and reconnect with yourself, Concepcion Falls is the perfect place.
Quality Time with Loved Ones
For us, the secluded falls were ideal for some uninterrupted couple time. We hugged, held hands, and engaged in meaningful conversation without distractions. Use this opportunity away from it all to strengthen your connection with friends or family.
Make eye contact, give compliments, and express your appreciation for them – the positive vibes from this unique spot will make bonding here effortless.
Is Concepcion Falls Worth Visiting?
Visiting Concepcion Falls is highly recommended if you're looking for a tropical paradise and a perfect escape from the crowds.
The highlights were the secluded jungle setting and swimming in the refreshing pools at the base of the falls. We had the place all to ourselves and felt like explorers discovering a secret oasis.
While the falls aren't massive, the crystal-clear pools are ideal for dipping on a hot day. The water is calm and invigorating, surrounded by moss-covered rocks and lush greenery.
However, if you only have a few days in Coron, you may focus on Coron Town and Island Hopping. It's best to do Concepcion Falls with other activities in Busuanga, such as Calauit Safari Park and Ocam Ocam Beach.
Conclusion
We hope this guide has inspired you to visit the stunning Concepcion Falls. Experience the lush jungle scenery, crystal-clear waters, and thrill of motorcycle adventure.
Have you been to Concepcion Falls? We'd love to hear about your experience!