Degtayan Falls: The Ultimate Guide to Busuanga's Secret Waterfall
Have you heard that Busuanga has a secret waterfall called Degtayan Falls? I will not be surprised if you haven't heard of it. We only knew about it once our host in Ocam Ocam Beach mentioned it. As adventure seekers who love off-the-beaten-path destinations, my partner and I added it to our Busuanga itinerary.
Located deep in the forests of Busuanga Island, this pristine waterfall is a sight to behold. The trek to get there will get your eyes in awe, the scenery will leave you breathless, and the cool crystal-clear pools will make you refreshed. In this guide, we'll share our spontaneous discovery of Busuanga's best-kept secret – Degtayan Falls!
Where is Degtayan Falls
We were thrilled when our host told us about Degtayan Falls, a secret waterfall almost unknown to tourists! He says it's even more stunning than the famous Concepcion Falls. He said gave us the directions on Maps.me (12°15′08.72″N 119°53′31.25″E) and said: "You won't miss it". Spoiler alert: we missed it at first — more about that later.
Following his directions, we set off on the 15-minute motorcycle journey from Ocam Ocam Azur Inn to Macalachao in Busuanga. If you're coming from Coron Town, it will take 1.5 hours. The road is paved, so we enjoyed winding through lush greenery and tiny villages.
We finally arrived where Maps.me was no longer pointing to the cement road. There was no sign of Degtayan Falls. A kid from a nearby house gave us a signal to enter at a spot between the cemented road and the dirt track. He looks like he is used to visitors seeking the falls.
We started with the trail, which began with lush grasses and wild plants, following a bunch of bamboo. Soon we saw a shallow river. We went along it until we heard the sound of water getting stronger and stronger. I can't believe that many people do not know about this place! It's a jungle paradise!
During our trek, we saw a tiny snake — almost like a worm. I've been traveling around the Philippines for so long to know that if you don't harm them and wait until they pass, they won't bite or attack you. We waited and went on.
We arrived at the Maps.me pin and couldn't see a waterfall. We went a little further, and still, no waterfall was to be found. Because there are no photos of Degtayan Falls online, we have no idea what it looks like. Mat and I thought it was dry, and it was already the pond-like waterfalls we had seen earlier.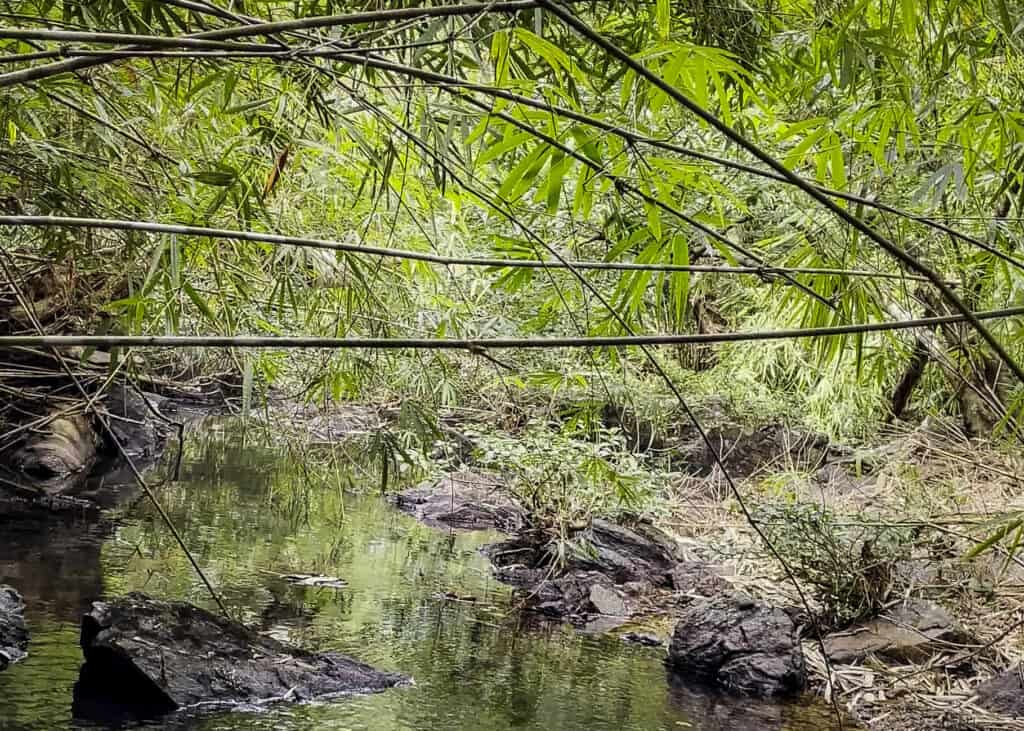 Tho we expected a waterfall, we still liked the jungle we trekked, so we're happy with the trip. We went back, and as we went on to our motorcycle, the kid saw us and asked how it was. We told him it was small, but the surroundings were beautiful. He wondered and asked which waterfall we were referring to. We showed him some photos, and he said, that's not it.
He said he could accompany us if his parents allowed him. After getting parental permission, we went there again. He showed us the shortcut to it. So instead of going along the river, you can also follow a path into many bamboos on your left. Then from there, you can follow the Maps.me's direction. You can also go along the river, leading in the same direction.
Finally, we arrived. The location is just a few meters from the Maps.me pin. Just go straight for 2-3 minutes, and then you'll see a breathtaking waterfall cascading into a vast pool. We went down from the numerous bamboo, and the kid said goodbye to us. We gave him a tip for offering his help and leading us into this paradise.
The clear, clean, and cool water is ideal for swimming after our hot motorcycle day. We stayed in the water for a while. It's really refreshing. I also found a spot on the rocks facing the falls to sit back and meditate for a few minutes in this peaceful place. It's really paradise!
Degtayan Falls is a hidden gem for travelers seeking solitude and a beautiful off-the-beaten path in Busuanga. With its secluded location and lack of crowds, you'll feel like you have your own private paradise. It's worth getting lost! What a unique find!
What to Expect in Degtayan Falls
We were so happy to find Degtayan Falls. It's one of the well-kept secrets of Busuanga, and I'm sharing this guide so you can experience it too.
• Expect an adventurous trek through the thick forest to reach the falls. No paved paths here – just follow the sound of rushing water, Maps.me, and the used trail.
The reward for your effort is an idyllic waterfall paradise. Imagine standing in a secluded jungle basin, cooled by cascading falls, as sunlight filters through the canopy above. Utter bliss!
Have the place to yourself – it's that secluded! Meditate by the falls, enjoy a jungle picnic, or soak in the peaceful vibes.
You can hear a symphony of nature sounds—birds chirping, leaves rustling, water trickling.
The fresh air fills your lungs with every breath. It's a perfectly peaceful escape from the everyday hustle.
If you're up for an off-the-beaten-path adventure in Palawan, don't miss stunning Degtayan Falls. An eco-friendly experience you'll never forget, it's a refreshing rediscovery of nature's simple pleasures. Happiness is on the way, indeed!
How to Go to Degtayan Falls
To get to Degtayan Falls, you can rent a motorcycle or tricycle in Coron Town and drive about an hour and a half, following the directions on Maps.Me. You can also take a van from Coron Town to Barangay Salvacion and rent a motorcycle or tricycle. Due to the shorter distance, this option is cheaper.
From the entry point at the side of the road, take a 10-minute trek in the jungle with beautiful local flora, passing by a small river and walking into bamboo until you glimpse the spectacular Degtayan Falls.
FAQ: Degtayan Falls in Busuanga
When is the best time to visit?
The rainy season is the best time to experience Degtayan Falls. You'll see the waterfall at its strongest flow from June to October.
Is there an entrance fee to Degtayan Falls?
Visiting Degtayan Falls is absolutely free! All you need is a sense of adventure to explore this natural wonder.
Where to eat near Degtayan Falls?
There are local canteens around the area serving Filipino meals and snacks. We recommend bringing your picnic basket, finding a scenic spot by the falls, and enjoying a peaceful lunch with nature.
What else to do nearby?
The port to Calauit Safari Park is 10 minutes away from the entry point of Degtayan Falls. You can do both of them in one day. Alternatively, you can also visit different beaches around the area. I recommend you check out Ocam Ocam Beach.
Happiness on the Way Tips
Trips to untouched nature, like Degtayan Falls, naturally put you in bliss. Here are the things you can do to immerse in joy in this beautiful paradise:
Meditate in this beautiful waterfall. The soothing sounds of the waterfall and the lack of crowds will put you in a natural meditative state. Try closing your eyes, focusing on your breath, and going inward for 5 minutes; you'll feel calmer and happier.
Practice mindfulness. Open your senses to fully appreciate the refreshing air, calming sounds of flowing water, and natural beauty surrounding Degtayan Falls. Being in quiet and peaceful spots like this helps us to be present at the moment.
Take a cold plunge. The clear pool below the falls is perfect for an invigorating swim and a cold immersion which reduces stress improves mood, and offers spikes of dopamine and endorphins.
Degtayan Falls is an untouched natural wonderland waiting to be explored. The chance to unplug from it all and reconnect with nature is a trip we'll cherish for years. It can be yours too.
Is Degtayan Falls Worth Visiting?
We highly recommend visiting Degtayan Falls! This hidden gem is worth the effort to find. Degtayan Falls remains mainly off the beaten path, retaining its untouched beauty. A trip here lets us escape the crowds and reconnect with nature. Head into the jungle and discover this pristine paradise for yourself!
Conclusion
Degtayan Falls is one of Busuanga's best-kept secrets and a beautiful day trip destination when visiting Coron. The rewarding trek, stunning scenery, and refreshing plunge into the crystal-clear waters of the falls will create memories to last a lifetime. Experience discovering one of the Philippines' hidden natural wonders.
Have you ever heard of or visited Degtayan Falls? Did this guide help you? I'd love to hear about your experience and insights!