Bangkok to Phuket: Which is the Best Way To Travel
Phuket was the first island I visited in Thailand. It's the usual next destination after Bangkok. If you have already explored Bangkok's temples, nightlife, and cuisine, there are several ways to travel from Bangkok to Phuket. You have plenty of options to get to Phuket, whether you're looking for convenience, adventure, or trying to save a few baht.
Where is Phuket Located?
As an avid traveler, I always look for the next exotic destination. Phuket caught my attention with its pristine beaches, an ethical elephant sanctuary (I've wanted to experience a close encounter with elephants), and its island hopping to Koh Phi Phi, James Bond Island, and Koh Pha-ngan.
Located in southern Thailand, Phuket is an island in the Andaman Sea surrounded by Phang-nga and Krabi. It is approximately 839 km away from Bangkok. You can travel from Bangkok to Phuket via plane, bus, train, motorbike, or car.
I traveled to Phuket from Bangkok by booking a cheap flight. The 1.5-hour flight gave me an extra day on the beach with my partner, who had arrived two weeks earlier. However, there are other ways to get there.
In this guide, I will go over all the available options for traveling from Bangkok to Phuket so that you can select the option that best fits you.
Fly From Bangkok to Phuket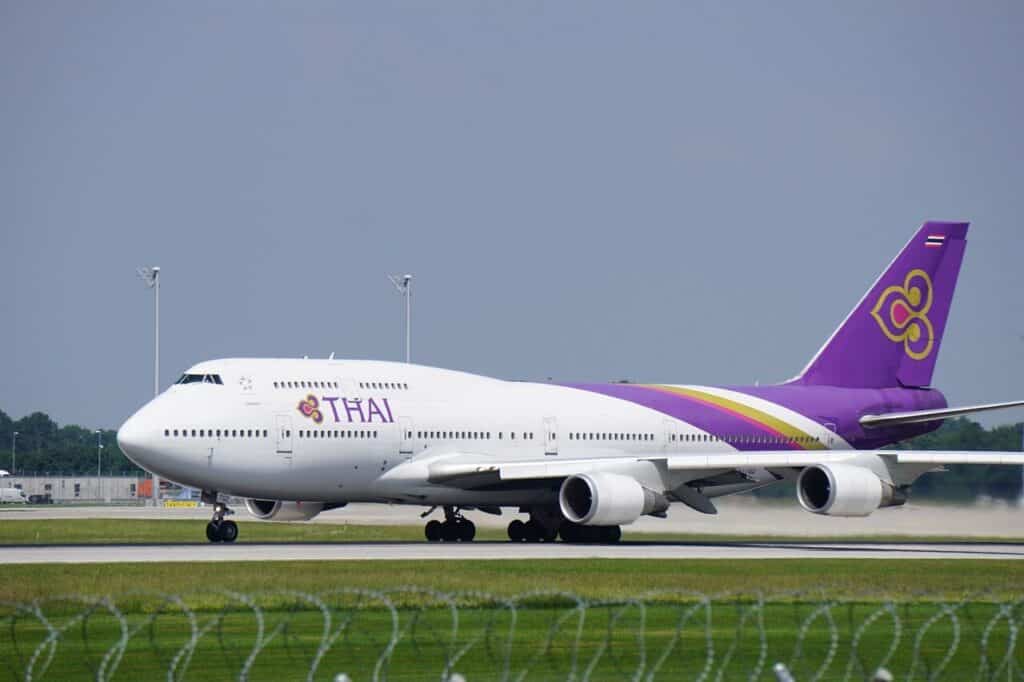 The quickest way to get to Phuket from Bangkok is by plane. Flights from Bangkok to Phuket only take around 1.5 hours. Compared to a 14-hour bus or train ride, it will save almost an entire day of travel time. For a short trip, every hour counts!
Many airlines fly this route, which makes Phuket International Airport the second busiest airport in Thailand – right after Bangkok. It is located in the island's northern part, only about 30 minutes from Phuket Town and 45-60 minutes from the beach areas.
If you're looking for cheap flights, you can fly out of Don Mueang Airport, Thailand's low-cost carrier hub. Plane tickets are surprisingly affordable. I found one-way fares for under $25 and roundtrip tickets for $40. You can find these promos from budget airlines like Thai Smile, Thai Lion Air, Vietjet Air, and AirAsia.
IMPORTANT REMINDER: Bangkok, Thailand has two main airports – Suvarnabhumi Airport and Don Mueang Airport.

Suvarnabhumi Airport is the newer and bigger airport that handles most of the international flights to and from Bangkok while Don Mueang Airport is an older and smaller airport that mostly takes care of the domestic flights to and from Bangkok and some international flights from low-cost airlines.
Cost: $22 for a one-way ticket | $40 for a return ticket
Travel Time: 1.5 hours
Take a Bus From Bangkok to Phuket
Bus tickets start at around $21 for the 14-hour to 16-hour journey, which makes it the cheapest but the longest way to travel from Bangkok to Phuket. Busses depart from Bangkok's Mochit Northern Bus Terminal and arrive at Phuket Bus Terminal 2. Several bus companies offer bus service between Bangkok and Phuket, with departures throughout the day and night.
Although second-class buses are reasonable, considering a VIP bus operated by Phuket Travel or Express Bus might be a good idea. They offer extra legroom, reclining, and single-row seats to make your long trip more comfortable.
During the trip, there will be a 30-minute break for you to stretch your legs and buy snacks or drinks. Book your seat in advance because buses tend to fill up quickly. With my 10 years of traveling in Asia, I always use 12Go to book buses and train tickets. They offer the cheapest prices and hassle-free booking. Book your bus and train tickets to Phuket here.
Cost: $20 for a one-way ticket
Travel Time: at least 14 hours
Ride the Train From Bangkok to Phuket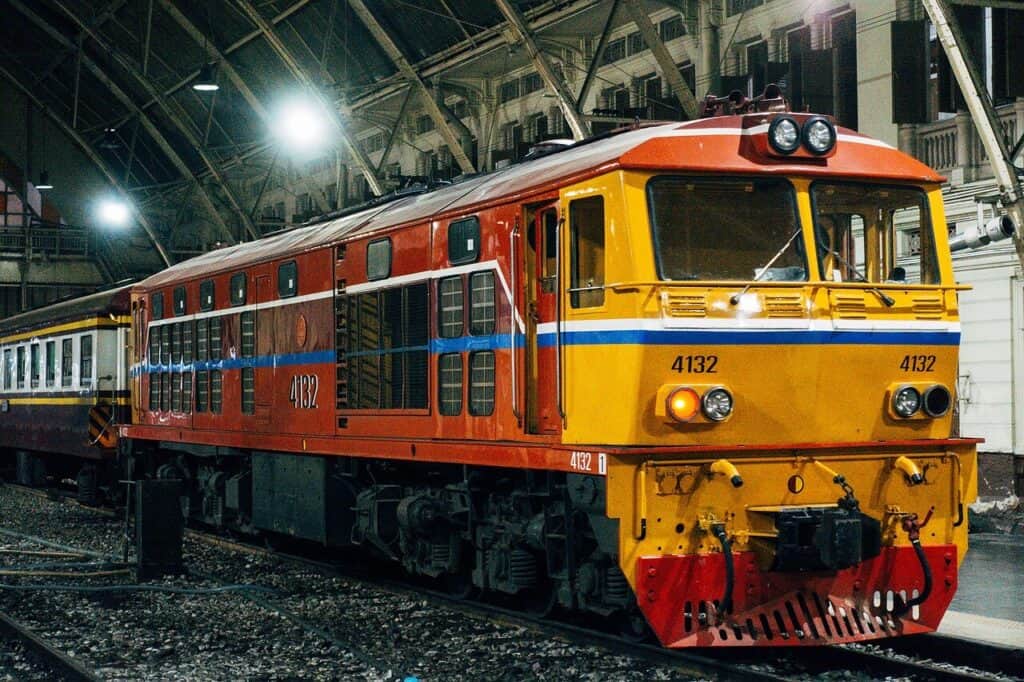 There are no direct trains to Phuket. Instead, you can get there by combining a train and a bus. If you enjoy slow travel or want to see small villages, taking the train is a great option. Surat Thani is also an excellent place to stay, as it is the gateway to Koh Pa Ngan and Ko Samui.
Start your journey by boarding a train at Hua Lamphong Station or Bang Sue Junction, which will take you to Surat Thani railway station. From there, you can take a 2-hour bus to reach Phuket. The trains have air conditioning, comfortable seats, and roomy cabins. If you plan to sleep during the trip, consider booking a first-class train with beds.
Cost: $25+ for a train ticket, $8 for a bus ticket
Travel Time: at least 14 hours (about 9 hours by train and then 5 hours by bus)
Rent a Car or Motorbike and Drive From Bangkok to Phuket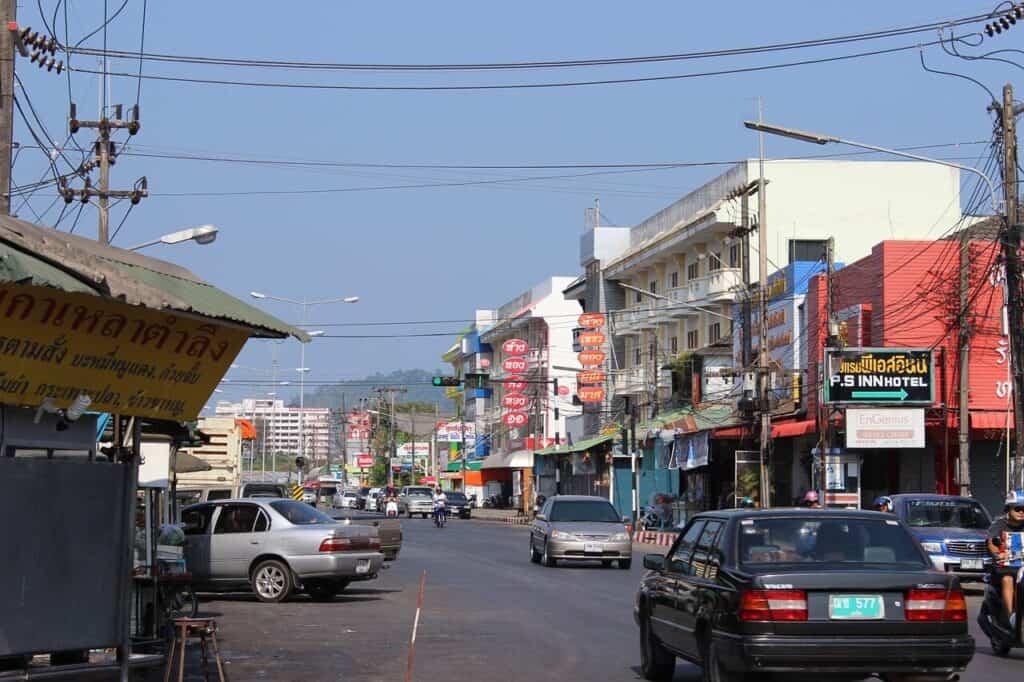 If you plan to travel with your family, partner, or group, consider renting a car and driving to Phuket for the best scenic views. Alternatively, if you're an adventure junkie comfortable driving on rocky paths and busy roads, renting a motorcycle can offer you an experience of a lifetime.
You must have an International Driver's Permit or a Thai driver's license to rent a vehicle in Thailand. Car rentals begin at approximately 1,000 Baht ($30) daily, and motorbikes are available for 620 Baht ($18). Driving in Thailand can be dangerous, particularly when sharing the road with large trucks and buses. The traffic moves quickly, and the road conditions are subpar, so it's crucial to exercise caution.
If you want to make multiple stops, take 3-4 days and stop in Phetchaburi, Prachuap Khiri Khan, and Phang Nga. There are many viewpoints, temples, and national parks along the way.
Cost: $30+ per day for car, $18+ for a motorcycle
Travel Time: 12 hours, depending on the traffic
Rent a car from local providers and pick it up at the Bangkok Suvarnabhumi Airport.
Rent a motorcycle online and pick it up at the Bangkok Suvarnabhumi Airport.
Bangkok to Phuket: Which is the Best Way to Get There?
The best way to travel from Bangkok to Phuket is by taking on a flight. It's the quickest and relatively affordable option. But if you're booking last minute and flights are expensive, don't worry – you can always take the bus.
Taking the train is an excellent option for those who want to have a rustic experience. And if you're traveling in a group, renting a car is a perfect choice to save money and appreciate the stunning scenery. For the adventurous types, renting a motorcycle is the way to go! Ultimately, choose an option that fits your personality and the length of your trip.
Bangkok to Phuket FAQs
How long is the flight from Bangkok to Phuket?
The average flight time from Bangkok to Phuket is 1 hour and 30 minutes.
Where to stay in Phuket, Thailand?
Happiness On The Way Tips
When traveling from Bangkok to Phuket, I always try to make the journey part of the adventure. So whichever way you get there, I have a few tips to joy on your trip.
Related: Travel Happiness: 5 Ways to Experience Joy on the Road
Bring a book
I always bring a book or my Kindle on the road. It helps me make the most out of my time and also allows me to practice mindfulness while waiting.
Meditate
I love long commutes because they put me in a meditative state. I notice the trees, people, and buildings around me and stay present at the moment. Focusing on your breath for a few minutes can help reduce stress and increase contentment.
Be in Awe
Being curious and seeing things as they are, including people, leaves you with positive emotions during your travels, not just when you reach your destination. Look out the window. Notice the details in your surroundings. Appreciate the beauty in small things. Let wonder and awe inspire you.
Pack a snack
When traveling, it's important to stay nourished and hydrated. Snacking fresh fruits and nuts is a great way to boost your mood and energy. Also, bring a water bottle to keep you hydrated and feel your best while on the go.
Move around
Whether traveling by bus, train, or plane, I occasionally get up and move around. Do some simple stretches, and walk up and down the aisle. Movement increases blood flow and releases feel-good hormones that lift your mood and ease tension.
These tips help my journey to Phuket, or anywhere, be a mindful and calm one. A little mindfulness goes a long way in transforming any travel into an extraordinary experience.
Conclusion
So there you have it, the best ways to get from Bangkok to Phuket. However you choose to get there, one thing is for sure – it will be worth it. Phuket is waiting for you with its pristine beaches, vibrant nightlife, and exciting adventure.
Have you been to Phuket? How did you travel from Bangkok to Phuket? Share your experience in the comments below.