Lucerne City: The Ultimate Guide to the Heart of Switzerland
Lucerne City, also known as Luzern, is located in the stunning landscapes of Switzerland. Although it wasn't initially on my list when planning my first 1-week itinerary in Switzerland, my partner and I decided to include it due to its location from Zurich to Interlaken. To my surprise, Lucerne City quickly became my favorite city in Switzerland.
In this travel guide, I will share my personal experiences and recommendations to help you make the most of your visit to this fairytale-like destination. Lucerne City may not be as famous as Zurich or Interlaken, but it has a unique charm that will captivate your heart.
A Brief History of Lucerne City
Lucerne is one of the oldest cities in Switzerland, dating back to the early 8th century. Its name, "Lucerne," is believed to come from the Latin word "Luciaria," meaning "light" or "lantern."
This is linked to the city's ancient chapel, dedicated to St. Leodegar (, which was said to have housed a light to guide travelers. Over time, the name evolved into "Lucerne," and the city has since embraced this unique identity.
Lucerne City has been a bustling trading hub throughout the centuries, significantly influencing economic and political development. Today, visitors can explore the city's rich history and modern amenities, offering a perfect blend of past and present.
Where is Lucerne City
Lucerne City is in central Switzerland, making it easily accessible from various parts of the country. It sits on the shores of Lake Lucerne. It is surrounded by picturesque mountains, creating a breathtaking natural setting that adds to its allure.
How to Get to Lucerne City
By Plane
There are no direct flights to Lucerne. You can travel to either Zurich Airport or Berne Airport. From these airports, you can go to Lucerne Cityeither by rail or by road. Lucerne is approximately 55 km from Zurich and it takes an hour to reach here by road. Berne is around 123 km away and it takes around 1.5 hours to Lucerne.
By Train
Traveling to Lucerne City by train is convenient, especially if you arrive from other Swiss cities or neighboring countries. The Swiss railway system is renowned for its punctuality and efficiency, and the scenic train routes offer mesmerizing views of the Swiss Alps and the countryside.
By Bus
For those seeking a more budget-friendly option, buses connect Lucerne City with nearby cities and towns. While the journey may be longer, it allows you to enjoy picturesque landscapes.
By Car
If you're planning a road trip through Switzerland, driving to Lucerne City is an excellent choice. The well-maintained road networks and breathtaking routes make the journey a memorable part of your adventure.
It allows you to explore nearby towns near Lucerne and stay in less touristic places for more affordable accommodations. Since we planned a one-week itinerary and chose to camp in Switzerland, we went with this option and managed to spend only 600 CHF for the entire week!
Best Places and Spots to Visit in Lucerne City
Chapel Bridge and Rathaussteg: Where History Meets Beauty
No visit to Lucerne City is complete without exploring the iconic Chapel Bridge and Rathaussteg.
Chapel Bridge, the symbol of the city, is a covered wooden bridge adorned with vibrant flowers. Strolling along the bridge offers breathtaking views of Lake Lucerne and the surrounding mountains.
For a more serene experience, head to Rathaussteg, a less crowded but equally charming bridge that provides picturesque views of the lake, chapels, and old shops. Walking across these two bridges made me feel like I was in a magical fairytale city.
Tip: To maximize your visit, arrive early in the morning to beat the crowds and capture stunning photos of the bridges basking in the soft morning light.
Lion Monument: A Touching Tribute to Bravery
The Lion Monument, or Löwendenkmal, is an emotional and evocative sculpture commemorating the Swiss Guards who lost their lives during the French Revolution. Carved into a rock face, the dying lion exudes a sense of bravery and sacrifice. The lion exudes bravery and sacrifice in its final moments, carved into a rock face.
Despite the crowds, the monument deeply touched me after reading its history at the entrance. The garden surrounding it also offers a serene spot for reflection. The monument's poignant message and artistic mastery make it an attraction not to be missed in Lucerne City.
Tip: Plan your visit during the early hours or late afternoon to enjoy a more tranquil atmosphere and contemplate the monument's significance.
Lucern City's Old Town: A Journey Back in Time
Step into the vibrant history of Lucerne City by exploring the colorful and well-preserved Old Town. Wander through cobblestone streets lined with beautifully restored buildings, each telling a tale of the city's past.
Marvel at the historic squares, such as Weinmarkt and Kornmarkt, where you can find charming cafes and shops. A stroll through the Old Town immerses you in the medieval charm of Lucerne.
Tip: Take a walk and immerse your senses in the beauty of Lucerne City.
Lucerne City's Stunning Churches: A Glimpse of Spiritual Heritage
Lucerne City is home to several awe-inspiring churches, each bearing unique architectural and historical significance.
The Court Church of St. Leodegar, also known as Hofkirche, is a splendid example of medieval Gothic architecture. Its twin towers dominate the city's skyline, and the interior houses an impressive pipe organ and stunning murals.
Jesuitenkirche, or the Jesuit Church, is another masterpiece, showcasing Baroque architecture with its opulent interior and magnificent ceiling frescoes. Visitors can admire the church's ornate details and immerse themselves in its spiritual ambiance.
For a more serene and contemplative experience, Franziskanerkirche, the Franciscan Church, offers a tranquil retreat with its elegant simplicity and beautiful stained-glass windows.
Tip: Check the church schedules for organ concerts or choir performances to enhance your visit with a soul-stirring musical experience.
Lake Lucerne: A Serene Oasis
Lake Lucerne's crystal-clear waters, nestled between majestic mountains, create a serene oasis in the heart of the city. Take a boat cruise to soak in the awe-inspiring views and enjoy a refreshing breeze.
For an even more memorable experience, rent a paddleboat and meander along the lake's shores. If you're on a budget or have less time, walking around the lake or sitting on one of the benches will also allow you to enjoy the lake. I felt peace watching its blue waters and feeling the breeze while we walked around the lake.
Tip: Pack a picnic and enjoy it by the lake for a tranquil and picturesque moment.
Verkehrshaus der Schweiz: An Engaging Exploration of Transport
The Swiss Museum of Transport is a must-visit attraction for transportation enthusiasts of all ages. Located near Lake Lucerne, the museum offers a fascinating journey through the history of Swiss transportation.
From vintage trains and airplanes to interactive exhibits, the museum provides a delightful and educational experience.
Tip: If you're visiting with kids, allow plenty of time for hands-on activities in the children's play areas.
Richard Wagner Museum: A Musical Journey
Music lovers should not miss the Richard Wagner Museum, dedicated to the life and work of the renowned composer Richard Wagner.
Housed in the picturesque Tribschen villa, the museum offers insight into Wagner's artistic genius. Stroll through the lovely gardens surrounding the villa, adding to the overall enchanting experience.
Tip: Combine a visit to the Richard Wagner Museum with a relaxing walk along the shores of Lake Lucerne for a serene day out.
Musegg Wall: Relive Medieval History
Unveil Lucerne's medieval past by visiting the remarkable Musegg Wall. The city's medieval fortification boasts nine well-preserved towers, each with a unique character and history.
Among the towers, the Zyt Tower houses the oldest clock in Lucerne. It chimes every hour, delighting visitors with its mechanical marvel. It's my first time visiting a clock tower, and I'm amazed that it's FREE to visit. It's well-maintained, giving you a full experience of a clock tower's operation.
Take a leisurely walk along the city walls and enjoy stunning views of Lucerne's rooftops and the surrounding landscape. The Musegg Wall offers a captivating journey back in time, providing a glimpse into the city's historical defense system.
Tip: Remember to check the tower opening hours before your visit, as some towers may be closed during specific periods. Visiting the clock tower was the highlight of our visit to the Musegg Wall.
Lucerne City 1-day Itinerary
This itinerary is perfect for travelers with limited time who are on a budget and would like to experience the enchanting charm of Lucern by foot.
Half a day is enough for this itinerary, but a day is perfect if you want to enjoy the city slowly with some stops. Aside from our food and 10 CHF parking, this Lucerne City itinerary is completely FREE!
Savor a delectable lunch at one of Lucerne's charming eateries. The city's culinary scene caters to all tastes, from traditional Swiss dishes to international cuisine. Check out Melissa's Kitchen. We highly recommend it!
Morning: Exploring the Old Town, its Stunning Churches, and Beautiful Bridges
Start your day by immersing yourself in the charm of Lucerne's old town. The colorful facades of historical buildings, cobbled streets, and beautiful squares will transport you to a bygone era.
Be sure to visit the iconic Chapel Bridge, the symbol of Lucerne, and take a stroll along the picturesque Rathaussteg bridge.
Lucerne's awe-inspiring churches, such as Court Church of St. Leodegar, Jesuitenkirche, and Franziskanerkirche, showcase remarkable architectural beauty and historical significance.
Each church offers a unique experience, from medieval Gothic grandeur to serene simplicity and opulent Baroque interiors. Take the chance to attend soul-stirring organ concerts or choir performances for an unforgettable visit.
Afternoon: Walking around Lake Lucerne, The Lion Monument, and The Musegg Wall and Clock Tower
Spend your afternoon by the shimmering waters of Lake Lucerne. Sit on one of the benches near the lake, watch some swans swimming in the crystal-clear water, or walk around the Lion Monument.
Head to the Lion Monument, one of the most poignant sculptures in the world. Carved into a rock face, the dying lion commemorates the Swiss Guards who lost their lives during the French Revolution. The surrounding garden offers a serene space for reflection.
For history enthusiasts, the Musegg Wall, a well-preserved medieval fortification, offers an exciting adventure. Walk along the ramparts and visit the clock tower, where you can witness the famous clockwork mechanism in action.
Where to Eat in Lucerne City
Lucerne's culinary scene caters to diverse tastes, offering various dining options. Here are a few recommendations:
Melissa's Kitchen
Personally, my partner Matthias and I treated ourselves to a sumptuous meal at Melissa's Kitchen. Their menu of the day included:
A comforting cabbage turnip soup.
A delicious salad with barbeque sticks.
Slices of bread with pepper bell cream.
A heavenly strawberry cheesecake.
To complement our meal, I enjoyed a refreshing berry smoothie while Matthias savored a cup of cappuccino. Additionally, we quenched our thirst with sparkling water infused with orange, ginger, and cinnamon.
The delightful dining experience cost us only 38 CHF for two people, making it a true treat for our taste buds and wallets.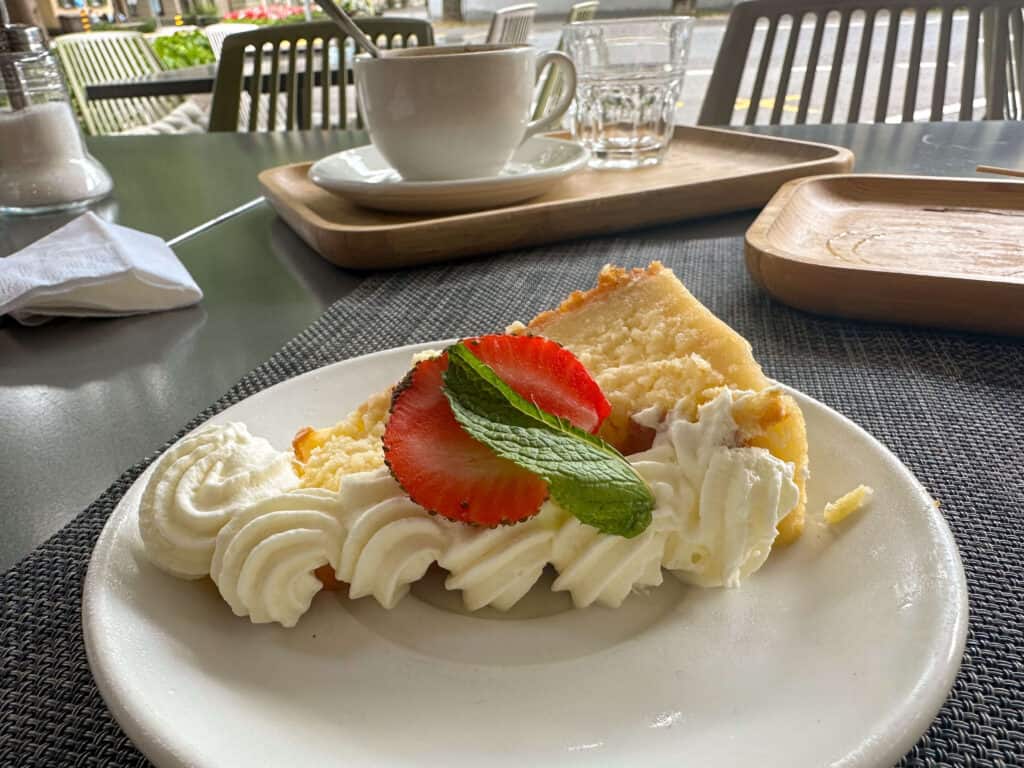 Rathaus Brauerei Luzern
This charming brewery offers a taste of local craft beer along with traditional Swiss dishes. Enjoy a hearty meal in a cozy setting and savor the authentic flavors of Lucerne.
Stadtkeller
For an authentic Swiss cultural experience, visit Stadtkeller, a restaurant that serves delicious Swiss cuisine while hosting lively folk performances. Enjoy hearty meals accompanied by traditional music and dancing.
Where to Stay in Lucerne City
Lucerne boasts a variety of accommodation options to suit every budget and preference. Whether you prefer luxury hotels, boutique guesthouses, or budget-friendly hostels, you'll find the perfect place to rest and recharge after a day of exploration.
Matthias and I chose to camp with a short car ride to Lucerne City. We chose to camp with our 1-week Switzerland itinerary to immerse ourselves in nature while not spending much on our accommodation.
When is the Best Time to Visit Lucerne City
The best time to visit Lucerne depends on your preferences. Each season offers unique experiences:
Spring (March to May)
Spring brings blooming flowers and mild weather, perfect for exploring the city on foot and enjoying boat cruises on Lake Lucerne.
Summer (June to August)
During summer, the city comes alive with vibrant activities and pleasant temperatures. However, be prepared for larger crowds.
Autumn (September to November)
Autumn offers a picturesque backdrop of colorful foliage, creating a stunning setting for your Lucerne adventures.
Winter (December to February)
Winter turns Lucerne into a winter wonderland, with Christmas markets, ice skating, and opportunities for snow sports in nearby regions.
FAQs: Lucerne City
How can I reach Lucerne City from Interlaken?
Traveling between Interlaken and Lucerne is convenient via train and bus connections. The Swiss railway system is known for its efficiency and offers stunning views of the Swiss Alps.
If you're visiting Switzerland for days, rent a car for more flexibility. This way, you can save a lot with expensive accommodations by staying outside the city or experience camping like we did.
What are the parking options in Lucerne City?
Parking in Switzerland can be expensive, but you can find relatively more affordable options using platforms like Parkopedia. Be prepared for a short walk from your parking spot to explore the city on foot.
Matthias and I opted to use Parkopedia to find the cheapest parking spot. Although the rates were still higher than what we were used to in our home countries, it allowed us to explore the city without worrying about our budget.
Are there budget-friendly restaurants in Lucerne City?
While Switzerland is known for its high costs, you can find budget-friendly eateries and daily menu specials in Lucerne, like our delightful experience at Melissa's Kitchen.
Choose a little outside the city center and touristic spots for more affordable dining. Enjoying a restaurant meal was a special treat for us during our journey, and we were pleasantly surprised to find an affordable yet delicious dining option.
Which bridge is better to visit, Rathaussteg or Chapel Bridge?
Both Rathaussteg and Chapel Bridge are stunning, but if you prefer a quieter and more scenic experience, Rathaussteg offers a unique perspective of the city.
Matthias and I thoroughly enjoyed our stroll along Rathaussteg, taking in the picturesque views of Lake Lucerne, charming chapels, and quaint shops.
What is the significance of the Lion Monument?
The Lion Monument is a touching tribute to the Swiss Guards who died during the French Revolution. It represents bravery and sacrifice and is a must-visit landmark in Lucerne.
The monument's emotional impact deeply moved Matthias and me. We found the surrounding garden to be a peaceful spot for reflection.
Happiness on The Way Tips
Traveling to new places can bring about feelings of wonder, gratitude, and presence. Lucerne, in particular, offers a chance to connect with nature and find renewed happiness.
As someone who cherishes the journey of travel and seeks happiness along the way, here are some delightful activities you can engage in during your visit to Lucerne:
Slow down in Lake Lucerne
When we travel, we tend to exhaust ourselves by visiting as many places as possible in our itinerary. However, taking a break and slowing down can help us rediscover the joy of traveling. Take a moment to sit by the lake and relax.
Listen to the soothing sound of the waves gently touching the shore and the distant calls of birds creating a peaceful symphony. Sometimes, a 5-minute break is enough to reconnect with the joy of traveling.
Practice Mindfulness with the Clock Tower
Encountering Lucerne's iconic Clock Tower was magical. Observing the clock's intricate movements became a mindfulness exercise, resonating like a rhythmic meditation.
The experience reminded me to slow down in a fast-paced world and appreciate the little things that often go unnoticed – the city's vibrant colors, the laughter of children playing, and the aroma of freshly brewed coffee.
This newfound mindfulness enriched my journey in Lucerne, allowing me to savor every moment with awe and wonder and rediscover the inner joy within.
Conclusion
Lucerne, with its fairytale-like beauty and historical charm, is a city that will steal your heart. It offers a delightful blend of past and present. Embrace the magic of my favorite city in Switzerland and create your unique Lucerne memories. Have you been to Lucerne? What are your fond memories of this Swiss city?